A2 Hosting Review 2023
Company Overview, Pricing, and Features
FirstSiteGuide is supported by our readers. When you purchase via links on our site we may earn a commission.
Read More
Although they have the number two in their name, A2 Hosting definitely aims towards being number one in the hosting game. In this overview, I will share with you the current plans available at A2 Hosting, their most valuable features, and functions, and explain what their control panel and knowledge base look like.
Who is it best for?
A2 Hosting services are best for beginners who are looking for an inexpensive hosting service that still works quickly.
Table of contents
Company overview
A2 Hosting started as a hobby for computer enthusiast Bryan Muthig in 2001. The current business name was generated in 2003 when the founder wished to pay tribute to the town of Ann Arbor, the hometown for both his family and the business.
Beginning with hosting several websites for friends and family, this hobby quickly started growing into a serious company that today has data centers all over the world, and counts millions of websites. A2 was one of the first hosts to support PHP5, an important milestone for web developers.
A2 Hosting plans and pricing
A2 Hosting offers a variety of hosting services, including shared hosting, WordPress hosting, VPS, Reseller, and Dedicated hosting. Also, the company offers domains and other solutions that will help your online business.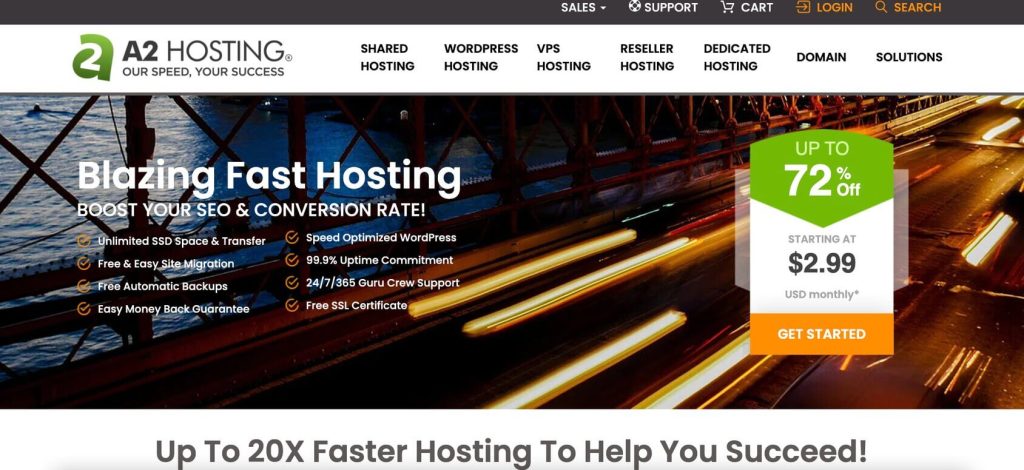 In this review, I will focus on WordPress hosting, which is becoming one of the most popular options.
StartUp
1 website, 100GB SSD storage, free site migration, money-back guarantee.
Drive
Unlimited websites, unlimited SSD storage, free site migration, money-back guarantee, free automatic backups.
Turbo Boost
Unlimited websites, unlimited SSD storage, free site migration, money-back guarantee, free automatic backups, up to 20x faster.
Turbo Mah
Unlimited websites, unlimited SSD storage, free site migration, money-back guarantee, free automatic backups, up to 20x faster, 5x more resources.
A2 Hosting key features and functions
According to the A2 Hosting official website, here are the key features and functions that make this hosting company different and stronger than other web hosting companies:
Up To 20X Faster Turbo – experience faster servers, which means better SEO, lower bounce rates, and higher conversion rates.
Guru Crew Support – the support team is available 24/7/365.
Free Account Migration – if you have your website hosted with another company, A2 Hosting experts will move it over for you without any extra charges.
Money-Back Guarantee – try A2 Hosting services without fear of losing money. If you do not like what you get, you will get your money back.
99.9% Uptime Commitment – that means that your site will be available to the public almost always.
Dashboard overview
The customer portal allows you to manage billing, submit support tickets, start website migration, and more.
Account activation
Since the company receives a lot of fraudulent orders online, every new account has to be activated before it can be used for hosting a new site. A2 promises to activate every account in less than 24 hours, but in most cases, you can expect your account to be ready in less than 15 minutes.
Billing cycles
When you sign up for a new account, you can choose to pay for hosting services on a monthly basis. However, if you prepay for a 6, 12, 24, or 36-month period, you can expect discounts. You can always change your billing cycles from the customer portal.
Site migrations
Whether you want to transfer your site from a different hosting service or simply upgrade the current plan, all you have to do is fill out a form. Usually, all migrations are done in less than 48 hours.
Support
Whenever you need to contact support, you can open a ticket quickly through your customer portal. Simply open the tab, and let the professional agent help you with anything you have problems with.
Knowledge base and support
The knowledge base is accessible through the A2 Hosting website. It can help you to better understand your account and learn more about setting up your website. The first thing you will notice when you open the knowledge base is the large search bar that helps you to find the answer to your question.
All articles are neatly organized, and you can easily browse through popular categories and questions.
If you need more individual help, you can always contact support at any time of day and night, because A2 Hosting support is available 24/7/365. You do have to be logged in to get tech support.
A2 Hosting refund policy
A2 Hosting proudly advertises its 30-day money-back guarantee. No matter the reason, all you have to do is log in to your client portal where you can request a service cancellation, as well as your money back if needed.
For those who request a refund between 30 and 90 days of using the service, you will be issued a pro-rata refund of fees for hosting services. After 90 days, no refunds are available.
Do note that all 3rd party fees, which include domain registration fees, setup, and migration fees, are non-refundable.
A2 Hosting pros and cons
Pros
Fast loading time
Free migration
Unlimited storage and bandwidth
Free automatic daily backups
Cons
Domain name is not included
Server migration fee for changing data centers
FAQs
Will A2 Hosting migrate my current site for free?
Yes, A2 Hosting will migrate your site from another hosting company completely free of charge. This is true even for the cheapest shared hosting plans. In most cases, existing customers get a free migration service as well.
Is A2 Hosting fast?
Yes, A2 Hosting servers are extremely fast. The company uses fast SSD servers, which work even faster when optimized. If you have a local audience, another great thing is that you can choose a data center that's the closest to you, which again translates into speed. If you choose one of the more expensive plans, you also get to feel the power of their turbo technology which optimizes sites even more to provide speed up to 20x faster than the competition.
Can I install WordPress on A2 Hosting?
Definitely. Not only can you install WordPress easily on shared hosting, but you can have it pre-installed from the moment you purchase a plan. A2 Hosting offers managed WordPress hosting plans which will make your WordPress life easier while optimizing the entire environment for WordPress sites.
Does A2 Hosting offer SSL Certificates?
Yes, all A2 Hosting plans come with a free SSL certificate provided by Let's Encrypt. This means that your new site will be secure from the very beginning.
Conclusion
A2 Hosting is a great solution for anyone looking for fast and inexpensive shared hosting services. Although you have to pay a little bit more to get all of the bells and whistles, A2 Hosting is definitely worth it.
With its generous money-back guarantee, there's no reason not to try A2 Hosting. Be warned though, you will probably keep using their hosting services for a long time.