Best Affiliate Marketing Stats for 2023
FirstSiteGuide is supported by our readers. When you purchase via links on our site we may earn a commission.
Read More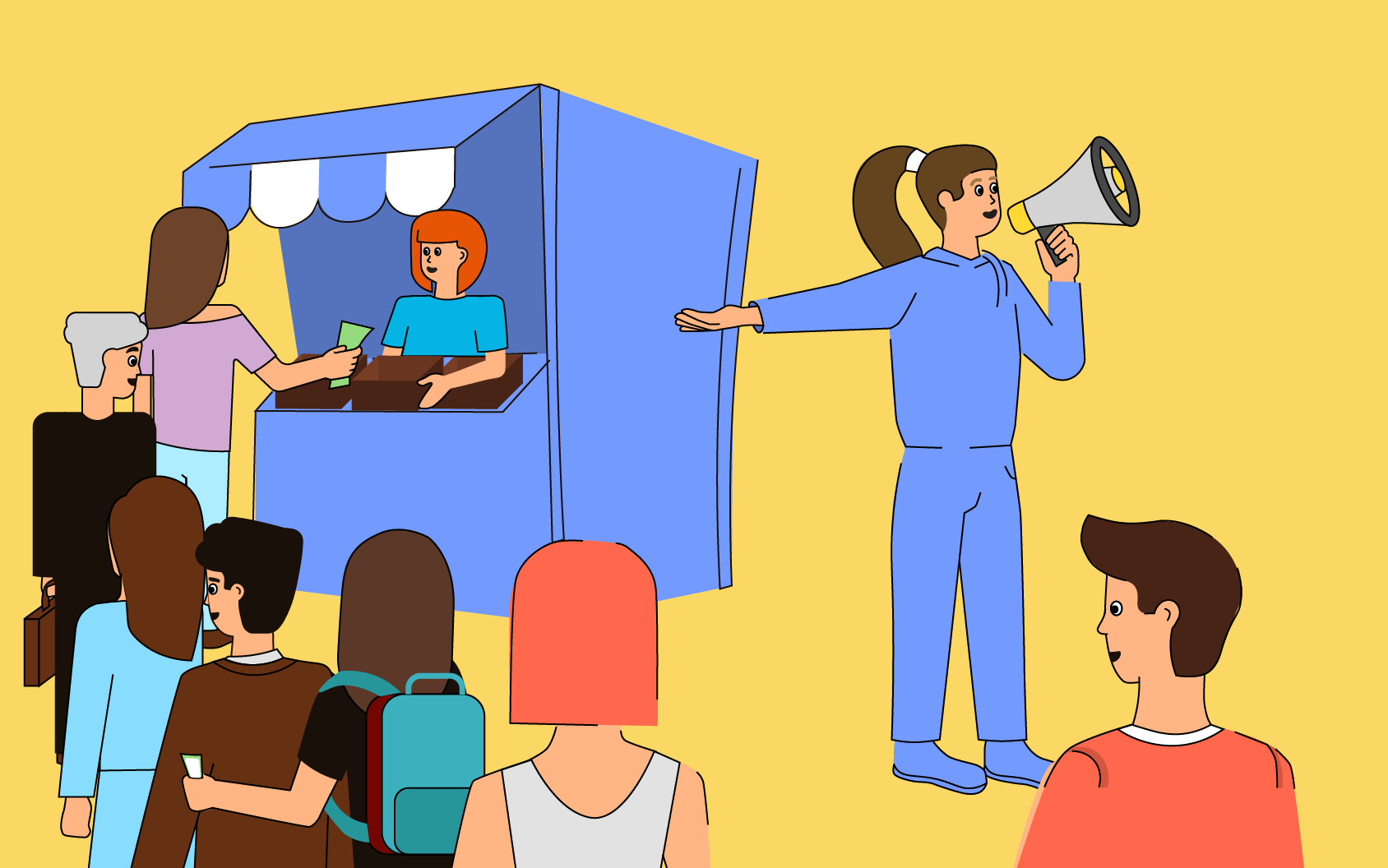 With the appearance of blogs, channels, and social media accounts, affiliate marketing has quickly become a key digital marketing strategy. While it has been around for some time, the popularity and practice of affiliate marketing significantly took off back in 2010, when social media platforms started becoming a bigger part of our everyday lives.
Today, affiliate marketing is among the top strategies to increase sales and generate revenue. Affiliate links are flexible and can be implemented as a part of a blog post, social media post, or video. Because these marketing methods fit perfectly with modern advertising requirements, it's safe to say that affiliate marketing is here to stay.
With 2021 coming to an end, we've decided to collect some of the key affiliate marketing stats and share them with you. If you'd like to find out more about how affiliate marketing shaped 2021, keep reading!
Top Affiliate Marketing Statistics
More than 80% of companies and brands worldwide have affiliate programs.
A 39% market share makes the USA by far the leading country in the affiliate marketing industry.
Affiliate marketing counts around 11,400 affiliate programs in the US alone.
94% of content creators use several affiliate marketing programs.
The biggest affiliate marketing traffic source is SEO at 69.22%.
Affiliate programs help brands generate between 15% and 30% of all sales.
The total worth of the entire affiliate marketing industry is around $12 billion.
What we know about affiliate marketing so far
All internet users are aware that affiliate marketing is more and more present across all kinds of digital platforms. Brands and content creators are always looking for new ways of introducing affiliate programs, therefore constantly pushing the existing boundaries and evolving the strategies used.
But, how successful is affiliate marketing currently, and what are some future predictions concerning this industry?
1. Affiliate marketing spending in the US will reach $8.2 billion by 2022.
Affiliate marketing spending is the total amount of money that clients spend on shopping sprees while purchasing products and services through various affiliate links and discounts.
Affiliate marketing programs saw a sudden increase in spending during 2010, which marked the beginning of the affiliate marketing era. In 2010, $1.6 billion was spent on affiliate marketing in the US alone. That total increased to $4.8 billion in 2016, showing obvious and significant industry growth.
Everyone thought that the affiliate marketing industry hit its peak when it reached $5.4 billion in 2017, but the continuing increase in yearly marketing spending proved us wrong. In 2019, affiliate marketing became one of the most successful marketing strategies ever by reaching the amazing $6.4 billion mark in the US.
These numbers are expected to reach another record high next year. Total spending in 2022 is estimated to be around $8.2 billion, and this growth trend is likely to continue in the following years.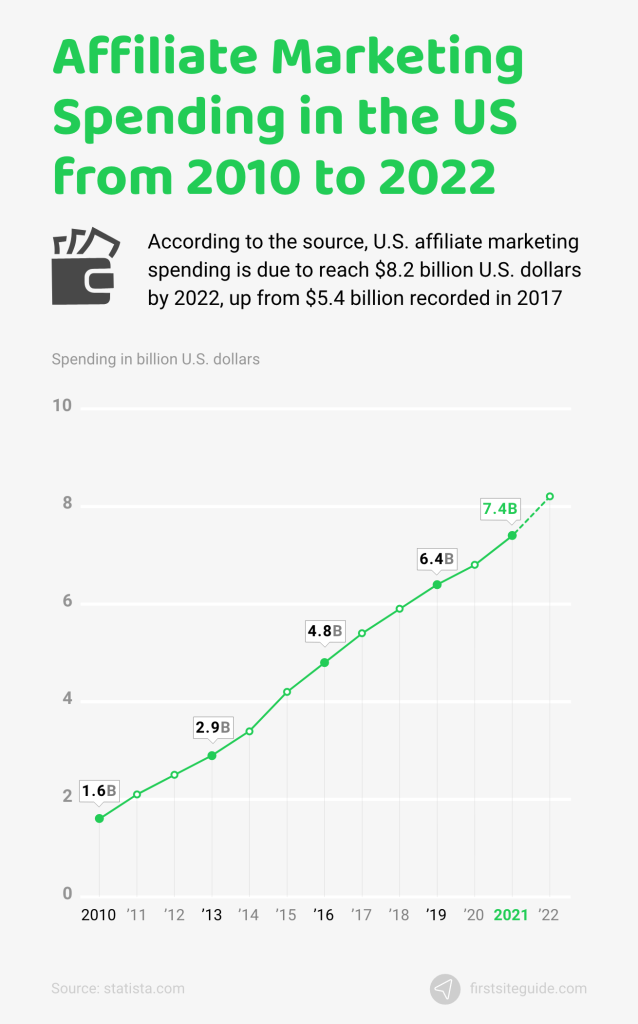 (Source: Statista.com)
2. Interest in affiliate marketing in 2021 increased by almost 50% compared to 2020.
When affiliate marketing first appeared in the digital world, not many people were interested in it. However, with the growing number of sales and increased revenue for businesses, more and more companies, content creators, and potential clients became curious about different ways of benefiting from this up-and-coming marketing strategy.
2021 was especially important for affiliate marketing, showing a drastic and sudden increase of interest in comparison to the last year.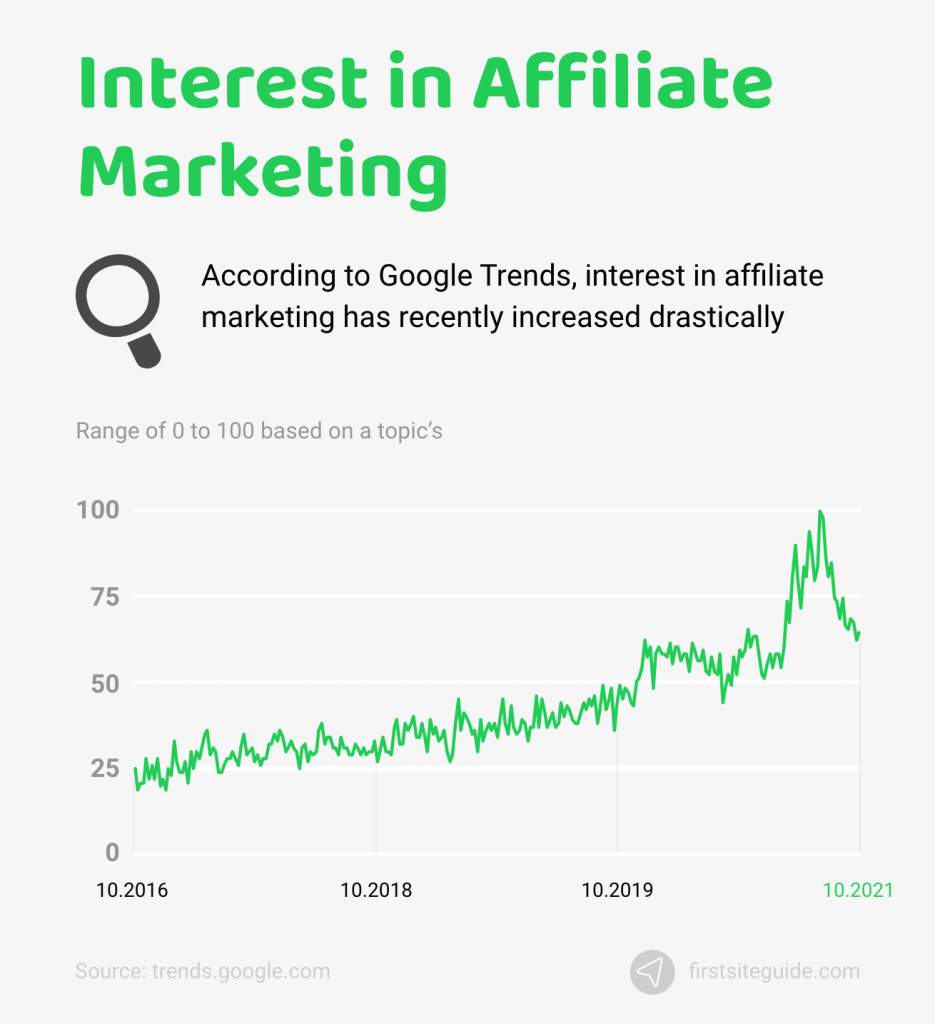 (Source: Trends.google.com)
3. Publishers make around $65,000 annually from affiliate marketing.
Because affiliate programs have become common across all social media platforms, you've surely been wondering how much money publishers earn from these partnerships.
It's no secret that publishers greatly benefit from affiliate marketing programs, but finding out the exact amount isn't possible since it can depend on numerous factors. Fortunately, we can estimate using the average amount.
The annual earnings that affiliate marketers make is approximately $65,000. However, some top earners have an annual average income of $141,000, while low-performing publishers settled for a $30,000 annual average per year.
Keeping in mind that with $35,000 as the annual average income in the US, it's clear that publishers certainly make a nice income from affiliate marketing.
(Source: Payscale.com)
4. Google Chrome's 70% global web use will change how affiliate marketing works.
Since affiliate marketing largely depends on targeting specific audiences and user groups, the recent changes that main internet browsers plan to implement could completely transform the current affiliate marketing industry.
Google Chrome is used as a browser for about 70% of global web use. This means that any change that Google implements will affect millions of industries and businesses, especially digital ones such as affiliate marketing. Google Chrome intends to remove all third-party tracking cookies by 2022. This means that affiliate marketing programs will have to find another way to target their audience.
Apple is taking similar steps by making tracking optional, which means that users will be able to choose whether they want to enable or disable cookies and other personalization functions.
Although these changes will certainly introduce significant challenges to affiliate marketing, there are other ways for marketers to remain profitable and even become more successful after these changes take place.
(Source: Forbes.com)
5. Instagram will cater to the main marketing strategy of 90% of brands.
With the launch of the Meta group of digital platforms, users can expect several changes across its platforms. Instagram, one of their best-performing platforms, has some modifications planned.
Instagram is already a paradise for any businesses looking to profit from their affiliate programs, but Meta wants to upgrade their service to an even higher level by introducing a new feature.
This new tool will allow Instagram creators to quickly recommend and share products by giving their followers the ability to purchase these products directly through the platform. Not only will this change ensure a smooth purchase experience, but the content creators will also be able to earn commissions from sales gathered from published posts.
(Source: Instagram.com)
Getting the most out of affiliate marketing strategies
There are many valuable tips and tricks that companies and brands can implement to make the most out of their affiliate marketing programs. Since the number of successful sales depends on multiple factors along with affiliate partnerships, we've highlighted several pieces of information that can be useful, including details about website optimization, affiliate marketing tools, and more.
6. Websites register 5.66 times higher conversion.
Nothing increases online sales better than organic searches, and companies know this. Organic website visitors are 5.66 times more likely to convert and become website customers than visitors who ended up on the site as a result of paid traffic.
Perhaps a company earns the top spot in paid search results, but that only suggests that the business has a lot of money to spend on marketing, not that they are making a high number of sales.
However, earning a top spot without any financial aid means that your brand offers valuable content to its visitors. That's where affiliate marketing comes in handy, because it generates more organic website visits.
(Source: MOZ.com)
7. A staggering 94% of publishers use several affiliate marketing platforms.
Even if you already knew that affiliate marketing was a promising industry for both marketers and publishers, did you know that 94% of publishers use a number of different marketing platforms simultaneously? This allows them to show a brand's presence on multiple platforms and networks, increasing the brand visibility, and reaching a high number of affiliates to drive sales on all fronts.
(Source: Affise.com)
8. Affiliate marketing counts around 11,400 affiliate programs in the US alone.
With a sudden increase in both use and generated revenue that affiliate marketing is providing to brands, it was only a matter of time until certain companies would focus strictly on affiliate marketing and make it their primary source of income.
Brands and businesses can choose from a long list of companies specializing in affiliate marketing, including:
Alongside other tools and technologies, these companies are helping brands to get the most out of the affiliate marketing industry.
(Source: Datanyze.com)
9. The biggest affiliate marketing traffic source is SEO at 69.22%.
We've already mentioned that affiliate marketing has been consistently growing in popularity and use since 2010. It has rapidly evolved and pushed business boundaries over the last decade. Naturally, interest in the affiliate marketing industry has grown as well.
Let's prove how relevant affiliate marketing is today by examining some statistics. SEO accounts for 69.22% of affiliate marketing traffic, with social networks coming in at a close second with 64.38%, and email marketing not far behind with 41.47%. Pay per click lags behind these main three sources, but is still relevant, with a respectable 34.28% of traffic coming from this source.
With SEO, social networks, and blogging being the top three sources of traffic, it's easy to conclude that affiliate marketing is crucial to all businesses.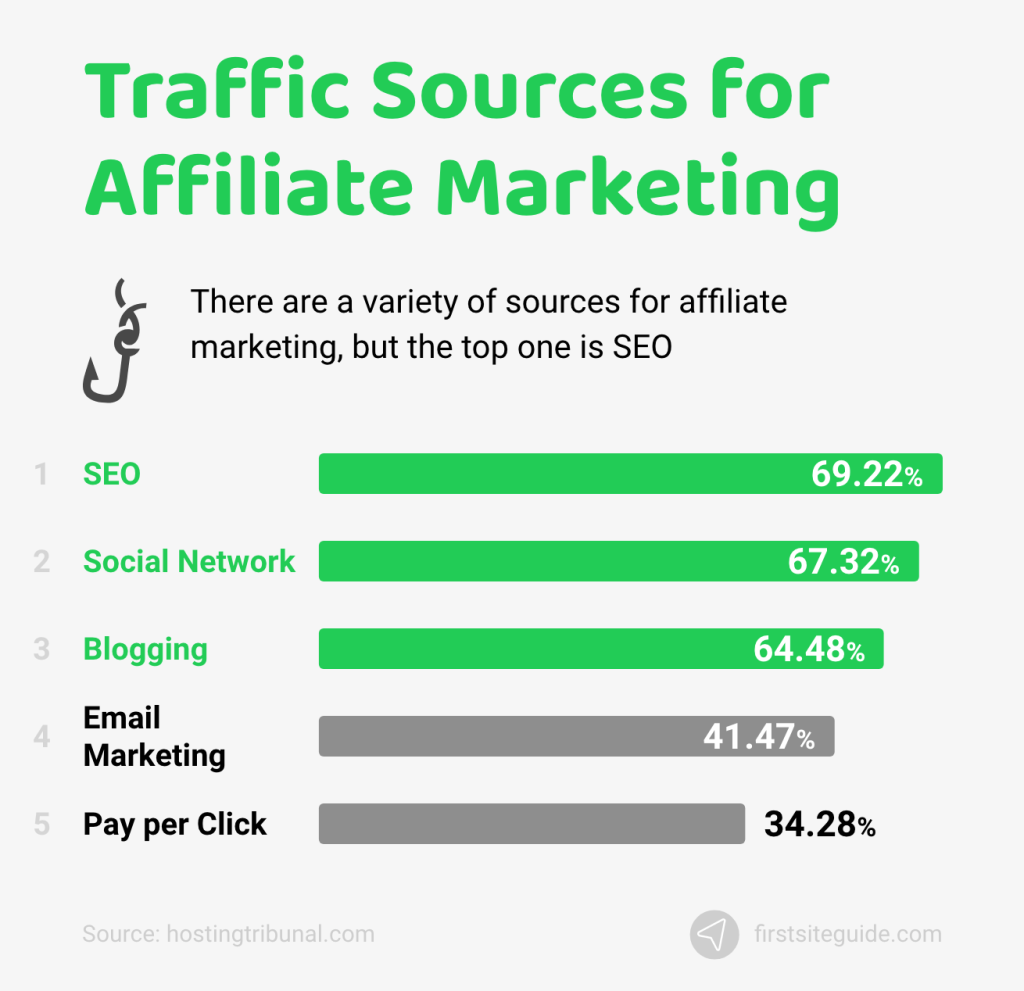 (Source: Hostingtribunal.com)
10. Around 46.2% of worldwide internet users use an ad blocker.
The growing popularity of ad blockers worries many business owners interested in implementing affiliate marketing techniques into their marketing strategy plans. Even Google Chrome has added an extension that can block countless pop-ups and other distractors that ruin a smooth and seamless user experience.
Brands that rely on cheap tricks to generate revenue and lure more website visitors won't be as successful in the years to come. However, brands who are producing high-quality affiliate marketing content don't fall into this spammy category, and they won't be impacted by growing ad blocker use in browsers.
(Source: Blog.commissionfactory.com)
Potential results that affiliate marketing programs can offer brands
Now that you're informed about affiliate marketing in greater detail, it's time to tackle all of the potential results that affiliate marketing plans and programs offer to brands.
11. 81% of brands implement affiliate marketing partnerships.
It's important to mention that 81% of brands recognize the importance of affiliate marketing strategies and the overwhelmingly positive results that these strategies can provide to them.
It's only natural that more and more brands are capitalizing on this opportunity every day. It allows them to drive sales, generate revenue, build reputation, and increase brand visibility at a cost-effective price.
With small investment requirements, both brands and publishers can experience greater income boosts, which is exactly why they rely on affiliate marketing.
12. 40% of marketers believe affiliate marketing is a must-have skill.
For anyone interested in the digital world and hoping to launch a career in this field, having skills and knowledge relating to affiliate marketing is essential, and 40% of marketers worldwide agree. Other crucial skills include digital strategy ability and mobile marketing knowledge.
If you're someone who's hoping for a career in digital advertising, affiliate marketing is a field that you should thoroughly examine and consider.
(Source: Bloggingx.com)
13. Affiliate marketing generates more than 16% of all eCommerce orders in North America.
Driving sales and generating revenue is guaranteed with affiliate marketing. This advertising strategy makes up more than 16% of all eCommerce sales in North America, making it one of the most profitable marketing approaches to date.
If you're still wondering about whether affiliate marketing is right for your business, this stat should motivate you to take action.
Along with affiliate marketing, email marketing is another outstanding solution for increasing sales and boosting brand visibility.
(Source: Hostingtribunal.com)
14. Affiliate marketing efforts increase average customer revenue by 58%.
Like any other marketing method, affiliate marketing aims to increase the visitor conversion rate and turn regular internet users into customers who will gladly purchase products or services and come back again.
The affiliate marketing strategy is extremely successful in this field, as affiliate marketing customers spend more than average buyers. Those buying through affiliate marketing programs have a 58% higher average customer revenue, 31% more average online orders, and the value of the average order is an impressive 21% higher as well.
(Source: Conversantmedia.eu)
15. Affiliate marketing programs account for 15% of the total generated revenue in digital media.
The affiliate marketing industry is also powerful enough to hold a considerable share in digital media and advertising revenue. With around 15% of all generated revenue in the industry coming from affiliate programs, digital media and advertising are also benefiting from this growing industry year after year.
(Source: Cheq.ai)
Essentialinfo and stats concerning affiliate programs
Brands are constantly thinking about developing new affiliate programs to drive their sales, while content creators are always finding innovative ways of introducing these programs to their followers. While the affiliate marketing industry is already strong, it's expected to become even more profitable and well-established in the future.
Here are some notable statistics regarding various affiliate programs currently available worldwide.
16. Almost 6 million company employees are linked to the affiliate marketing industry.
Currently, the size of the international affiliate networking industry counts 174,059 companies, but this number is consistently rising. Moreover, there are 55 companies on a global scale that are producing affiliate network technologies, which means that there are 6,671,140 company employees currently linked to the affiliate marketing industry.
These numbers will proportionally increase with the continued growth of the affiliate marketing industry.
(Source: Datanyze.com)
17. Amazon Associates holds the biggest share of the affiliate marketing business with 45.77%.
Some of the biggest affiliate network companies contain thousands of up and running affiliates. Amazon Associates is by far the most successful company in this field, as it holds the top spot for best affiliate network in the entire world. It's followed by CJ Affiliate and Rakuten Affiliate Network, making these three companies the best-performing ones globally.
Amazon Associates are head and shoulders above the rest, with 45.77% of the market share, while CJ Affiliate, Rakuten Affiliate Network, and ShareASale are neck and neck with 8.12%, 7.83%, and 7.05%, respectively. Lagging behind is VigLink with 4.81%, while the remaining 26.42% of the market share is divided among many smaller players.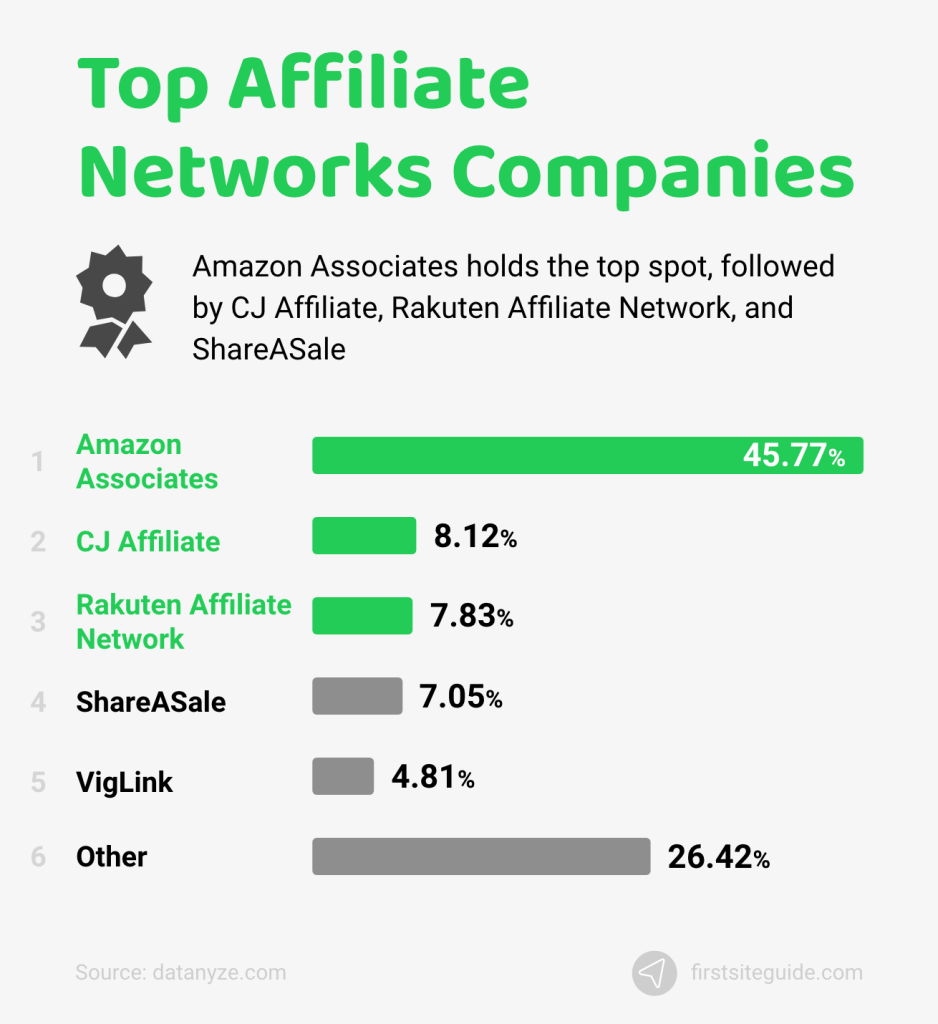 (Source: Datanyze.com)
18. With 55 affiliate marketing network companies in the industry, more businesses are using affiliate marketing tools.
If you're a social media regular, you've certainly seen many celebrities and brands using affiliate links across their platforms. However, that is only a small part of the affiliate network, because much larger companies also use similar tools.
For example, Walmart, Amazon, UPS, DHL International, and Kroger are some of the well-known global companies that improve their services and products, generate revenue, and increase brand visibility using affiliate network tools.
Thanks to the growth of affiliate marketing network companies, both medium-sized companies and small businesses will also be using these features soon.
(Source: Datanyze.com)
19. Fashion holds the first spot with 18.70% of all affiliate programs.
Businesses using affiliate programs and marketing strategies can be organized into categories depending on their industry. Out of 550 top affiliate programs, 486 can be placed into 20 broad categories supported by affiliate networks, which is around 88.4% of the total number.
Affiliate marketing is more prevalent in some categories than in others. Fashion holds an easy first place with 18.70%, followed by the sports and outdoors industry at 14.60%. Health and wellness holds third place with 11.10%, while travel places fourth with 8.60%, closely followed by home and garden at 7.40%.
Other significant categories include computers and electronics, education and training, business, finances, and insurance.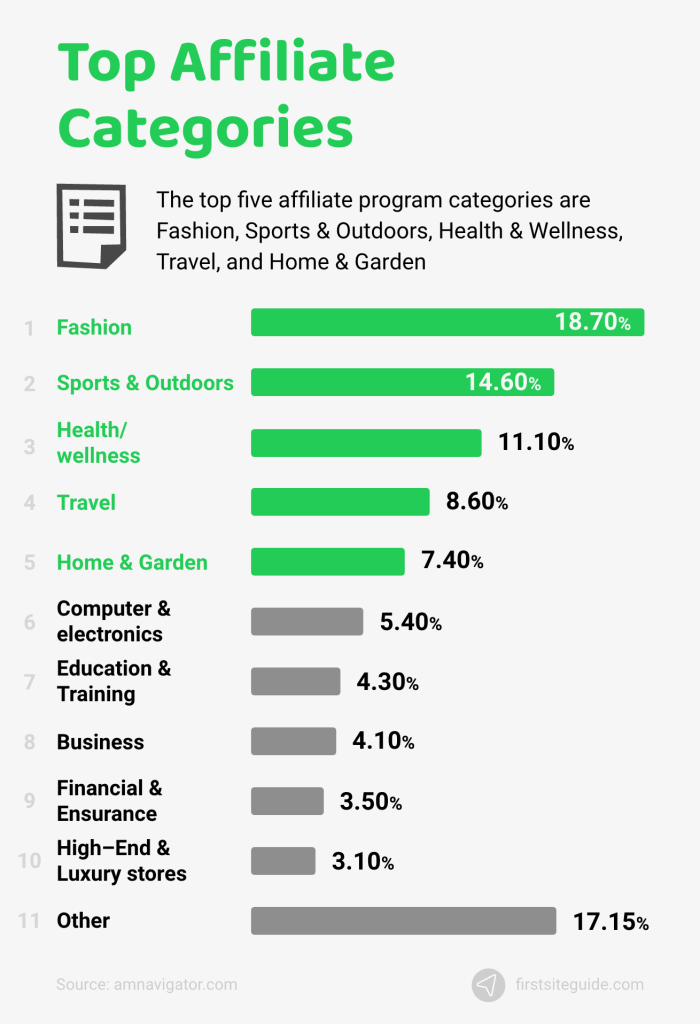 (Source: Amnavigator.com)
20. Increasing interest in health will help affiliate marketing approach $6 trillion in this niche by 2025.
The best-performing categories in affiliate marketing that generated the largest incomes over the last year will experience even greater success in the years to come. Check out these predictions about four key affiliate market categories:
Thanks to successful affiliate marketing and networking strategies that have been focusing on the importance of health and wellbeing, the health, wellness, and lifestyle niches will likely reach $6 trillion by 2025.
The technology niche is expected to grow up to approximately $2.5 trillion by 2024 with the support of affiliate marketing programs that have been helping internet users stay up to date with all of the latest tech developments.
The personal finance niche will grow at a 20% compound annual growth rate over the next several years, likely surpassing $300 billion in 2025.
The pet care niche is expected to become a $100 billion industry soon, providing all kinds of animal-related products and services to pet owners.
(Sources: Industryresearch.co, Prnewswire.com, Commonthreadco.com)
21. The rise of digital fraud will cost the advertisement industry $100 billion by 2023.
Essentially, advertising fraud will most likely become even more common and widely practiced than it is today. What's more, this type of fraud will cost the advertisement industry a shocking $100 billion in two years from now, with fraudsters coming up with more advanced tools and sophisticated techniques to carry out their cyberattacks.
Researchers believe the fraudsters will gravitate towards spoofing advertising networks, allowing them to falsify ad clicks and ads without investing much effort or labor.
(Source: Juniperresearch.com)
22. Instances of affiliate marketing fraud will reach more than 9%.
Fraud connected to the affiliate marketing industry is currently estimated to be present in around 9% of cases, but that isn't even the scariest part. There's a possibility that the rate of fraud will be much higher than 9% in the future, adding to the numerous consequences connected to digital fraud and cybercrime already experienced by affiliate program partners.
For instance, a worrying 38.1% of Amazon affiliate program partners can be linked to some type of fraud. Moreover, up to 25% of all apps installed can be linked to attribution fraud.
(Source: Cheq.ai)
Conclusion
To sum everything up, it's safe to say affiliate marketing is here to stay. With its numbers increasing every day, more and more companies are incorporating affiliate programs as a straightforward and cost-effective way to drive sales and generate revenue.
The affiliate marketing industry is only expected to grow bigger with each year, especially now that companies are rapidly digitizing their brands and focusing on improving their online presence.
However, as with any other digital industry, affiliate marketing is also threatened by the rise of cybercrime, which can seriously harm brands. Nevertheless, the pros still outweigh the cons, making affiliate programs an excellent investment for your business.