20 Mind-Blowing Amazon Statistics for 2023
FirstSiteGuide is supported by our readers. When you purchase via links on our site we may earn a commission.
Read More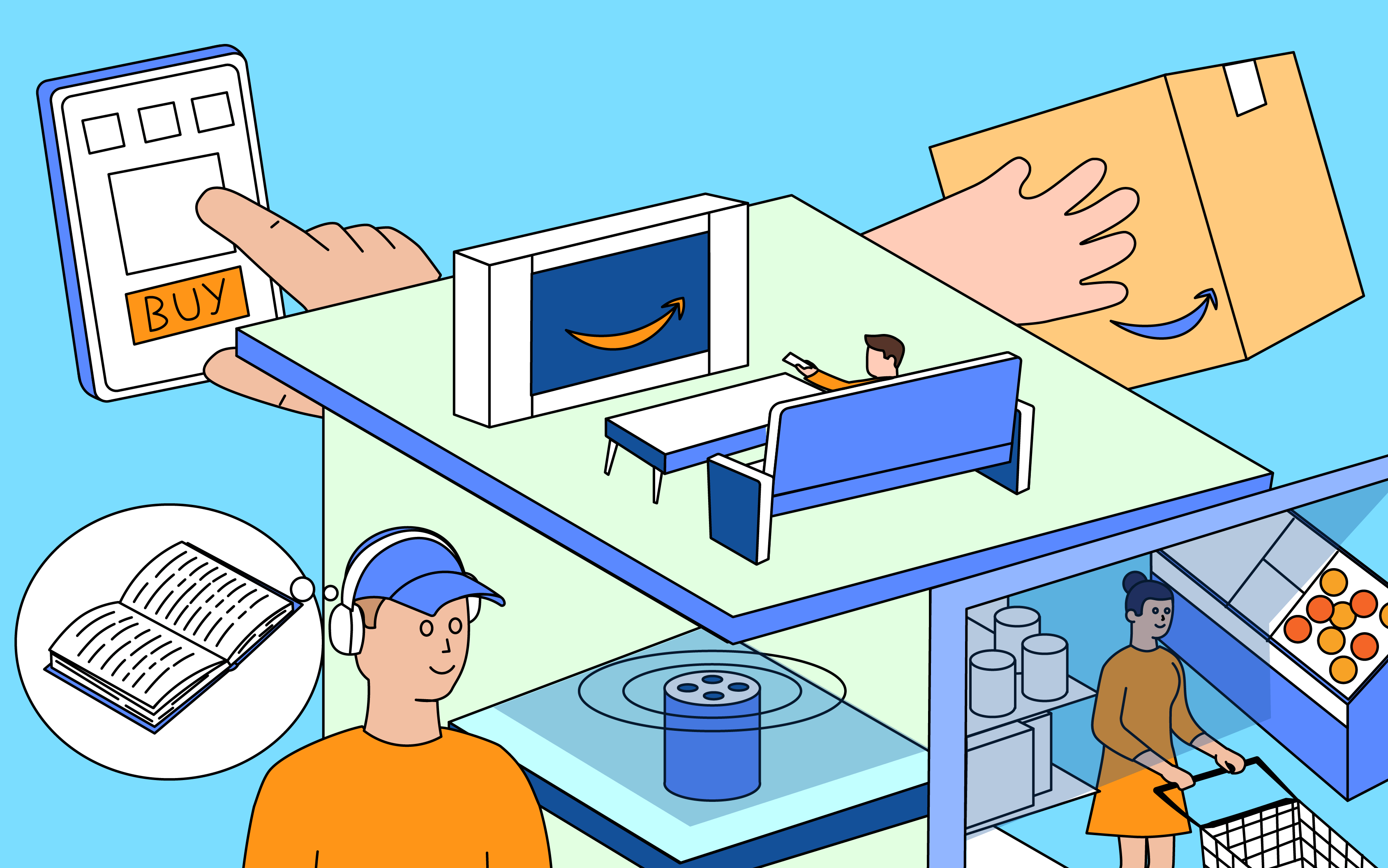 Starting as an inconsequential online bookstore in the late '90s and early 2000s, Amazon has become the biggest eCommerce giant our world has ever seen. With estimated monthly traffic of 2.5 billion visits, this company grows by the day, introducing new products, features, tools, and technologies that keep attracting new users.
Amazon's unprecedented growth became especially evident during the pandemic, when consumers started changing their purchasing habits and relying more and more on online shopping.
Key Amazon Stats
Amazon holds 49.1% of the US eCommerce market share.
In 2021, Amazon's net sales exceeded $469 billion.
Amazon's operating expenses exceed $152.5 billion annually.
Over 200 million users enjoy an Amazon Prime membership.
There are over 12 million unique products on the Amazon marketplace.
Shipping expenses alone cost Amazon $61.1 billion annually.
Fast and free shipping is the main reason why 79.8% of customers purchase from Amazon.
General Amazon statistics
How much has Amazon changed over the last few years? Let's examine some interesting Amazon stats and use that information to gauge the company's future.
1. Amazon holds 49.1% of the US eCommerce market share.
Amazon is the go-to eCommerce site for shoppers in the US, as evidenced by the fact that the company holds over 49.1% of the eCommerce market share. Following Amazon, we have eBay, Apple, and Walmart, which have only 6.6%, 3.9%, and 3.7% of the market share, respectively.
At the moment, Amazon accounts for about 5% of total retail sales (including online and brick-and-mortar) in the US.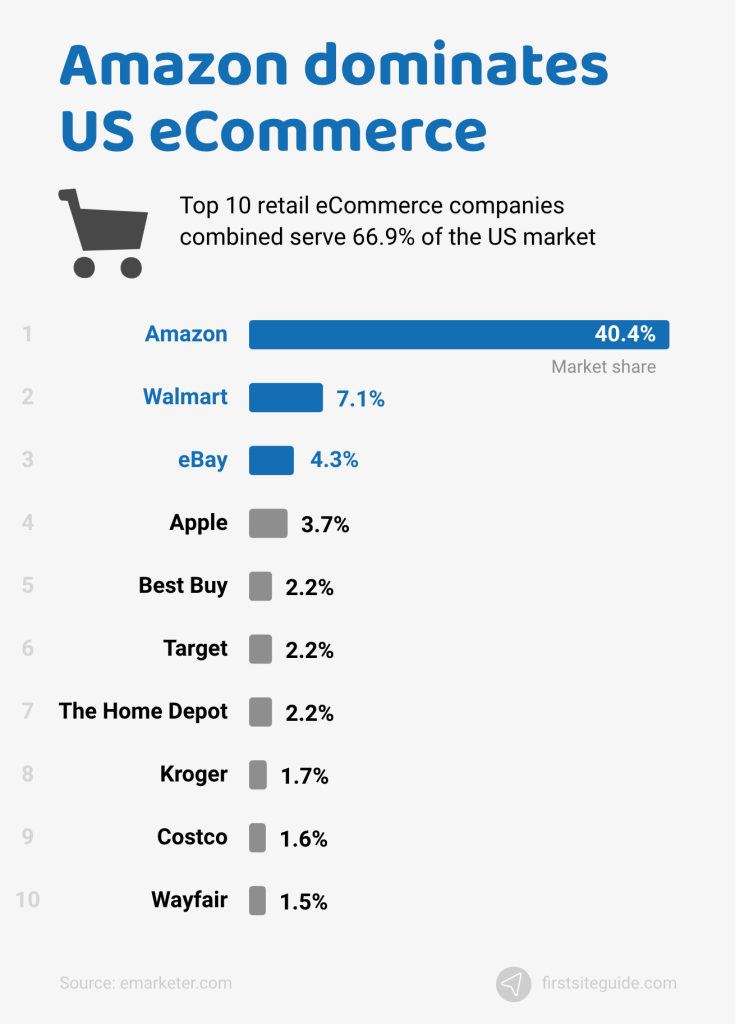 (Source: Visualcapitalist.com)
2. In 2021, Amazon increased net sales by 22%, reaching $469.8 billion.
How successful Amazon was during the harshest months of the pandemic is evidenced through its astonishing increase in net sales. In 2021, Amazon saw a boost in its net sales of 22%, reaching $469.8 billion. Compared to just a year prior, that's an increase of over $83.7 billion!
(Source: Aboutamazon.com)
3. Amazon had a net income of $33.36 billion in 2021.
Of course, it's not just net sales that received a boost in 2021. Overall Amazon's net income has seen a positive shift, reaching $33.36 billion. That's an increase of $12.06 billion in a single year!
These profits don't come from just retail sales, however. Amazon web services and other businesses (such as online and offline grocery stores) have enabled the company to expand and secure its revenue stream.
(Source: Statista.com)
4. Amazon boasts a brand value of $683.85 billion.
Amazon's brand value was fairly stagnant in the years before 2016, but it has since skyrocketed and is estimated to be at $683.85 billion today. This puts Amazon significantly ahead of globally-renowned corporations such as Microsoft and Google.
Some of the main reasons behind Amazon's success include streamlined communication, excellent user experience, and superior customer support.
(Source: Statista.com)
5. 223.72 million unique users visited Amazon Sites in January 2022.
Despite its astonishing success, Amazon can't hold first place in every field. Going by the number of unique monthly visitors, it's only ranked fifth. It's surpassed by Facebook with 226 million, Yahoo with 230 million, Microsoft sites with 240 million, and Google with 272 million visitors.
Still, 223.72 million unique monthly visitors on Amazon is quite an achievement.
(Source: Statista.com)
6. In Q4 of 2021, Amazon online stores had global net revenue of $66.07 million.
Amazon online stores are the company's top performers, collecting a global net revenue of $66.07 million in Q4 of 2021 alone. However, that doesn't mean that their other sectors are falling behind. All of Amazon's five sectors have seen increases in Q4 of last year.
Amazon's physical stores saw a global net revenue of $4.68 million. Retail third-party seller services generated $30.32 million, subscription services $8.12 million, and Amazon Web Services (AWS) $17.79 million.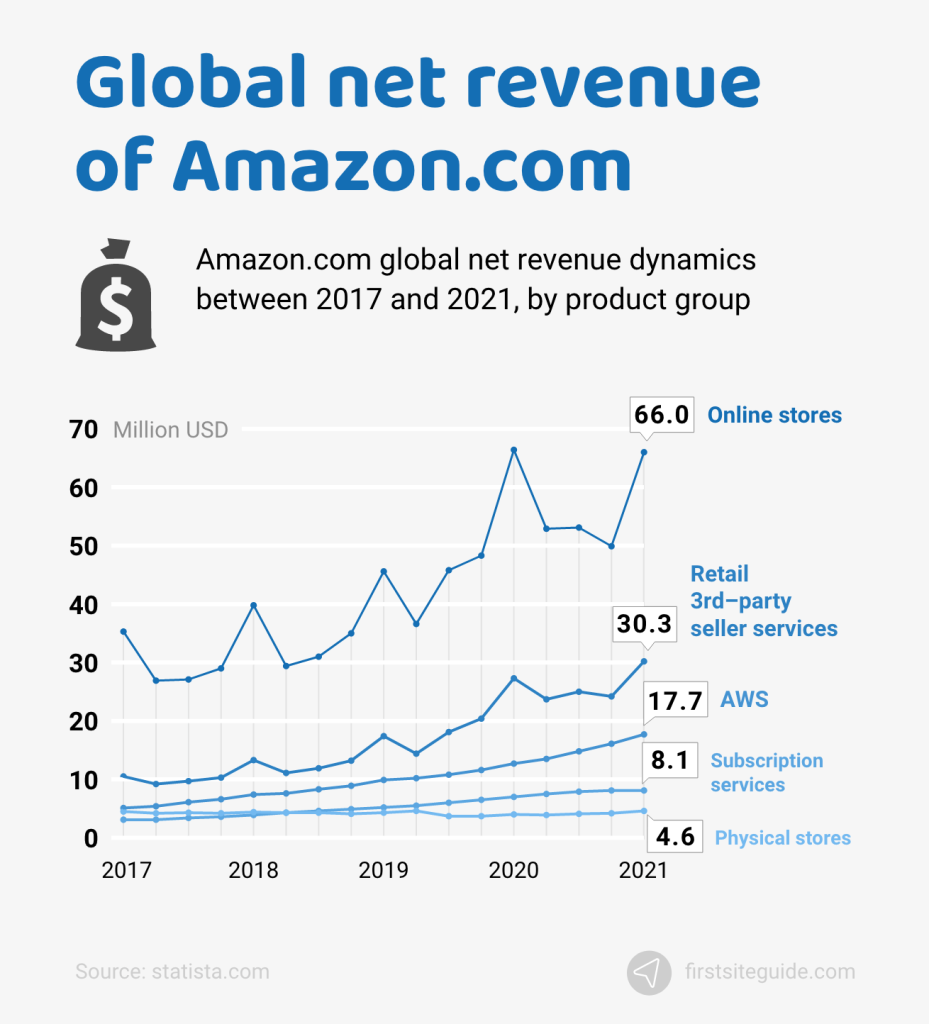 (Source: Statista.com)
7. Amazon advertising sales generated $31.16 billion in revenue in 2021.
Advertising sales are one of Amazon's strongest areas, generating $31.16 billion in revenue in 2021, over $11 billion more than the year prior. On a global scale, that accounts for about 9% of total digital ad spending.
(Source: Statista.com)
8. Shipping expenses alone cost Amazon $61.1 billion annually.
Although Amazon certainly has impressive profit margins, it's not all fun and games. In 2021, the company's annual operating expenses exceeded $152.5 billion! Shipping alone costs the company $61.1 billion (an increase of 189% since 2017). Other significant expenses include fulfillment operations at $58.5 billion, marketing and Amazon affiliate marketing at $22 billion, and advertising coming in at $10.9 billion.
(Source: Amzscout.com)
9. Amazon has over 200 million Prime members worldwide.
Although Amazon Prime launched in 2005, it took over a decade for the service to really take off. Today, there are approximately 200 million paying Prime members, 112 million of whom are from the US.
(Source: Statista.com)
10. Over 2 million third-party sellers take advantage of Amazon's marketplace.
Although Amazon has about 111 private brands and sells over 22,000 of its own products, the company doesn't only offer Amazon merchandise. It allows countless third-party sellers to take advantage of the successful platform. At the moment, there are approximately 2 million SMBs and third-party sellers with their own marketplaces on Amazon.
(Source: Forbes.com)
11. There are approximately 9.6 million seller accounts on Amazon's global marketplaces.
Amazon adds about 2,000 new sellers daily and, at the moment, has about 9.6 million seller accounts across its 19 marketplaces. Considering that many businesses use several marketplaces at once, it's estimated that there are approximately six million unique sellers.
However, despite their numbers, most of these sellers aren't excellent performers. Only 10% of them generate over $100,000 in sales annually.
(Source: Marketplacepulse.com)
12. Amazon employs over 1.2 million workers.
While it's notorious for its harsh workplace environment, especially in the warehouses, Amazon still employs a staggering number of workers – over 1.2 million globally.
Due to a significant increase in online orders during the pandemic, the company has had to add 427,300 workers in just ten months, earning it a place in the world's top ten largest employers.
(Source: Newyorktimes.com)
13. The average Amazon Prime user spends about $1,400 annually on the platform.
It's not surprising that Prime and non-Prime users have different spending habits, but the difference might be more than you thought. Whereas regular Amazon shoppers spend about $600 annually on the platform, Prime members spend upwards of $1,400. As more and more consumers opt for Prime memberships, Amazon's revenue is bound to increase even further.
(Source: Statista.com)
14. 44% of consumers buy electronics on Amazon, making it the most popular product category on the platform.
Among both Prime and non-Prime consumers, electronics are by far the most popular product category on Amazon. Over 44% of buyers would buy electronics on the platform, with 62% of Prime members and 73% of non-Prime members being specifically interested in computers. Among younger adults (18 to 26), smartphones and accessories are the preferred products.
Right after electronics, buyers are also interested in clothing, shoes, and jewelry (43% of consumers), home and kitchen (39% of consumers), and beauty and personal care (36% of consumers).
The least popular Amazon category is baby products, with only 9% of users being interested in buying them.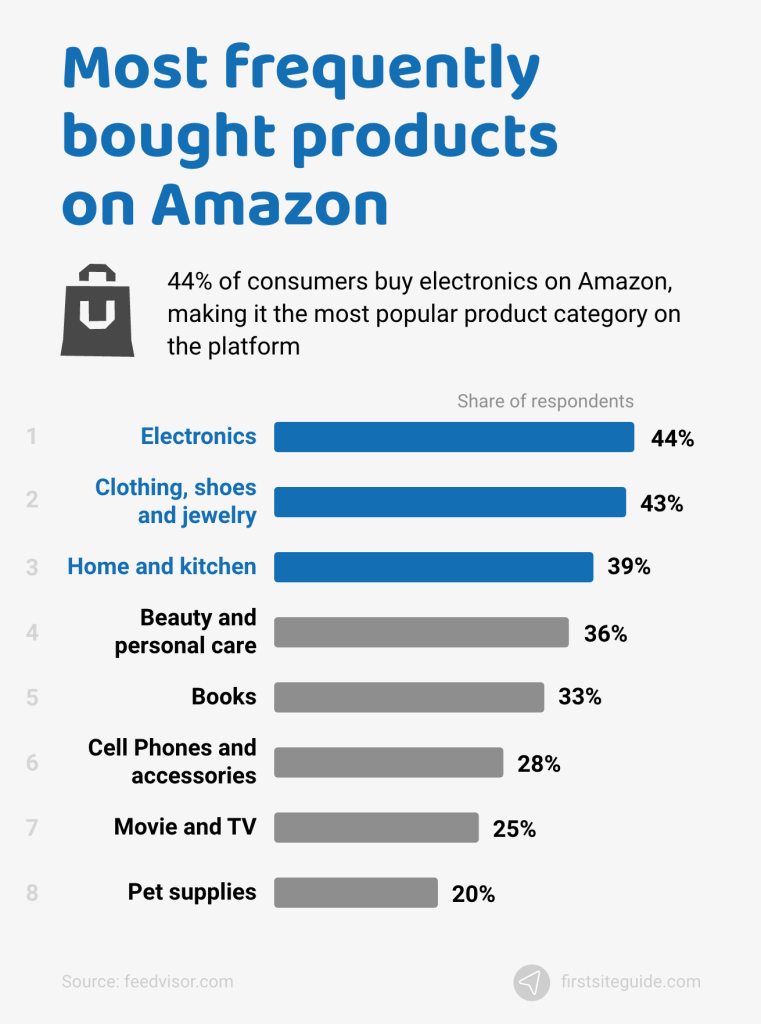 (Source: Feedvisor.com)
15. Amazon boasts a vast catalog of products and services across categories, offering 12 million in total.
Amazon is known for its massive warehouses worldwide, and the reason for such impressive spaces is the 12-million-strong category of products and services – and that's just factoring in Amazon's inventory. With all of the SMBs and third-party sellers combined on Amazon marketplaces, it's estimated that there are approximately 350 million items listed on the platform.
(Source: Repricerexpenses.com)
16. At least 21,206,026 live websites are using Amazon.
Amazon isn't solely for purchasing electronics and various knick-knacks online. Much of its revenue comes from Amazon Web Services (AWS) and other web hosting solutions. As of March 2022, 21,206,026 live websites use AWS, including BBC, Binance, Bloomberg, Netflix, Opera, and The Atlantic.
(Source: Builtwith.com)
17. Amazon Alexa dominates as the most popular voice assistant, with 63% of organizations developing Alexa integrations.
As voice assistant technology is becoming more commonplace, more and more businesses are developing voice-enabled solutions. While over 88% of companies are building multiple voice-enabled services, 63% of them are focusing on Amazon Alexa.
Right behind Alexa are Google Assistant, with 62% of companies developing solutions for this platform, Siri, 39% of companies, Cortana, 30%, and Bixby, 16%.
(Source: Slideshare.com)
18. Despite the rise in mobile traffic, 67% of consumers prefer using their desktop or laptop to make purchases on Amazon.
Although mobile is quickly taking over the internet, responsible for almost 50% of all internet traffic, desktop still reigns supreme when shopping on Amazon. More than 67% of consumers prefer using their desktop computers for making purchases.
Amazon Echo and Dot are the least popular choices – only 0.7% of buyers order Amazon products using their voice-enabled devices.
(Source: Cpcstrategy.com)
19. Over 79.8% of consumers purchase from Amazon because of fast and free shipping.
Buying on Amazon has its perks: you have access to a wide selection of products, you can usually find the best prices, easily check out user reviews, and more. However, the main reason why over 79.8% of consumers prefer buying on Amazon is the fast and free shipping.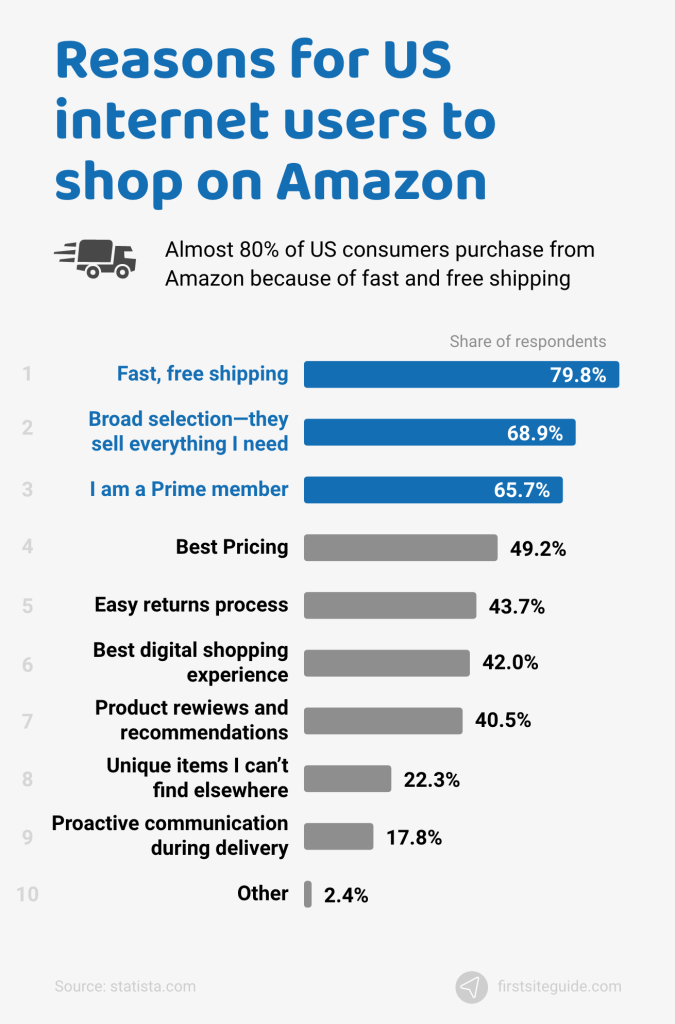 (Source: Statista.com)
20. 63% of customers start their product searches on Amazon.
Shoppers today can find the products they're after on a million different platforms. About 50% of them prefer searching for new products on Google or Instagram. However, Amazon is still the go-to marketplace for initial product searches. Approximately 63% of consumers start their product search on the platform, and about 63% also compare the pricing on Walmart.
(Source: Catalystdigital.com)
Conclusion
While the pandemic had a devastating effect on many businesses across countless industries, most in eCommerce were spared. Amazon reported record earnings in 2020 and 2021, with solid evidence that 2022 will continue the upward trend.