Arvixe Hosting Review
Company Overview, Pricing, and Features
FirstSiteGuide is supported by our readers. When you purchase via links on our site we may earn a commission.
Read More
Introduction
Arvixe was founded in 2003 by Arvand Sebastian, after his junior year in high school. It was privately owned until 2014, when it was sold to Endurance International. Sound familiar? Well, they own more than one hosting company. In 2011 and 2012, Arvixe was proclaimed one of the 500 fastest-growing privately owned companies. Did this growth, combined with the change of ownership, benefit or hurt Arvixe? So far, things seem good; but will it last?
Hosting plans
Shared hosting is available in two tiers: Personal and Business.
Personal plans give you two options, Class and Class Pro. While both provide unlimited bandwidth and disk space, Class gives you only six domains while Class Pro gives you an unlimited number.
Business plans are virtually identical to Personal. They offer the two same options, Class and Class Pro, but they also give you free, lifetime SSL certification.
Reseller hosting is also two tiered.
Reseller Class: 50GB of disk space and 500GB of bandwidth.
Reseller Class Pro: 200GB of disk space and 2000GB of bandwidth.
VPS hosting has three options.
VPS Class Lite: 20GB of disk space, unlimited bandwidth, 1GB RAM, 2 CPU cores and one IP address. However, unlike other plans, it doesn't give you full management, so you won't get a fully configured control panel. This means you will have to have advanced server management knowledge.
VPS Class: full control panel, 50GB of disk space, unlimited bandwidth, 1.5GB RAM, 4 CPU cores and two IP addresses.
VPS Class Pro: full control panel, 100GB of disk space, unlimited bandwidth, 3GB RAM, 8 CPU cores and two IP addresses.
Dedicated hosting takes things to another level. There are three pre-configured Dedicated Class server plans.
Barebones Dual Processor has Dual Intel Xeon Processor E5620 (12M Cache, 2.40 GHz), 12GB RAM and 1TB HDD.
Professional Web Server has Dual Intel Xeon Processor E5645 Hex Core (12M Cache, 2.40 GHz), 12GB RAM, RAID 10, 4×1 TB HDD.
Enterprise Server has Dual Intel Xeon Processor E5-2620 Hex Core (15M Cache, 2.0 GHz), 32GB RAM, RAID 10, 4x240GB SSD. However, the real bonus comes with server customization, where you can select your own settings and pricing. You will be able to choose processor, drive type, drive redundancy, up to four hard drives, memory, OS, control panel, bandwidth, uplink, number of IPs and software. There's even option for special requests.
Cloud hosting is the last option.
Basic plan: 150GB of dedicated disk space, 4GB RAM, unlimited bandwidth and eight CPU cores.
Pro: 200GB of dedicated disk space, 6GB RAM, unlimited bandwidth and 12 CPU cores.
Premium: 300GB of dedicated disk space, 8GB RAM, unlimited bandwidth and 16 CPU cores.
Features
The signup and login processes are fairly standard.The basic information you'll need for your hosting account will be available through the Arvixe customer portal. On the right side, you will find everything regarding personal information, accounts, payments, invoices and some extras. Also, there are links for support, their blog and discussion boards.
While on the customer portal, the Support and Billing panels are where you'll probably spend most of your time. They may seem different in structure, but they're relatively easy to navigate. You will be able to see your billing and hosting history. However, that's it. If you want more advanced features that are entangled with your account, you'll have to log in to your control panel.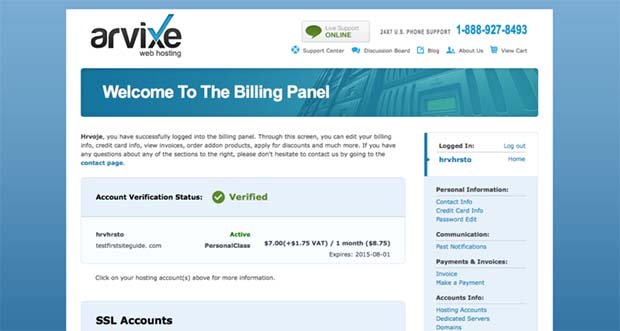 The extras we mentioned are primarily related to marketing. There are links to free Google Adwords and Bing Ads credits, free website transfer, merchant account services and, oddly (but welcome), a free nakedwines.com coupon. However, we don't recommend combining passwords with wine.
Control panel
You can access the control panel via several clicks in the customer portal, or you can go directly to it. Since there isn't much that you can do about your website in the customer portal, the control panel is where the action is. From managing FTP, email or other accounts, to SEO, security and domain management—all of the basic needs are covered there.
On the left side, you'll see your notices, search the panel, access your most frequently used areas and view some stats. If you don't like the look of the control panel, you can choose between the default theme (x3) and an alternate theme (paper_lantern). The default skin is a standard look that lays out everything clearly.
Just keep scrolling down the control panel and you'll navigate Arvixe fairly easily. There's a welcome setup wizard that will help you during setup and several more advanced features. Among them are cron jobs, a virus scanner and network tools.
Email
The process for setting up your email is pretty standard. Also, you'll be invited to create your first site during the setup. You'll see if your desired email is available and how strong your password is. You can also establish a limit on the number of emails or you can leave it unlimited. However, bear in mind that "unlimited" means emails will be limited by the account tier you've chosen. There are advanced options like account-level filtering, mailing lists, and calendars and contacts client configurations, so you'll be able to set up all the parameters to your liking.
Tools, creating and setting up your website or blog
If you want to set up a new website, there are quite a few options for you. You can either upload your own scripts or you can install some of the most popular ones—from WordPress, Joomla, Drupal and others, or e-commerce solutions such as PrestaShop and AbanteCart. Installation is easy and accomplished with few clicks. If you are a new customer but want to transfer a domain, you'll get a free transfer. All in all, there are a ton of options. Our test was run on WordPress, installed with Softaculous.
There also are a lot of additional scripts that will help you with features like music, images, RSS, file management, e-commerce, wikis, polls and surveys. Customizing your website is easy with their big scripts database and easy (almost) one-click installation. However, some things that probably should be automatic aren't, like spam filters, so you will have to devote a few minutes to installing those scripts. But if you are a dedicated DIYer, don't worry. RVSite Builder is available, which will enable you to build everything from the scratch.
Reliability and uptime
Our test, lasting a little more than a week, showed that the company's claim of 99 percent uptime is overstated. One week is fairly short amount of time, but even in that period, there were multiple down times that lasted from one minute to almost half an hour. Not a good sign.
On average, uptime was more like 97 percent. It may not sound like a major decrease in uptime, but imagine having your site down for half an hour at the time of day when you have the greatest volume of traffic. Ultimately, downtime drives customers away. Sure, we tested the cheapest option, but that's not an excuse for below-average uptime. This is the only feature we found to be oversold.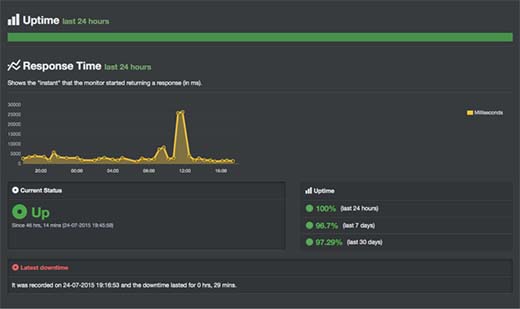 Load test
Websites on Arvixe have shown that they can withstand decent number of visitors. Using Load Impact, we tested the response times from several locations. The website server is located in San Francisco, so we mainly focused on the West Coast to East Coast response times. Most tests were conducted between San Francisco and Ashburn, Virginia.
The average response time was about 1 to 1.5 seconds, rising consistently as user volume increased. This isn't the fastest time, however, the real problem was that there were several occasions when it took 30 seconds or more for a response, which isn't a sign of a really healthy website. The same happened with other U.S. cities like Palo Alto and Portland, although some were slightly quicker or slower.
When it came to international response time, Arvixe was on par with other hosting companies. Response times from Sidney were about 1 to 1.5 seconds, Tokyo was about 2 seconds, while Singapore took, on average, 3 seconds. This was surprising, considering the inconsistent response times in the U.S.
Help and support
Help and support were decent, but could be improved. The knowledge base provided relatively clear instructions on how to solve most common problems. There were no issues with chat support, either. Response time and problem resolution were relatively fast. We were connected with staff members within couple of minutes and problems were resolved within 15 to 20 minutes. The downside? Chat support isn't available during the weekend.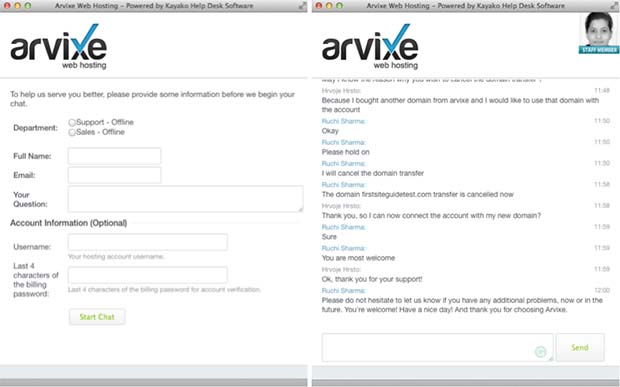 E-mail response was also relatively fast, but frustrating. Our first ticket got "lost." In the email we were sent, there was a link with a form that we filled out and submitted. However, there was no answer, and, obviously, the problem was not resolved. After 48 hours we received an email that said the ticket's status was closed because they did not hear back from us. That nearly happened the second time around with a bit longer response time. It left us puzzled, but each succeeding email correspondence was better and faster.
Pricing
The different plan tiers also have tiered pricing. You'll want to consider your needs and select the one that best meets them. Unfortunately, Arvixe isn't famous for discounts, so don't count on catching a break.
Shared hosting
| | |
| --- | --- |
| Personal Class | $8.47 per month |
| Personal Class Pro | $7 per month |
| Business Class | $22 per month, includes lifetime SSL certificate |
| Business Class Pro | $35 per month, includes lifetime SSL certificate |
VPS hosting
| | |
| --- | --- |
| VPS Class Lite | $20 per month |
| VPS Class | $40 per month |
| VPS Class Pro | $70 per month |
Dedicated Class hosting
We won't go into the details of personalized Dedicated Class hosting, because there are quite a few variables that impact cost; you can see the details here. However, already mentioned pre-configured servers cost as it follows:
| | |
| --- | --- |
| Bare-bones Dual Processor | $429 per month |
| Personal Web | $579 per month |
| Enterprise | $719 per month |
Cloud Class hosting
| | |
| --- | --- |
| Basic | $29 per month |
| Pro | $149 per month |
| Premium | $180 per month |
Arvixe—at a glance
Pros
a lot of website customization options
easy scripts installation
consistent intercontinental response time
availability of customizable dedicated hosting servers
Cons
inconsistent response time within the same continent
confusing email ticket system
uptime is slightly below what was advertised
loading time can be erratic
Conclusion
Arvixe is a service that left us somewhat puzzled. Everything starts out great. There are a decent number of plans to choose from. We had no trouble setting up the website. And customization options are easy and numerous. There isn't any fuss about the control panel and options for a lifetime free domain (and SSL certificate in more expensive plans) sound very appealing.
However, when it came to actually working on the website, things got a little flaky. Response time was somewhat erratic and the promised 99.99 percent uptime was not met, with multiple down times in just one week. On the other hand, a security option comes with all packages, but SSL certificate costs $25 a year. Also worth mentioning is the 60-day, money-back guarantee, which is twice the usual time. Arvixe delivers a give-and-take service. It can behave smoothly like a Maserati or clunky like a Yugo. But the more you pay, the better it behaves. To be fair, it's a great place to start or continue hosting your website, but expect an occasional bump in the road.