The Best Affiliate Programs in 2023
Ultimate List of the Top Affiliate Programs to Earn Money in 2022
FirstSiteGuide is supported by our readers. When you purchase via links on our site we may earn a commission.
Read More
The Best Affiliate Programs in 2023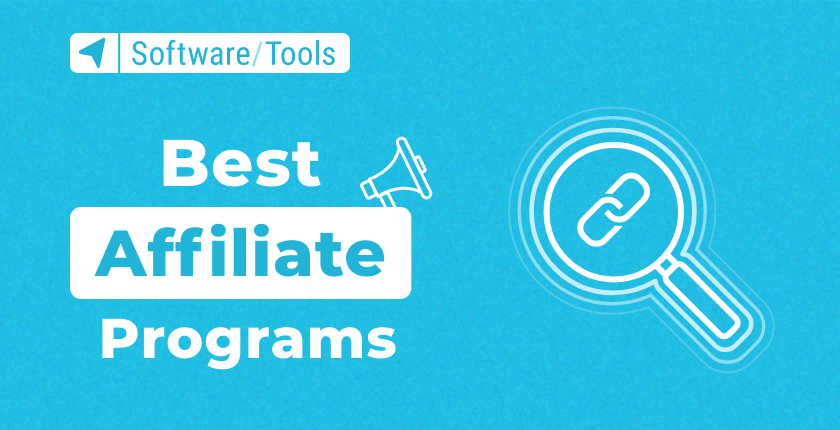 Being your own boss and making money online is the perfect alternative for anyone who is tired of the hustle culture. You can set your own schedule and have all of the flexibility you need. Most importantly, you can earn a passive income that keeps you and your bank account pretty happy.
Now, out of all of the ways to earn money online, joining an affiliate program could just be the best option. Affiliate marketing spending has been growing over the last few years, with estimates that over 80% of all brands have some form of an affiliate program, making your opportunities as an affiliate virtually endless. However, you have to find the right program for you.
Learn more about affiliate programs and explore your best options below.
What is an affiliate program?
In essence, affiliate programs are digital word-of-mouth (or referral) marketing campaigns. A brand that's trying to generate leads or boost sales can join up with affiliates such as bloggers, influencers, and social media gurus, then have them promote a product or service to their audiences. If they are successful in referring their audiences to the suggested product/service, these affiliates receive a commission expressed as a percentage of the sale that they helped to secure.
Simply put, affiliate programs are an additional sales channel for brands that present lucrative opportunities for those trying to make a living online. So, instead of banging your head against the wall trying to come up with good ideas for starting an online business, you can establish an online reputation, then join an affiliate program to pay your bills.
The top 10 most popular affiliate programs
Affiliate marketing can be exceptionally valuable for brands, allowing them to improve lead generation, boost brand awareness, and inspire loyalty. So, it's no surprise that virtually every company is now offering some form of an affiliate program that you can join.
Below are some of the best affiliate programs and networks.
---
Amazon Associates — The most versatile product selection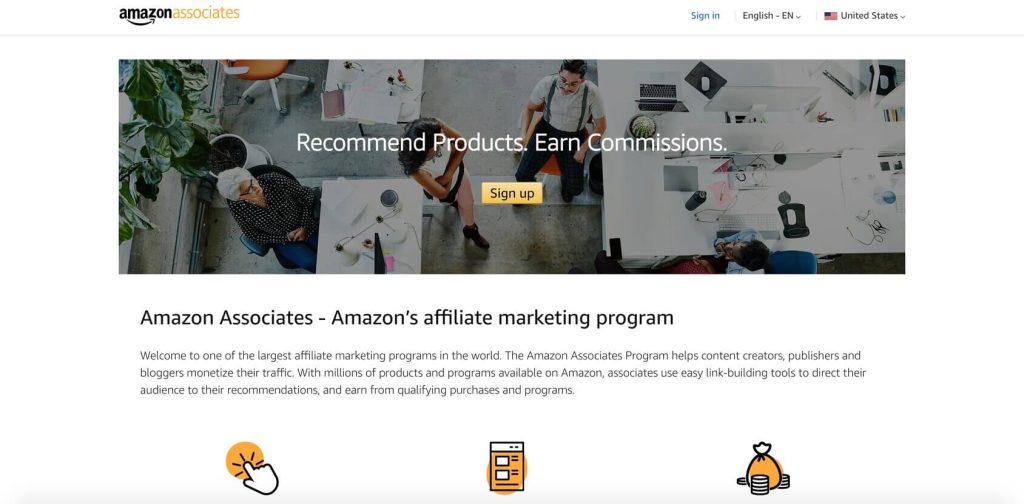 Amazon Associates is perhaps the most famous affiliate program there is. Chances are good that you've come across hundreds of Amazon affiliates in the last few days alone while browsing the net.
Amazon is a company that's taken affiliate marketing to a whole new level. You can choose to promote any product that's available in its eCommerce store – food, clothing, accessories, weird home decor; you name it. Whatever your niche and audience, you'll easily find excellent products to promote.
The Amazon Associates program is easy to use (you can start right away), making it perfect for all newcomers to affiliate marketing. The pay is slightly lower than what you might expect, but you'll always be paid in full and on time (typically about 30 days after your follower has made a purchase).
The only drawbacks are the short cookie lifetime and strict terms of service that you have to obey at all costs.
Key features
Versatile product categories – millions of new products are added to Amazon every single day, and you can promote any of them as an Amazon affiliate;
Easy for newcomers to join – as long as you frequently publish original content, have a website, mobile app, or a social media account with at least 500 followers, you can join Amazon Associates;
Fixed commission income – you earn a percentage of the sale, which goes from about 1% on physical video games and gaming consoles to 20% on Amazon games;
Special commission income on select product categories – there are Bounty and Bonus Events that will earn you flat rates when a customer uses your link;
24h cookie lifetime – you will earn a commission if a customer purchases an item through your affiliate link within 24 hours or places it into their Shopping Cart within that time period;
Earn commission on all products purchased – if a customer uses your affiliate link, you will receive a commission on all of the items they've purchased during the session, even if you haven't promoted them.
Visit Amazon Associates for additional information >>
Awin — The easiest to use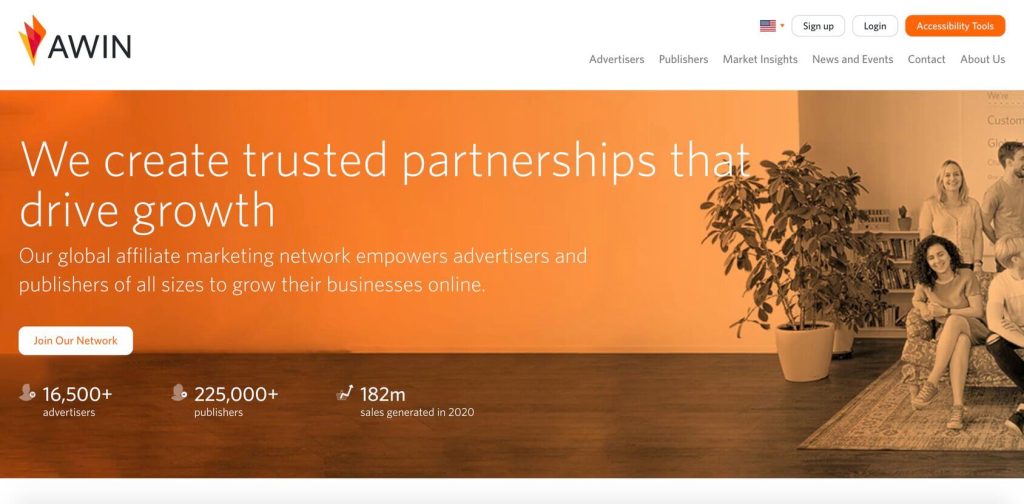 Awin is an affiliate network that's quickly gaining traction. It doesn't have such a vast product offer as Amazon, but it still has a notable array of categories that most influencers, bloggers, and site owners will find suitable for their audiences. The categories include finance and insurance, retail, telecommunications, and travel.
This platform has over 200,000 publishers and 16,500 affiliate marketers, so you'll find it easy to fit right in.
One of the most significant benefits is that Awin has a Chrome extension that automatically generates affiliate links immediately ready for use.
Although it's a younger network, it's already gained a reputation as a reliable platform for affiliate marketing, so you won't regret joining it.
Key features
Vast network – with 16,500 brands and 200,000 publishers, you'll find it easy to locate a company within your niche;
Broad advertiser directory – each of the four main advertiser categories is divided into smaller segments to help you find the best brand for your needs;
User-friendly platform – the intuitive platform is easy to navigate, allowing you to quickly find all of the tools and features you may need;
Deeplink generator – use any product link or image from a brand to create your unique affiliate link; and
Customizable reports – receive insightful performance reports that can help you to supercharge your earnings.
Visit Awin for additional information >>
CJ — The longest cookie lifetime
Commission Junction, or CJ, is one of the oldest affiliate networks in existence, being in the business for over 20 years. It boasts thousands of clients worldwide, so you'll have no trouble finding a brand that suits your niche.
It's easy to sign up and start partnering with your favorite brands, even if you're a complete beginner.
The only issue with CJ's affiliate program is that each brand has its own unique requirements for marketers. You'll need to ensure that you meet the requirements of each brand that you want to collaborate with, which can get complicated.
Key features
Partnered with renowned brands – through CJ, you can become an affiliate publisher for brands such as Barnes & Noble, Office Depot, and Priceline, to name but a few;
Long cookie lifetime – cookie duration is different for each brand on CJ, but some have a lifetime of up to 400 days;
Automatic URL conversion – CJ's deep link generator can create your affiliate links directly from the brand's site and convert the URLs to trackable links;
Strict applicant requirements – each brand has its own requirements that you'll need to meet to become an affiliate; and
Suitable for experienced marketers – newcomers might find CJ's platform confusing since it's packed with sophisticated tools and features.
Visit CJ for additional information >>
ClickBank — The highest commission rates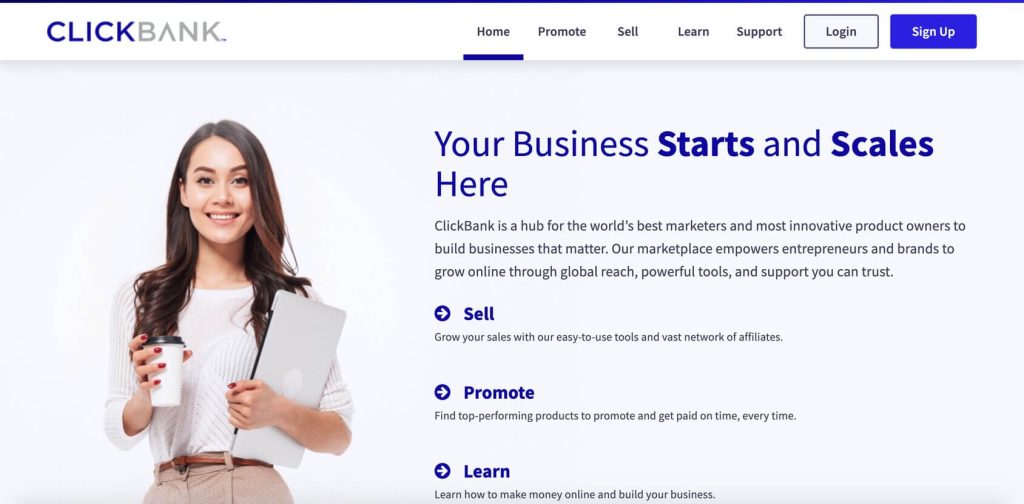 Another excellent network with years of experience is ClickBank. It boasts over 6 million clients worldwide and is renowned as one of the most generous networks available. Depending on the brand that you partner with, along with your reach and overall performance, you could earn as much as a 90% commission on the sales that you help generate.
You'll rarely need to get pre-approved by your chosen brand before you can start using their affiliate links. You could immediately gain access to marketing materials, brand logos, pre-sale pages, and more, meaning your job will be significantly easier.
Key features
Earn up to 90% commission – commission rates depend on the brand, but many offer high commissions to their publishers;
Recurring commissions – if you promote subscription-based products/services, you'll continue earning a commission during the customers' subscription;
Physical and digital products – regardless of your niche, you'll find physical or digital products suited to you and your audiences;
Automatic upselling – using the Automatic Upsell feature, you'll earn a commission if the customer buys the additional products; and
60-day cookie lifetime – you'll earn a commission if a customer uses your link to make a purchase within 60 days.
Visit ClickBank for additional information >>
FlexOffers — The best for experienced publishers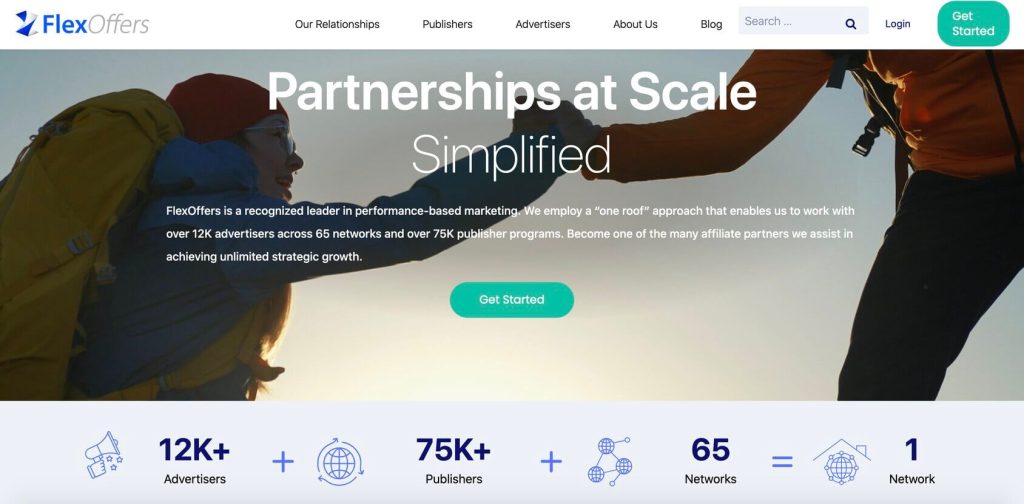 FlexOffers is a relatively small network, boasting about 12,000 affiliate programs and 500 advertisers, but this company's only getting started. Some of the brand categories on the platform include education, entertainment, automotive businesses, sports, even legal services, so you can easily find one that suits your niche.
To get started on FlexOffers, you'll need to have some affiliate experience. You'll also need a well-designed website with high monthly traffic. Otherwise, you won't be able to find brands to work with you.
However, you could join FlexOffers' sub-affiliate program instead – you would use FlexOffers' affiliate link, then split your commissions with the company.
Key features
Cookieless tracking – cookieless tracking is more efficient and more accurate, ensuring that you earn a commission on every single purchase without a hitch;
Flexlinks – create automatic trackable links with a single click;
Over 650 million products – explore their vast product database to find the best goods to promote to your audience; and
Comparison widget – add comparison widgets to your site to display different stores where a product is sold and include their pricing information.
Visit FlexOffers for additional information >>
Impact — The simplest sign-up process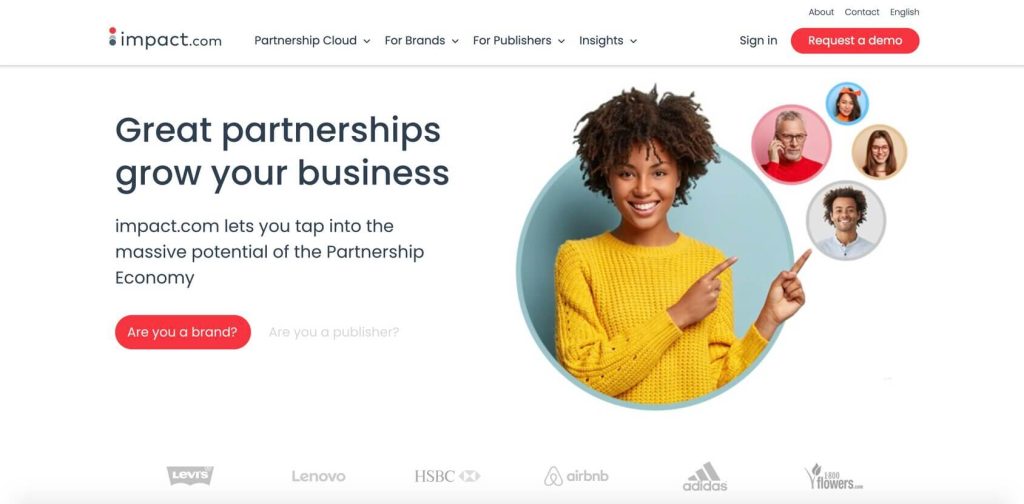 Impact is often regarded as the best affiliate network for beginners. It has a well-designed user interface that gives you clear insight into your performance and key metrics.
The sign-up process is quick and easy, with most brands accepting your partnership quickly. Impact's support teams are responsive, and its tutorial articles will tell you everything that you need to know to get started.
Key features
Thousands of brands – through Impact, you can partner with brands such as Uber, Ticketmaster, Walmart, Adidas, Airbnb, and more;
Promo codes – use promo codes to earn a commission even when another site promotes your unique code;
Comprehensive tracking – earn commissions with pay-per-click (PPC), pay-per-lead (PPL), and pay-per-sale (PPS) on retail sales, mobile installs, downloads, and more; and
Easy sign-up – experienced and inexperienced publishers alike can join Impact's affiliate program with ease.
Visit Impact for additional information >>
Rakuten Advertising — The best for building relationships with merchants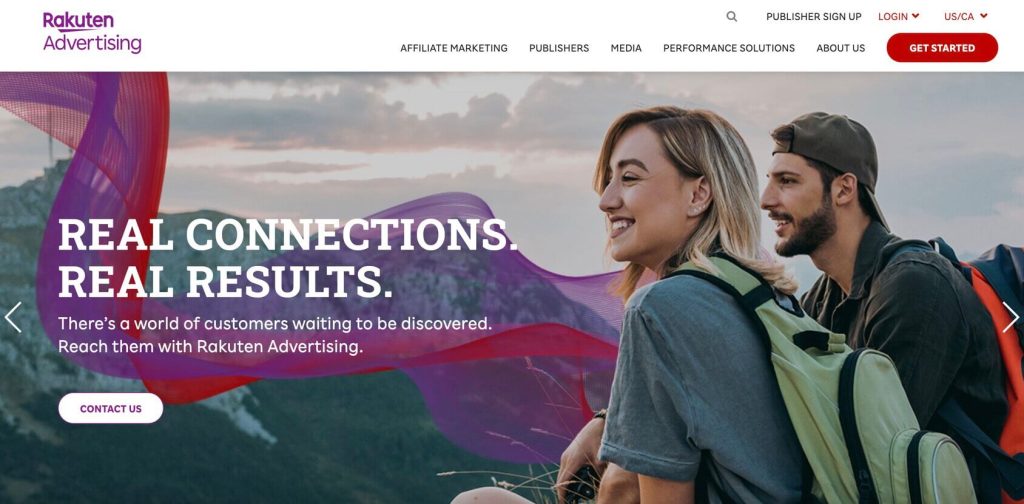 Rakuten Advertising works with thousands of brands and marketers around the globe. It has a vast network of businesses you can collaborate with, regardless of your unique niche. It's beginner-friendly and offers competitive compensation that's based on your performance.
You'll receive your own account manager who will help you to get started and offer support any time that you need it.
However, Rakuten's approval rates leave something to be desired. Even though it's designed as a beginner-friendly network, it has strict requirements for newcomers, so you'll need to have a well-established online presence before you can start working with their affiliate program.
Key features
Intuitive interface – all of the advanced tools, such as deep linking tools, are easy to learn and use;
Informative content – you can find guides and tutorial videos that will help you get started with affiliate programs;
Account manager – your account manager will help you to set up and start monetizing your website; and
Variable cookie lifetime – cookie lifetime varies by brand, so you'll need to check with the advertiser to find out when you'll receive commissions.
Visit Rakuten Advertising for additional information >>
ShareASale — The best for timely payments
ShareASale is part of the Awin network, offering many of the same benefits as its parent company. It has thousands of brands and marketers and offers innovative solutions to connect them with each other.
You'll enjoy a seamless application process that's fully beginner-friendly. You'll get competitive rates, on-time payments, and responsive support that's always there to help. Most importantly, you'll have full access to your performance metrics: conversion rates, average performance, and earnings.
Key features
Smaller brand base – ShareASale has about 1,000 merchants to choose from, so it could be more challenging to find the best brand for you;
Detailed metrics – you'll gain insight into your number of sales and conversions, have an overview of your earnings and other key performance indicators;
20% commission rates – you will see earnings of up to 20% per sale; and
Regular payouts – your payments will always be sent on the 20th of each month.
Visit ShareASale for additional information >>
Skimlinks — The best for newcomers
The Skimlinks affiliate network is among the largest, with more than 24,000 brands using it. You can be as nitpicky about your affiliates as you'd like, choosing only the companies that truly resonate with you.
You'll receive a link creation tool that automatically generates ready-made affiliate links that you can track. Additionally, you'll find innovative ways to make use of all of the user-generated content on your site to start monetizing your forums.
Unfortunately, there's a downfall to Skimlinks. The company charges 25% on your commissions and has some problems with timely payments. Keep this in mind when applying for the program.
Key features
Vast brand network – with over 24,000 brands, you'll have a chance to find the best brands suited to your niche;
Partnerships with other networks – Skimlinks is partnered with other networks such as Awin, CJ, and Rakuten Advertising, giving you access to more merchants;
Detailed analytics – gain insights into your best-performing content types, revenue sources, and more; and
10% to 15% commission – your earnings will depend on the merchant, but most pay between 10% and 15% of the sale.
Visit Skimlinks for additional information >>
VigLink — The most advanced features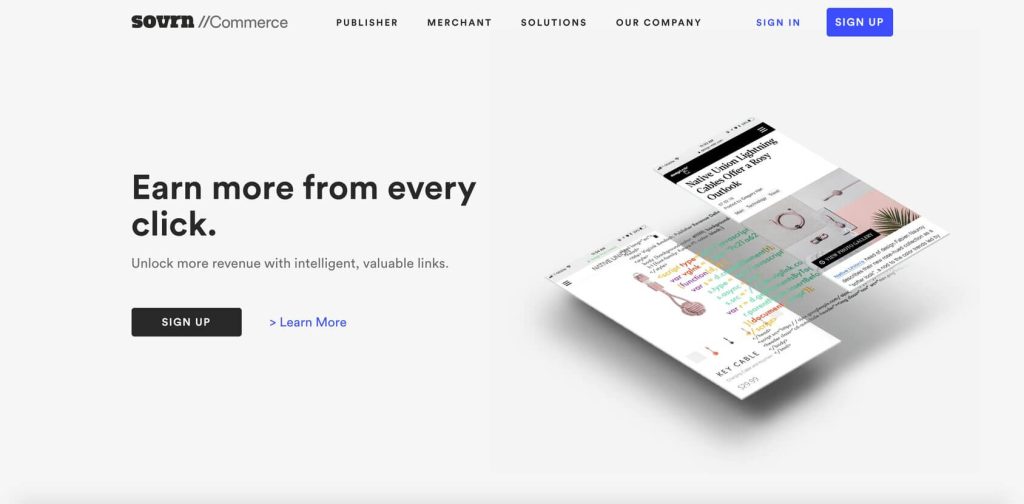 VigLink (or Sovrn) is a fan-favorite affiliate network. It has intuitive automation tools that enable seamless affiliate link creation. You won't have to create or organize your affiliate links at all – add the VigLink code to your website, and all will be taken care of for you.
The tool will go through your site looking for names, locations, keywords, and key phrases, then automatically add your unique affiliate link where appropriate.
The network's easy to join, easy to use, and you'll easily find your favorite brands, products, and services.
Key features
Automatic link monetization – VigLink's program assesses your website/blog and converts existing product links into monetized links;
Merchant Explorer – an insightful dashboard that presents all available merchants and their unique offers;
Natural Language Processing (NPL) – NPL works in the background to link your product mentions with the best-paying merchants; and
Trends Explorer – data about the latest industry trends that can help you to improve your content.
Visit VigLink for additional information >>
Jotform — The best for keeping track
The Jotform Affiliate Program is one of the best for beginners as it's both easy to get started with and pays well. Since the product itself is as versatile as can be, there are many use cases which means many opportunities for new subscribers – it's perfect for an affiliate program. This also means you get to use Jotform to keep track of your entire operation.
When you sign up, Jotform will equip you with everything needed to reach potential paid users including a training package, brand assets, and a dashboard you can use to analyze your earnings and manage your links.
Key features
Easiest to keep track of everything – Jotform offers an affiliate tracking template and sign-up forms so you can easily keep everything organized
30% commission rate – earn a one-year 30% commission for each new subscriber you refer
Regular payments – Jotform will pay your commission monthly for up to a year
The earnings report and easy link management – affiliate dashboard will allow you to keep a close eye on pending and completed commissions as well as your affiliate links
Long cookie duration – earn a commission for every subscription made within 60 days of clicking your affiliate link
Visit Jotform Affiliate Program for additional information >>
How to choose the right affiliate program
Choosing your affiliate program can often be easier said than done. There are simply far too many brands that rely on affiliate marketing, and it's challenging to determine the best fit for you, especially when you're a newcomer to this field.
To ensure that you choose the right program, you'll need to consider several factors:
Niche – it cannot be stressed enough how essential it is to find a program that fits your niche. Partner only with brands that make sense for you. Otherwise, your audiences won't be very eager to use your affiliate links. If you're a fitness influencer, partner with sports apparel companies, health and nutrition brands, or gyms. Don't partner with fast-food restaurants. If you're a tech blogger, go for software providers, apps, even games. Don't choose vintage clothing retailers. Choose a brand that integrates well with your content and online persona.
User experience – it's always a good idea to read up on user reviews before joining an affiliate program. You'll learn more about the ease of use, payment methods, and overall profitability of the program. Don't just go by the testimonials on the company's site. Look around the net to discover what users really think.
Commission – naturally, the commission is the most critical factor that you'll need to consider. Do you earn a percentage of the sale, or is there a flat rate? Does the commission improve with good performance? Are there any bonuses for new affiliates? Do different types of products earn a different commission? Find out as much as you can about how much you can expect to earn before joining a program.
Payout – make sure to confirm in advance when you'll get paid. Most programs will offer payout on a monthly basis, but that's not always the case. Some will even require that you pass a certain threshold before you receive a payment (such as $50 or $100).
Cookie lifetime policy – cookie lifetime refers to the length of time during which you can get a commission for a sale. Cookie lifetime starts when your customer first clicks on your affiliate link and ideally lasts until they make a purchase. However, different brands will have different cookie lifetime policies. Some will offer only a 1-day lifetime, while others will last as long as a year. As a general rule of thumb, the longer, the better.
How to find a good affiliate program?
Finding a good affiliate program is a pretty straightforward process. You can start by identifying your niche and then looking up some of the top brands that would fit well with it. Keep in mind that you don't have to limit yourself to only one specific niche. This means that you don't have to limit yourself to only clothing and apparel companies if you're in the fashion blogging sphere or partner only with detox tea companies if you're a fitness influencer.
Broaden your horizons by joining affiliate networks that can connect you with countless brands across categories.
Many of the affiliate programs we've discussed are large networks that work with thousands of brands, delivering millions of unique products and services. Take Amazon Associates, for example. This program connects you with every single brand regardless of the type of products that they sell on Amazon – book publishers, smart home device manufacturers, arts and crafts suppliers, and more.
Awin can connect you with companies such as Aviva Car Insurance, Premier Inn, HP, AliExpress, and Etsy, to name just a few.
Of course, if networks aren't your thing and you'd prefer to work with individual brands, you'll still have plenty of options.
Identify the brands that you'd like to cooperate with, then do a quick Google search for brand name + affiliate program. If the company has an affiliate program, you'll find all of the information you need to get started.
Visit your preferred brand's page dedicated to affiliate marketing, and learn how you can earn money by promoting their products/services.
Every brand with an affiliate program will have clear instructions about what you need to do to become a marketer for them. Keep in mind that some will have criteria that you'll need to meet before joining the program (such as a certain number of followers on social media or a certain number of monthly visitors to your blog).
If you meet their criteria, you'll receive your unique affiliate link, and you can start using it to earn money.
How affiliate programs work
Although affiliate partnerships are a relatively simple concept – you recommend your affiliate's product to a reader on your blog, for example, they buy it, you get paid – there's still a bit more to it than meets the eye.
Once you partner with a brand, you receive a unique affiliate link that leads to one of their pages (it can be the brand's homepage, landing page, product page, or anything in between). You'll recognize the link because of the "ref=" embedded in the URL ("ref=" meaning referrer).
This link is critical as it allows the brand (or the affiliate network) to recognize it as yours, and track it. Without it, there'd be no way to see which sales were generated by you, meaning there'd be no way to calculate your earnings. So, always make sure that you're using the correct link.
You can add the link to any online channel that you have, instructing your audiences to follow it if they want to make a purchase. Once they click on your link, head to the brand's page, and make a purchase, you receive a part of the profits.
Depending on the affiliate program, you could get paid a percentage of the sale or receive a flat fee for every new customer that a brand gets through your referral.
Different ways that affiliate programs pay
As an affiliate partner, you should be able to accept payments via bank transfers, services like PayPal, and even checks. However, regardless of how they pay you, brands and affiliate networks will use one of the following payment models.
PPL programs
Generating quality leads is often one of the ultimate goals of any company, so it's not surprising that many are willing to pay a pretty penny for some assistance in this area. Therefore, pay-per-lead (PPL) affiliate programs are the most common ones that you'll come across.
Instead of trying to sell a product or service, your job as a PPL affiliate marketer would be to get your audiences to perform an action that would help the brand to generate leads. What that "action" is, depends entirely on the company that you're working with – you might have to get your audience to subscribe to a newsletter, download a file, fill out a contact form, sign up for a free trial, or contact the company for a quote.
You can expect an average compensation of between $2 and $20 per lead that you help to generate. However, if you have large audiences and enjoy an excellent reputation among them, many brands could be willing to pay much more for your services.
PPC programs
Pay-per-click (PPC) programs are the least lucrative of the bunch, but they also require the least effort on your part. Just like any PPC marketing campaign, your goal is simply to engage your audiences and get them to click through to the brand's site. They don't have to purchase anything, subscribe to things, or perform a task. They just have to click through.
You'll receive compensation based on the increase in the brand's web traffic. However, don't expect to make millions from this type of affiliate marketing alone. Most companies will pay no more than a few cents per click – unless you're working with someone in a very niche market.
With PPC, you won't be able to earn quite as much as if you started an eCommerce business yourself. Still, since all you have to do is add a single link or place a small ad by your post, the PPC affiliate program can be a nice way to supplement your main income.
PPS programs
Pay-per-sale (PPS) programs are the holy grail of affiliate marketing. They can completely overtake your primary income and add quite a few zeroes to your bank account when done correctly.
As the name would suggest, this program pays you money for each sale that you help make. Every time a member of your audience uses your affiliate link to buy something, you'll earn a profit. In most instances, PPS programs offer you a percentage of the sale (which can be anything from 5% to 60%). You might also encounter programs that offer a flat rate, but they're not nearly as common.
To maximize your earnings through PPS programs, you'll first want to develop a relationship with your audience. If they trust you and look to you for product/service recommendations, you should have no problem making money through your affiliate program. If, however, your audience isn't as trusting as you'd like, you'd be better off joining a PPL or PPC program.
Conclusion
Joining an affiliate program can be a lucrative journey. Keep in mind that you'll need to perfect your site/blog/social media presence, gather audiences, and build a reputation before you start seeing significant changes in your bank account. However, once you've put the time and effort into it, you'll find affiliate marketing to be a very profitable endeavor.