The Best Call Recording Software in 2023
The Ultimate Guide to Call Recording Tools for Business
FirstSiteGuide is supported by our readers. When you purchase via links on our site we may earn a commission.
Read More
The Best Call Recording Software in 2023
Data analytics and management are essential for business organizations because these actions enable them to optimize workflows and gauge critical processes to improve efficiency and performance.
Since data is the lifeblood of effective analytics, companies need the latest data harvesting tools to fuel their operations, such as call centers and HR.
Whether your HR team needs more data to improve performance or you want to enhance customer experience, call recording software is the perfect solution. It allows you to collect and analyze data, track and monitor incoming and outgoing calls, and manage call recording data according to your needs.
We've tested these tools to share information about features, pricing plans, pros and cons to help you make an informed decision.
Top 10 call recording software
Here is a comprehensive list of the top ten software solutions for call recording.
---
Nextiva  — Excellent video call recording features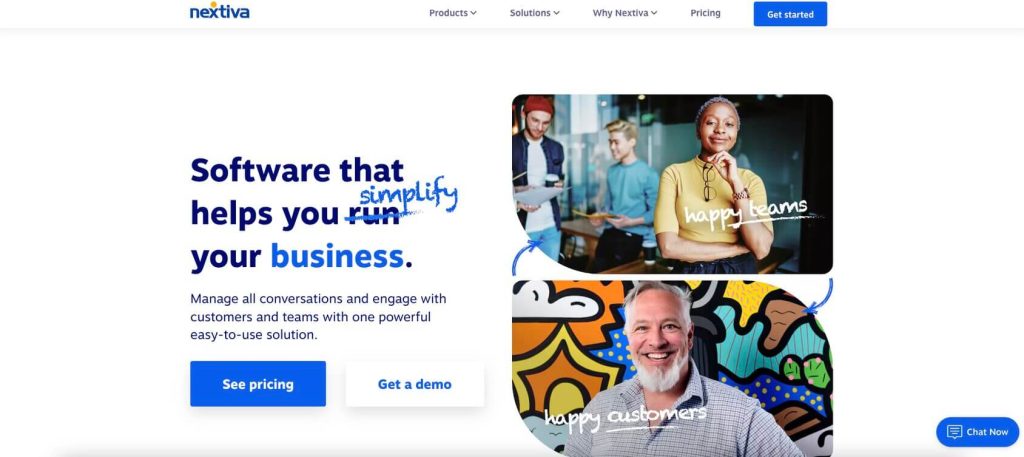 Nextiva is an excellent solution for business organizations looking to move their call center communications to the cloud. Nextiva provides a call recording software platform with top features for business organizations of all sizes and shapes.
With Nextiva, you can build a VoIP call center phone service to automate omnichannel customer support and help your customer service agents improve performance and efficiency. Nextiva is an ideal call recorder for managing high phone call volumes with fewer agents.
Key features
Interactive voice response (IVR) – personalize your IVR to make your call center agents more effective with incoming calls.
Call recording – listen, pause, and record customer phone calls 24/7 to analyze interactions and gather insights.
Automatic call distribution – set up call distribution rules to organize phone communications based on IVR options, technical support level, business hours, and more.
Call routing – avoid missing customer requests and take your customer interactions to the next level with advanced call routing options.
Centralized dashboard – manage your customer-facing conversations from one intuitive interface with top-grade features and tap into advanced reporting to increase customer service efficiency.
Pricing and plans
Nextiva provides two pricing plans for call center solutions – Pro and Enterprise.
Pro
The Pro pricing plan allows you to set up your fee-free Nextiva call recording system with intuitive and automated call distribution and unlimited call queues.
Enterprise
In addition to all Pro features, Enterprise adds advanced queue management features, industry-grade mobility, 99% uptime, business and voice analytics, and customer journey tracking.
Visit Nextiva for additional information >>
Cube ACR — Simplified call filtering and marking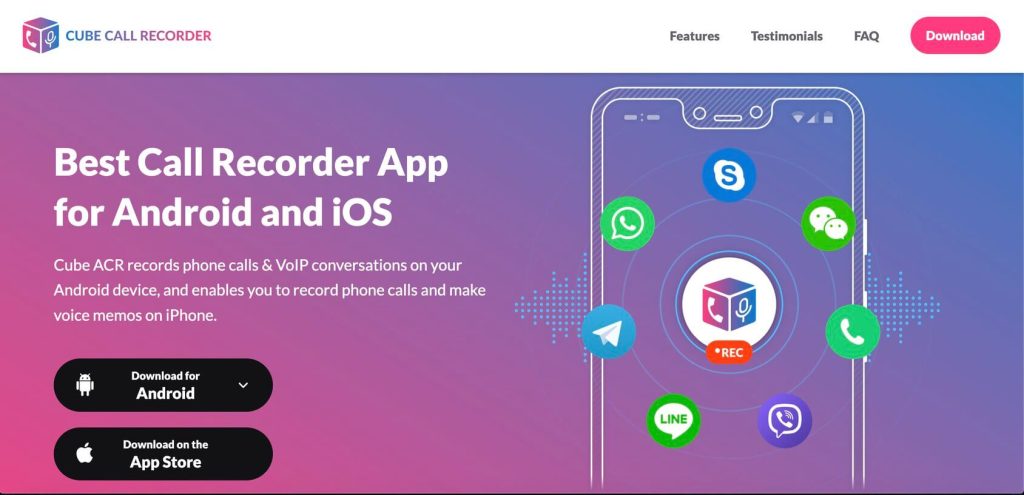 Cube ACR is ideal for recording calls on Viber, WeChat, LINE, Facebook Messenger, Slack, WhatsApp, Skype, and more. Users can manage their calls from a simplified, user-friendly interface with transparent features and functions.
Cube records your conversations in their entirety and saves them for later so that you can analyze interactions, sentiment, and results. Moreover, you can use the recordings to prioritize conversations and outline your most important contacts.
Cube will automate such communications, protect them with a password, and add cloud backing to keep your call data secure.
Key features
Cloud backup – create backups of your call recordings and move them to the cloud.
Geotagging – locate and track the locations where calls took place (Android only).
Smart clean – free up space by automatically removing old call data.
Security measures – add privacy protection measures to secure your call data with a FaceID, TouchID, or PIN lock.
Contact prioritization – create a list of the most important contacts that you want to record.
Pricing and plans
Cube ACR offers two call recorder versions for iOS and Android – free and premium (in-app purchase).
Premium
$9.99 per year


Android (in-app purchase)

$49.99 per year


iOS (in-app purchase)
The Cube Premium edition offers access to extra features such as cloud backups, additional security, and automation.
Visit Cube ACR for additional information >>
8×8 — Seamless manual recording features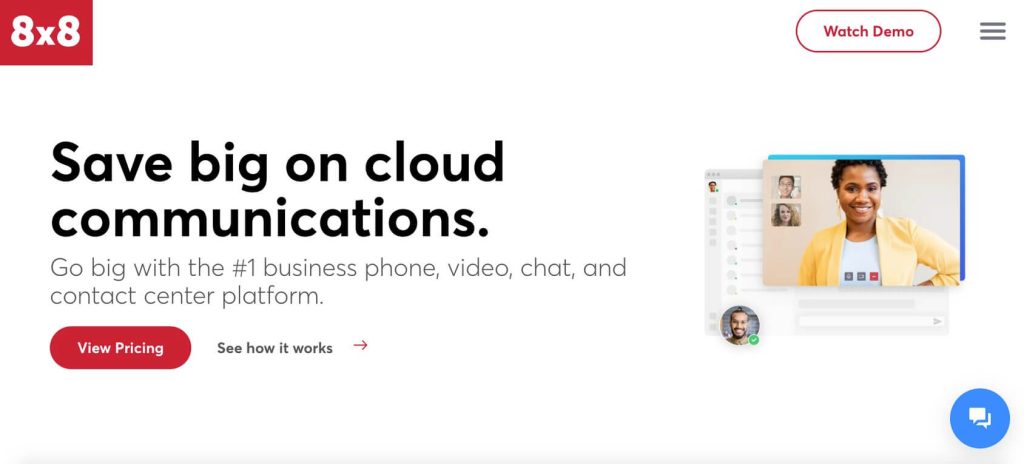 8×8 allows you to simplify how you capture and manage your call recordings for archive, compliance, and training use cases. You can save your call data in the cloud, a Dropbox account, or your desktop and appoint team members with authorization access to record calls according to their needs.
Recording, retaining, and retrieving calls with 8×8 is simple. Users can manage their phone communications via an all-encompassing Virtual Office Online dashboard that provides all of the necessary features for managing and recording customer conversations.
Key features
Employee access controls – appoint administrators to authorize employees by role and set permissions along with access to call recording data.
Call monitoring – enable team members to tap into the 8×8 cloud to monitor phone calls for training insights and quality control.
Cloud-based calling – move your calls to the cloud to improve employee collaboration, interconnect your teams, and cut costs with unlimited calling.
Multi-level auto attendant – improve customer experience with automated call agents.
Virtual dashboard – manage your customer phone calls according to your needs from a centralized user interface.
Pricing and plans
8×8 offers two pricing plans – Express and X2.
Express
Express offers small businesses basic call recording features such as connections for up to five users, unlimited calling (US and Canada), team messaging, audio/video conferencing, voicemail, music on hold, and auto-attendant.
X2
$24/user/year


(billed annually)
X2 provides all Express features and adds call management options, queuing, unified access via the web, desktop, and mobile 8×8 Work app, unlimited users, access to voice calling across 14 countries, and more.
X4
$44/user/year


(billed annually)
X4 provides all X2 features and adds an 8×8 frontdesk for receptionists plus operators access to voice calling across 48 countries, and more.
Visit 8×8 for additional information >>
Talkdesk — Perfect for call centers 
Talkdesk is an established call recording software provider that offers unique solutions for analyzing customer interactions and understanding their needs, wants, problems, and intentions. You can harness its power to gather insights and map your target audience by sentiment, queries, issues, and preferences.
More importantly, Talkdesk helps you to ensure compliance with customer and data privacy regulations while giving you access to storage options and custom-tailored recording features. Store your call data in the cloud, add time stamps for review, gather customer insights, fill out scorecards, review recordings, and manage customer interactions like a professional.
Key features
Call management – record calls according to your needs, manage recorded data, tap into live recordings with pause/resume options, customize retention and recording settings, and store data on preferred premises.
Synchronized playback – synchronize live monitoring with screen and voice recording to create a holistic view of customer interactions.
Quality management integration – harness the power of advanced quality management by unlocking recording reviews, sentiment analysis, call transcripts, and more with Talkdesk QM Assist.
Flexible inbound/outbound recording – scale your call recordings up or down according to your inbound/outbound communication needs.
Compliance – stay compliant with federal and local regulations.
Pricing and plans
Talkdesk offers access to the full suite of Talkdesk cloud-based contact center software features via four pricing plans.
CX Cloud Essentials 
The Essentials plan provides basic contact center features such as call recording, APIs, reports, dashboards, knowledge management, virtual agents, voice engagement, routing, and more.
CX Cloud Elevate 
Elevate allows you to improve customer experiences with advanced customer support features, automation, quality management, feedback, digital customer engagement, and screen recording.
CX Cloud Elite 
In addition to Elevate features, Elite empowers your contact center with distributed workforce management, team performance, customer reporting, analytics, and proactive outbound engagement functionalities.
Experience Clouds 
The range of features will depend on the industry of operations.
Visit Talkdesk for additional information >>
CloudTalk — Ideal for support and sales teams  
Cloudtalk offers unique call recording features for sales teams and customer support agents. This software automatically captures inbound and outbound calls, records conversations, and allows you to listen to the recordings from any location via your web browser.
You can download recorded calls and add URLs to convert them to standard HTTPS links for storing and saving according to your preferences.
Cloudtalk also ensures compliance with federal and local regulations while gathering customer insights to help contact center agents resolve customer issues, reduce human error, and improve user experience.
Key features
Customer card – create a holistic view of customers' histories of chats, orders, and interactions in real-time to improve customer service.
Call queuing – customize call queues, organize them by inbound traffic categories, and set up personalized messages.
Automatic callbacks – set up automatic callbacks to address unanswered phone calls and improve customer satisfaction.
Smart IVR – tap into a multi-channel interactive voice assistant to provide customer assistance and guide them through available options.
Call transfers – create customized messages and transfer calls to available agents within the appropriate department to ensure your customers receive relevant information through suitable channels.
Pricing and plans
Cloudtalk offers four pricing plans – Starter, Essential, Expert, and Custom.
Starter
$25 per month 


(billed annually)
The Starter plan offers international numbers for 160+ countries, unlimited call queuing, a mobile app, automated call distribution, and unlimited intracompany and inbound calls.
Essential
$30 per month 


(billed annually)
Essential provides all Starter features and adds advanced analytics, customer history preview, real-time dashboard, system integrations, open API, workflow automation, smart queuing, and more.
Expert
$50 per month 


(billed annually)
In addition to Essential features, the Expert plan adds call monitoring, salesforce integration, SQL exporter, unlimited calls, and speech-to-text functionality.
Custom
Custom offers full access to all Cloudtalk features, including SLA, custom reporting, developer support, custom onboarding, unlimited outbound calls, and industry-grade security.
Visit CloudTalk for additional information >>
Rev Call Recorder is the best call-recording software solution for iPhone users. Aside from offering free call recording services, Rev records audio calls in high quality and offers multiple storage solutions, such as cloud, text, or email apps, for easier sharing and distribution.
Rev offers an easy-to-use application with top features and no in-app ads. Although it lacks some advanced functionalities, such as automatic cloud backups, you won't have any contact or time restrictions while using Rev. You can also tape your inbound and outbound calls and transcribe recordings for easier safekeeping.
Key features
Unlimited call recording – record as many incoming and outgoing calls as you need without spending a dime.
Transcription app – transcribe your calls for easier distribution and sharing.
Online voice recorder – capture voice calls and record phone conversations from a browser to turn them into downloadable mp3 files.
Audio trimmer – edit your audio files and export them in any format quickly and easily with the Rev in-browser audio trimmer.
Caption converter – select a preferred caption format to convert your standard SRT files.
Pricing and plans
Rev Call Recorder is a free call recording service.
Visit Rev Call Recorder for additional information >>
CallRail — Multiple campaign tracking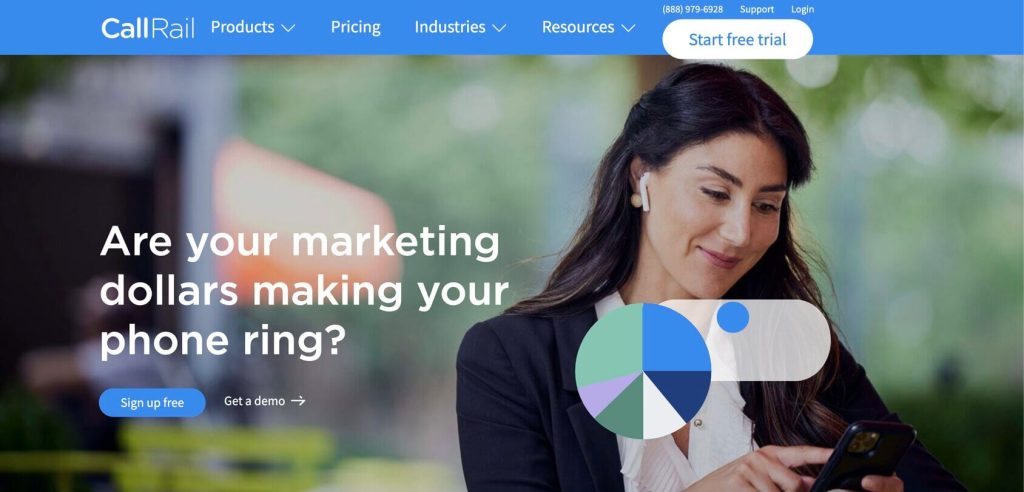 CallRail is an excellent option for corporate users who need to record their inbound and outbound traffic. This software records every conversation between customers and your contact center.
It also gathers customer insights to help your customer service improve user experience and quality of service and identifies areas of improvement.
CallRail allows you to monitor your calls for training and quality purposes and helps ensure compliance with call recording regulations.
Key features
AI-enabled automation – use the power of AI to automate data workflows, outline trends, create transcripts, and analyze your customer interactions.
Call tracking – track chats, forms, texts, and calls and gather metrics to improve customer service.
Team view – unify your contact center agents and allow them to manage web form submissions from one centralized dashboard.
Smart integrations – integrate CallRail with top marketing tools like WordPress, Facebook, Salesforce, Hubspot, Google Ads, and more.
Pre-call voice announcement – inform your customers that you monitor their calls to improve the quality of service.
Pricing and plans
CallRail offers four pricing plans.
Call Tracking 
$45 per month

$40 per month


(billed annually)
The Call Tracking plan gives you access to five local numbers, 250 minutes, call tracking, text attribution, call recording, and routing features.
Call Tracking + Intelligence
$95 per month

$85 per month


(billed annually)
Along with Call Tracking features, you receive keyword analysis and call transcripts to analyze customer calls, transcribe recordings, and gather marketing insights.
Call Tracking + Form Tracking 
$95 per month

$85 per month


(billed annually)
This plan is ideal for sales and marketing teams because it includes a custom form builder and form tracking for attributing callbacks and form submissions to marketing sources.
Call Tracking Complete 
$145 per month

$130 per month


(billed annually)
In addition to Call Tracking features, Complete adds features such as the custom form builder, form tracking, keyword analysis, and call transcriptions all in one straightforward solution.
Visit CallRail for additional information >>
CallTracking Metrics is a call recording software solution for marketing teams. It allows marketers to drive revenue, increase conversions, and convert leads to ROI.
CallTrackingMetrics tracks inbound and outbound calls, captures leads and attributes callers to matching customer service campaigns.
Business organizations can track various metrics from customer interactions and use those insights to drive more conversions by aligning marketing and sales efforts. With CallTrackingMetrics, users receive a holistic view of their customer interaction efforts all in one place.
Key features
Advanced call analytics – understand what drives your customers by tapping into advanced analytics.
Workflow automation – automate form submissions and incoming texts, and route incoming calls to reduce wait time and customer friction.
A suite of integrations – integrate CallTrackingMetrics with top solutions like Salesforce, HubSpot, and Google Ads and Analytics to enhance your digital strategy.
Centralized data – gather top insights into a centralized data powerhouse and provide your customers with the results they deserve.
Easy setup – create your account in four easy steps and customize your setup according to your needs.
Pricing and plans
CallTrackingMetrics offers four pricing plans.
Performance 
$39 per month

$36 per month


(billed annually)
The Performance plan provides live chat, email, phone support, Microsoft and Google integrations, inbound and outbound campaign management, IVR routing, call forwarding, and call recording.
Growth
$119 per month

$99 per month


(billed annually)
Growth gives you access to all Performance features and adds unlimited web form tracking, marketing integrations, automated conversation analysis, HIPAA/GDPR compliance, enhanced security, and more.
Connect
$329 per month

$274 per month


(billed annually)
In addition to Growth features, the Connect plan offers five chat licenses, Zendesk and Salesforce integrations, softphone customizations, workflow automation, real-time dashboard view, and smart dialing.
Enterprise 
Tap into enterprise-grade features to scale your contact center, receive professional customer support, and access your dedicated account management team.
Visit CallTrackingMetrics for additional information >>
Gong gives clients access to a comprehensive call recording and web conferencing platform where they can tap into multiple integrations with CRM software solutions and VoIP tools. 
Contact center agents can transcribe call recordings, track conversations, view caller history, outline specific parts of conversations, and help sales teams turn customer calls into actionable sales insights.
Gong can aggregate data from your email, in-person meetings, phone, VoIP, and web conferencing to help you build a data pipeline for personalized customer interactions.
Key features
Automatic call recording – automatically record audio and video conversations and analyze phone and VoIP recordings.
Gong storage – keep your call recordings in Gong storage to access your data anytime.
Transcription – transcribe your call recordings to analyze customer interactions and identify critical metrics for improving your efforts.
Gong AI – harness the power of AI to gather essential insights on your customers, industry, customer service agents, and more.
Data-driven recommendations – receive data-driven guidelines to improve customer experience across all communication channels.
Pricing and plans
Instead of standard pricing plans, Gong offers licenses that charge you per recorded user plus a platform fee that is dictated by how many users you plan to support. The size of your team determines the cost per user. You can choose between 1–1001+ licenses.
Visit Gong.io for additional information >>
LiveAgent — Complete help desk solution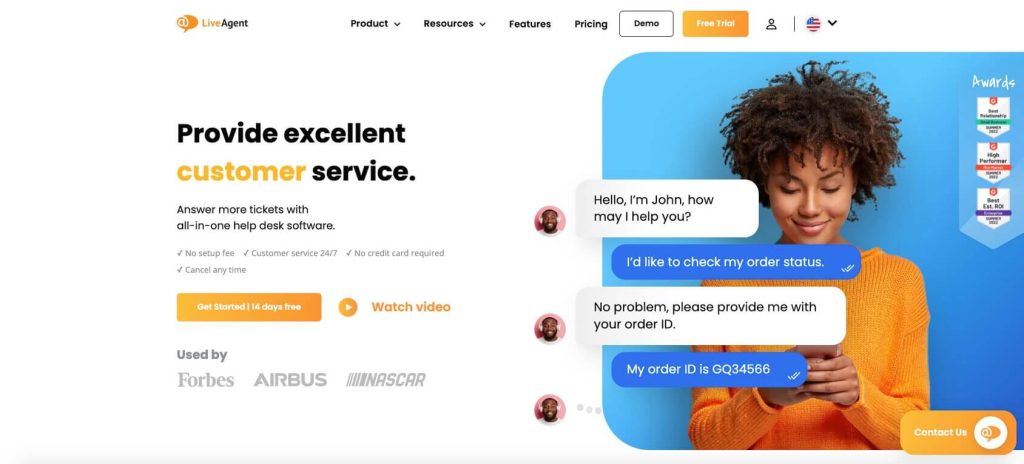 LiveAgent is a call recording platform and help desk solution that provides business organizations with customer support and contact center essentials. You can use the LiveAgent call recorder to capture unlimited call recordings and manage your call data from a centralized multi-channel help desk platform.
Record calls, manage your recordings, and store customer data so that you can download it on demand. LiveAgent also gives you a unique ticketing system that automatically assigns a unique ticket ID to each call recording to ensure that you never miss a customer query.
Key features
Unlimited storage – capture and save call recordings according to your needs.
Help desk – record calls, store data and manage customer interactions across multiple communication channels from a centralized dashboard.
Ticket ID – assign ticket IDs to every customer call and use the ticketing system to improve customer interactions.
Voicemail storing – access your voicemail anytime, regardless of your location.
Call monitoring – record calls to gather insights for transparency, agent training, and quality assurance.
Pricing and plans
LiveAgent offers four pricing plans: Free, Ticket (email ticketing), Ticket+Chat (live chat and ticketing), and All-Inclusive. Only the All-inclusive plan includes call recording.
All-Inclusive 
The All-Inclusive plan combines features from all LiveAgent pricing plans and adds unlimited call recordings, hardware IP phone, call routing, call transferring, IVR, video call, and call center support.
Visit LiveAgent for additional information >>
Finding the best call recording software for your needs
To seamlessly record phone conversations with customers, you should have call recording software with advanced features. Here are some tips for choosing the best call recording software solution.
Number of features
An outstanding call recorder should include must-have features such as:
Unlimited recording length – the ability to record entire customer conversations is a critical feature in call recording software. Look for a provider that offers a software tool with unlimited recording time and no file size limits.
Cloud storage – since the cloud allows you to access your recorded files anytime, anywhere, opt for a call recorder with the option to store your recordings on the provider's server as well as your own storage solution like Google Drive or Dropbox.
High-quality audio – the best call recorders capture your calls with top-quality audio. Top-grade apps and platforms use advanced filters to eliminate background noise and create complete and crystal-clear call recordings without static or interference.
User-friendly interface – the best call recorder platform should be easy to set up, use, and integrate with your system and business applications. Therefore, choose a software solution with an intuitive interface and transparent features.
Device flexibility
Call recording systems should offer reliability and flexibility across desktop and mobile apps. Whether you are recording calls automatically or manually, your software should work reliably and allow you to switch between devices seamlessly while making and taking calls and operating your call recorder according to your needs.
In addition, we recommend opting for a software solution with as many integrations as possible to connect it with the tools that your business organization uses.
Pricing
Business organizations should choose a call recording software solution according to their potential costs. A full-featured solution comes at a significant cost and includes expenses such as fees for additional services, international calling rates, cost of hardware, and monthly per-use price. Consider these expenses to choose the best solution for your budget.
Level of security
Security should be your top priority for customer interactions that include sensitive data, such as personal details, medical information, credit card details, and bank account credentials.
Preferably, choose a software provider that offers encryption and compliance features for Payment Card Industry (PCI) and other regulations and standards. The best solutions include cloud storage for additional data security.
OS support
When choosing call recording software, think about support for your operating system. Whether using iPhone, Android, Windows, or Mac, your call recorder should be compatible with your business system.
Ads
Marketing-oriented business teams should opt for a call recording software solution that supports integration with Google Ads, such as CallTrackingMetrics and CallRail. If you don't want to deal with call recording apps with ads, skip freemium software and opt for premium solutions.
Best options for different needs
Since there are so many versions of call recording software, you may find opting for the best option quite challenging. We've selected three top software solutions that match different use cases. The best solution for your business organization will depend on your unique needs.
Best option overall
Big companies need scalable call recording solutions that can scale with their call recording storage needs and inbound/outbound traffic frequency. Nextiva can handle all of that and more. It's an affordable, all-encompassing call recorder for massive corporations.
Best for recording VoIP
If you're using a VoIP (Voice over IP) solution to manage your customer interactions, you should opt for a call recorder capable of recording calls through such services.
Best free iOS option
If you're looking for the best free call recorder for iOS that can share and review recordings from customer conversations, you should opt for Rev Call Recorder. It's the best solution for obtaining transcripts from customer interactions.
FAQs
What is call recording software? 
Call recording software records customer conversations, tracks call details to store the recorded data in a cloud repository, and provides insights for compliance, customer service, and employee training. 
Are there call recording tools that work both on Android and iOS? 
Rev Call Recorder and Cube ACR are call-recording apps for Android and iOS platforms. Rev utilizes the intelligent voice recorder to capture incoming and outgoing calls. It allows you to record iPhone conversations and transcribe them into downloadable audio files. 
Should I use free call recording software? 
Although there are many options for choosing a free call recorder, such as Cube ACR and Rev Call Recorder, these freemium solutions offer basic features and limited functionality. For example, Rev doesn't offer essentials like automatic recording backups to the cloud. 

It also can't record VoIP calls or provide support for automatically recording inbound and outbound traffic. Consider your specific call recording needs before you choose a free software tool.
Can phone recording tools share conversations? 
Yes, phone recording software solutions like Rev Call Recorder support file sharing. Rev captures customer conversations and transcribes call recordings into shareable audio files for easier distribution across your business organization.
Conclusion
The best call recording software solution will depend on your specific scenario. We've gathered the top ten call recorders to provide some guidelines about what these tools can do, the features they offer, and their cost. Each tool is unique and matches specific business needs.