The Best Christmas Dinner Ideas
Ok, so the holidays are nearby and you still don't know what to prepare for you and your family?! Well all of your problems end here, because we've made it easier for you! This list is our choice of great Food Bloggers and their tasty recipes that we wanted to share with you and inspire a delicious Christmas dinner. Whether you're a chicken, beef, turkey, pork, venison, pasta or a salad lover – we guarantee that you will find here everything you need!
All you need to do is pick your favorite one. Enjoy, just as we have!
Happy Holidays!
Recipe by Diana
This flavorful, homemade meatloaf recipe is probably one of the most popular recipes that I've included in my menu plan service.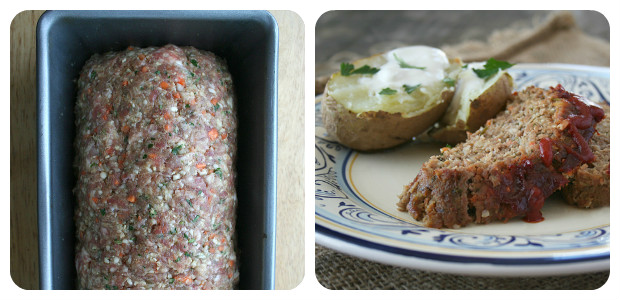 Recipe by Cindy
If you're a salad person, Asian Slaw Steak salad is the right recipe for you on this Christmas Eve. Enjoy!
Recipe by Martyna
This is tasty and an easy way to prepare fish quickly and in a non-smelly way.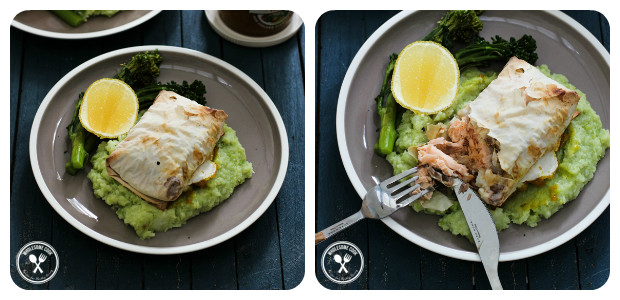 Beef Rolls with Potato Dumplings
Recipe by Meike
This is a great Christmas dish as you can prepare everything in advance and warm it up when you need it.
Butternut Squash Pizza and Creamy Butternut Squash Puree
Recipe by Lexi
Butternut Squash prepared in 2 ways: as a Roasted Butternut Squash and Caramelized Onion Pizza & as a Creamy Butternut Squash Puree with Seared Scallops and Bacon.
Recipe by Jamie
Adapted from a version of this traditional recipe found in Molly O'Neill's New York Cookbook. And one more thing – don't judge it before you try it!
Chicken Crusted with Wasabi Peas and Slaw
Recipe by Gail
Bring in the exotic flavors of Thailand on your Christmas Eve and try out this recipe of chicken with wasabi peas. Go ahead, treat yourself!
Recipe by Tracy
Love take-out chinese during the holidays? Why not make your own this year! It takes 20 min and it tastes even better than the restaurants!
Recipe by Denise
Cioppino is a seafood stew which originated in San Francisco. Serve this rich fish stew with warm crusty bread, a Caesar salad and lots of red wine.
Cranberry Glazed Pork Tenderloin
Recipe by Julie
This Cranberry sauce is one of those sauces where all you have to do is combine all the ingredients in a saucepan and let it go!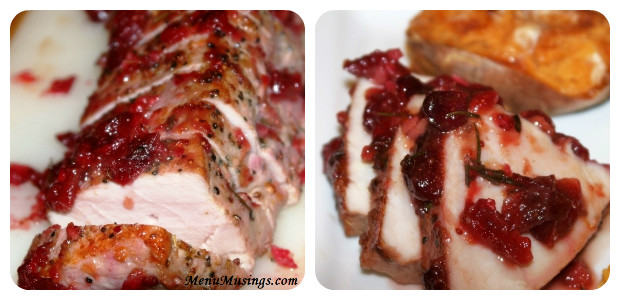 Creamy Shrimp and Mushroom Pasta
Recipe by Julia
Creamy shrimp and mushroom pasta in a delicious homemade alfredo sauce has all the flavors you want and need.
Cremy Portobello Mushroom Risotto
Recipe by Sarah
Love take-out chinese during the holidays? Why not make your own this year! It takes 20 min and it tastes even better than the restaurants!
Recipe by Steph
While others enjoying barbeques and lamingtons around the country, we're enjoying this classic French dish – Duck a L'Orange & Duck Fat Roasted Potatoes.
Recipe by Jillee
The 'Star recipe' of a Special Holiday Dinner – perfect Prime Rib, side baked potatoes, spinach salad and a Basic Triffle for dessert.
Recipe by Katie
This is great winter food – and even better it's the kind of meal that's perfect for December when everyone is pressed for time because it can be made ahead.
Grilled Ribeye Steak with Piri-Piri
Recipe by Stephane
Chimichurri & Piri-Piri mix sauce is the best thing that happened to steak since mankind figured out how to start a fire and cook a slab of meat on it.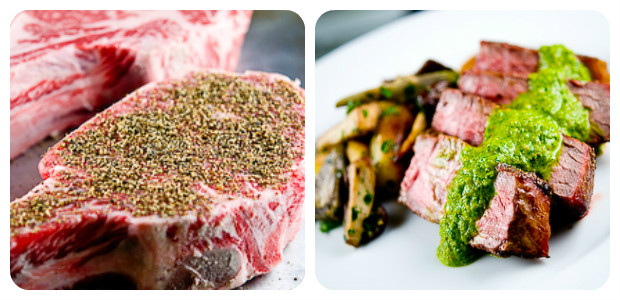 Recipe by Shaheen
The recipe for the hazelnut crusted lamb is really straightforward, and rather quick to make – not to mention the taste!
Herb and Duck Fat Roasted Turkey
Recipe by Stella
BraveTart ft. Brigette from Counting the Beans and Cooking the Books (http://www.brigittenguyen.com/) and their Herb and Duck Fat Roasted Turkey is a great holiday feast!
Hunter's rabbit stew with olives
Recipe by Emiko
Rabbit is a wonderfully rustic meat to cook with and if you're a venison lover stew is a great winter comfort food.
Recipe by Laura
With drizzle of parsley-rosemary pistou that adds a note of brightness, it tastes divine!
Recipe by Jane
Read more: http://casayellow.com/2012/06/26/the-grand-gesture/#ixzz3QDp18GDO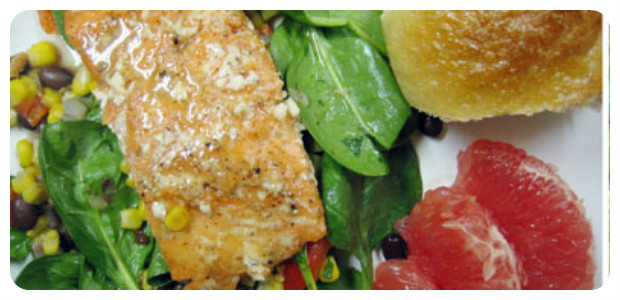 Recipe by Chef Dennis
It's a home made Manicotti which takes 35 minutes of your time! An it tastes wonderful!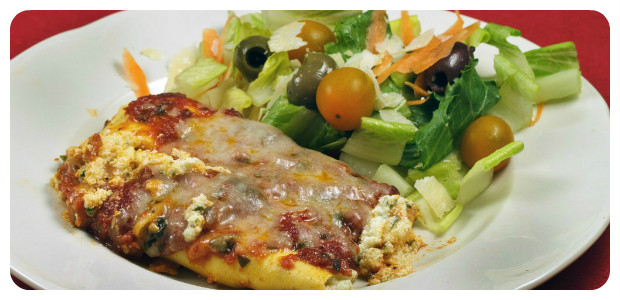 Mussels; Spaghetti and Meatballs
Recipe by Melina
Now here you have 4 amazing dishes for which we can say, without any pretending, that are gonna definitely make you lick your plate!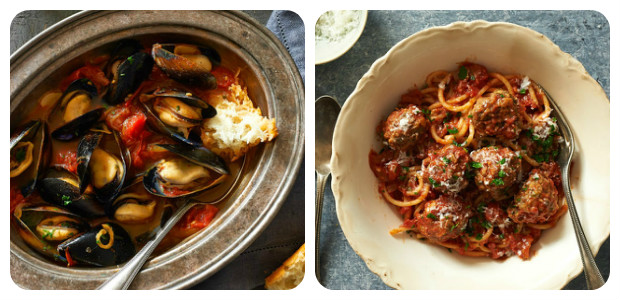 Recipe by Courtney
One Pan Tuscan Pork Chops are a delicious, easy dish your whole family will love- and won't cost you your diet goals.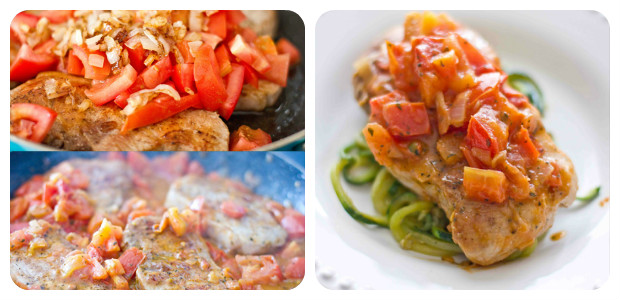 Oven-baked Sweet and Spicy Ribs
Recipe by Magda
Spare ribs. They may be messy to eat, you may need to use your hands but they are delicious!
Pomegranate and Cider Glazed Ham
Recipe by Bethany
You don't need a firework – pomegranate molasses and a nice piece of ham is all you need for the explosion of sweet and salty taste in your mouth.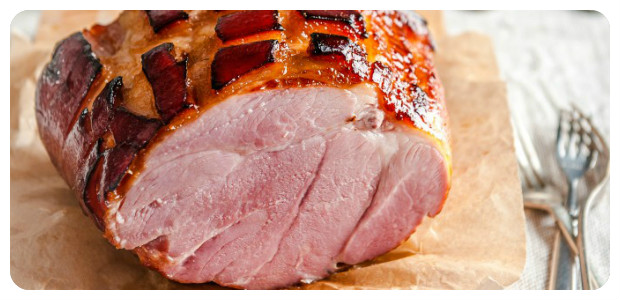 Pork Chops with Chiles Rellenos
Recipe by Amelia
Pork chops? Oh yes! With ancho chile powder and salt and peppers and potatoe mash with cheese and OMG it's the perfect dinner!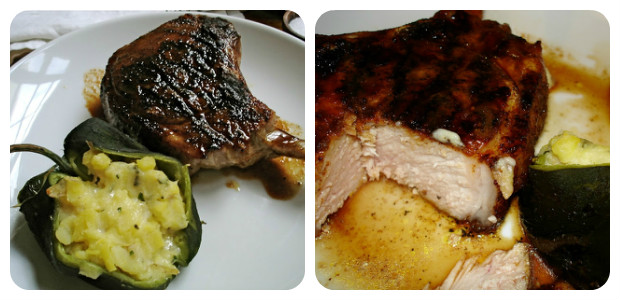 Recipe by Jennifer
If you're not one already, this dish, served with an absolutely delicious gravy will turn you in to a pork lover. I guarantee it.
Pork Tenderloin with Balsamic-Cranberry Sauce
Recipe by Melissa
This is a pretty basic seared pork tenderloin recipe, but the addition of a balsamic-cranberry sauce turns it into something a bit more seasonal.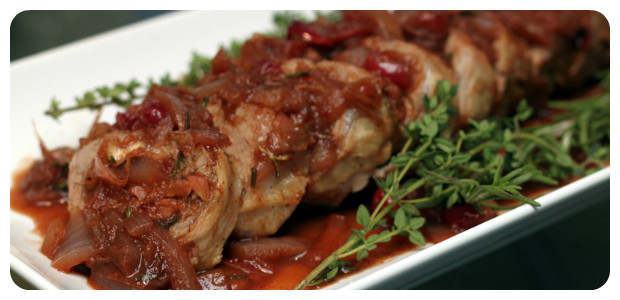 Recipe by Najwa
Cause it's holiday time and you should cook something extra special for that special someone who's coming to visit! Plus, it's a wonderful change from the ordinary.
Rack of Lamb with Herb and Olive Crust
Recipe by Caroline
Even if you are not a lamb eater, this herb and olive paste taste so amazing that it would make you fall in love with it!
Rhubarb & Chipotle Grilled Salmon With Just Picked Greens
Recipe by Renée
My ultimate favourite thing to grill is fish. Fish on the barbecue is insanely delicious, super quick, and super good for you.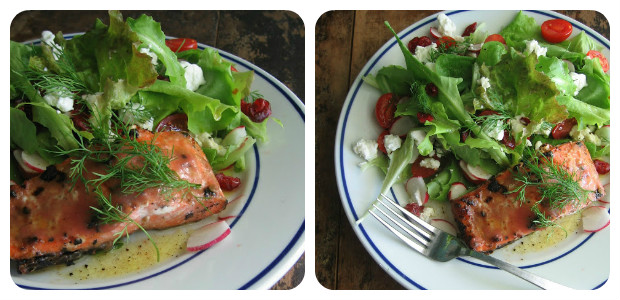 Rigatoni with Eggplant and Pine Nut Crunch
Recipe by Sarah
2 in 1 – a recipe for a creamy luxurious rigatoni dish and a sinfully rich chocolate pear cake.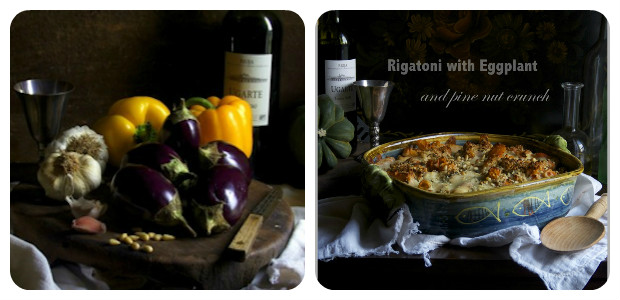 Recipe by Clarie
Ah, a Roast Beef…Well, you can't beat the flavour of a rib of beef! This recipe is nothing fancy, but it's very tasty! All you need is just good honest quality meat.
Roast Goose Breasts with Braised White Cabbage and Pancetta
Recipe by Madalene and Ross
Served with braised white cabbage and pancetta this roast breasts recipe is fairly simple to make and delicious to eat.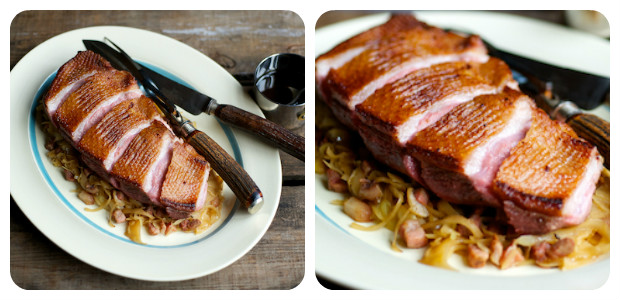 Roast Pigeon with Root Vegetables
Recipe by Hank
Just a simple roast pigeon, served atop a bed of roasted root vegetables with a little malt (or beer) vinegar splashed on.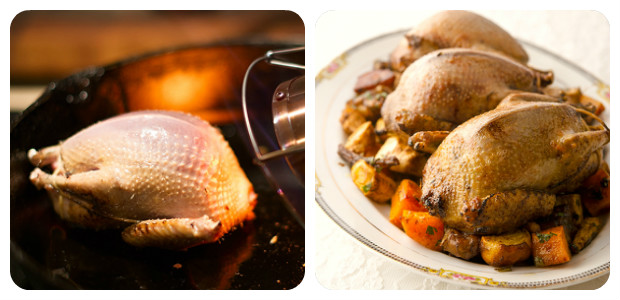 Roasted Delicata and Kale Salad
Recipe by Tara
Kale and delicata are both so trendy right now! There's a lot going on in this salad, but the mellow sweetness of the squash and the green canvas of kale can take it.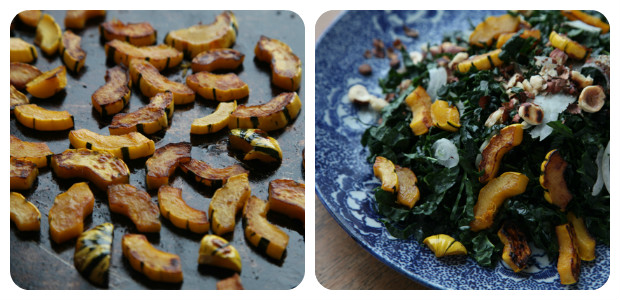 Recipe by Melanie
A use of superior rum gives a smooth and fruity finish which is not only perfect for your favorite cocktail but also wonderfully suited for poultry.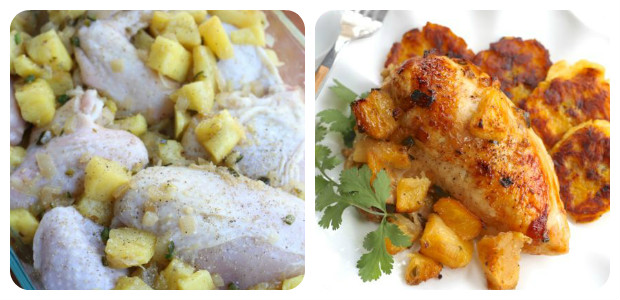 Roasted Pork Lion with Rosemary, Garlic and Fennel
Recipe by Erin
Rubbed with a blend of rosemary, garlic, and crushed fennel seeds, the roast is simple, fast, and delectable.
Rolled Turkey Breast with Sausage and Mushrooms
Recipe by Sarah
If the idea of handling, stuffing and rolling up a butterflied double turkey breast seems daunting, take heart: it's not nearly the production you may think it is.
Recipe by Paula
I live in Argentina where bbq has become the number one choice. For this recipe I used rump steak, my favorite cut. Lean but flavorful.
Recipe by Talley
Great comfort food, plus a way of tricking yourself into eating more vegetables 🙂
Recipe by Tiffany
Easy! Seriously. So easy. Just toss the ham into the slow cooker with a bit of water to keep it from scorching, then cover it and cook on low.
Smoky BBQ Pulled Pork Burgers and Slaw
Recipe by Sarah
A burger for Christmas?! Like that's fancy enough! That's what you thinking, right? WRONG! This burger is juicy, saucy, savoury, tangy, sweet and a great thing about this recipe is that is an affordable way to feed a crowd.
Recipe by Joelen
An ideal deep color which translates to rich flavors pot roast with creamy mashed potatoes and some veggies to balance things out.
Southwest Buttermilk Baked Chicken
Recipe by Chungah
The most flavorful chicken you will ever make, baked to absolute crisp-tender, juicy perfection! 207 calories each.
Spicy Basil, Tomato, Beef Salad
Recipe by Krissy
With seared beef, ripe summer tomatoes, basil plant and a spicy, salty dressing to finish this salad tastes like summer, but warms you inside for winter. What a combo!
Spinach and Portobello Lasagna
Recipe by Carolyn
Lasagna with a velvety béchamel sauce and a deeply flavored filling of spinach and portobello mushrooms is a delicious and easy choice for your Christmas dinner.
Split Chicken Breasts with Goat Cheese and Pepper Jelly
Recipe by Kate
This chicken recipe uses split chicken breasts, with BONES (keep it juicy!) and SKIN (wonderfully crispy.) It's also super-quick to assemble.
Steamed Mussels and Clams with White Wine
Recipe by Denise
Steamed Mussels and Clams with the rouille which is amazingly spread on the bread and/or can be used as a dipping sauce for the shellfish.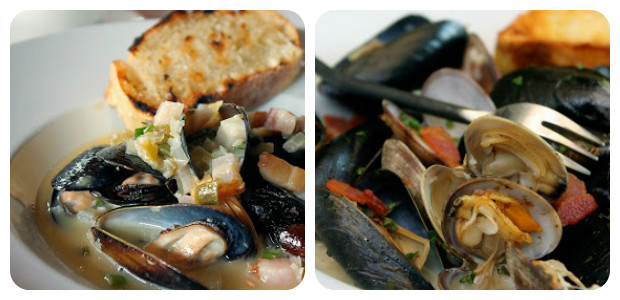 Sweet and Spicy Pork Tenderloin
Recipe by Sandra
I am totally about sweet and spicy flavors, so if you are like me, then I know you will love this recipe.
Recipe by Amy
Tri-tip is a thick, nicely marbled cut popular in California and if you choose to prepare it this way, a very rich experience and insanely good meal awaits for you.
Recipe by Anetta
This Tuscan Chicken Skillet is so easy to put together but tastes like it took all day! And the sheer joy of only having one pan to wash overwhelms me 🙂
Recipe by Reem
If you want to cook something very special that is absolutely exotic and divine tasting with least amount of efforts, this is the recipe!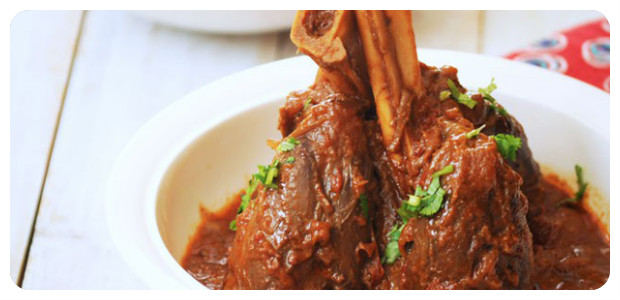 Walnut-Stuffed Roast Turkey a.k.a Turkey Levengi
Recipe by Feride
Suprise your senses with this amazing combination of chicken and walnuts. Poultry, game, fish and even eggplant can taste great with this Azerbaijani levengi filling.