The Best Conference Calling Services (Free & Paid) for 2023
Top 10 Premium and Free Conference Calling Service Providers
FirstSiteGuide is supported by our readers. When you purchase via links on our site we may earn a commission.
Read More
The Best Conference Calling Services (Free & Paid) for 2023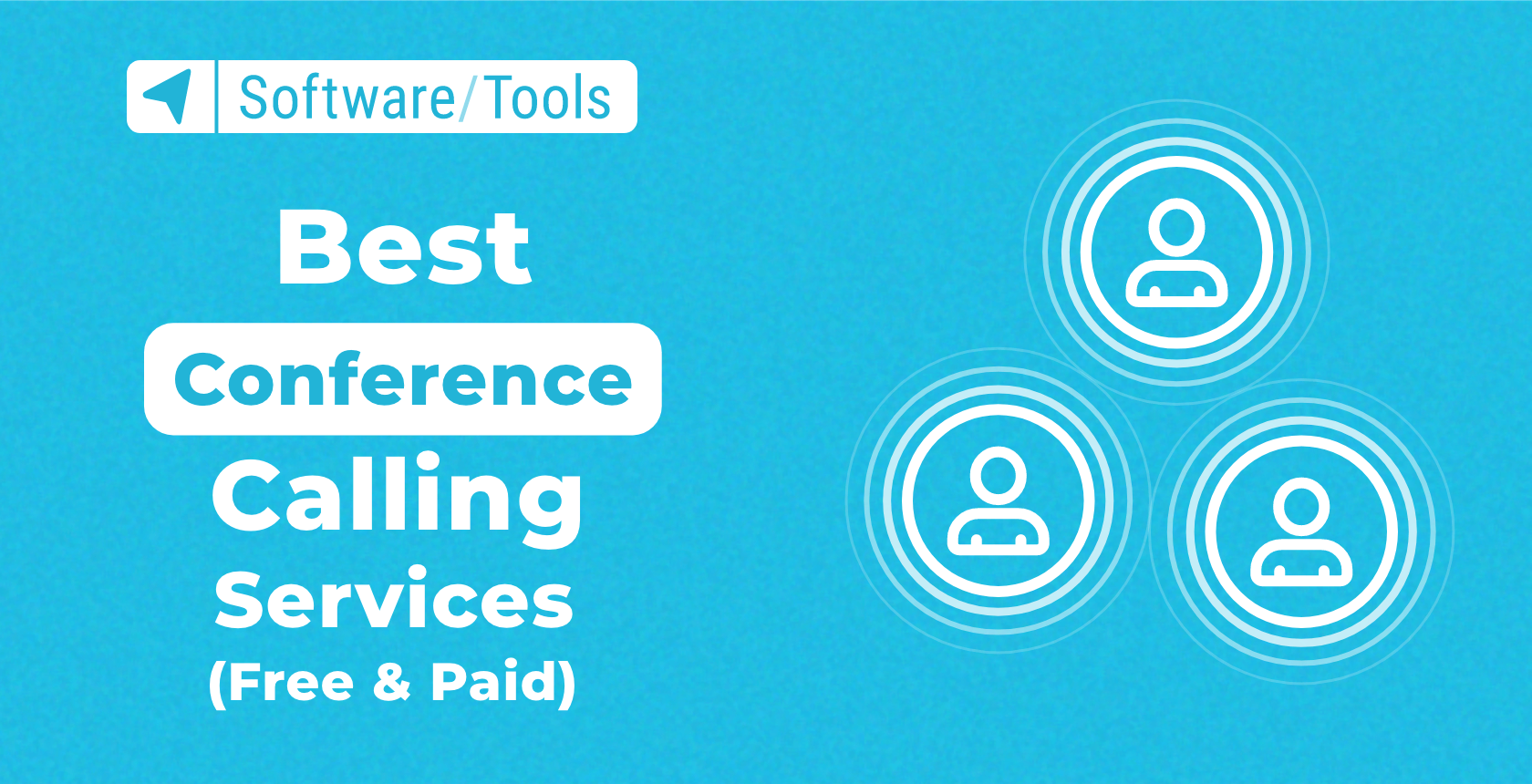 Since their creation, conference calling services have been the backbone of every customer-centered enterprise. Modern-day service providers offer advanced software tools with top-grade features and user-friendly interfaces to help business professionals streamline communications, boost productivity, and increase workflow flexibility.
Conference calling services help business leaders to manage remote teams, maintain essential correspondences, and keep their staff well-informed. These software tools allow business teams to instantly start voice calls, share files in live chats, send quick messages, meet face-to-face via video conferencing, and more.
More importantly, business users don't have to purchase multiple applications to manage their daily communication needs. Everything that they need comes in all-encompassing, multipurpose software solutions.
EDITORS' CHOICE (JUNE 2023)
With this in mind, I'll review the current top ten conference calling service providers complete with their features and pricing plans so that you can make an informed decision. Read on to learn more.
Top 10 conference calling services
With so many conference calling service providers on the web, choosing the right solution that will help your team can be challenging. This guide will compare the best services according to user experience, top features, and pricing plans.
---
Nextiva — Most reliable and functional service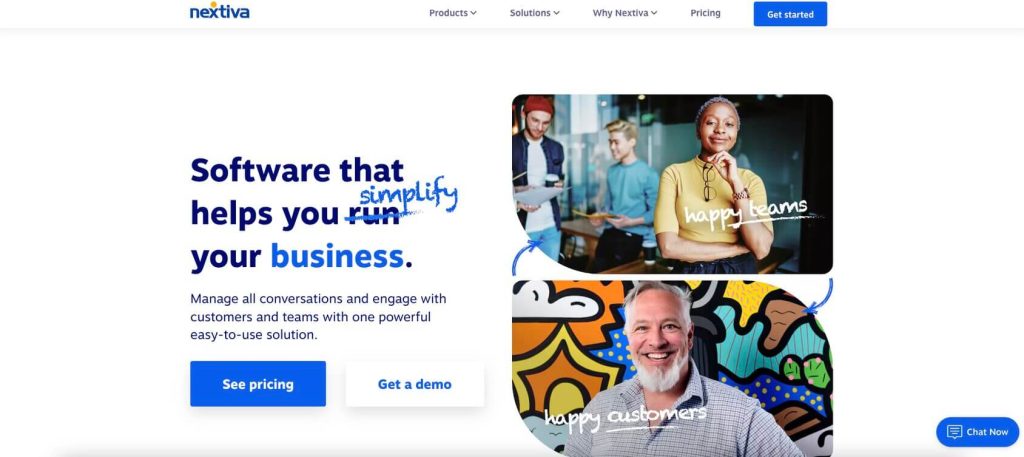 Nextiva is one of the leading providers in the conference call service domain. Users don't have to worry about problems with high latency because they receive eight points of presence (POPs) for their VoIP calls.
In addition, the company provides exceptional customer support and highly available data centers to support your conferencing needs during periods of intense use. Nextiva also offers a reliable corporate audio/video conferencing service that you can easily incorporate into your existing communication system.
Key features
Local numbers – get local numbers in Puerto Rico, the US, the UK, and Canada.
Virtual phone numbers (VPNs) – access local and international VPNs.
Caller ID and tracking – get caller's information and track their interaction with your teams.
Advanced conference calling – receive support for call routing and call forwarding.
Call management – manage your data and communications in one centralized platform.
Pricing
Nextiva offers three pricing plans for business phone service.
Essential 
$30.95/month/user


$23.95/user/month (annual)
The Essential plan provides unlimited voice calling and internet fax, toll-free local numbers, and 24/7 customer support.
Professional
$35.95/month/user


$27.95/user/month (annual)
Professional encompasses Essential features and adds unlimited video/audio meetings, SMS and email service, team collaboration tools, and business text messaging.
Enterprise 
$45.95/month/user


$37.95/user/month (annual)
In addition to Professional features, you receive Salesforce and Microsoft integrations, video/audio recording, and voice analytics.
Visit Nextiva for additional information >>
Grasshopper — Best for audio calls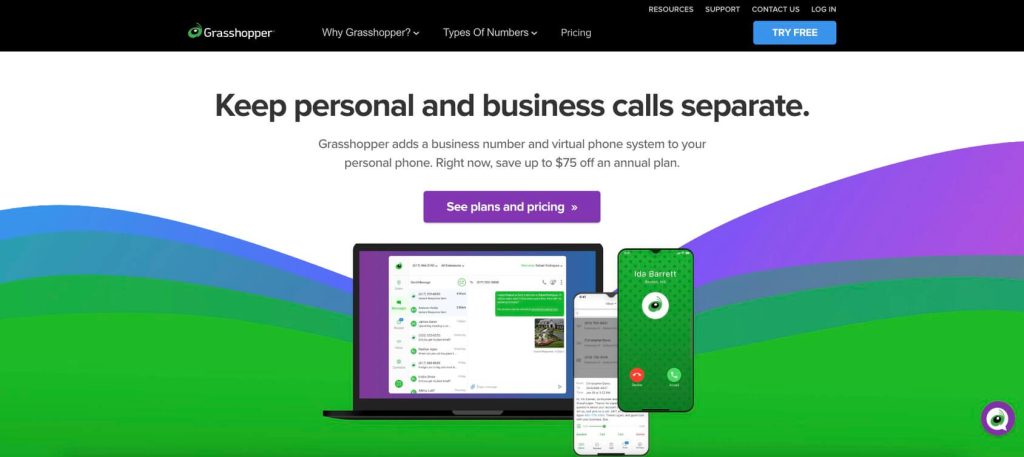 Grasshopper is one of the leading business and personal telephony VoIP service providers. It's perfect for users looking for private audio conferences. This company provides a user-friendly voice conferencing platform that gives users access to custom teleconferencing call solutions.
Grasshopper teleconferences can host up to ten participants per audio conferencing session. However, participants can't access your conference call themselves; you must start the session and send them invitation links.
Existing Grasshopper customers can access their audio-only conferencing call service at no extra charge. This brand's reliable platform supports Wi-Fi and VoIP calling. Grasshopper provides a professional communication solution that users can incorporate into their existing landlines or cell phones.
Key features
Voicemail to text – convert your voicemail to easily readable and scannable text.
Local numbers – assign local, toll-free numbers in the US and Canada.
Meeting greetings – record professional messages to welcome your meeting attendees.
SMS messaging – send text replies to your business number.
Multichannel view – track your business interactions across multiple communication channels.
Pricing
Grasshopper offers three pricing plans.
Solo
$31 per month

$26 per month


(billed annually)
The Solo pricing plan is ideal for small business owners looking for a reliable conferencing call service with a combination of local and toll-free phone numbers. You receive three extensions, business texting, call forwarding, voicemail, VoIP, and Wi-Fi calling.
Partner
$51 per month

$46 per month


(billed annually)
The Partner pricing plan is perfect for growing businesses. You get all Solo features and extras like three phone numbers, six extensions, virtual fax, and mobile and desktop access.
Small business
$89 per month

$80 per month


(billed annually)
This plan is suitable for businesses looking for highly flexible call routing options. In addition to five phone numbers, unlimited extensions, and Partner features, you get advanced reporting, incoming call control, simultaneous call management, call transfers, and an instant response option.
Visit Grasshopper for additional information >>
Zoom — Great video conferencing software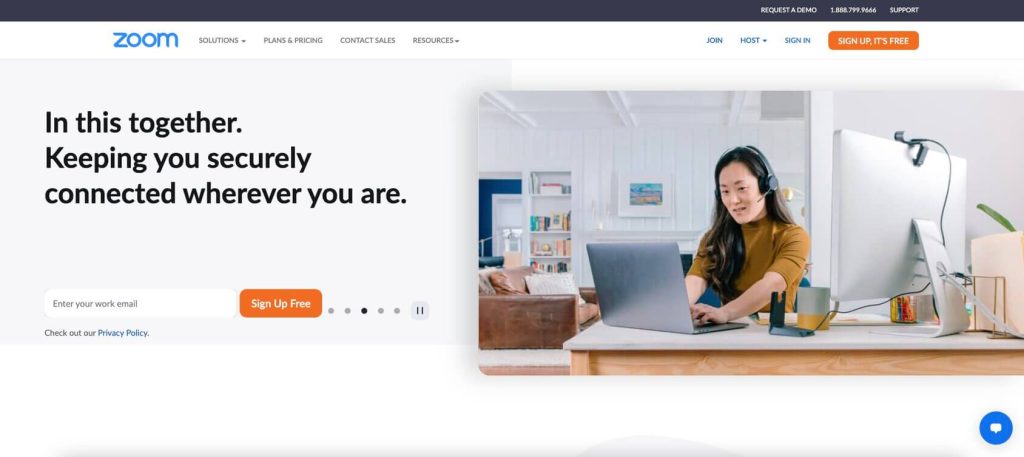 Zoom is the best available conferencing call service for multipurpose use. Although Zoom is primarily a video conferencing software, it also provides top-grade conference calling features. Users can access two premium conference calling solutions – Zoom Phone and Zoom Meetings.
Clients that need advanced conference calling capabilities can opt for the Audio Conferencing add-on. This feature allows them to tap into fee-based dial-in and toll-free call-in options, file sharing, chat messaging, web-based conference call management, DTMF tones, and more.
Each Zoom user receives a dedicated conference line with a personal dial-in number, so they don't have to bother with time-consuming dialing-in and conference ID numbers.
Key features
Call Me – organize your meetings by having everyone present at the appropriate time.
Zoom meetings – access team chats, screen sharing, video conferencing, and more.
Conference call invitations – send your conference invitations via calendars, links, chat, and email.
Audio Conferencing – manage conference calls and communications with advanced call-in and dial-in options.
Zoom Phone – invite your team members to join a meeting via dial-in access.
Pricing
Zoom offers four pricing plans for business users.
Basic
Free
The Basic plan offers free collaboration channels, three editable whiteboards, and team chat options for hosting up to 100 users in 40-minute meetings.
Pro
$14.99/month/user


$149.90/year/user
The Pro plan offers access to 5 GB of cloud recording storage, file sharing, collaboration and chat channels, three editable whiteboards, and an option to host up to 100 participants.
Business 
$19.99/month/user


$199.90/year/user
In addition to Basic and Pro features, the Business plan allows you to host up to 300 users and access extra features such as company branding, managed domains, and single sign-on per participant.
Enterprise
Contact sales for a quote. 
Get access to all-encompassing video/audio conferencing with advanced Zoom Phone features, private conference rooms, webinars, and more.
Visit Zoom for additional information >>
RingCentral — Exceptional overall service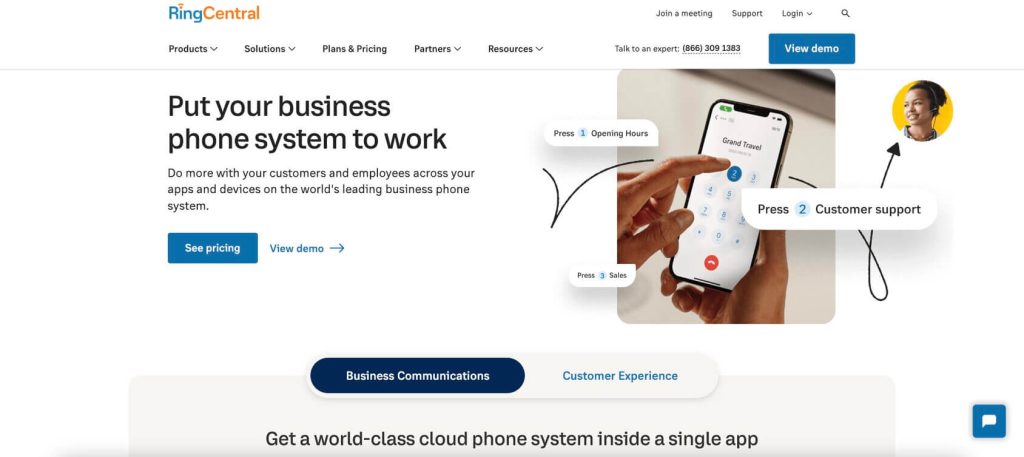 RingCentral provides top-notch video and audio conference call features for large-scale conferences. Clients can opt for an all-in-one communication suite via the RingCentral MVP option or use a standalone RingCentral Video feature.
The free RingCentral Video service allows you to schedule meetings with up to 100 users for up to 24 hours. Each user receives a personal access code and host, a single bridge number, and unlimited video and audio-only conferencing services.
RingCentral allows business users to hold simultaneous conference call sessions without disrupting other conversations.
Key features
Mobile apps – take your conference calls via Android and iOS apps.
Host touchtone controls – mute and unmute calls, record conference calls, put call participants on listen-only mode, and more.
No PIN code – join conference calls without a PIN access code.
Advanced integration – integrate RingCentral with Zendesk, Salesforce, and Asana.
Automatic meeting recording – record your meetings automatically on demand.
Pricing
RingCentral offers monthly and annual pricing plans.
Essentials 
$29.99/user/month 


$19.99/user/month (annual)
The Essentials plan allows you to host meetings with up to 20 participants with unlimited calls, toll-free business phone numbers, voicemail-to-text, and team messaging.
Standard
$37.99/user/month 


$27.99/user/month (annual)
The Standard plan provides unlimited meetings and access to Essentials features, including 24/7 customer support, integrations with popular solutions like Slack and Google Workspace, unlimited internet fax and audio conferencing, business phone numbers, and more.
Premium
$44.99/user/month 


$34.99/user/month (annual) 
The Premium plan includes all Standard features and access to custom and industry-specific integrations, CRM integrations, and real-time analytics.
Ultimate
$59.99/user/month 


$49.99/user/month (annual)
In addition to Premium features, the Ultimate plan adds unlimited storage, device status alerts, and reports.
Visit RingCentral for additional information >>
Webex — Nice collaboration features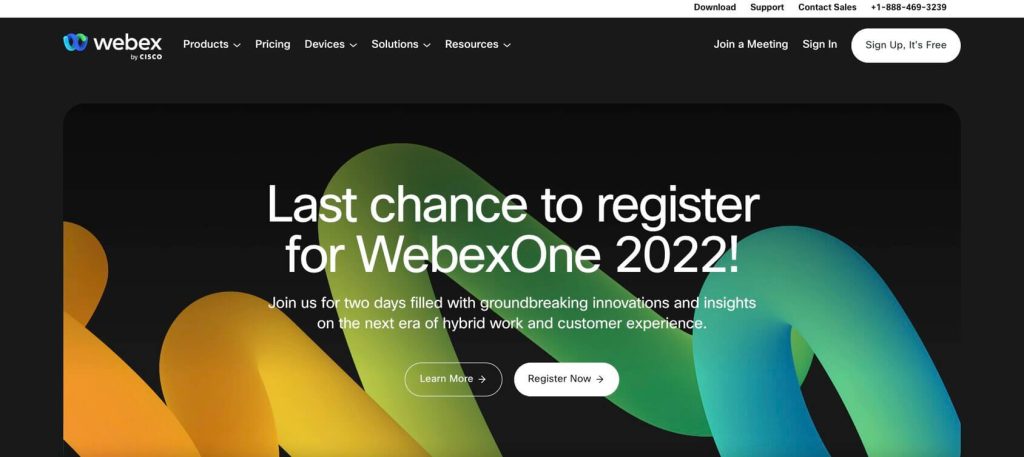 Webex is a perfect solution for large-scale teams looking for top-grade conference call software solutions. This Cisco conference call platform provides HIPAA-compliant audio/video conferencing options with built-in privacy and security features.
Webex allows users to access features for in-conference collaboration, team messaging, and meeting scheduling via its basic service suite. You can share screens, send and receive files, access interactive whiteboarding, and communicate with your clients across various third-party software tools and applications.
Key features
HIPAA compliance – ensure that your clients' healthcare data stays private.
Webex suite – 50-minute calls, in-conference collaboration, team messaging, scheduling, and more.
Audio-video security – ensure that your video and audio calls are private and secure.
Webex App – manage all of your messaging, meeting, and calling needs in one place.
Cloud storage – keep all of your conversation and correspondence data in secure cloud storage.
Pricing
Webex doesn't offer insights into its pricing structure on the official website. You need to contact sales to request a quote.
Visit Webex for additional information >>
Dialpad Meetings is an excellent option for tapping into AI-powered automated web conferencing features such as audio calling, team chat, and video conferencing. This service allows clients to host or join conferencing sessions via Android or Apple app, Google Chrome extension, web browser, or phone.
However, the built-in AI is the best feature of Dialpad Meetings. It relies on machine learning and Natural Language Processing (NLP) to recognize conferencing patterns, improve user experience, transcribe corporate calling and meeting sessions, and more.
More importantly, the built-in AI uses automation to adjust video settings according to available user bandwidth to avoid frozen screens. It can also automatically capture meeting summaries and distribute them among participants via email.
Key features
Call summaries – get highlights, transcriptions, and recordings of your conference meetings.
Built-in AI – enjoy enhanced meeting experiences with top video resolution, meeting recaps, voice recognition, and more.
Smart integrations – integrate Dialpad Meetings with Microsoft Teams, Twitter, Google Hangouts, Google Calendar, and Slack.
Free custom local call-in numbers – provide your participants in Canada and the US with local call-in numbers.
Advanced video conferencing – tap into whiteboarding, screen sharing, and automatic video resolution adjusting.
Pricing
Dialpad Meetings offers three pricing plans.
Standard 
$23/user/month


$15/user/month (annual)
The Standard plan provides chat and web support, unlimited video meetings, MMS and SMS, Microsoft 365 and Google Workspace integrations, AI-powered voicemail, and call transcriptions.
Pro
$35/user/month


$25/user/month (annual)
The Pro plan includes all Standard features and adds 24/7 live support, open APIs, CRM integrations, global SMS coverage, local number support in over 70 countries, and more.
Enterprise
Contact sales for a quote.
In addition to Pro features, the Enterprise plan provides a personal live support agent, data retention policies, Azure AD SSO integration, maximum uptime guarantee, and more.
Visit Dialpad Meetings for additional information >>
GoTo Meeting — Ideal for smaller teams 
GoTo Meeting is perfect for small business conference calls. This service provider offers top-quality, straightforward audio/video conferencing solutions for small business teams with all standard audio and video features.
You can host audio/video meetings with your team members and access automated meeting recording and transcriptions that you can browse on demand. Although GoTo Meeting doesn't offer a free plan, you can test its conferencing call services with a 14-day trial.
With GoTo Meeting, users can set recurring conference calls, send reminders, get free call recordings, share screens, send out customized email invitations, and more.
Key features
InRoom link – seamlessly invite team members to join conference calls.
GoToRoom – design customized virtual conference rooms.
GoTo Meeting hub – tap into basic analytics, attendee data, and upcoming and past meetings.
Automated meeting transcription – automatically capture meeting transcripts.
SmartNotes tool – the automated meeting assistant ensures transcription accuracy.
Pricing
GoTo Meetings offers three pricing plans.
Professional
$12/organizer/month


Billed annually.
Host HD conference calls with up to 150 participants and access features like screen sharing, dial-in lines, 24/7 customer support, and Slack and Salesforce integrations.
Business
$16/organizer/month


Billed annually.
The Business plan includes all Professional features with one difference – it allows users to host conferences and meetings with up to 250 participants.
Enterprise
With the Enterprise plan, clients have access to all Business features and conference calls with up to 3,000 participants.
Visit GoTo Meeting for additional information >>
FreeConferenceCall is the best free conference call solution for voice and video conferencing. You can host unlimited video conferences and teleconferences with up to 1,000 participants for free. Free conference call services usually only provide limited features, but not FreeConferenceCall.
This platform provides a user-friendly interface that makes hosting conferences as easy as possible. You can host teleconferences through a preferred mobile device using mobile apps for iOS and Android or from a landline via phone keypad commands.
There's also an option to set up your VoIP using a mobile or desktop app. Unlike other premium solutions on this list, FreeConferenceCall doesn't limit your meeting time and adds 1 GB of cloud storage for recording your meetings.
Key features
Dial-in numbers – access dial-in numbers for 72 countries.
StartMeeting – tap into online collaboration, host meetings, audio/video conferences, and more.
Meeting reports – receive detailed reports after every meeting.
24/7 customer support – get professional help through email and chat.
Easy integration – integrate with Dropbox and Slack.
Pricing
FreeConferenceCall is free to use.
Visit FreeConferenceCall for additional information >>
Google Meet — Perfect for individual use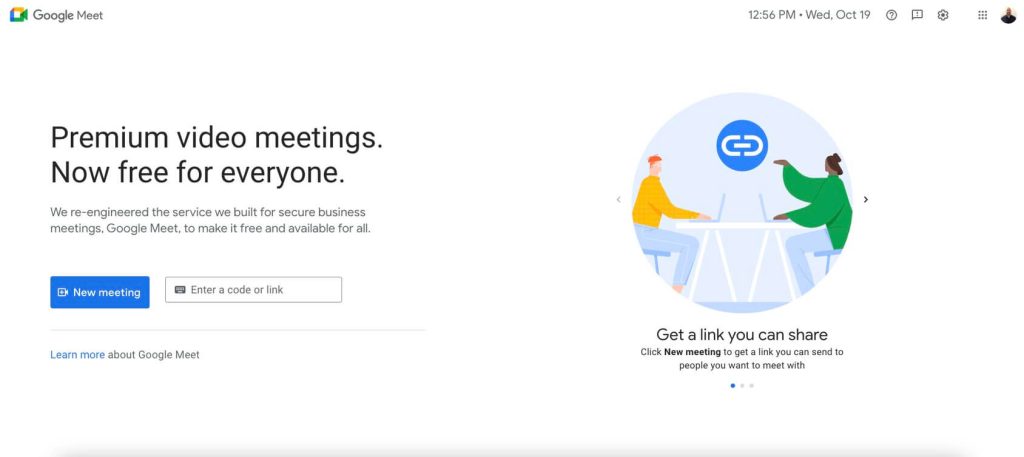 Gmail users looking for high-quality video/audio conferencing tools should consider Google Meet. This platform integrates with Google Workspace tools like Google Drive, Google Calendar, Google Docs, and Gmail.
Google Meet provides a unified, intuitive platform for video and audio conferencing. Clients receive features such as attendance tracking, breakout rooms, Q&A sessions, in-meeting polling, meeting recording and sharing, in-meeting chat recording, and on-demand call recording.
Key features
Sidebar view – share presentations and screens with other participants.
Meeting customization – customize live meetings by adding captions, canceling noise, and more.
Automatic integration – seamless integration with Google Workspace tools.
Track participant attendance – tap into participant's information, including their email, phone number, name, and more.
Adjust meeting layout – add or remove options to adjust your meeting layout.
Pricing
Google Meet conferencing services are available for free.
Visit Google Meet for additional information >>
Vast Conference — Excellent international conferencing capabilities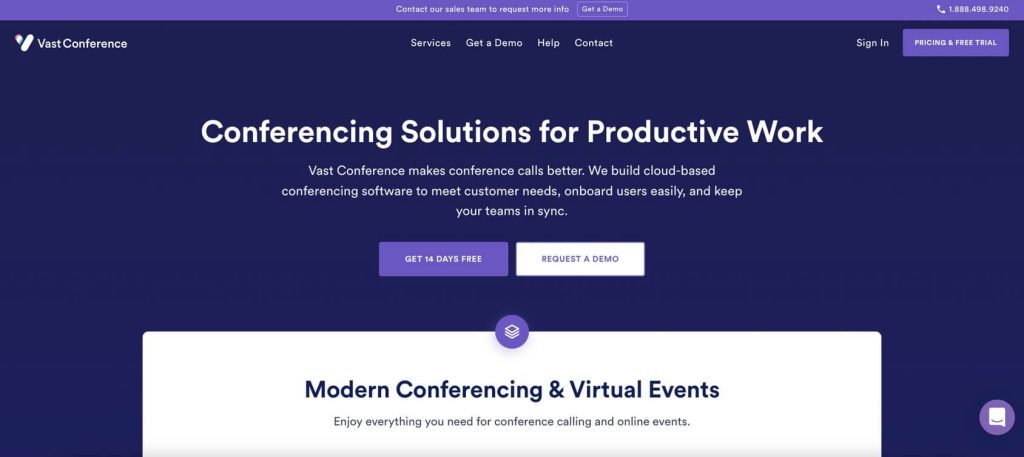 Vast Conference web and audio conferencing services are perfect for enterprises that host conferences for international audiences. This company provides responsive customer support via phone, chat, and email and offers informative articles as well as an extensive FAQ page.
With Vast Conference, users can send dedicated meeting links to 1,000 participants and invite them to attend meetings via any desktop web browser or the company's mobile app.
Clients can utilize dedicated conference call numbers and receive access to an intuitive user interface that allows them to customize their meetings and teleconferences with reports, built-in tracking, call recording, and other key event parameters.
Key features
Dedicated call number – invite participants to join your meetings via web browser, mobile app, and phone.
Conference call interface – track meeting attendance, check participants' details, host teleconferences, record calls, and create advanced meeting reports.
Video conferencing – record meetings, share files, chat with participants, and share screens in real time.
Local in-country numbers – make video and audio calls to over 70 countries.
Multichannel support – receive live support via phone, chat, and email.
Pricing
Vast Conference offers four pricing plans.
Essentials 
$14.99/month/user


$11.99/month/user (annual)
Access unlimited hosting of interactive online meetings and teleconferences for up to 10 participants.
Standard
$19.99/month/user


$15.99/month/user (annual)
In addition to Essentials features, you get unlimited video and audio conferencing for up to 100 participants.
Professional 
$39.99/month/user


$31.99/month/user (annual)
The Professional plan provides Standard features and adds hosting video and teleconferences for up to 250 participants, including group training and significant corporate events.
Enterprise
Enterprise allows clients to customize their plans and create custom solutions according to their needs.
Visit Vast Conference for additional information >>
Choosing the best conference calling service for your needs
When selecting a conference call service for your business, you should consider the following factors to make an informed decision.
The best conference call service provider should provide high-end features, affordable pricing, reliable customer support, a user-friendly interface, exceptional audio/video quality, advanced analytics, and more.
Conference call features
Although the web offers countless conferencing services, most of them don't provide the same suite of features and functionalities.
Most users generally choose a provider with uninterrupted and unlimited services with high-quality audio and video. Opt for a service with a conferencing solution that can help make your conference calls more effective and well-organized.
In addition to easy set-up of audio and video calls, you also need extras for collaboration and facilitating discussions with advanced reporting and tracking parameters.
Here are some essentials to consider:
Participant muting;
Breakout rooms;
Cloud recordings;
Transcriptions;
Screen sharing;
Closed captioning;
Whiteboards;
File sharing;
Attendance reports;
Waiting rooms;
Private and public chat;
End-to-end encryption;
Event analytics;
Business software integrations; and
Participant bandwidth adjustment.
Pricing
Pricing is a vital factor when comparing the best conference call services. It allows you to determine the total value you can receive from a service provider in terms of add-on fees, pricing plan costs, and features.
It's important to look for a service that provides the most value for your money. A cost-effective conference call solution should be secure, unlimited, and uninterrupted, with mobile and desktop interfaces, responsive, 24/7 customer support, and full-suite features with exceptional audio and video quality.
Conference call service providers usually offer two pricing plan types: pay-as-you-go and unlimited use for a fixed charge. The pay-as-you-go pricing structure allows you to pay only for the features you use. It typically charges the user a per-minute fee for each used functionality.
Unlimited monthly or annual pricing plans require a reservation-less service, allowing users to host meetings on demand without limitations. Although they may incur a higher price, pricing plans provide extra features that most businesses need.
Level of support
The conference call service provider you choose must provide reliable customer support when you need it the most. You need responsive, 24/7 customer support available via multiple communication channels.
In addition to standard support channels such as live chat, email, and phone, look for service providers with live support and the option to contact an agent by speed-dialing. The best service providers also offer FAQ pages and informative articles for further reading.
Ease of use
Your conference call service should have a user-friendly interface to make it easy to use for all participants, including your staff.
You should be able to easily use essential features like call forwarding, meeting recording, inviting participants, and scheduling calls.
Number of users
The number of users that you can host in your audio or video conferencing is critical for choosing a conference call service provider. Most pricing plans come with a limited number of participants and cap your calls at 40 minutes.
Look for a provider with a pricing plan that gives you enough conference calling time and participants for your conferencing needs. Unlimited call durations are among the best options, but these services usually provide a limited number of participants.
Audio and video quality
Today, most companies make calls over the internet. Internet communications require a fast and reliable connection to avoid common problems, such as high latency, low bandwidth, lag or delay in the signal, or frozen screens.
While a slight lag won't prevent you from downloading files, it'll wreak havoc on your conferencing efforts. Aside from making it difficult to have and maintain a conversation, it could result in misunderstandings. Connection lags make it nearly impossible to hold a conference call with 10 or 100 participants.
However, having top connection speed is only one part of the puzzle. Even with top internet speeds, there's no guarantee that your call quality will be satisfying.
That's why I recommend considering these features to make the most of your audio and video quality:
Echo prevention – this feature allows you to limit the amount of echo in your conference calls and make it easier to listen to the audio.
Voice cancellation – voices tend to overlap in large-scale conference calls, and voice cancellation allows you to make your conversations more comprehensible.
Call mute –aside from eliminating distracting noise, this option gives you and your participants more control over the audio quality.
Automation
The core element of the best conference call service is the ability to set up and schedule calls quickly. Top service providers provide automated solutions with easy and quick integrations to help you to make and schedule conference calls with the push of a button.
In addition, smart integrations allow you to integrate your conferencing services with third-party and calendar apps to simplify the scheduling and conferencing processes.
For example, a reputable service provider should automatically integrate your conferencing call service with your Gmail account and existing communications apps so that you can host instant virtual meetings with your new and existing contacts.
Analytics
Conference call analytics are essential to measuring your performance, strategic planning, and audience growth. They allow you to track conferencing data to understand vital insights about your business performance and target audience.
Look for a service provider with advanced analytics and reports as part of their audio and video conferencing services. You should be able to capture various metrics, including voice analytics, call volume, hold time, attendance, participant performance, and more.
Best services for different needs
Since I understand how confusing it can be to choose the conference call service for your specific business needs, here's a breakdown of the best service providers for different use cases. I recommend testing out a few services before making a decision.
Best free option
Best mobile option
Best for large meetings
Best for smaller companies
FAQs
What is the user limit for conference calls? 
Every conference call service provider has unique rules regarding the number of participants that you can host in a conference call. Some platforms cap you at ten participants, while others allow you to host up to 1,000 users. 

Therefore, the call duration and the number of users for your conferences depend on the service provider you select. Some platforms limit your options to free plans but offer extra features at additional charges. For example, FreeConferenceCall allows you to host free audio and video conferencing for up to 1,000 users.
Are the free conference calling services any good? 
While I always recommend premium services, some excellent free service providers are worthy of your trust. Most companies offer free trials for users in addition to premium services. You can use the free trial to test the service and see if it can cater to your specific needs.
 
Grasshopper, RingCentral, and Nextiva offer exceptional free trials, while FreeConferenceCall provides audio and video conferencing at no charge. Google Meet offers free video and voice calls, texting, and conference calls. 

Some providers might put caps on what you can do for free, such as a limited number of participants per conference call or limited meeting duration.
Is it secure to use a conferencing call service? 
Safety and security are paramount for hosting large-scale audio and video conference calls that disclose private and sensitive user information. 

Since the level of protection ranges from provider to provider, I recommend opting for a service provider with cutting-edge, built-in security features and end-to-end encryption. 

Webex provides built-in safety and security video and teleconferencing features and ensures HIPAA compliance.
How are conferencing calling services paid? 
You have two cost structures for paying for conferencing calling services – pay-as-you-go and a flat monthly fee. Reservation-less services typically charge 2-10 cents per minute, while pay-as-you-go plans incur a per-minute fee for each participant. 

Pay-as-you-go is probably the most flexible option, as it allows you to pay only for the time that you use the service. However, rate plans vary from provider to provider. Research the industry standard for per-minute and per-call rates to know where you stand and estimate the potential expenses before making a decision.
Conclusion
Before investing in a conference call service, you should consider your unique needs. While you might not find an all-encompassing service that caters to your every need, you can evaluate your priorities to identify the essential features to look for in a conferencing call platform.
This list provides my comprehensive selection of the best conference call service providers. Each provider offers unique services and top-quality features that you can use for free or with a pricing plan.
I've examined provider reputation and user reviews for security, ease of use, reliability, functionality, and customer support. All service providers on this list offer free trials. I recommend using them to test features and functionalities before making a decision.