The Best Crowdfunding Platforms for Your Small Business in 2023
Launch Your Business Idea With These Top 10 Crowdfunding Platforms
FirstSiteGuide is supported by our readers. When you purchase via links on our site we may earn a commission.
Read More
The Best Crowdfunding Platforms for Your Small Business in 2023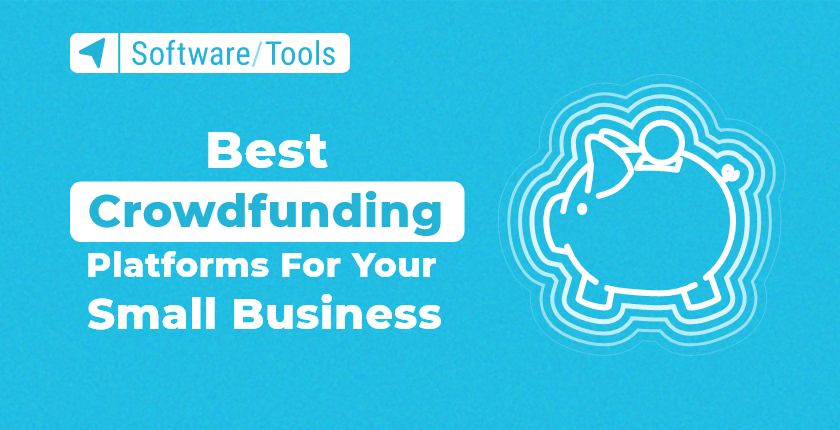 Everyone dreams of building their own business empire at one point in their life, but this vision quickly becomes a forgotten dream after realizing the required capital and other investments needed to launch a business idea.
If you don't have the necessary funds or are reluctant to spend your last dime on a risky project, this doesn't mean that you have to give up on your dream. Many crowdfunding platforms have been created to support and finance all kinds of projects.
However, choosing a crowdfunding platform could determine how successful your project is, so it's crucial to find the one that suits your needs.
In this guide, you can discover more about each of the top crowdfunding platforms and learn about their unique properties. This way, you'll easily find the one that checks all of your boxes.
Top 10 crowdfunding platforms for small businesses/startups
Because a project can belong to any industry or field, there's no single platform perfect for all business ideas. Instead, different crowdfunding platforms respond to a variety of needs and requirements, making the 10 platforms mentioned here the ultimate winners.
---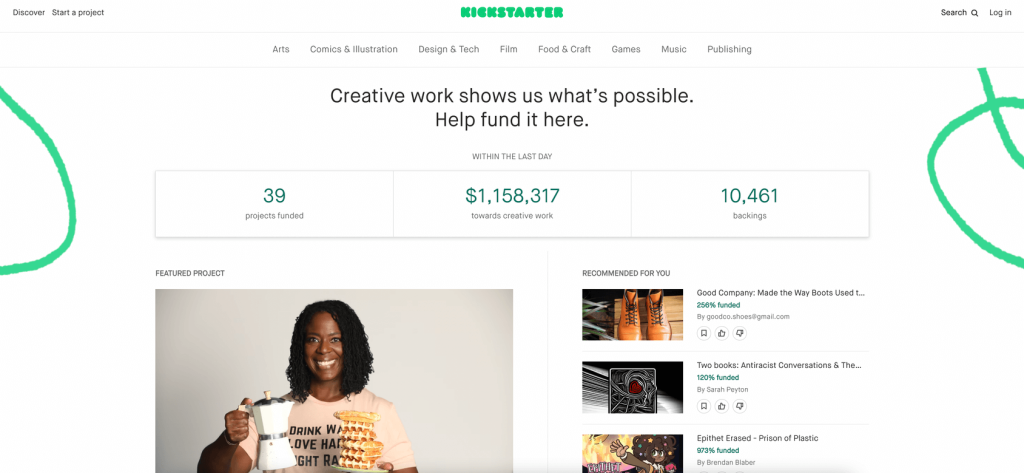 Kickstarter is the perfect solution for all of the creative souls looking to profit from their creative and innovative ideas. So far, this company has helped 15 million creatives worldwide to bring their ideas into reality by raising $3.7 billion in funding. This amount has been used to finance over 143,000 projects in various creative fields.
From musicians and filmmakers to designers, visual artists, chefs, and other creatives, Kickstarter is the place to check out if you're planning to launch a small business. It's great for anything related to arts, crafts, comics, illustration, design, tech, film, music, games, food, publishing, or another similar industry.
However, Kickstarter is a platform to choose only if you're confident that your idea will succeed. The platform requires all of its artists to set objectives and goals that they have to reach within a selected time frame. Otherwise, money is returned to everyone who contributed to your project.
Key features
Best overall crowdfunding platform – a large majority of people claim that this is the ultimate crowdfunding platform with all of the necessary features;
All-or-nothing investment scenario – you win or you lose, there's no in-between; and
15 million member base – one of the largest member bases on current crowdfunding platforms.
Plans and pricing
While everyone is welcome to join the Kickstarter community and create an account for free, creators who start receiving funds for their published projects have some additional costs:
5% charge on collected funds, and
3–5% on processing fees.
Visit Kickstarter for additional information >>
Indiegogo — Best for turning profitable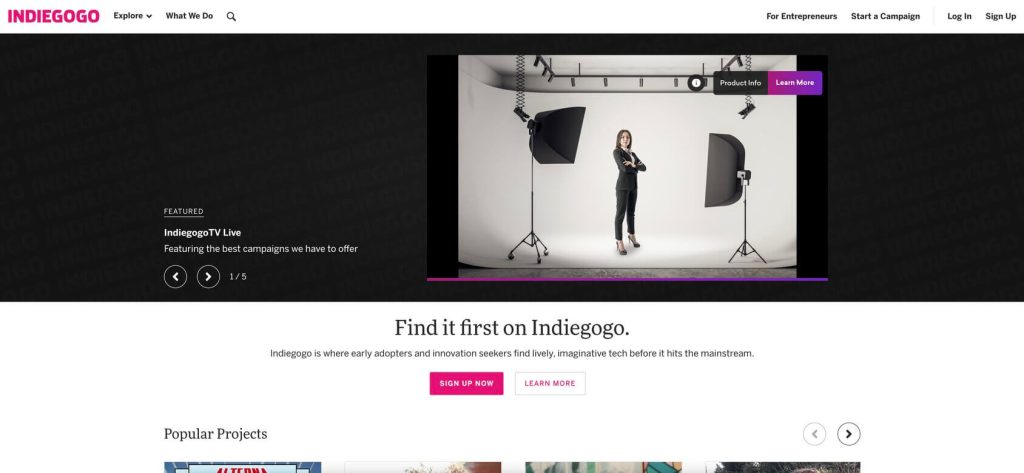 In addition to providing real-time crowdfunding, Indiegogo also offers an online marketplace for all of its products. With more than 15 million users, around 19,000 project campaigns are launched on the site each month. Indiegogo has helped numerous entrepreneurs to raise $1 billion which has been used to fund over 650,000 projects.
Unlike Kickstarter, Indiegogo doesn't come with pre-determined goals and deadlines. This approach allows project creators to collect the funds for as long as they want, as there's no specific date when the crowdfunding project has to stop.
Indiegogo is available in over 235 countries and territories, making it a perfect crowdfunding platform to introduce your innovative idea or product to a global community. With no goals or deadlines, you can collect a significant number of funds in the 60 calendar days that your project will be available online.
Key features
Available online marketplace for all products – no specific niche that you have to focus on;
Available in more than 235 countries – diverse member base allows for diverse products; and
No set goals or deadlines – nothing can stop you from reaching success with your campaigns.
Plans and pricing
Account creation is free. Similarly, fundraisers for a cause aren't required to pay for costs as Indiegogo partners up with GoFundMe on such projects. Nevertheless, other campaigns need to deduct 5% on platform and processing fees.
Visit Indiegogo for additional information >>
GoFundMe — Best for personal projects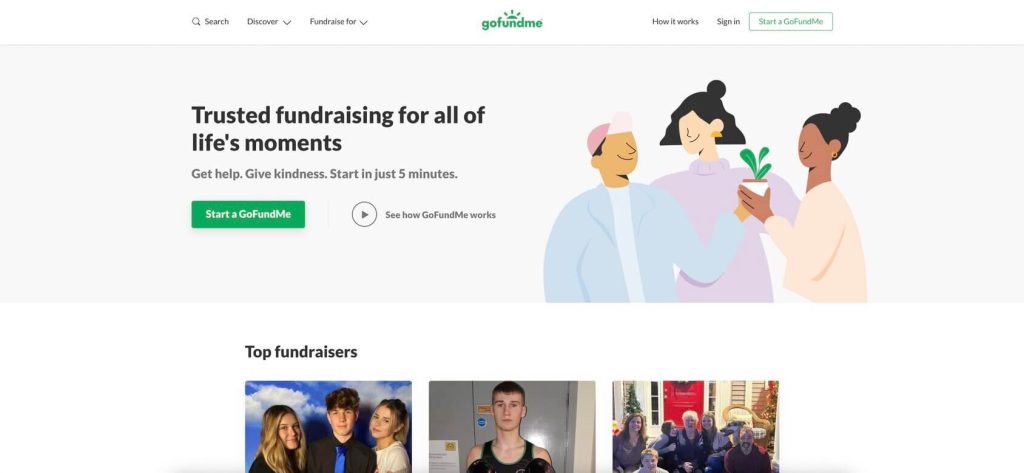 GoFundMe is a unique crowdfunding platform perfectly suited for personal emergencies and other smaller projects. From covering personal healthcare bills to assisting local businesses, GoFundMe has become like a charitable platform where individuals can ask other people for financial support online.
GoFundMe has raised over $9 billion by financing more than 120 million projects. Whether you need to cover a considerable medical expense, pay for a surprisingly expensive vet bill, or simply need more funds to bring a business idea into reality, GoFundMe is a great place for smaller personal projects. The platform's ease of use and popularity will make any project successful.
People can withdraw the funds at any moment and even write thank-you notes to charitable supporters. A 24/7 support team is here to answer your questions and help you out at any moment.
Key features
Large and supportive community – a community known to support charities and good causes;
Ideal for donations and smaller projects – a specific crowdfunding platform perfect for niche campaigns;
Launch a project in 3 easy steps – you can launch any project quickly and easily;
No deadlines or platform fees – don't get stressed about deadlines and numerous fees as there aren't any; and
24/7 support – perfect for everyone needing some assistance with their first projects.
Plans and pricing
Account creation is free and there are no platform fees. However, a 1.9% processing fee and $0.30 for every transaction must be paid by fundraiser founders.
Visit GoFundMe for additional information >>
Crowd Supply — Best for original projects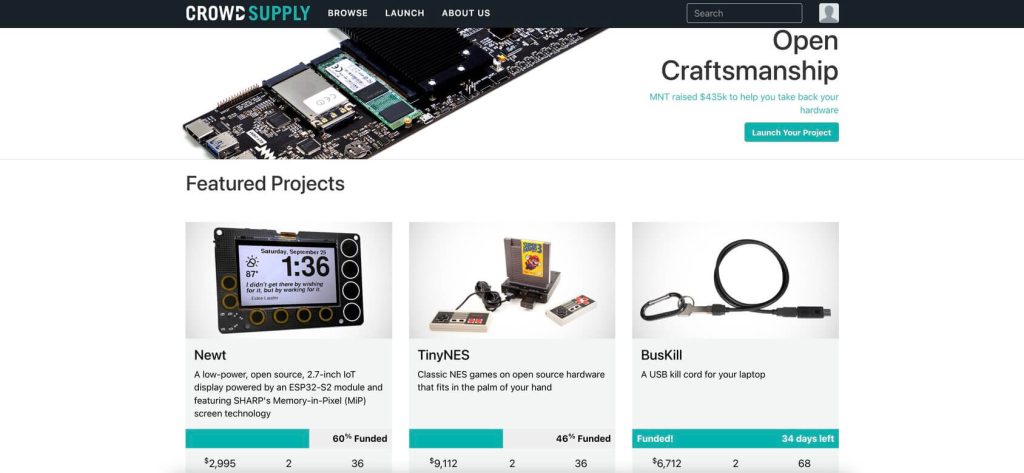 A platform created for sharing original and valuable ideas, Crowd Supply is a winning crowdfunding platform whether you want to profit from building electronics or sharing a delicious family recipe.
The primary purpose of Crowd Supply is to support original ideas and bring respectful projects to life. By fully funding 70% of its published projects, Crowd Supply is one of the best platforms to choose as a startup or small business.
Looking at the total amount raised and the number of projects launched, this platform has funnelled an average of $66,000 into every successful project.
Key features
Focus on hardware projects – perfect for all campaigns related to hardware;
Several pricing plans – you can find a plan that suits you best;
Various additional features – enjoy a wide array of extra features; and
Highly successful and profitable platform – see your campaign grow in success.
Plans and pricing
Crowd Supply offers several pricing plans:
The Standard plan includes a charge fee of 5% of total campaign sales;
The Guided plan includes a 5–10% charge fee; and
Custom plans include a 10–15% charge fee.
The pricing plans don't include processing fees, which are also part of every campaign.
Prices largely fluctuate depending on the services that a creator chooses to receive. Optional features include campaign management, a PR team, and media asset creation.
Visit Crowd Supply for additional information >>
Fundable — Best for confident businesses
Fundable is a crowdfunding platform that has features unlike any other available platform of a similar nature. These features can make or break various business ventures.
Namely, this platform comes with several programs that its users can choose from. The most interesting one is a rewards program. It allows all business owners to raise up to $50,000 and market their products.
For businesses that aim higher and plan on raising anywhere between $50,000 and $10 million through Fundable fundraisers, the platform offers an equity program, so that companies can receive investments from accredited investors.
While it costs nothing to join the Fundable community and create an account, there is a charge of $179 to raise funds every month, regardless of how successful or unsuccessful your projects are. As long as your business pays the subscription amount, you can create multiple campaigns to raise money and reach your business goals.
A low flat fee makes most crowdfunding campaigns quite successful. Raising only $3,580 is enough to reach the 5% mark commonly used across other crowdfunding platforms, while a $10,000 goal makes this fee less than 2%. The processing fee in the rewards program is 3.5%, and $.30 for every transaction made.
Key features
Outstanding customer support – friendly and helpful customer support is available to answer all of your questions;
Ideal for confident startups – Fundable is recommended only to those who strongly believe in their idea; and
Penalization of unsuccessful fundraisers – fundraiser owners can lose their money.
Plans and pricing
All campaign owners need to pay a flat monthly fundraising fee of $179, regardless of their campaign's success.
Visit Fundable for additional information >>
Patreon — Best for artists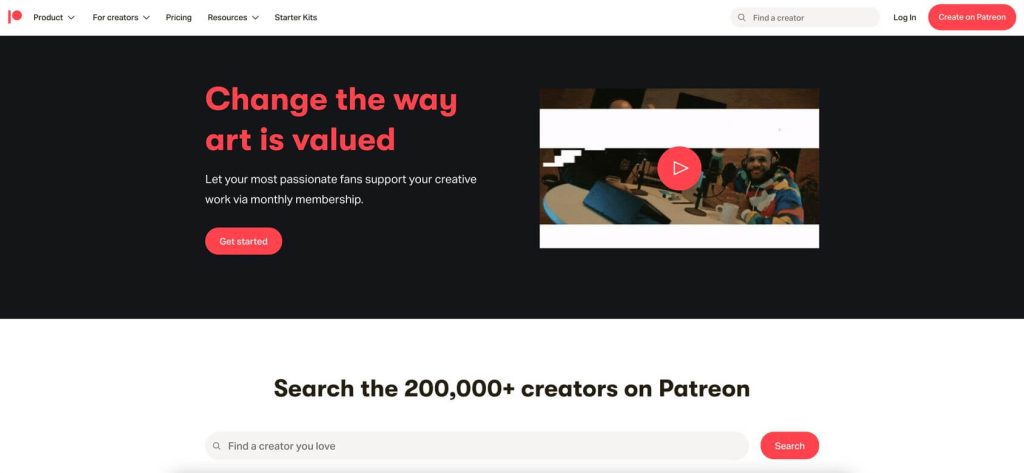 Another platform that strongly focuses on the creative world is Patreon. This crowdfunding platform allows artists, musicians, writers, and numerous other creators to earn commissions by allowing their supporters to pay for online membership services.
Through online membership subscriptions, fans receive exclusive events and additional content from the artists that they choose to support. Essentially, fans pay extra to access exclusive content, and their favorite artists generate income. In total, Patreon creators have raised over $350 million by using this widely-popular platform.
Key features
Focused on creative work – best for ambitious artists and creatives;
Bringing artists and fans closer – direct connection between artists and their fans; and
Creators are in charge of their monetization – creators can choose whether they want to monetize their content or not.
Plans and pricing
While joining the Patreon community is entirely free of charge, artists who choose to generate revenue can choose from three different plans and then pay a monthly fee:
The Lite plan has a 5% charge fee;
The Pro plan has an 8% charge fee; and
The Premium plan has a 12% charge fee.
Along with the charge fee, there's also a processing fee of 2.9% and $0.30 for each transaction for all plans.
Visit Patreon for additional information >>
Seedrs — Best for startup entrepreneurs
Another equity crowdfunding platform that allows startup entrepreneurs to connect with investors is Seedrs, located in the UK. While helping young business owners raise funds and connect to powerful investors, Seedrs also helps entrepreneurs to increase brand visibility and acquire customers.
As a simple platform that gives young companies everything that they need for first fundraisers in one place, Seedrs is rapidly growing in popularity and use. It provides investment guidance, marketing tips and tricks, PR support, and even legal advice.
So far, Seedrs has raised over £1 billion for almost 1,300 campaigns.
Key features
Ideal for startup businesses and young entrepreneurs – perfect for those looking to enter the business market; and
More than a simple crowdfunding platform – offers multiple additional features that users can take advantage of.
Plans and pricing
Seedrs is charging its successful fundraisers 6% of the gross income received through the platform. Additionally, entrepreneurs must pay processing fees for every transaction and a £2,500 completion fee that covers administrative costs such as communication with different investors.
Visit Seedrs for additional information >>
Crowdfunder — Best for equity fundraising
Another UK-based crowdfunding platform is Crowdfunder. It's home to more than 200,000 entrepreneurs and investors who always welcome more members interested in supporting or developing new business ideas.
As a primarily equity crowdfunding platform, entrepreneurs sell shares of their businesses to investors and buyers. As of now, more than $150 million has been raised from 12,000 venture capitals and angel investors.
Depending on the plan selected, this platform provides additional services to its members, such as personalized support and document storage.
Key features
Perfect for connecting companies and investors – companies and investors can easily find each other through Crowdfunder; and
A UK-based crowdfunding platform – an ideal place for all companies and investors located in the UK.
Plans and pricing
Cowdfunder offers three payment plans, so that every company can find a plan that suits their requirements and expectations:
The Free plan for ultimate startups;
The Starter plan for $299 per month; and
The Premium plan for $499 per month.
Visit Crowdfunder for additional information >>
Wefunder — Best for companies on a budget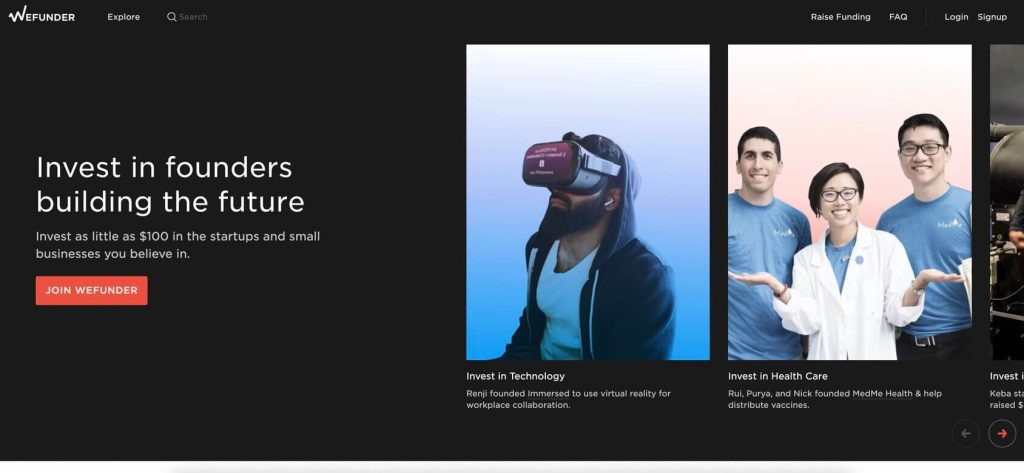 Wefunder allows startups to spread their brand visibility and gather the funds required for upcoming projects. Businesses can collect anywhere between $50,000 and $50 million from investors. This process can last between approximately 1–3 months for most campaigns before reaching their objective.
The good thing about Wefunder is the diverse selection of investors and businesses that it offers. From newly-opened restaurants to startup software companies, anyone is welcome to request funding from more than 150,000 investors listed on Wefunder.
Key features
Plenty of interested investors – businesses can find over 150,000 investors; and
Caters to all industries and fields – businesses of any niche are welcome to join the platform.
Plans and pricing
What makes Wefunder exceptional are the lack of transaction or management fees. All existing administrative fees are covered by investors, thus covering all of the costs of running a campaign on Wefunder.
Visit Wefunder for additional information >>
Fundly — Best for consistent money flow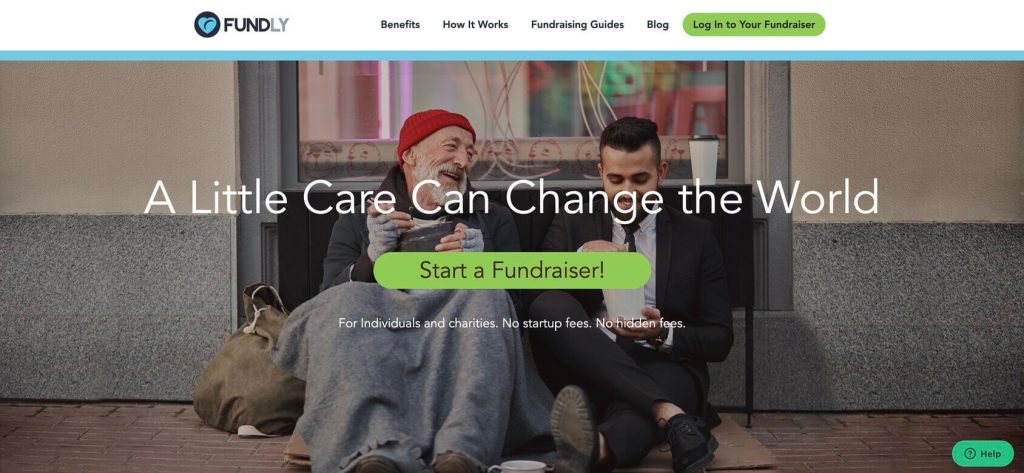 Last but certainly not least, Fundly helps individuals to raise money for any purpose, with no fees or other requirements. Anyone can create a fundraiser on this platform, whether it's for professional or personal purposes. As a result, you can find ongoing fundraisers related to personal health needs or newly-developed business ventures.
Creating the page is quick and easy. After publishing a campaign, you can manage and trace it from the Fundly app or use Facebook OpenGraph available for all fundraisers on the Fundly platform. It will allow you to analyze your progress and develop the best methods to maximize your reach.
Fundly doesn't limit how frequently users can cash in on any received funds. Offering the option of daily, weekly, or monthly payments makes Fundly ideal for a consistent money flow.
Key features
Suitable for all fundraisers – businesses of all fields can organize a campaign;
Ability to track and manage the fundraiser's progress – use handy apps to oversee the campaign's progress; and
A consistent cash flow – you can cash in payments whenever you wish.
Plans and pricing
Fundly users can expect to pay these fees:
4.9% platform fee;
2.9% process fee; and
$0.30 upon every transaction.
Visit Fundly for additional information >>
How to select the right crowdfunding platform for your business
As one of the ultimate ways to raise money and obtain the much-needed funds needed for turning a business idea into reality, crowdfunding is popular all over the world. Countless crowdfunding platforms offer affordable deals and unique services to their customers, but which one suits your business best?
This depends on several factors, including your type of business and the nature of the crowdfunding platform. Here are some crucial features to look for in a platform for your fundraiser:
Read the platform's rules carefully – some platforms charge their fundraisers for not reaching their goals or prevent them from receiving the funds that they gathered before achieving the primary goal. The best option is to avoid crowdfunding platforms that penalize their entrepreneurs, as this could become an extremely unfortunate experience.
Pay attention to restrictions – another limiting feature that some crowdfunding platforms have are deadlines, time limits, and other restrictions that can prevent you from maximizing your fundraiser's potential. Flexibility is an essential feature to look for, as modern crowdfunding platforms can give you much more than a space for publishing your ideas.
Easy use and customer support are crucial – all crowdfunding platforms should provide assistance and support to their newcomers. Also, it's useful to go with a platform that's easy to navigate and use. Not only will this feature make platform use easier, but it'll also ensure that all motivated parties invest in your idea. A complex payment process will frustrate many users and will even prevent some from making a payment in the end.
Make sure that the platform supports customization – customizing the fundraiser will bring your story, idea, or vision to life. Prospective donors will immediately become more intrigued and interested in supporting your project with their funds. The platform must support customization and have unique features to make all of that happen.
How to ensure success for your crowdfunding campaign
To ensure that your fundraiser campaign is successful, check out these tips and tricks:
Choose the appropriate crowdfunding platform – before launching a campaign, you need to choose the appropriate crowdfunding platform known for supporting your areas of business. Launching a banking project on a platform that supports arts and crafts won't have a successful result. Make sure to research which platform is used by projects similar to yours.
Make your campaign stand out – regardless of how useful or captivating your product is, you won't experience a lot of success without making your campaign stand out. This includes coming up with a captivating story, using attention-grabbing images, and any other marketing tricks to increase public interest.
Invest in ads – even though you're launching a campaign to raise money you don't have, the amount of funds that you will receive largely depends on how many people are aware of the existence of your campaign. To increase the campaign's visibility, invest in social media ads, as they'll quickly turn profitable.
Choose correct pricing – do some research on which goal is appropriate for your kind of fundraiser. Naturally, you want to receive as many funds as possible, but you don't want to set a goal that's almost impossible to reach. Finding the balance between the two is the key to running a successful fundraiser.
Pay attention to deadlines – timing is another determining factor that can make or break your campaign. Deadlines are something that you should consider carefully, as accurate fulfillment will increase your reputation as a brand. After the fundraiser is complete, all subsequent steps need to follow the predetermined plan.
Best of the best
If you want to quickly discover which crowdfunding platforms are the ultimate winners, this best of the best list will provide you with express solutions related to the winning crowdfunding platforms across different categories. Check them out!
Best flat fee platform
Regardless of how many projects you have or how successful they are, all fundraiser organizers pay the same fee. A flat fee is perfect for those who like to plan their expenses or for those who want to know that the fees won't eat into their profits.
Best equity platform
Equity platforms are a place where businesses and potential investors connect. Equity financing is based on believing in someone's product or idea and investing in it. The best equity platforms have many investors interested in supporting new projects.
Best charity platform
Charity platforms are focused on giving help to people in need and spreading kindness. Most people seeking financial help choose charity platforms as their go-to place.
Best donation-based platform
Donation-based platforms are primarily concerned about raising money for a particular cause. Donations can be used for anything from covering basic personal needs to starting a new business project.
Best reward-based platform
With reward-based platforms, donors receive something in return for their donations. These rewards typically vary depending on the size of the donation.
FAQs
What is loan-based crowdfunding?
With loan-based crowdfunding, investors receive their money back after a certain period, typically with interest.
What happens if a crowdfunding project fails?
What happens after a fundraiser fails largely depends on the platform. Some platforms allow project creators to receive the balance, while others penalize failed projects and keep funds protected until the goal is reached.
What are the disadvantages of crowdfunding?
The most significant disadvantage of crowdfunding is the risk of publishing details about an unpatented idea. By doing this, it is possible for others to steal and patent the concept, claiming it as their own original work.
Conclusion
Crowdfunding has been around for some time now, but its popularity is still increasing. With banks no longer the only option to receive the funds needed to bring a business idea into life, more and more entrepreneurs and creators are deciding to go with fundraisers.
Crowdfunding platforms allow startups and small businesses to receive large amounts of money at a reasonably low price, which is precisely why you might want to consider crowdfunding for your next business venture.