The Best Daddy Blogs to Follow
We've already done a piece on the best mom blogs out there, but that's only half the story. Just like when it comes to changing the diapers, Dad get a turn. Turns out being a good dad isn't always easy, and sometimes it's nice to have a little support. Or a place to talk about all the crazy or awesome things your kids get up to. Either way, there are lots of dads blogging out there.
Many of these blogs aren't nearly as competitive as the average entry in another niche, but, like any other group, there are standouts. Parenthood is an extraordinary enterprise in and of itself, and might fairly (we think) be called complex. At least, the responsibility to protect, support, and train new human beings seems pretty intense from the outside.
There's a lot of room there for wonder, joy, laughter, sadness, struggles, confusion, frustration, love, and pride. . . What we're getting at here is that there is plenty of potential here for some really, really, great blogging.
And some people are taking all that raw potential and shaping it into something fantastic. First Site Guide is thrilled to bring you our favorite dads on the internet.
List of All Daddy Blogging Experts
Sort By Metrics
Updated: July, 2016
by Bruce
Social Media Followers - The total number of followers combined from the following blog's social media profiles: Facebook, Twitter, Pinterest, Instagram and Google+.
12907
Alexa Rank -
Alexa's Traffic Ranks
are based on the traffic data provided by users in Alexa's global data panel over a rolling 3 month period.
1900000
SemRush Rank -
SEMrush lists
the most popular websites ranked by organic traffic coming from Google's top 20 organic search results.
4800000
"A Dad's Point-of-View" is Bruce Sallan's internationally syndicated column and Radio Show on parenting and more. "Like" this page to participate, interact, and meet other like-minded parents.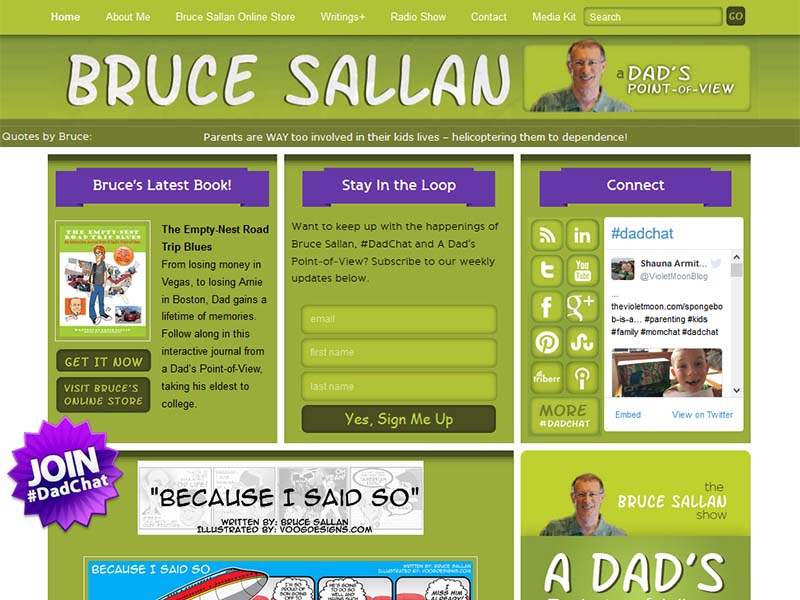 START YOUR OWN BLOG
This guide is an introduction to mastering the art of blogging. It provides easy to follow steps to start, maintain, and grow your blog.