The Best Free and Paid File and Data Recovery Software Tools for 2023
The Ultimate Guide to Data Recovery Solutions for Mac and Windows
FirstSiteGuide is supported by our readers. When you purchase via links on our site we may earn a commission.
Read More
The Best Free and Paid File and Data Recovery Software Tools for 2023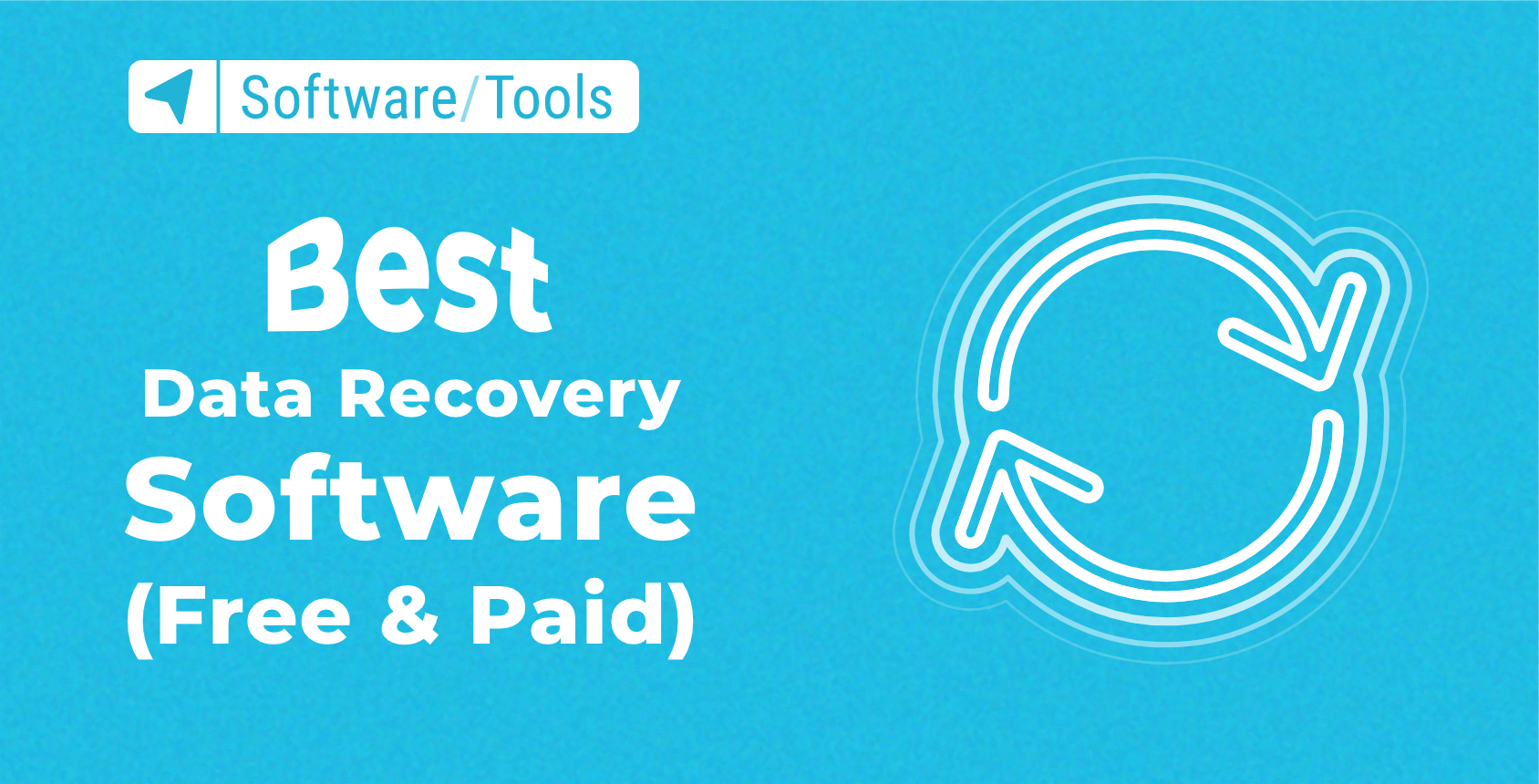 Data and file recovery software tools are intuitive applications that recover valuable and sensitive business-related data from various storage media. These precious and life-saving apps allow businesses to recover data lost due to unpredictable circumstances.
Storage media solutions can lose or corrupt data for many reasons such as cyberattacks, viruses, data breaches, hard drive failures, and more. Data recovery software scans your storage medium, identifies lost files, and recovers the information.
Because of these abilities, this software is a valuable addition to every corporate document management strategy. It can recover various file types like emails, contact details, video, and audio.
EDITORS' CHOICE
The data and file recovery solution that you choose for your business should support all data structures and storage media to allow you to recover any file or piece of information from all storage media types.
This comprehensive guide covers the top nine data recovery software tools including their pricing plans and essential features.
Top 12 data recovery tools
Here's our list of the best data recovery tools. We have listed both free and paid solutions below, so read on to learn more.
---
Disk Drill — Versatile and intuitive
Disk Drill offers free and premium data recovery solutions for Windows and Mac operating systems. It can recover any files on compatible Mac and Windows systems. Along with recovering encrypted, compressed, hidden, and archived files, Disk Drill can also improve the quality of your recovered data.
Disk Drill is an excellent data recovery tool that can recover all file formats. It supports all data systems and can recover data from any storage device.
Whether you need to recover photos, music, archives, videos, or business documents, Disk Drill provides support for EXT4, HFS+, NTFS, and FAT and only requires 16 MB of disk space on Windows XP and above to operate.
Key features
Monitor the scanning process – estimate the remaining data recovery time and visualize the scanning process in real time.
File preview – generate previews for all Windows-supported file formats.
Multiple view options – access four options for managing your files, including folders, files, folders with icons, and files and icons.
SMART support – read SMART (Self-Monitoring, Analysis, and Reporting Technology) data from compatible devices.
Recovery vault – make data recovery faster and more efficient by storing recovery metadata about deleted files in a recovery vault module.
Pricing
Disk Drill offers a free trial version and two premium plans.
Free trial
Along with the recovery of 500 MB of data for free, the free trial supports all file systems and storage types, a data protection module, lost file previews, and byte-level file backups of compatible storage media.
Pro
Pro license offers lifetime upgrades and all features of the free trial. Clients also receive unlimited data recovery, up to three simultaneous activations per user, and access to all recovery methods.
Enterprise
Enterprise plans provide all Pro and Free features with the addition of unlimited activations, up to ten users, and priority technical support.
Visit Disk Drill for additional information >>
Stellar — Ideal for recovering large data volumes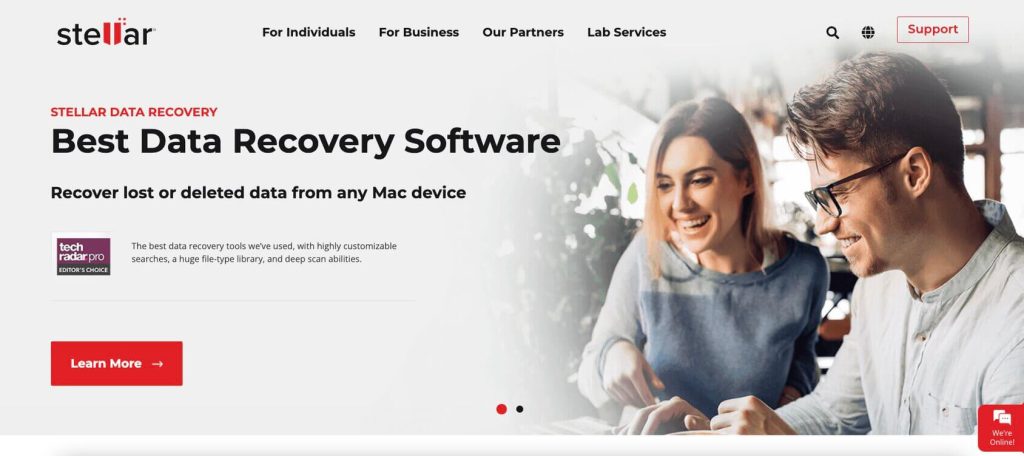 Stellar offers data recovery solutions for individual and business users. Stellar data recovery is compatible with any external storage, memory card, flash drive, server, mobile, laptop, or desktop device.
With Stellar, users receive four data and file recovery options: file repair, database repair, data recovery, and email repair. All licensed products have a 30-day money-back guarantee and a free downloadable tool version.
Key features
Video repair – restore and repair corrupt videos in MJPEG, AVCHD, MKV, AVI, MOV, MP4, and other leading video formats.
Storage media support – recover audio, video, and photo files from media like USB sticks, CF cards, SD cards, and more.
Mobile data recovery – recover deleted call histories, calendars, messages, contacts, videos, and photos from iPads and iPhones.
Data recovery tool – recover lost data from SD cards, USB pen drives, and hard drives.
Photo recovery – recover lost photos and deleted images from action cameras, drones, and DSLRs.
Pricing
Stellar offers a complex pricing structure that includes a free plan and different subscription types.
Free trial
You can recover up to 1GB of data for free, single system use.
Standard 
$59.99 per year


Windows

$69.99 per year


Mac
The Standard plan allows you to recover unlimited data from encrypted drives, storage media, and formatted systems. Single system use. You can recover critical files, deleted videos, photos, and more.
Professional
$89.99 per year


Windows and Mac.
The Professional plan offers all of the Standard features, including data recovery from CD/DVD, lost partitions, and unbootable system recovery support.
Premium
$99.99 per year


Windows and Mac.
Along with Standard and Professional features, the Premium plan offers corrupt and distorted video and photo repair.
Visit Stellar for additional information >>
Acronis — Advanced Cyber Protection and Data Recovery
Acronis is not just a data recovery service; it's a robust cyber protection platform that ensures the safety, privacy, accessibility, and authenticity of data across environments. Its services range from proactive anti-malware defense to backup and disaster recovery.
Beyond simple backup, Acronis enhances the data recovery process with advanced features such as incremental backups, which save changes made since the last backup, and thereby reduce recovery time.
Additionally, Acronis's active protection technology works to prevent ransomware from encrypting or disrupting the backup files, ensuring that the backups themselves remain intact and usable.
Key Features:
Integrated Cyber Protection: Merging backup with proactive anti-malware and ransomware protection, Acronis Cyber Protect ensures comprehensive data security.
Disaster Recovery: Acronis's disaster recovery capabilities are designed to minimize downtime and system disruption, providing swift and efficient data restoration.
Unified Management Console: Centralize security and backup operations with a single, intuitive management console that reduces IT complexity and streamlines workflows.
Customizable Protection Plans: Acronis caters to diverse environments with customizable protection plans that scale from individual home offices to large enterprises.
Advanced Automation: Leverage advanced automation to maintain data protection consistency, reduce manual tasks, and ensure compliance with data policies.
Pricing
Acronis comes with various pricing plans depending on what sort of service you require. For home users, the pricing is split into three plans: Essential, Advanced, and Premium.
Essential
This plan includes active disk cloning quick recovery and ransom protection for 1 computer per year.
Advanced
The advanced plan also offers identity protection (US Only), Cloud backup, Microsoft 365 backup, and antivirus and anti-malware.
Premium
This plan also brings extra security for blockchain certification and electronic signature, plus 5TB of cloud secure storage.
Visit Acronis for additional information >>
Buddha Backup — Great backup tool with powerful sync
Buddha Backup emerges as a serene yet powerful ally in the realm of data recovery, offering a harmonious balance of simplicity and advanced features for both individual and business users.
Main Features:
Holistic Data Care: Buddha Backup provides a comprehensive suite of tools to not only recover lost files but also to protect your data proactively with regular backups.
Intuitive User Experience: With a user-friendly interface, Buddha Backup ensures that data recovery and backup is a stress-free process, accessible to users of all skill levels.
Cross-Platform Compatibility: Whether you're using Windows, macOS, or Linux, Buddha Backup offers a seamless data recovery experience across all major operating systems.
Versatile Recovery Options: From accidental deletions to complex data loss scenarios, Buddha Backup is equipped to handle a wide range of data recovery challenges.
Secure Backup Solutions: Your data's safety is paramount, and Buddha Backup offers encrypted backups to safeguard against unauthorized access.
Continuous Sync: Keep your files up-to-date with real-time synchronization features, ensuring that your latest work is always protected.
Perpetual License
$30


A lifetime plan at a fair price
This tool comes only in one plan, as it is not created by a bog company that wants to get most revenue out of it.
Get more info on the official website
4DDiG — Recover all file formats
Navigating the complexities of data recovery requires a tool that is both powerful and intuitive. Tenorshare 4DDiG is engineered to provide an effortless recovery process without compromising on depth and efficiency. Its advanced algorithms delve deep into the data structure, offering a lifeline for files that seemed irretrievable.
Tenorshare's commitment to data recovery goes beyond simple restoration. 4DDiG is a comprehensive tool that addresses a spectrum of data loss situations, from accidental deletions to system crashes. It's a testament to Tenorshare's understanding that every data loss scenario is unique and demands a tailored approach.
Main Features:
Advanced File Recovery: 4DDiG specializes in retrieving various file types, including photos, videos, documents, and emails, from any storage media.
Deep Scan Technology: Utilizing deep scan algorithms, 4DDiG ensures thorough searching to recover lost files, even from complex data loss scenarios.
User-Friendly Interface: The software is designed with a clear, intuitive interface, making data recovery accessible for users with no prior recovery experience.
Versatile Compatibility: 4DDiG supports recovery from Windows and Mac systems, external drives, memory cards, flash drives, and more.
Partition Recovery: Capable of restoring lost, deleted, formatted, or damaged partitions with ease.
Preview Before Recovery: Users can preview their recoverable files to ensure the accuracy and integrity of data before completing the recovery process.
Pricing Plans
Month Licence
$45.95


Great for a few uses
Recover over 1000 file types from different devices during one month.
1-year licence
$59.95


Best for long use.
This plan has the exact same features as the 1-month plan, but it is extended to 1 year. It is great for frequent usage.
Lietime License
$79.95


This plan is good for business use.
The lifetime plan is designed to cover more business needs, especially if you work in the data recovery field and make it a profession for a living.
Check here 4DDiG webpage
Undelete 360 — One of the best free options
Since Undelete 360 is a freeware tool, it offers free data recovery services and features. You can use it to recover folders and files from flash drives, digital cameras, desktop computers, laptops, smartphones, and recycling bins.
It's compatible with USB flash drives, floppy disks, digital cameras, and hard drives. If you've accidentally deleted vital data from a flash drive or any of the above mentioned storage media, you can use Undelete 360 to restore your files quickly and efficiently.
Whether a virus deleted your files or you've lost data on Windows network shares, Undelete 360 can quickly restore your deleted files and folders.
Key features
Command line recovery – recover data deleted from the command line.
Third-party app recovery – recover files third-party applications created and deleted.
Virus-deleted data recovery – recover virus-deleted data on desktop and mobile devices.
Shift+Delete recovery – recover permanently deleted files (Shift+Delete).
USB recovery – recover data from USB flash drives.
Windows network share data recovery – restore data lost in Windows network shares.
Pricing
Undelete 360 is a free file recovery tool.
Free trial
You can recover data for free from hard drives, digital cameras, floppy drives, and USB flash drives.
Visit Undelete 360 for additional information >>
Wise Data Recovery (WDR) is an excellent file recovery tool for situations such as system crashes, drive formatting, and accidental deletion. Your system can crash anytime and cause you to lose valuable and sensitive business-related data.
Fortunately, tools like Wise Data Recovery can ensure data preservation no matter what. It supports multiple file formats and systems like NTFS, exFAT, and FAT 12/16/32.
WDR is compatible with storage media devices such as mobile phones, laptops, digital cameras, USB drives, external hard drives, hard disks, and more.
Key features
Emergency recovery – recover data lost in virus attacks, disk formatting, accidental deletion, and unexpected system crashes (Mac and Windows).
1000+ file types support – recover all kinds of files, such as archives, email, audio files, videos, graphics, and documents.
Device compatibility – WDR recovers data from various devices, including USB, floppy, external hard disks, SSD, and HDD.
Quick scan – quickly scan your data systems to identify recovery file types and save time, effort, and data.
Data overwrite protection – avoid data overwriting by moving your WDR version to a flash drive for recovering data on the go.
Pricing
WDR offers free and premium pricing plans.
Free plan
The Free WDR plan allows you to restore up to 2 GB of deleted files on an unlimited number of devices for a lifetime.
Pro
$39.97 per year


1 desktop computer.

$49.99 per year


3 desktop computers.
The Pro 1 and 2 pricing plans offer unlimited data recovery for one year, automatic updates, premium tech support, and a 30-day money-back guarantee. Aside from the prices, the only difference between the two plans is that Pro 2 recovers data on three desktop computers instead of one.
Visit Wise Data Recovery for additional information >>
Recuva — Excellent free version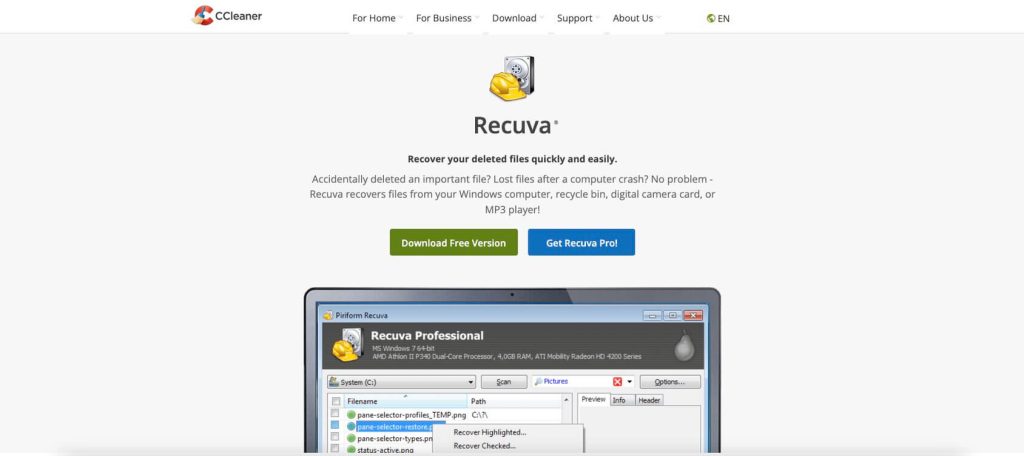 Recuva is an excellent data recovery tool for restoring accidentally deleted files. This tool allows you to recover files from MP3 players, digital camera cards, recycling bins, and Windows-operated devices.
Recuva offers freemium and premium plans for recovering various file types and formats, including music and audio files, videos, images, emails, and documents.
You can use it to recover data from internal system storage devices, external hard drives, and memory cards without restrictions.
The free version provides a range of data recovery features. The premium version offers priority customer support, virtual hard drive support, and additional recovery power.
Key features
File recovery – recover various file types, including rewritable media files, emails, videos, documents, music, and images.
Flexible recovery options – recover files from formatted and damaged disks.
Deep scan – identify and recover buried and deleted files with the Recuva advanced deep scan mode.
Secure file overwrite – securely overwrite or delete files you no longer use.
Data backup – prevent data loss with enhanced drive detection and partitioning.
Pricing
Recuva is available in three versions – Free, Professional, and Professional Plus.
Free plan
The Free plan allows you to use advanced file recovery to restore different file types from various storage media devices.
Professional
$19.55 per year


1 desktop computer.
The Professional plan includes the Free plan advanced file recovery feature and throws in virtual hard drive support, priority technical support, and automatic updates.
Professional Plus
$39.95 per year


3 desktop computers.
Receive the Free and Professional features and access to a driver updater, Speccy Professional, and CCleaner Professional.
Visit Recuva for additional information >>
EaseUS — Perfect for fast deep scans
EaseUS offers data recovery functionalities for every emergency and situation. You can recover lost files and deleted data from devices like video players, digital cameras, pen drives, hard disks, laptops, and desktop computers.
EaseUS supports Mac and Windows and provides fast, effective, and flexible scanning modes such as Deep Scan and Quick Scan. It provides a preview before the final recovery and is a reliable solution for recovering deleted files, formatted data, and more.
Key features
Scanning modes – perform quick or deep scans to identify buried data on your hard drives, memory cards, and pen drives.
File filter – organize the recovered files by filtering the scanning results by identifier, tag, keyword, file name, date, and file type.
Real-time recovery – scan and recover simultaneously in real time.
Data preview – receive a preview of your recoverable data to ensure the accuracy of the recovered files.
Nondestructive repair – EaseUS prevents secondary damage to your recovered data.
Pricing
EaseUS offers free versions for Mac and Windows. In addition, it offers two pricing plans for Windows and two for Mac.
Free plan
The free version provides a data recovery service for restoring up to 2 GB of data for both operating systems, Windows and Mac.
Windows pricing plans:
Professional
$69.95 per month

$99.95 per year

$149.95 (lifetime)
The individual Professional EaseUS version offers a free trial, data recovery, free maintenance, free electronic delivery, technical support, and photo and video repair.
Technician
$299 per year

$499 (lifetime)
The Business Technician EaseUS version supports more than three users. It offers Professional features, priority phone support, live chat, email customer support, advanced admin controls, and recovery service for multiple operating systems.
Mac pricing plans:
Professional
$89.95 per month

$119.95 per year

$169.95 (lifetime)
The Mac Professional plan unlocks features such as smart disk monitoring, data protection, HFS+ fusion drive recovery, bootable USB drive, and standard technical support.
Technician
$299 per year

$499 (lifetime)
The Business Technician edition provides business data recovery, advanced customer support, multiple system compatibility, and data protection.
Visit EaseUS for additional information >>
CrashPlan — The most well-rounded option 
CrashPlan is among the best data recovery solutions. It allows you to store data without limitation and create data backups to physical hard drives and the cloud. Ease of use and efficiency makes CrashPlan the most affordable and effective data recovery solution.
You can add as many servers or computers to your account as needed and use scalable data storage on connected devices according to your business needs. CrashPlan differs from other solutions as it isn't just a data recovery tool but also a file backup solution.
In addition to creating unlimited backups, you can also use CrashPlan to recover formatted, corrupted, and deleted data.
Key features
File backup – access unlimited file backups to recover corrupted and deleted data.
Unlimited cloud storage – recover, store, and back up data to multiple storage locations.
File versioning – manage your file recovery to access clean copies of damaged or recovered files.
Bandwidth saving – throttle data transfers and upload bulk files without overloading your system.
Online documentation library – receive help with data restoration, watch walkthrough videos, and read help articles about the software.
Pricing
CrashPlan has a simple pricing structure. It offers two pricing plans, one for small businesses and one for enterprises.
Small Business
The pricing plan for small businesses supports Linux, Mac, and Windows, and offers file backup and recovery, ransomware protection, and device migration. Up to 100 users.
Enterprise
Contact sales for a quote
The Enterprise pricing plan provides the same features as the Small Business version with the addition of legal hold and Microsoft USMT user migration. For 100+ users.
Visit CrashPlan for additional information >>
DMDE — High success rate 
DMDE stands for DM Disk Editor and Data Recovery Software. It's an outstanding go-to solution for recovering lost data from your hard drive due to a cyberattack, virus infection, drive problems, or accidental deletion.
DMDE is available in free and premium editions. The free version is for personal use only and can only recover data currently available in the selected directory.
Since DMDE is a portable application, you can run it from a USB flash drive. The app doesn't require installation to work.
Key features
Windows file recovery – recover files invisible to your operating system.
Data overwrite protection – since DMDE is a portable app, you won't have to worry about overwriting data.
Partition and drive search – search and recover lost partitions and drives.
Disaster recovery program – reconstruct RAID configurations and edit disks after a system crash.
HDDSuperClone – clone your hard drive and recover data from physically failing or corrupted drives.
Pricing
DMDE is available in free and premium editions.
Free plan
The free version can only recover up to 4,000 files simultaneously.
Express
$7 per month


1-OS

$20 per year


1-OS
The Express plan includes all features from the free plan plus unlimited file and directory recovery. Also includes one-year license validity and support.
Standard
The Standard plan includes all features from the Express plan plus unlimited license validity and support.
Professional
The Professional plan includes all features from the Standard plan plus additional features such as data recovery for clients and the option to run it on different computers.
Visit DMDE for additional information >>
PC Inspector — Free tool that can recover lost partitions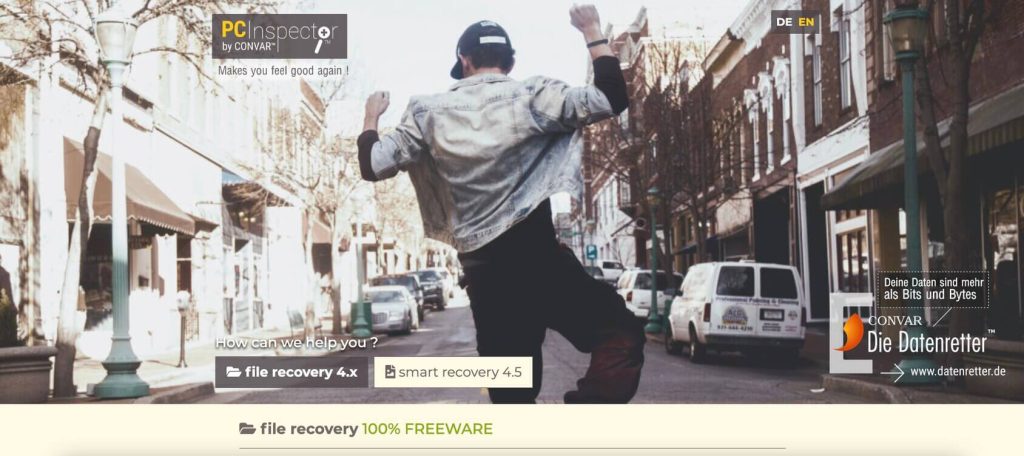 PC Inspector is a freeware data recovery tool that supports NTFS and FAT12/16/32 file systems. It allows you to store recovered files on the networked drive.
Even though it's a free file recovery tool, many business organizations use PC Inspector to organize recovered data by accurate file structure.
As well as file recovery and data organization, it can recover lost partitions even if their directory listings are missing.
Key features
Automatic partition scanning – recover partitions from erased or damaged FATs or boot sectors.
File recovery – recover files with the original time stamp and date.
Network drive storage – recover files shared on a network drive.
Header entry recovery – recover files from a missing header entry.
Multiple disk format support – recover files from various disk formats like CDR, AVI, ARJ, MOV, MID, BMP, and ARG.
Pricing
PC Inspector is available for free.
Free plan
PC Inspector supports the FAT 12/16/32 and NTFS file systems plus finds partitions automatically.
Visit PC Inspector for additional information >>
How to find the right recovery tool for your needs
Here are some essential factors to consider to determine the right recovery tool for you.
File format support
Your data recovery tool should recover all types of files, such as email data, videos, photos, audio files, documents, and more.
Operating systems
Many business organizations frequently switch between Windows, Mac, and Linux operating systems. Therefore, you should look for a file recovery solution that supports multiple operating systems.
Compatible storage media
You need an affordable, full-featured data recovery tool compatible with various storage media solutions. Data loss can occur on any storage device, from external USB flash drives to your computer hard disk.
Look for a file recovery tool that can recover data from popular storage media, including corrupted or formatted drives, encrypted media like BitLocker Drive Encryption, exFAT, and FAT 12/16/32 file systems.
Price
Price plays a vital role in selecting the correct file recovery software tool. Consider your budget before you choose a solution.
The most expensive tools aren't always the best solutions. Select for the software that can address your most critical requirements.
Premium solutions usually offer free trials to test their products. Compare a few tools to evaluate their features, functionalities, and pricing.
Speed of recovery
When you lose your sensitive, business-related data, the speed of recovery is critical to keeping your business organization operational.
You need recovery software that can quickly, effectively, and accurately restore your lost files.
High-speed scanning and instant recovery are the essential features that a cutting-edge data recovery tool should possess.
Ease of use
The last thing you need is to purchase a data recovery tool only to find out that you don't know how to use it properly.
Look for top-grade solutions with user-friendly interfaces and transparent navigation. Since you'll mostly use such a tool for emergencies, you need a program that you can use quickly and easily.
Advanced features
The best data recovery tool should be reliable, safe, simple to use, and adaptable. It should be flexible, scalable, and packed with features that address your file recovery needs.
When you find a suitable solution, look for features such as lost partition recovery, recovery from unreadable, corrupted, and failing devices, and the option to specify files for recovery.
Support and updates
The recovery tool you choose to use should have regular updates. It should also offer 24/7 priority customer and technical support.
Free vs. paid options
While it's possible to find a free and reliable data recovery solution, free tools stop at scanning your devices' internal hard drives. They also have other limitations, such as their OS compatibility or file type and format support.
On the other hand, premium solutions offer additional features such as cloud storage and recovering and repairing damaged files. Along with varying functionalities, they provide better performance and technical support.
Top recovery software solutions for different use cases
Since different users need a variety of solutions for specific data recovery needs, let's discuss the best recovery software tools available for Mac and Windows.
Top free data recovery solution
Top data recovery tools for Windows
Top data recovery tools for Mac
FAQs
What is data recovery software? 
Data or file recovery software is a program or application that enables the recovery of unreadable, formatted, inaccessible, deleted, or corrupted data from various storage media devices. 

A data recovery tool scans the selected storage medium by sector, reviews the identified data, previews recoverable files, and extracts and repairs data from formatted, corrupted, and deleted sectors. 

Its purpose is to preserve recoverable data from deleted, formatted, and corrupt storage devices, folders, and files. 

Free and premium software solutions for data recovery can also repair lost hard drive partitions, work with different operating systems, and more.
Should I use free data recovery software? 
Most free data recovery tools offer the same standard functionalities as their premium counterparts. Aside from the pricing model, there are a few differences between free and premium software to keep in mind:

* Premium solutions support more storage and file types;
* Premium tools offer better, more responsive customer and technical support; and
* Paid software allows you to recover unlimited data.

Most free tools will scan your systems and recover up to 2 GB of data. If that's fine with you, you can use a free data recovery system.
Is it easy to use data recovery software? 
The ease of use depends on the software tool. Some tools feature a user-friendly interface with transparent commands that make data recovery as simple as possible. 

However, some programs have complex features that require a high level of tech-savvy knowledge. 

Thankfully, all data recovery applications offer technical support to help you learn how to use their services.
Can I recover data from a broken hard drive? 
A data recovery tool can help you to recover files from a failed, broken, or corrupted hard drive. There are various software tools for recovery at your disposal. 

These tools facilitate easy and timely recovery of copies of your data, including videos, photos, audio files, assignment files, and essential documents.
Conclusion
While there are many top-grade data recovery tools, the above selection lists the best free and paid file recovery software solutions on the market.
We've shared here an objective review of top features, functionalities, and pricing plans to help you to make an informed decision and choose a solution for your specific data recovery needs.