30+ Best Fashion Blog Examples (2023)
FirstSiteGuide is supported by our readers. When you purchase via links on our site we may earn a commission.
Read More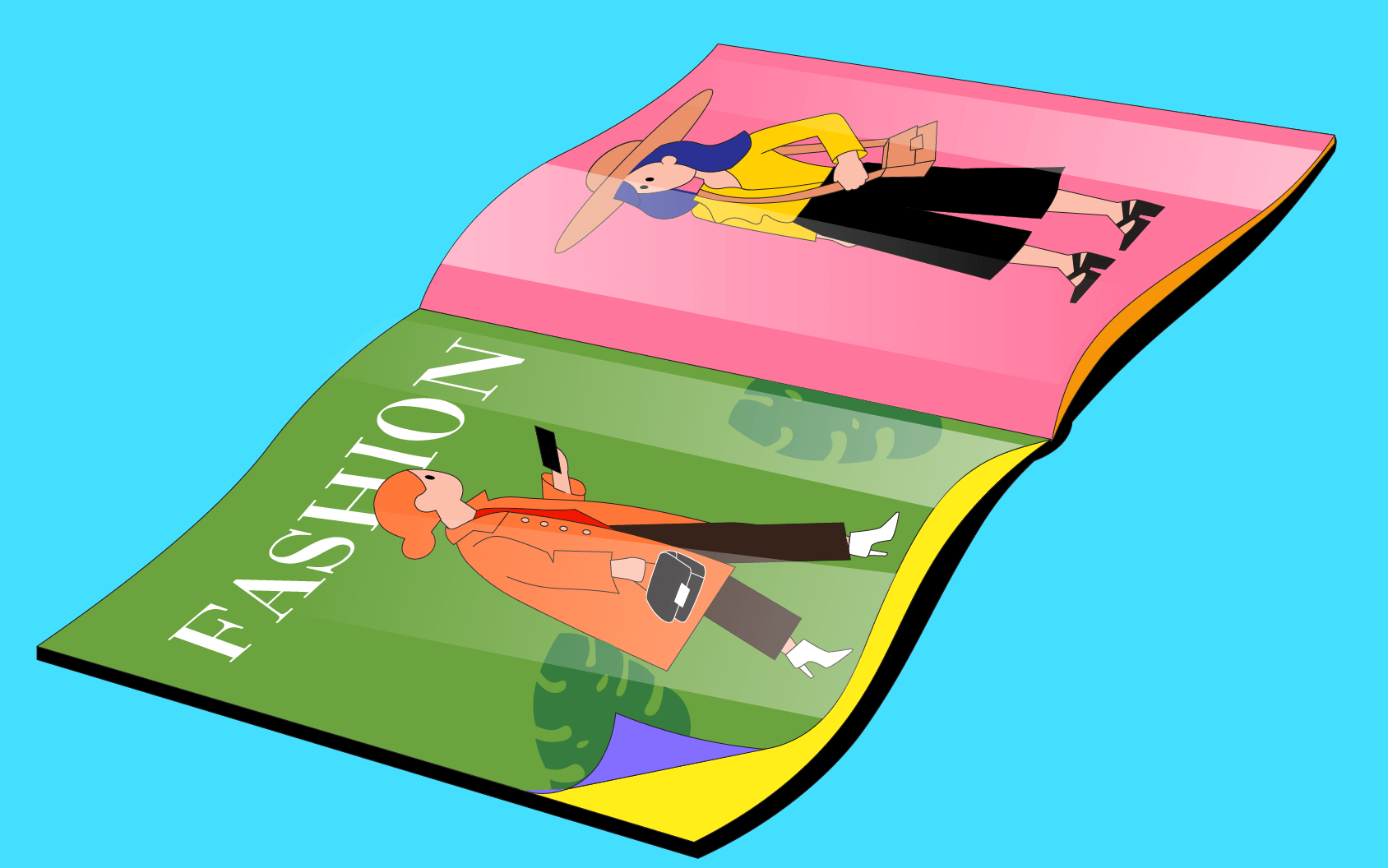 When I hear the word blogger, I immediately think of fashion. Fashion blogs first appeared in 2002, and in just four short years, the number of them grew to 100. Soon, the blogosphere was overflowing with fashion-related content that garnered a lot of attention.
Many people who are now prominent in the fashion industry started as fashion bloggers. Today, they have their businesses, brands, or work for some of the world's largest magazines and companies. Some fashionistas are still dedicated to their blogs and make a fortune through brand collaborations, advertorials, affiliate links, and product sales.
So, if you're looking for the best fashion blog ideas, scroll down. I've collected a list of outstanding ones that combine fashion with great website design and engaging content.
Read on and find out what makes them so popular.
35 inspiring examples of fashion blogs
I took a deep dive into the world of fashion in search of the best fashion blogs and came up with this ultimate list of 35 blogs that you'll enjoy reading. Each website represents a person's unique style that will certainly inspire you.
So, if you're thinking about starting your own blog, here are some ideas: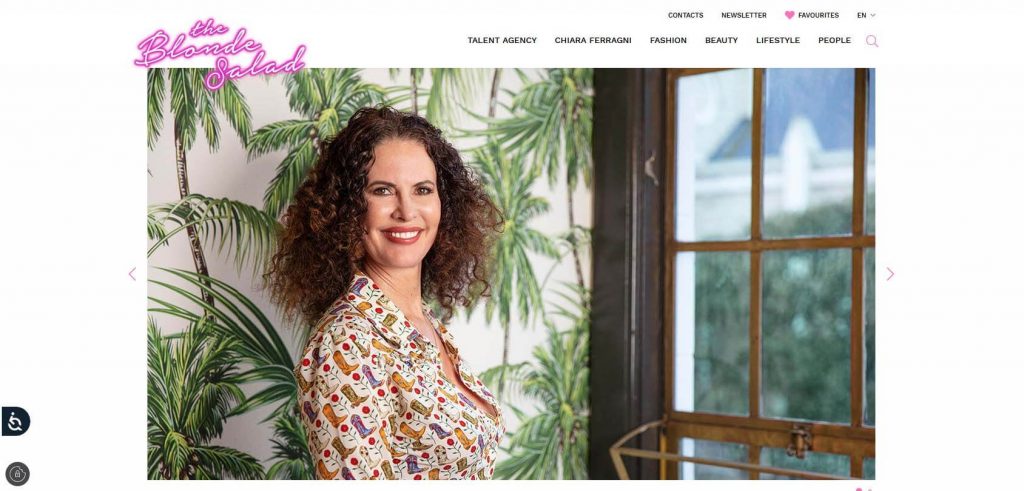 Chiara Ferragni is the world's most influential digital entrepreneur. The Italian fashion blogger launched The Blonde Salad in 2009. By 2013, she had created a personal brand called Chiara Ferragni Collection that sells clothing, accessories, and shoes. Ferragni appeared in Forbes's list of Top Influencers and 30 Under 30. The Blonde Salad is still considered to be one of the best fashion blogs of all time.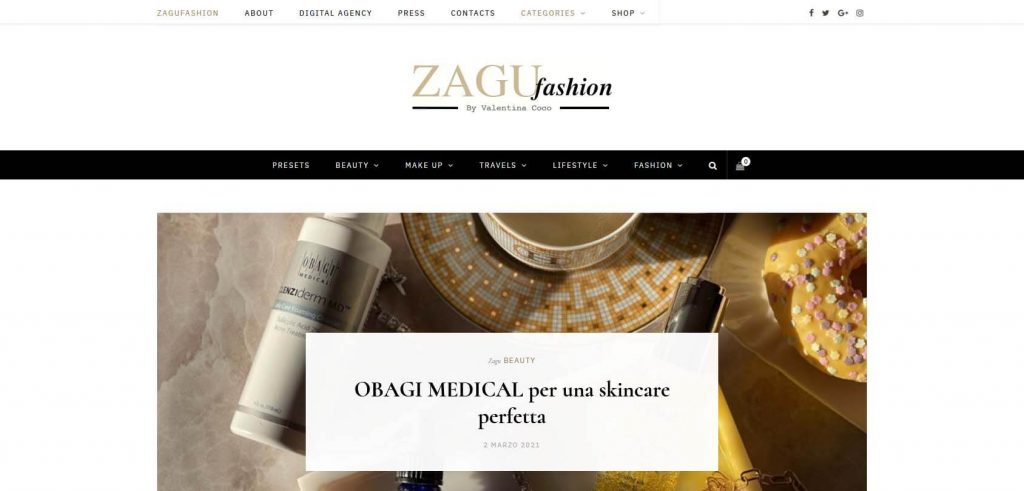 Run by Valentina Coco, Zagufashion is a personal blog where she writes about fashion, trends, style, and travel. The blog also reviews various make-up brands and recommends specific products. Valentina Coco is also the founder of a digital consultant agency called Top Team Agency.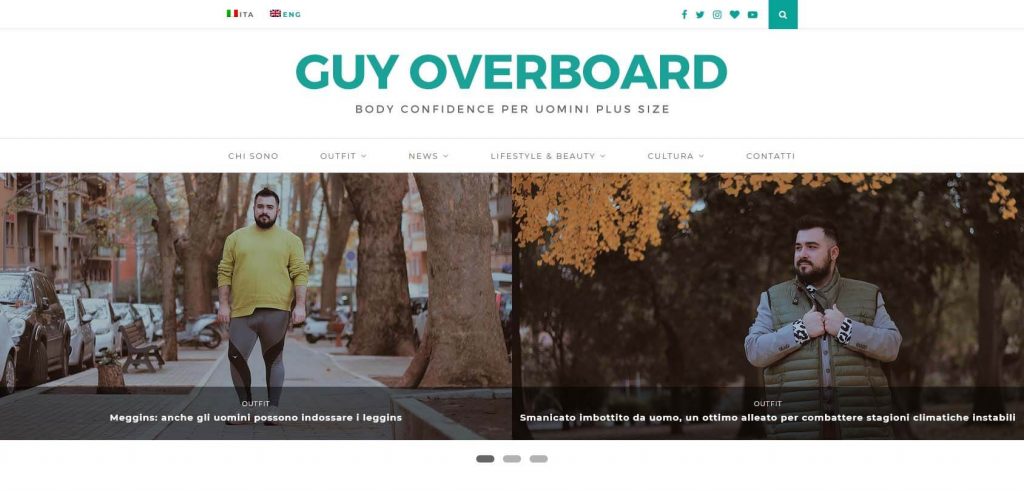 Created by Italian blogger Riccardo Onorato, Guy Overboard is a fashion blog for plus-size men that focuses on body positivity. Apart from fashion, the blog also features a 'Culture' section where readers can learn more about trends, the arts, and shows.
Manuella Vitulli Pensieri in Viaggio is a blog that inspires all travel and fashion lovers. She works as a freelance writer and is a tireless traveler who uses the blog to share all of her passions with her readers. If you're looking for fashion inspiration, you can look at her collab with Ciak Roncato, among others.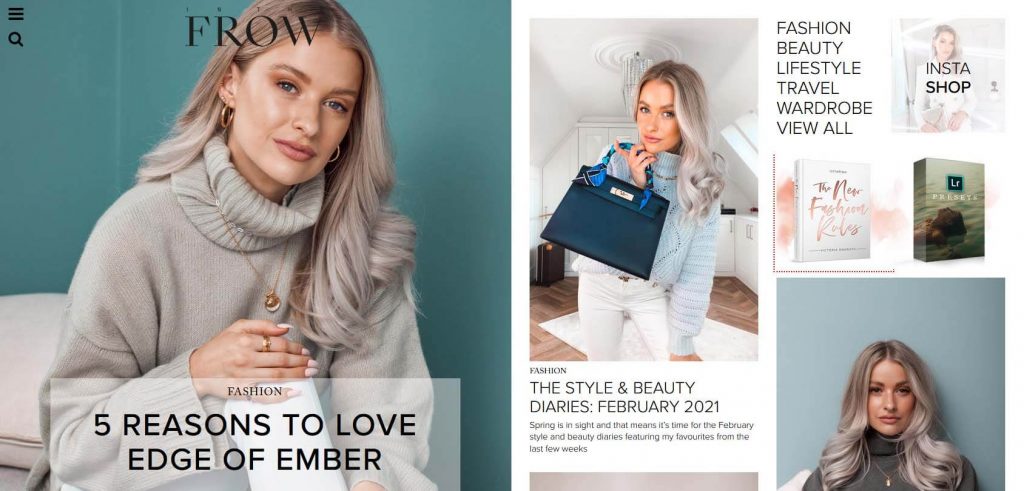 In the front row or Inthefrow is a blog run by Victoria Magrath, a multi-award winner with a Ph.D. in fashion. The first Inthefrow post appeared in 2021, and this fashion blog has been flourishing ever since. In addition to high-end fashion, the blog also shares everyday looks and advises on make-up and beauty trends.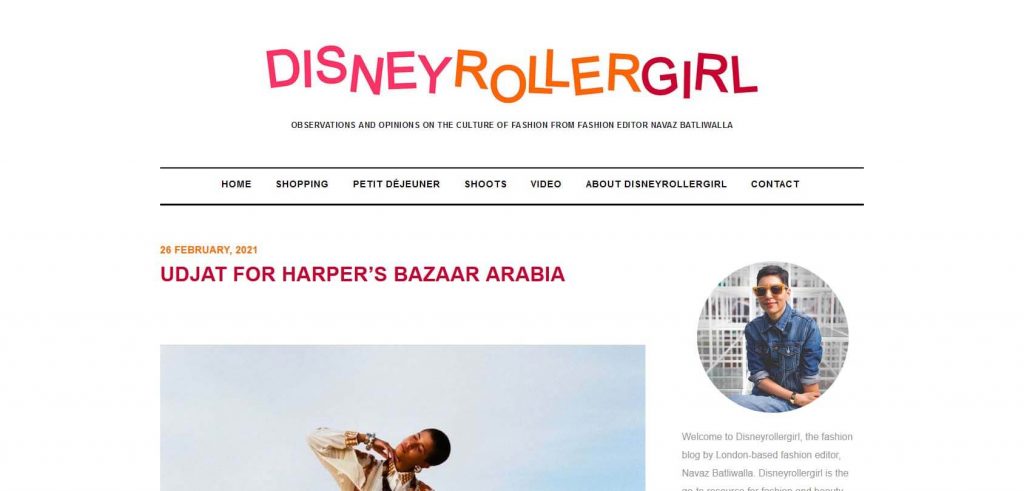 DisneyRollerGirl is a fashion blog that has been recommended in the "Financial Times" and appeared in "The Times: Top 40 Bloggers Who Really Count". Behind the scenes, we found Navaz Batliwalla, a London-based fashion editor and author of The New Garconne: How to be a Modern Gentlewoman. She launched the blog back in 2007 and has been giving fashion and beauty insights ever since.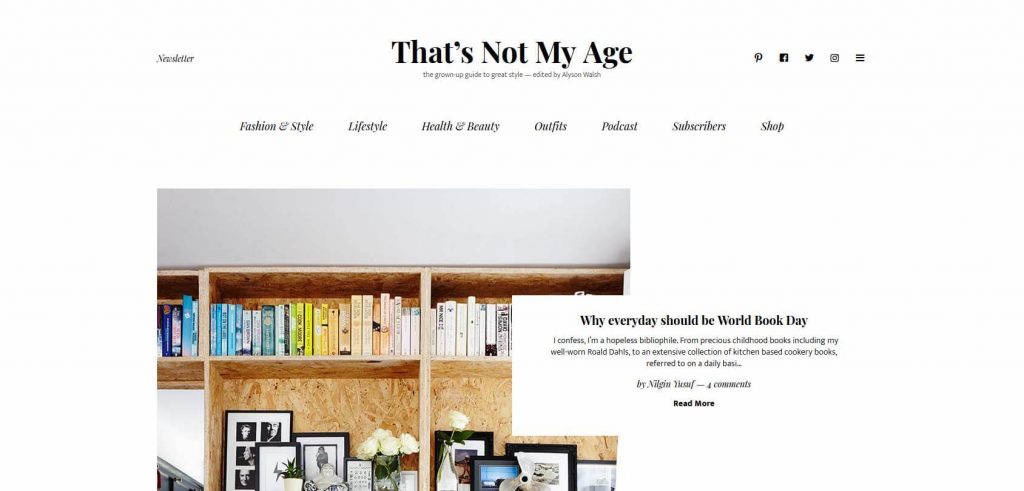 If you're looking for a grown-up style guide, then Alyson Walsh's blog named That's Not My Age is the way to go. This fashion blogger started her journey in 2008, and still continues to give advice on "grown-up" fashion. Since this is a personal blog, Alyson shares her life experiences as well, and openly talks about women's health.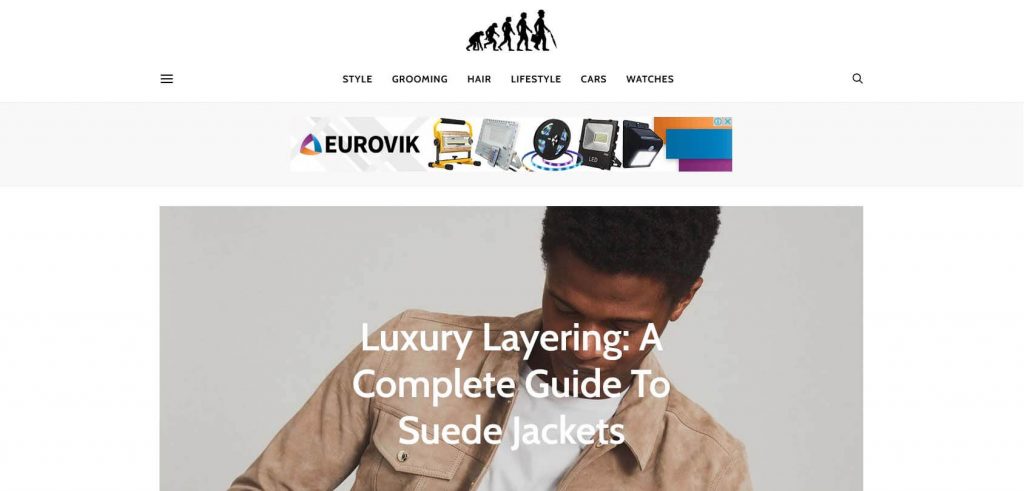 Chris Beastall created Ape to Gentleman in 2009, intending to introduce timeless style into contemporary fashion and lifestyle. This fashion blog shares advice about men's fashion trends as well as some useful tips and tricks on grooming. Chris's blog also offers watch reviews and car recommendations.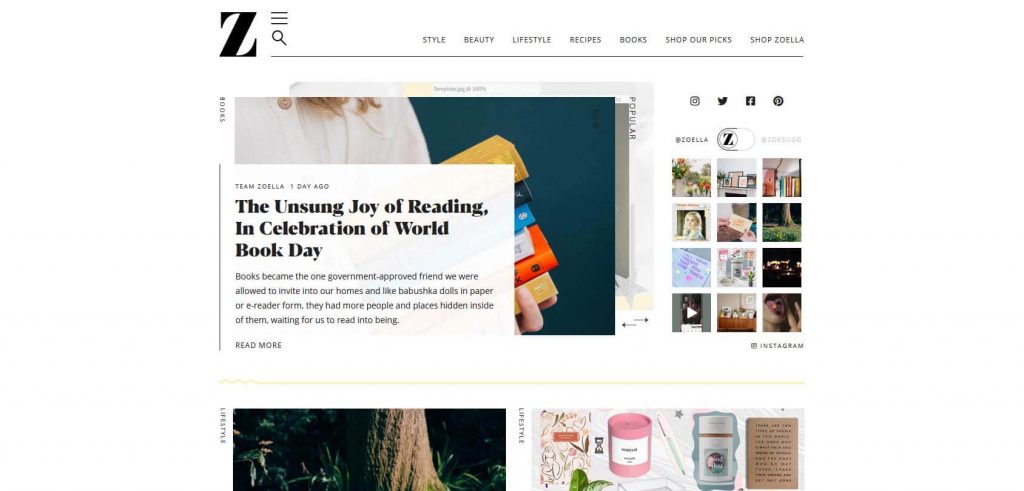 Launched in 2009, Zoella is the brainchild of fashion blogger Zoe Sugg. While this blog started as a hobby, today the website has its own office and a team of people who work tirelessly to bring you news and interesting interviews about fashion, food, and lifestyle.
Monikh Dale launched her personal fashion blog and eventually became a full-time blogger. She is also a freelance stylist and a Who What Wear contributor. Her blog documents all of her styles with detailed descriptions and ideas that can help you to find gorgeous clothes.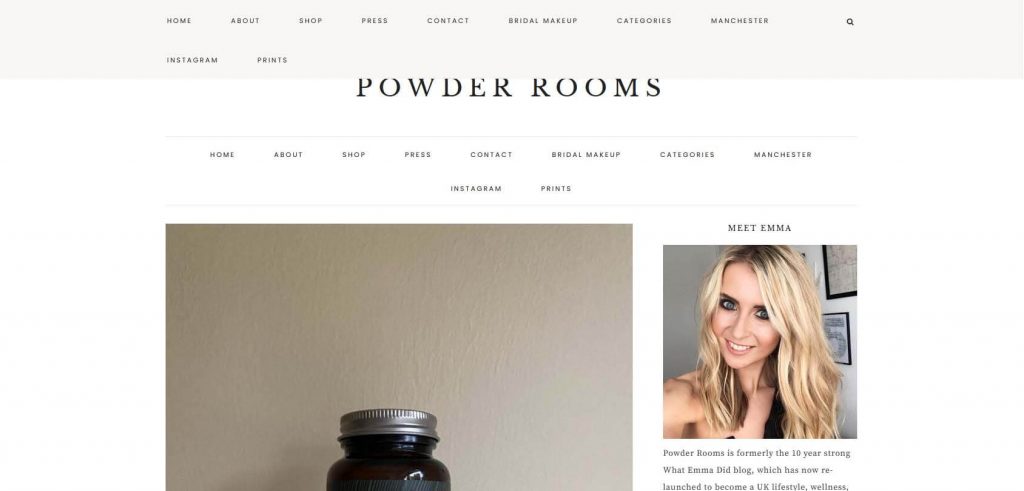 FKA What Emma Did, Powder Rooms is a fashion/beauty blog written by Emma Campbell. In addition to her many fashion and style ideas, Powder Rooms also hosts a shop where you can buy inspiring prints that Emma creates.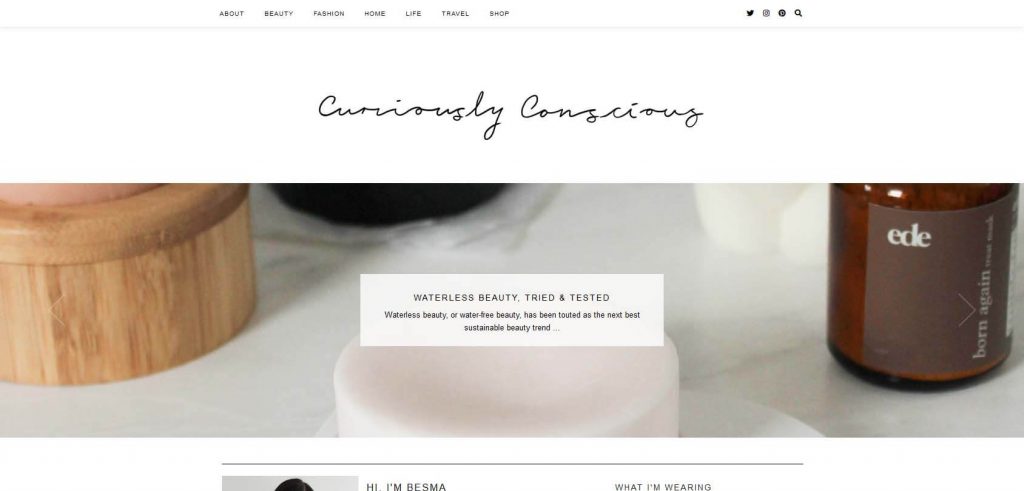 If you're looking for low-impact sustainable fashion, you should take a look at Curiously Conscious, a fashion blog run by Besma. Beside presenting you with eco-friendly fashion choices, Curiously Conscious also talks about beauty routines, lifestyle, and travel. On top of this, Besma has written a couple of shopping guides to help you buy more sustainable clothing.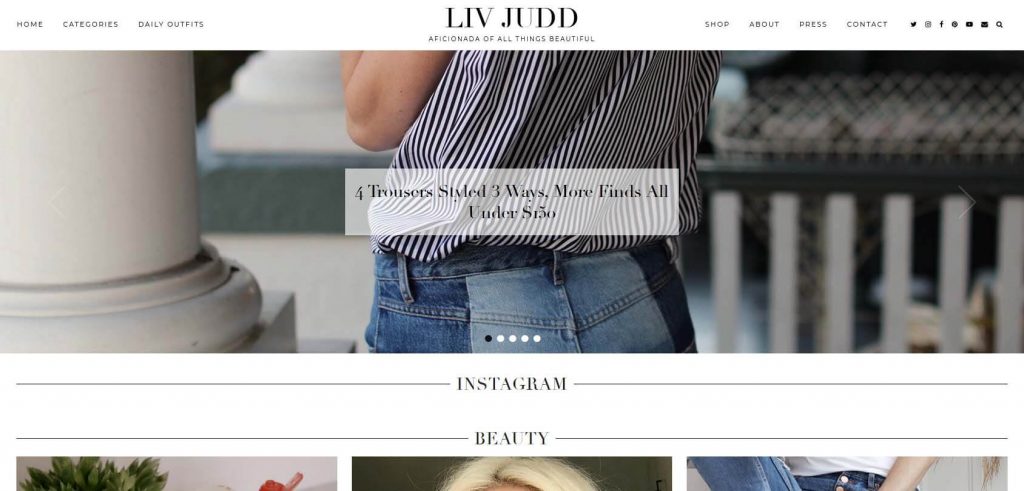 Liv Judd is a big name in the fashion world. Although she has worked with some of the largest brands such as Clinique, Estee Lauder, Shiseido, Vichy, Amazon, and Michael Kors, her blog also documents her style ideas and beauty hacks. The blog is also where she shares her travel adventures and experiences.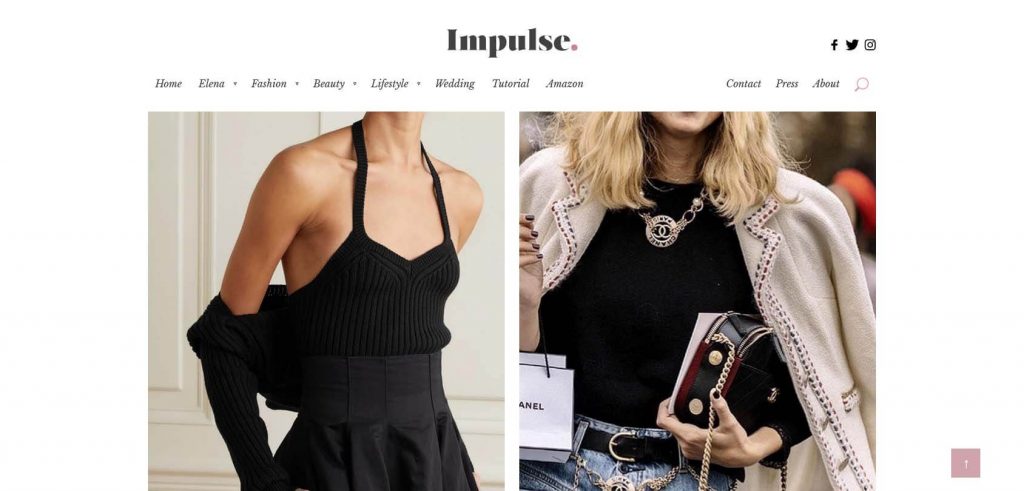 Named one of the top 12 most influential Italian bloggers, Elena Schiavon launched her fashion blog/ magazine called ImpulseMag in 2021. Collaborations with big magazines such as "Corriere", "Grazia", and "Cosmopolitan" opened the doors of the fashion world and helped ImpulseMag gather more attention. Along with Schiavon's styling, the blog also gives insight into her beauty routines and home decor ideas.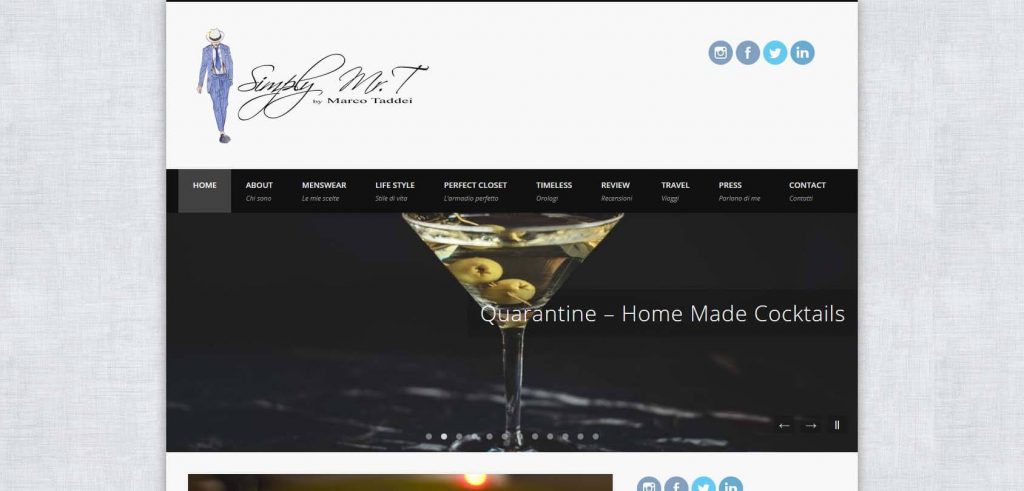 Italians are passionate about fashion, and Marco Taddei is yet another perfect example of this. His blog, Simply Mr. T, focuses on menswear and promotes classic and timeless fashion. Also, the website features a section dedicated to the best watches you can buy, so make sure to check it out.
Operated by Giulia, a digital fashion specialist that has worked for Grazia, Rock'n'Fiocc is a fashion blog that documents her experiences, fashion ideas, and personal style. In addition to the fashion section, the blog also offers various articles about movies, music, and books.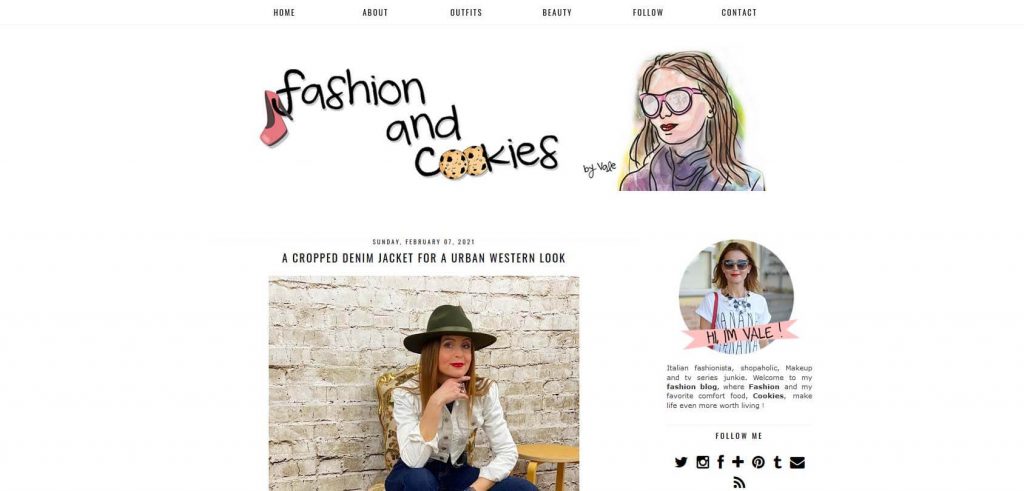 According to Bloglovin, Fashion and Cookies attracts thousands of loyal readers and fellow fashion aficionados. Valentina, the blog's creator, describes it as a creative outlet and her personal diary that gives us insight into fashion trends, Valentina's outfits, and beauty products.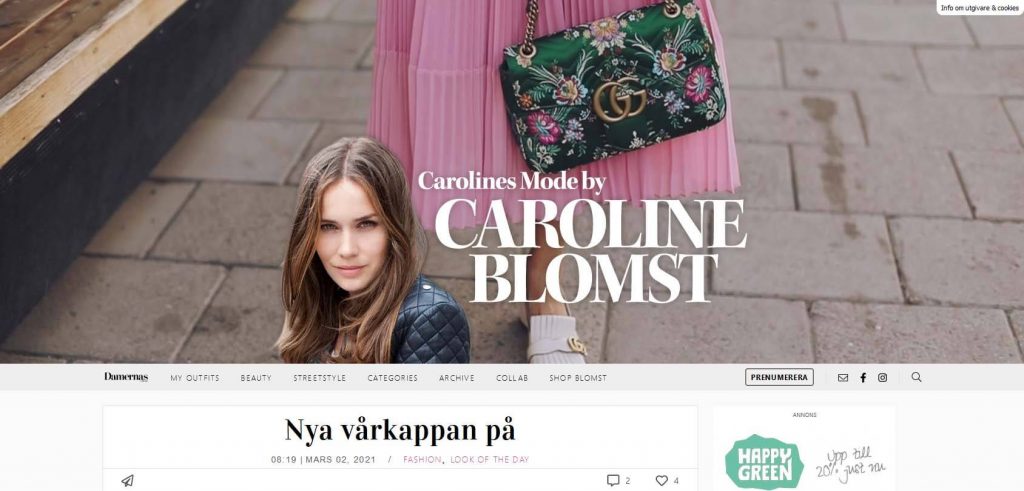 Carolines Mode is a fashion blog created by Caroline Blomst, a well-known Swedish fashion influencer. Over the years, she has developed a unique yet accessible style that many people wish to copy. Thanks to the blog, readers can get style ideas from one of the best-dressed Swedes.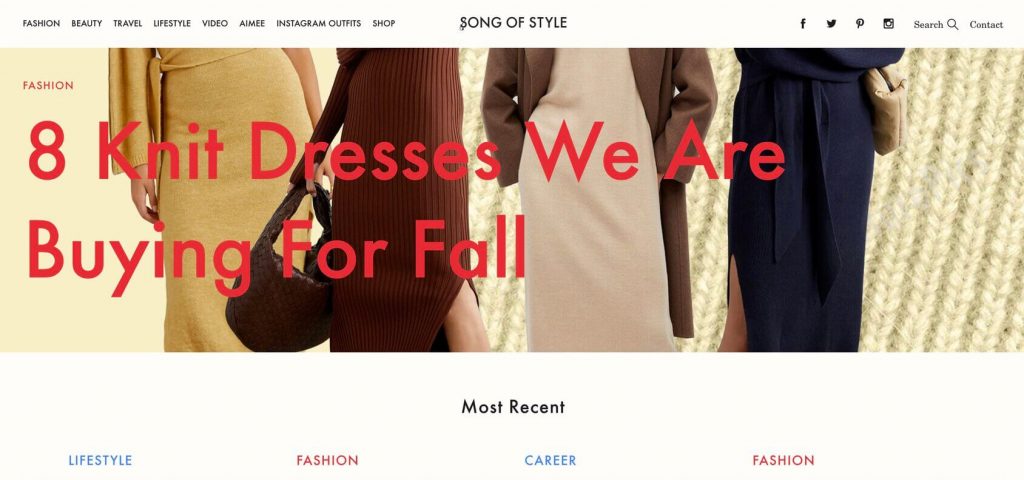 Despite working as an interior designer, Aimee Song uses the blog to post about fashion, beauty, and travel. Of course, there is an interior design category that gives us insight into the latest home decor and design trends. Nevertheless, fashion enthusiasts will enjoy reading her takeaways on high-end and street style, fashion weeks, etc.
Australia-based Jenella Wiity shares her street-style inspired looks and posts useful tips and tricks about traveling. The Inspiring Wit blog focuses on fashion, beauty, and introduces us to the latest trends.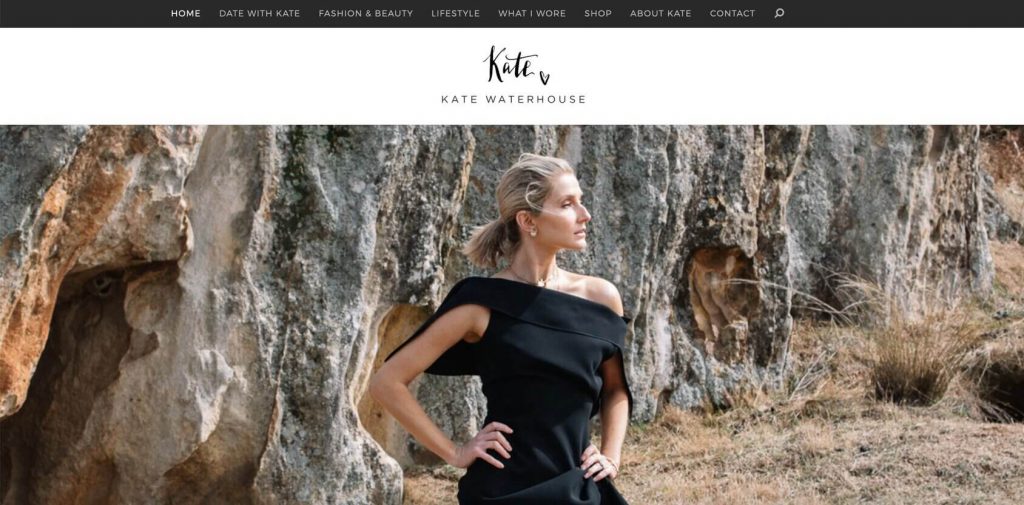 Despite hailing from the Australian horse racing royalty, Kate Waterhouse didn't follow in her father's footsteps as a thoroughbred trainer. Instead, she decided to pursue fashion. In 2013, she launched the namesake blog she uses to post about fashion, beauty, and her lifestyle.
Jess Dempsey created the blog What Would Carl Do in 2010, after leaving her job as a stylist. In her posts, we can see her personal style, which is a mix of high-end and street style ideas. Apart from fashion, Jess uses her platform to reflect on motherhood, travel, and food.
Carmen Hamilton is one of the most popular fashion bloggers in Australia. She launched Chronicles of Her, a blog that follows her style and serves as fashion inspiration to its readers. Should you need new beauty products or hairstyle ideas, Chronicles of Her has you covered.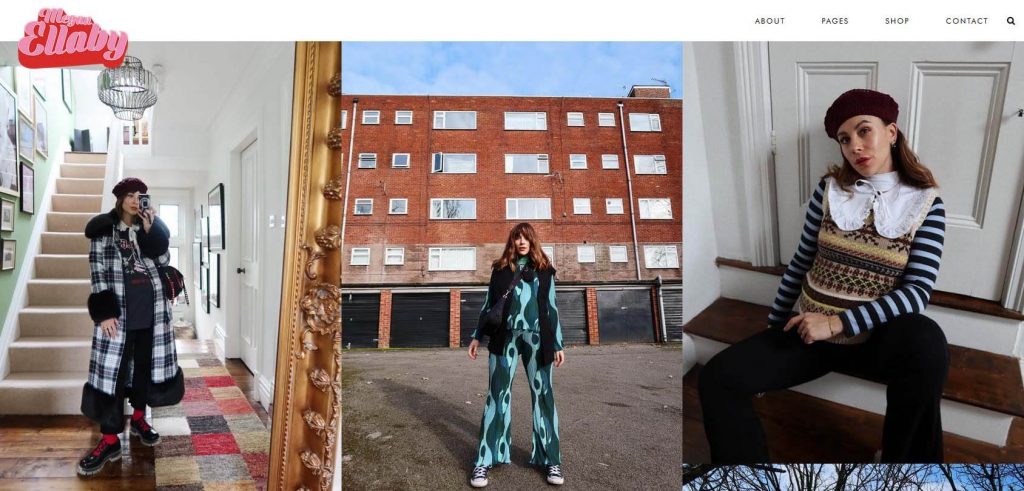 Formerly known as Pages by Megan, Megan Ellaby is a fashion and lifestyle blog. Its creator, Megan, became known for her experience as the ASOS stylist. However, she moved onto being a full-time blogger and vlogger, pouring all of her time and energy into the website. The Megan Ellaby blog displays her unique and playful style. Additionally, you can look at some of her interior design ideas or shop the looks.
If you're looking for chic and minimalist styles, Harper & Harley should be on your list. Created by Sara Donaldson, this fashion blog presents her effortless yet playful style ideas. The blog offers a wide range of categories, allowing you to easily find what you're looking for, from advertorials to runway and travel.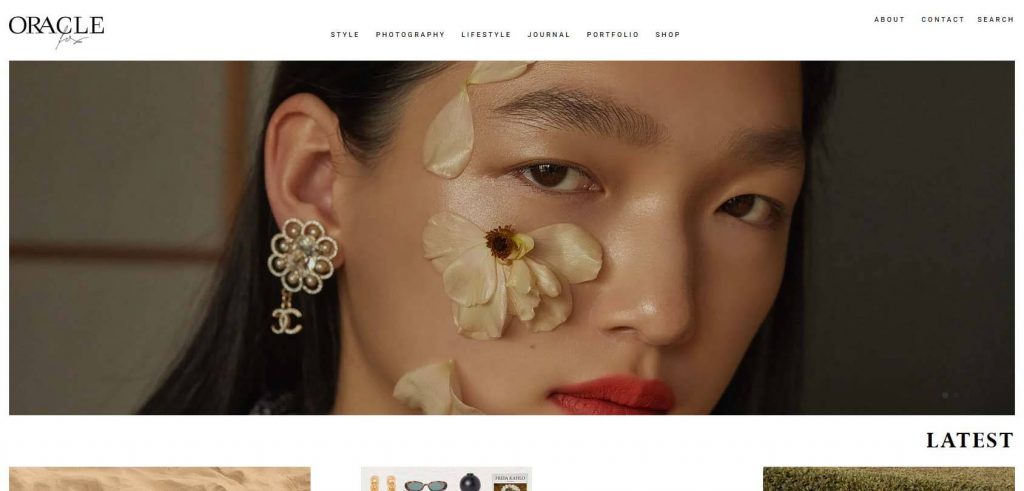 Amanda Shatforth launched Oracle Fox, one of the most popular fashion blogs in Australia. She is the epitome of street style and is often seen in fashion capitals, like Paris, Milan, and New York. Oracle Fox is a fashion hub that offers its readers insight into the latest trends in fashion, interior design, and even travel.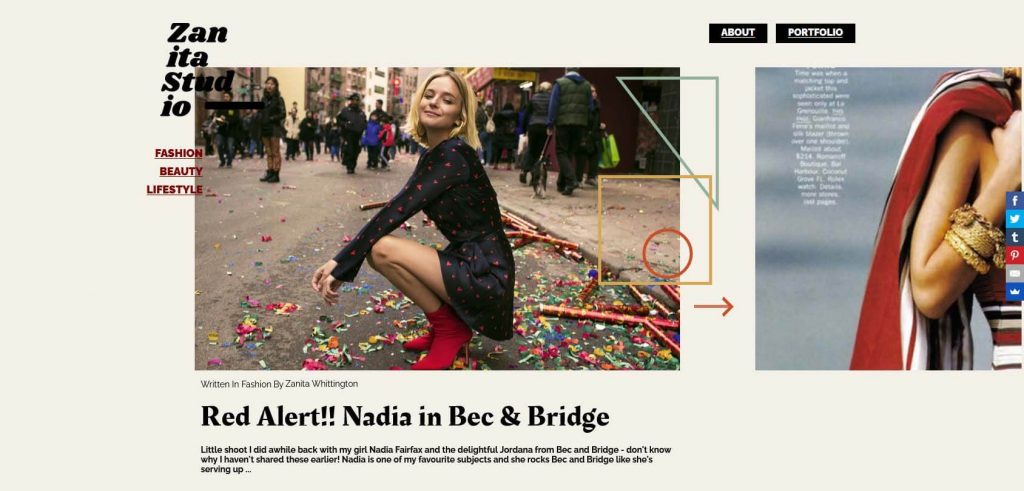 Zanita Whittington has been a part of the Australian fashion scene for more than a decade. Her blog produces original runway coverages and also represents outfit ideas and beauty routines. Although Zanita created the blog all by herself, now she has a team of creative staff that helps to generate unique content in the fashion sphere.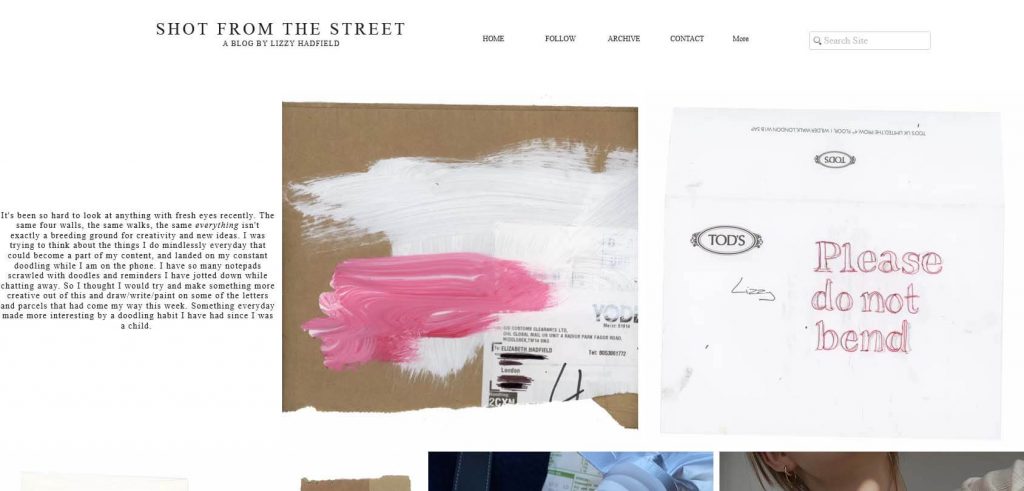 Lizzy Hadfield and her blog Shot From The Street will take you through high street and high-end fashion. If you're a fan of a retro yet classy wardrobe, Lizzy's visual diary will give you more than enough inspiration. With her one-of-a-kind approach to blogging and posts, Shot From The Street gives you insight into Lizzy's outfits and lifestyle choices.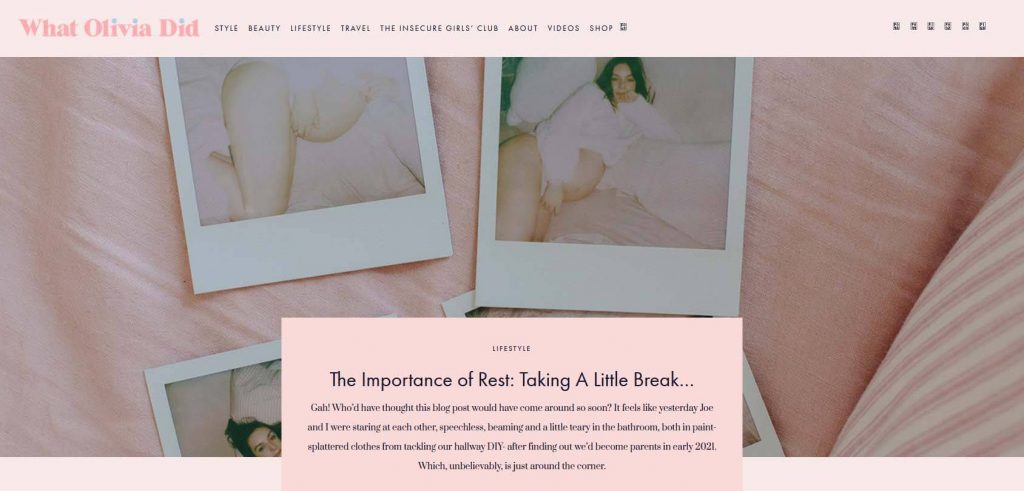 If you're searching for a blog that features both classy and vintage fashion, then you must see Olivia Purvis's fashion diary called What Olivia Did. With a peachy and baby pink blog theme that gives off a retro vibe, Olivia shares her clothing, favorite vintage shops, and talks about her preferred beauty brands and trends.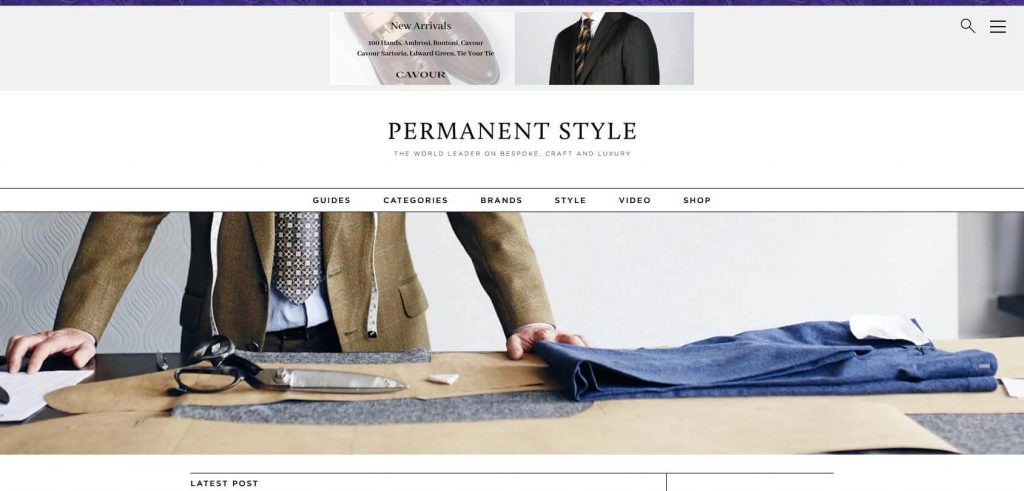 With 500,000 page views a month, Permanent Style is a men's fashion blog that represents UK authority on luxury and classic menswear. The blog is created and run by Simon Crompton, a professional journalist and editor. Thanks to its success, this fashion blog has been featured in many reputable magazines such as "Esquire", "GQ", "The Times", and "The New York Times".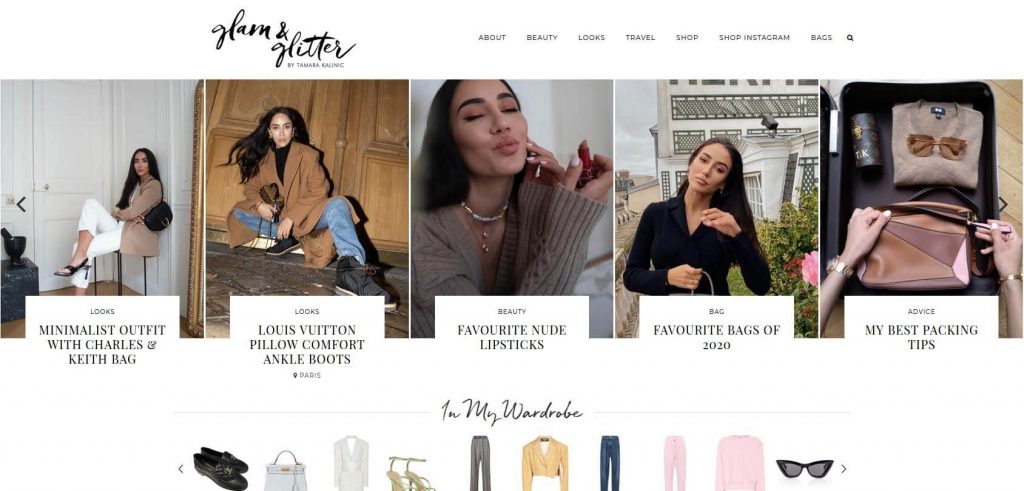 Although Tamara Kalinic is a pharmacist by profession, she has always been passionate about fashion. Her Glam & Glitter blog documents all of her outfits, from everyday clothing to haute couture and red carpet looks. Additionally, this fashion blog also has a shop where readers can buy various featured clothing items and accessories.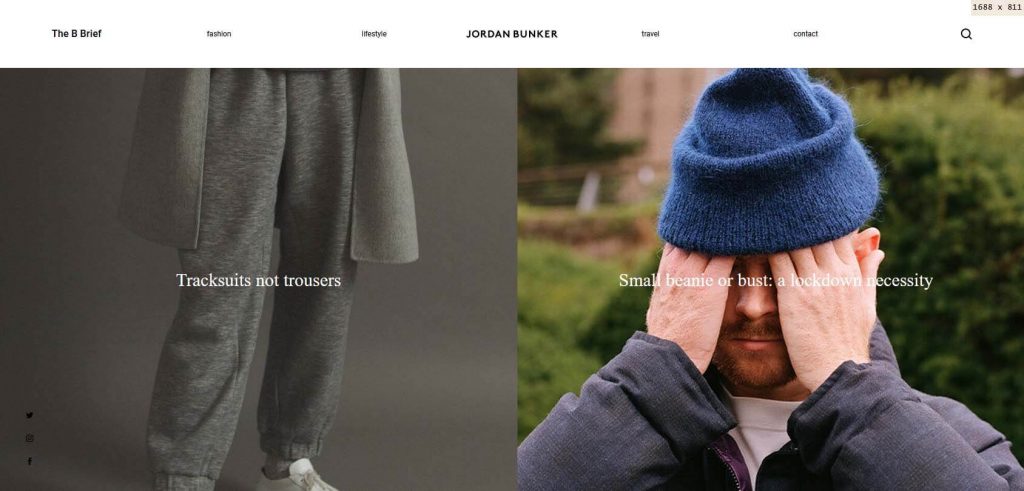 Jordan Bunker runs this eponymous blog that focuses on clean-cut minimalist menswear. His fashion blog shares Jordan's personal style and ideas for various types of men's clothing, from classy suits to everyday tracksuits.
Sandra Hagelstam launched the blog in 2009 when she was still studying Fashion Design and Marketing at the London College of Fashion. Over time, her website became a go-to place for all things fashion — from the latest trends to how-tos, you'll find everything a modern-day woman needs to know.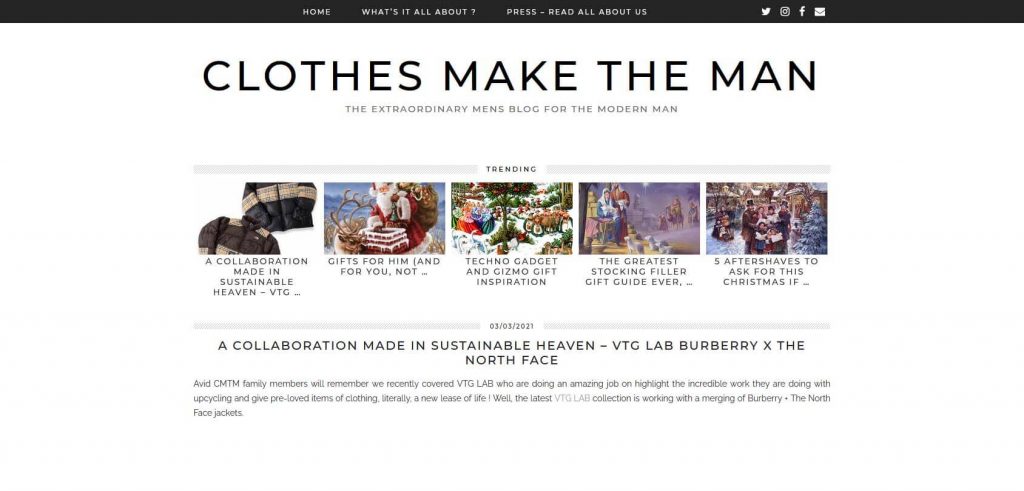 Clothes Make the Man is a hub for all things menswear and fashion. Anthony McGrath, the person behind the blog, works hard to provide the best advice to his fellow fashion and lifestyle enthusiasts. This blog hosts many guest posts from industry professionals who share their experiences and advise readers on various subjects such as health, beauty, fashion, and more.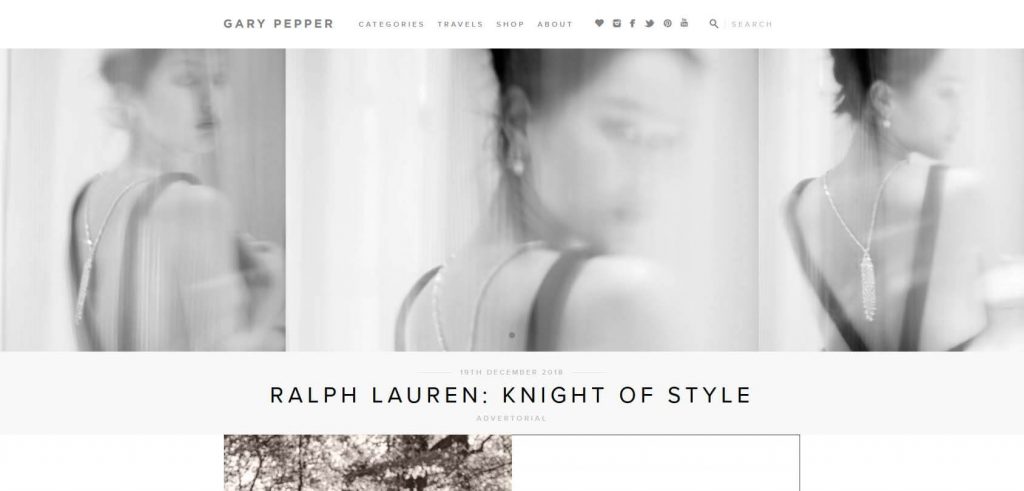 Nicole, the person behind the Gary Pepper Girl fashion blog, has been in the fashion spotlight for years. She has appeared on the covers of many magazines such as "Harper's Bazaar", "Elle", and "Vogue". Apart from running her fashion blog, Nicole Warne is also a successful businesswoman and fashion designer.
Conclusion
Although I shared about only 35 unique fashion blogs, there are many others that are just as inspiring. However, it would be impossible to mention all of them without writing an entire fashion blog encyclopedia.
Hopefully,this list of websites representing bloggers' personal styles have helped you to develop a general idea of what a fashion blog should look like. As you can see, fashion unites people from all corners of the world, and these blogs are just one of the ways that fashion enthusiasts can express themselves.