The Best Food Blogs to Follow
Are you hungry? You will be once you check out this list of the very best food blogs on the internet from First Site Guide.
Making a good food blog is no small task. It has to look good, which means you either need hire someone with great photo skills or develop some skills of your own. We've put together another article focused on what various food blogging experts think you need to do to sharpen those photo skills.
Of course, it takes more than photos to make a food blog, and that's why we've got this article. You need the words, the recipes, the reviews, the revelations of flavor, too! Otherwise it's just an Instagram, right?
So we've gone ahead and put together the very best food bloggers from around the internet. Here you can find the people with the knack for spreading the joy of food, the skill of cooking, and expanding the culinary horizons of those lucky enough to stumble on their blogs. These are the folks who make sure you eat healthy, enjoy it, and remember to save room for desert.
That's what's on the menu today, so, by all means, dig in!
List of All Food Blogging Experts
Sort By Metrics
Updated: October, 2016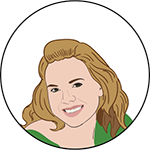 by Annie
Social Media Followers - The total number of followers combined from the following blog's social media profiles: Facebook, Twitter, Pinterest, Instagram and Google+.
73364
Alexa Rank -
Alexa's Traffic Ranks
are based on the traffic data provided by users in Alexa's global data panel over a rolling 3 month period.
108477
SemRush Rank -
SEMrush lists
the most popular websites ranked by organic traffic coming from Google's top 20 organic search results.
44417
Annie's Eats hopes to inspire others to be fearless in the kitchen, try new things, and most importantly, have fun doing it! A cooking and baking blog - making your days taste better!
START YOUR OWN BLOG
This guide is an introduction to mastering the art of blogging. It provides easy to follow steps to start, maintain, and grow your blog.