The Best IVR Systems for Small Business in 2023
FirstSiteGuide is supported by our readers. When you purchase via links on our site we may earn a commission.
Read More
The Best IVR Systems for Small Business in 2023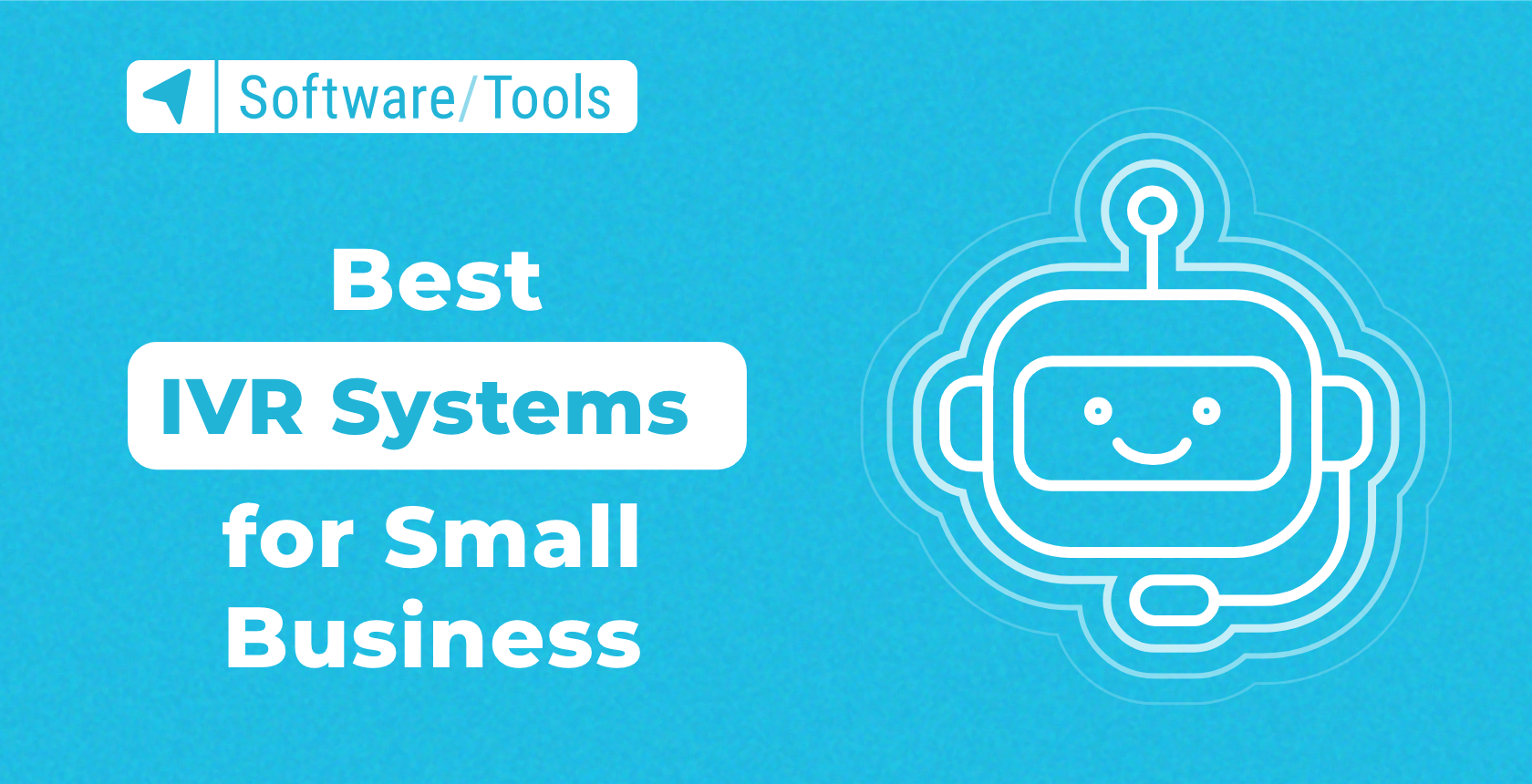 IVR is short for Interactive Voice Response solutions. These automated tools refine your phone communication with customers and allow you to create a self-service interface (menu) that callers can use to access valuable information.
As far as business phone systems go, IVR platforms are essential in modern business, especially with companies that have multiple departments and need to provide automated assistance. Fortunately, IVR software is also available to smaller companies.
Top 10 IVR systems for small business
Here are the top choices to consider. These tools are affordable and are quickly becoming an industry standard, even in small organizations.
---
Twilio — Best option overall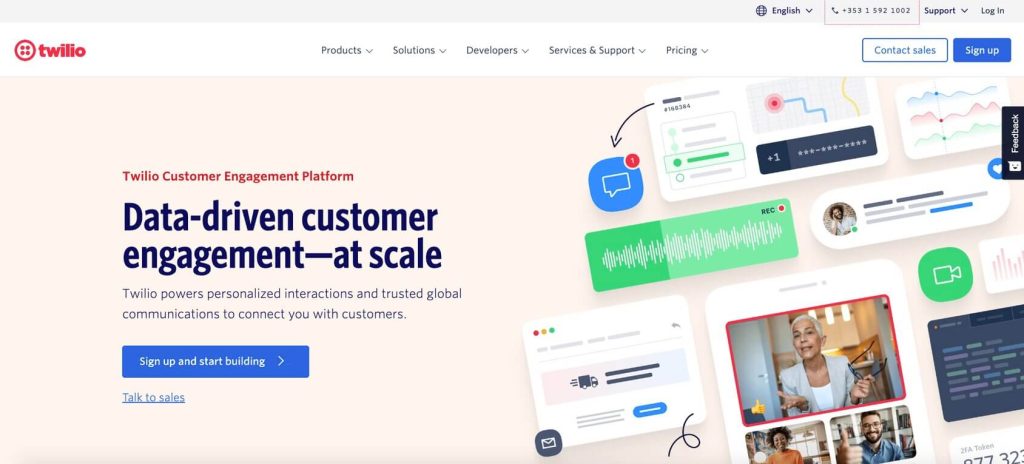 Twilio is our top pick because it allows users to customize their menu according to their needs while incorporating all self-service options. It also has voice recognition capabilities to understand intent and conversations.
Companies can create a customized branched scenario to match the movement of their callers. Twilio also offers customizable APIs and an IVR builder that's simple to use. However, you need development knowledge to make the most of its abilities.
Key features
AI features – Twilio offer AI chatbots as well as a conversational AI chat that all users can deploy for their needs.
Great payment structure – offers a scalable payment method where users only have to pay for what they use (pay-as-you-go).
Customizable interface – extensive interface customizations.
Pricing
Twilio offers three different pricing plans, all with tracking, workflow tools, and drag-and-drop reporting.
Free trial
Real-time engagements, orchestrates customer journeys and analyzes data. Available for 5,000 active user hours.
Per user 
$150 per month per single user 
Offers instant channel deployment, intelligent routing, UI customization, integrations, and real-time reporting.
Per hour 
$1 per hour for active users
Offers the same things as the "Per user" option with a different pricing method.
Visit Twilio for additional information >>
LiveAgent — Centralized multi-channel help desk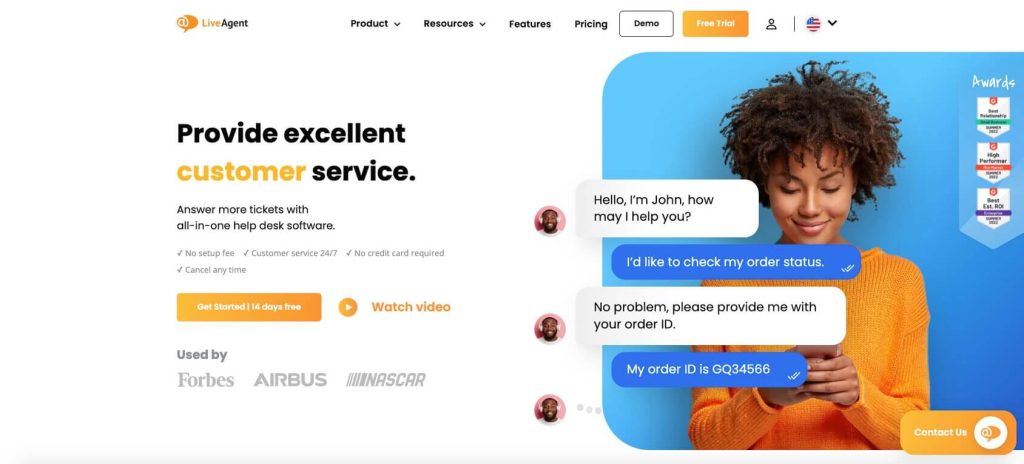 LiveAgent is a fully developed help desk software allowing companies to improve customer interactions and personalize the customer experience. LiveAgent is an omnichannel platform that includes some valuable customer engagement tools such as customer service portals, live chat, and a built-in call center.
LiveAgent IVR allows you to perform call routing, issue callbacks, set up appropriate automated actions, gather information, and record calls. LiveAgent provides users with a powerful IVR design tool so that companies can create their own IVR system according to their needs without coding knowledge.
Key features
Interactive voice response – LiveAgent is equipped with AI-powered systems that can respond to some common questions.
IVR builder – one of the rare platforms where users can create their IVR with a simple drag-and-drop system.
Part of the LiveAgent ecosystem – you can instantly integrate your IVR with all other tools offered by LiveAgent.
Pricing
Unfortunately, LiveAgent is a bundled suite with several pricing plans but only two of them offer IVR. However, these plans are not expensive and bring outstanding value.
Free plan 
One agent per month with all of the basic features and an IVR editor.
All-inclusive 
Offers IVR, call center support, call routing, unlimited recording, hardware IP phones, chat, time-tracking, API+ integrations, dedicated customer support, and more.
Visit LiveAgent for additional information >>
Nextiva — Good for remote teams that need to collaborate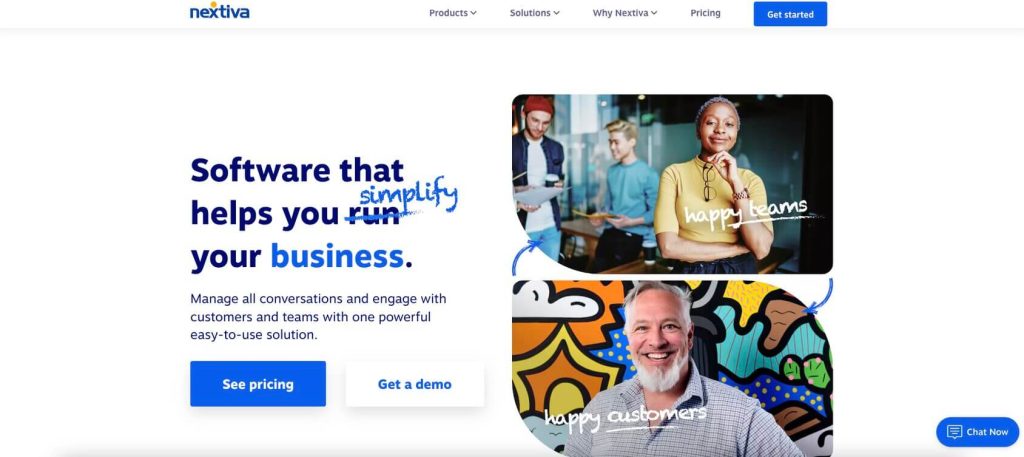 This VoIP service is cloud-based and designed to improve customer engagement and team collaboration. It collects all communication channels into a single platform while combining them with other essential tools. 
This process allows users to manage conversations easily through a single interface where they can share information and view essential data. Nextiva is a premium IVR with text-to-speech, voice biometrics, voice commands, and other speech recognition abilities.
Key features
Threaded communication – users can see your previous communications regardless of the channel.
AI capabilities – various AI-powered voice recognition and self-service features that allow callers to perform actions on their own.
Anonymous call rejection – automatically prevent calls from callers with blocked IDs and also block other users you don't wish to connect with.
Pricing
The pricing of Nextiva is designed for 1-100+ users. Here are Nextiva's three pricing plans for 1-4 users.
Essential 
$30.95/month/user


$28.95/user/month (billed annually)
Unlimited domestic calls, one toll-free number, call history, hold music, voicemail transcription, auto-attendant, team chat, and calendar integrations.
Professional
$35.95/month/user


$33.95/user/month (billed annually)
3,000 toll-free minutes, CRM integrations, 40 audio users, text messaging, multi-level auto-attendant, as well as all features from the essential plan.
Enterprise 
$45.95/month/user


$43.95/user/month (billed annually)
Over 12,000 toll-free minutes, unlimited audio users, professional customer support, and along with features from other plans.
Visit Nextiva for additional information >>
CloudTalk — Designed for outbound campaigns 
CloudTalk is a call center platform suitable for use by sales teams. It offers your business access to numbers in over 160 countries to help international businesses talk to customers at a low cost. The platform has a "call flow" creator that companies can use to create specific branching scenarios and adjust them to the menus.
CloudTalk allows agents to proactively contact customers via multiple channels, including automated voice calls, social media, SMS, and email. Their call center solution only supports voice and text channels, and there's no way of adding new ones.
Key features
Comprehensive dashboard – CloudTalk has an impressive real-time dashboard with valuable metrics displayed, including average wait time, agent status, and active calls.
Preferred agent feature – lets you choose which agents are preferred for specific clients or groups of clients.
Phone tags – if your business has multiple numbers, you can assign each caller a unique tag so that you can see if they've contacted you previously.
Pricing
CloudTalk offers four different plans and a14-day free trial period.
Starter
$25 per month 


(billed annually)
One local number, mobile app, inbound calls, automated distribution, call recording, 160 countries covered, statistics, voicemail, and number porting.
Essential
$30 per month 


(billed annually)
Custom greetings, call masking, full-blown IVR, workflow automation, skills routing, advanced analytics, and SMS conference calls.
Expert
$50 per month 


(billed annually)
VIP queries, unlimited calls, CRM integration, call monitoring, and auto-dialer.
Custom
Custom reporting, dedicated developer support, customized enterprise security, unlimited calls, custom onboarding, and more.
Visit CloudTalk for additional information >>
8×8 — Basic and intelligent IVRs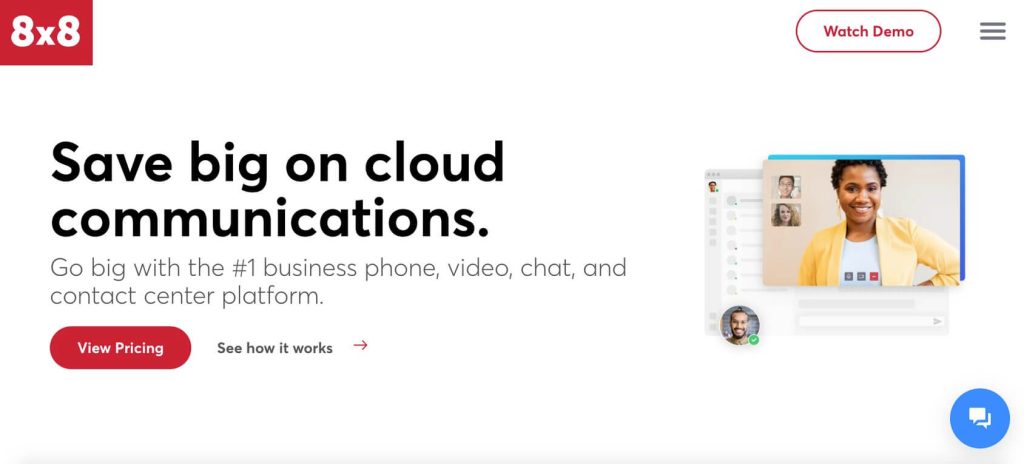 8×8 is unique because it offers many plans that cater to different business needs. It's a scalable and capable platform with many communication features. This service offers team collaboration tools, contact center tools, telephony abilities, multi-channel options, and more.
8×8 has two IVR options: basic and intelligent. The basic option has all of the integrations, analytics features, and reporting capabilities you need, while the intelligent option adds automatic speech recognition and natural language processing.
Key features
Versatile digital channels – 8×8 is one of the few options that offer a routing option with all channels, including messaging apps, social media, SMS, email, and chat.
Shared browsing – agents can assist customers remotely and co-browse with them.
Dedicated agent workspace – an intuitive interface where agents can collaborate and streamline all their customer interactions.
Pricing
8×8 offers three plans that include IVR.
X6
X6 plan includes skills-based routing, IVR, call recording CRM, reporting & analytics, and CX journey mapping.
X7
X7 plan includes X6 plus multi-channel support for social media, chat, email, SMS, and co-browsing.
X8
X8 plan includes X7 plusquality management, 24//7 customer support, and auto-dialer.
Visit 8×8 for additional information >>
VoiceGuide IVR — Great for outbound and inbound automation 
This IVR offers various creation tools for outbound and inbound needs. All of the tools can be deployed as an open-source suite or cloud platform, and multiple integrations with other channels are available. VoiceGuide IVR also offers a graphical designer for calls.
This system works with various telephony providers, including Cisco and Avaya. Users receive a reliable cloud-based interface through which they can efficiently perform all of their most critical tasks.
Key features
Voice recognition – like many other tools on our list, VoiceGuide IVR also offers voice recognition and automated response systems.
Outbound support – an auto dialer with easy call-loading integration and agent support.
Pricing
VoiceGuide offers four different plans depending on the number of users you need.
Professional
$99 per line


4 – 10 lines

$49 per line


11 – 50 lines

$18 per line


51+ lines
Voice customization, phone input, campaign management, call logging, call center management, text-to-speech, call routing, multiple scripts, voice mail, voice recognition, and automatic call distribution.
Enterprise
$199 per line


4 – 10 lines

$99 per line


11 – 50 lines

$35 per line


51+ lines
Professional plan + text to speech, biometrics support, ISDN, VoIP/SIP support, analog lines support, PBX inbound signaling, subscripts, Fax OCR, call routing, automatic speech recognition support. 
Professional + Dialer
$249 per line


4 – 10 lines

$125 per line


11 – 50 lines

$46 per line


51+ lines
Voice customization, phone input, campaign management, call logging, call center management, text-to-speech, call routing, multiple scripts, voice mail, voice recognition, and automatic call distribution.
Enterprise + Dialer
$349 per line


4 – 10 lines

$173 per line


11 – 50 lines

$63 per line


51+ lines
Voice customization, phone input, campaign management, call logging, call center management, text-to-speech, call routing, multiple scripts, voice mail, voice recognition, and automatic call distribution.
Note: For 200+ lines, you need to contact the customer service.
Visit VoiceGuide IVR for additional information >>
GoTo Connect — Unified video/voice solution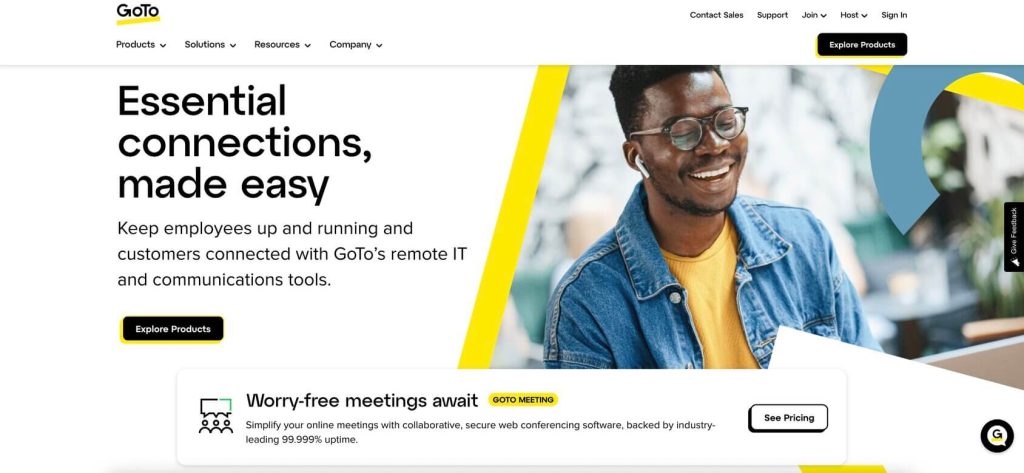 GoTo Connect is a capable IVR platform that lets users create prompts and recorded menus to welcome customers to your call center and guide them to the information they need. GoTo Connect is a simple solution to help callers connect quickly to the right people.
This service is one of the cheapest options on our list but provides valuable features that you can use effectively to cover all of your communication needs.
Key features
Daily analytics – GoTo Connect has a comprehensive dashboard where users can perform various reporting, analytics, and collaboration tasks.
Call management – users can add custom greetings, set up events, add call-routing schedules, and more.
Call flow editor – GoTo Connect has a simple-to-use visual editor for setting up a customized call flow.
Pricing
GoTo Connect offers three plans with a free demo period.
Basic
A simple system with basic features for up to 20 users, video meetings, and basic integrations with Google Workspace and Outlook.
Standard  
Basic plan plus unlimited users, call routing, queues, auto attendants, video meetings with up to 150 users, and various CRM integrations.
Premium
Standard plan plus an advanced contact center, integrations with InformaCast, Teams, and other tools. Video meetings with over 250 users.
Visit GoTo Connect for additional information >>
Genesys Cloud — Good for tech-driven companies 
This IVR platform uses AI bots to communicate with and assist callers. These bots are powered by natural language processing to give them a better understanding and context. Genesys Cloud can be integrated with Google Contact Center AI and Nuance to further improve accuracy.
Genesys Cloud also has a visual IVR as an added app to complement all voice interactions. When a caller reaches out to your contact center and selects the self-service option, they receive a link via SMS to use the app. Overall this is one of the most innovative platforms available in terms of technology.
Key features
Predictive capabilities – Genesys has an AI engagement tool for analyzing website visitor behavior, predicting their intent, and creating personalized engagements for better outcomes.
Call flow designer – a standard drag-and-drop call flow builder with menu customization, call routing, automatic answers, and more.
Digital bots – provides many NLU bots that you can integrate into message flowers, chats, and calls.
Pricing
Genesys Cloud offers multiple pricing options.
Genesys Cloud CX 1 
Performance dashboards, reporting, interaction recording, unified communication, voice outbound, callback, inbound voice routing, voicemail, and speech-enabled IVR.
Genesys Cloud CX 2 
$90 per month (voice)

$110 per month (digital + voice)
Screen recording, outbound campaigns, web messaging, messaging app integrations, SMS channels, email routing, unlimited chat, and chatbots.
Genesys Cloud CX 3 
$130 per month (digital + WEM)

$150 per month (digital + WEM + voice)
Text analytics, speech analytics, engagement tools, employee performance, workforce management, screen sharing, and co-browsing.
AI Experience 
This is an AI add-on for digital and voice solutions with predictive routing, knowledge, digital bots, voice bots, and predictive engagement.
Visit Genesys Cloud for additional information >>
RingCentral — Can set up many IVR menus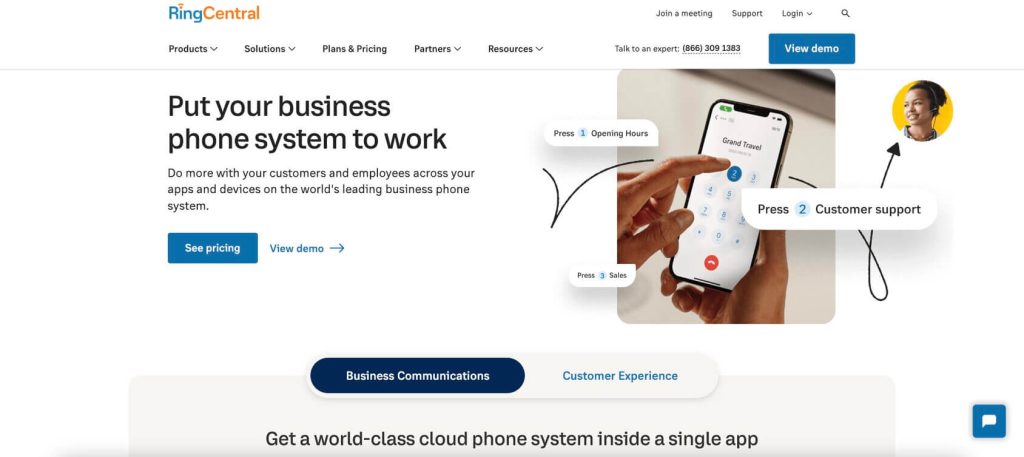 This multi-level platform allows users to create a maximum of 250 different menus for individual accounts. Users can create a multi-level experience for different callers while customizing numerical and voice inputs. A comprehensive visual editor lets you set up different prompts, file import, self-recording, and professional recordings.
This service is one of the best options available for cost vs. what you get. However, as far as advanced options go, they are lacking, and there aren't many cutting-edge features.
Key features
Call forwarding – calls can be routed to all devices regardless of department or location.
Global service – RingCentral offers global telephony with toll-free and local numbers in many countries at a low price.
Company listing – companies are automatically listed in national and local directories to offer more exposure.
Pricing
There are four different pricing plans to choose from, as well as a14-day free trial.
Essentials 
$32.99/user/month 


$19.99/user/month (billed annualy)
Call log reports, phone app, team chat, voicemail, SMS, unlimited domestic calls, one toll-free and local number.
Standard
$40.99/user/month 


$27.99/user/month (billed annualy)
Workspace integrations, unlimited audio calls, a maximum of 100 video users, multi-level auto-attendant, call management, and 1000 toll-free minutes.
Premium
$47.99/user/month 


$34.99/user/month (billed annualy) 
CRM integrations, real-time analytics, call handling, multi-site management, hot desk support, and 2,500 toll-free minutes.
Ultimate
$62.99/user/month 


$49.99/user/month (billed annualy)
Alerts, status reports, unlimited cloud storage, and enterprise customer support.
Visit RingCentral for additional information >>
PhoneBurner — Good for outbound sales 
This is a cloud-based sales acceleration and power dialer with IVR capabilities. It's focused primarily on companies with sales aspirations and helps improve live conversations and turn them into sales.
This service automates time-consuming and repetitive tasks. All connections are instant without dropped calls, delays, or pauses.
Key features
Robust reporting – real-world data makes it easier to make informed decisions powered by a centralized dashboard, session reviews, agent activity, and call tracking.
Workflow automation – automated follow-up emails, logging calls, and voicemails.
Power dialer – this feature lets companies dial up to 80 numbers in 60 minutes, making outbound campaigns more efficient.
Pricing
PhoneBurner offers three different plans.
Standard
$124 per month 


(billed annually)
30-day call storage, analytics, call tracking, email tracking, voicemail, and unlimited dialing minutes.
Professional
$149 per month 


(billed annually)
90-day call storage, 20,000 contact imports per month, live call coaching, call monitoring, open API, and softphone connection.
Premium 
$166 per month 


(billed annually)
Unlimited call storage, 50,000 contact imports per month, phone support, SMS text messaging, and a dedicated inbound number.
Visit PhoneBurner for additional information >>
How to choose the right IVR system for your small business
Choosing an IVR system isn't easy since there are so many factors to consider. Here's what you should focus on.
Is there self-service available?
One of the essential features of any IVR system is self-service. Look for functions such as phone payments, order status requests, and getting basic answers. Customers want the option to locate the right information on their own. Callers must be able to track orders, locate their balances, or access valuable information without waiting for someone to help them.
Queue system
Your queuing systems allows you to control calls, ensure callers aren't waiting for a long time, and make certain that callers are connected to the right people to help them. Queuing systems build brand awareness, improve customer loyalty, and boost sales.
Customization options
Every business is different, and you need to adjust your solutions according to your specific needs to get the best results possible. You should always look for an IVR system that lets you customize your call flow and your menu. Tailor the customer experience according to your callers to make the most out of your phone system.
Smart omnichannel routing
Phone, email, SMS messages, and chat are all different communication channels that your customers use. Always look for an IVR service that can support these channels to provide a flawless customer experience. You can't put all of your eggs in one basket.
Callback scheduling
This is a simple but vital feature that every contact center must have. Customers are busy people who won't invest much time in your company. When they call once, and nobody responds, they are less likely to call again. That's why callbacks can help you to re-engage those people and help them with their needs.
Setting up
Setting up a new business is always a challenging process. Your IVR should be easy to implement, and you should discuss set-up requirements with the provider. If you don't have the knowledge or time to set up a solution correctly, it's probably better to choose a different option.
Level of customer support
Your IVR vendor should offer quality support. Companies often experience issues, have questions, or require additional training for the systems they use. You need a partner that you can rely on and be sure that they will resolve your issues quickly to continue with unobstructed operations.
Advanced voice recognition
To successfully transfer inbound calls, it's important to look for a solution with advanced voice recognition. These tools use data captured through voice recognition to route calls and make essential decisions that make your process more effective.
Integrations
Your IVR system isn't an isolated tool – it must communicate with many other solutions. For example, all of your agents must use a CRM integrated with the IVR, which helps them to have a better overview of what's happening and keep their productivity high.
Best of the best
If you still need support in narrowing your options down to a single tool, here is our list of the best options depending on your goals.
Best free option
Best scheduling and invoicing option
Best-scaling option
FAQs
What is an IVR system? 
IVR is short for Interactive Voice Response and represents an automated phone system with interactive elements that allows callers to make selections using a keypad. 
Are free IVRs a good idea?
Yes, free IVRs can offer some solid functionalities for a limited number of users. However, larger companies can not meet their needs with free options. 
How long does it take to set up an IVR system? 
It all depends on the system's complexity and whether it requires coding knowledge. Always talk to the provider to learn about their specific installation process. 
Can I route calls with IVR? 
IVR systems are similar to direct routing but allow callers to interact with texts or audio to access the required information. Their call is routed to an agent if they cannot get the needed answers. 
Conclusion
We hope this post helps you determine the best IVR solution for your small business. Before committing, take the time to narrow down all of the options and compare them thoroughly. Don't forget to test a solution with a demo or a free trial before investing in it.