The Best Law Blogs to Follow
You have the right to remain silent, but fortunately for you these bloggers have waived that right. We all like law and order. It keeps the wheels of civilization greased and turning. It gives us something to watch on slow TV nights. On the other hand, it can all be a bit . . . opaque for the layman. There's a reason people refer to legal documents as being written in legalese, so there's a special place in our hearts for the people who find way to spell it all out in plain English for the rest of us.
Taking clauses, concepts, statutes, and all those mountains of precedent, then turning them into content fit for the masses is no easy task, and these are the people who do it best. Every high profile arrest, court case, or legal decision brings out all the armchair lawyers, so it's important to find sources who actually know what they're talking about. Much like in a court of law, there are usually conflicting narratives out there, and it's not always clear who's right or who's wrong. No one can bring order to the court of public opinion, but there are voices of reason and knowledge out there if you know where to look.
Okay, we've plead their case long enough, and since First Site Guide is judge, jury, and executioner as far as this list is concerned, we're prepared to render our verdict on the following legal blogs:
Guilty, of being the best.
List of All Law Blogging Experts
Sort By Metrics
Updated: May, 2016
by David Lat
Social Media Followers - The total number of followers combined from the following blog's social media profiles: Facebook, Twitter, Pinterest, Instagram and Google+.
44364
Alexa Rank -
Alexa's Traffic Ranks
are based on the traffic data provided by users in Alexa's global data panel over a rolling 3 month period.
18653
SemRush Rank -
SEMrush lists
the most popular websites ranked by organic traffic coming from Google's top 20 organic search results.
6381
David Lat is the founder and managing editor of Above the Law. The site provides news and insights about the profession's most colorful personalities and powerful institutions, as well as original commentary on breaking legal developments.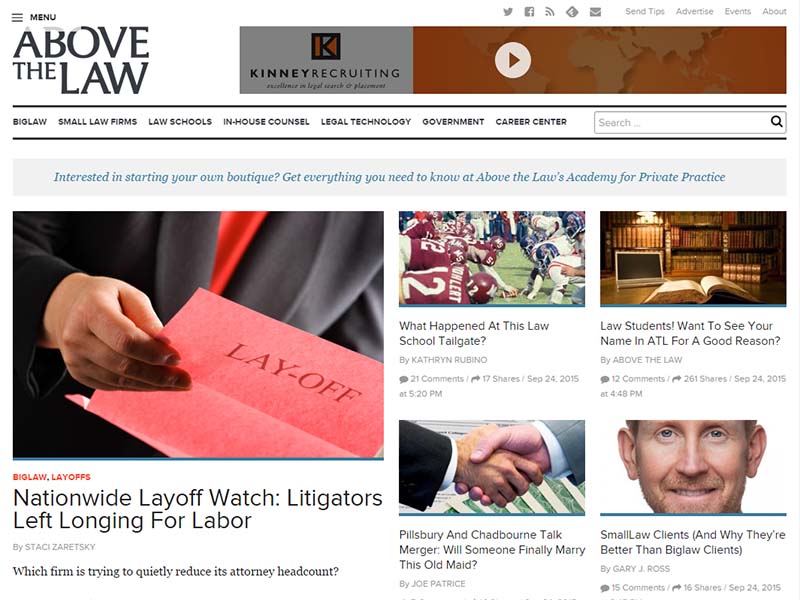 START YOUR OWN BLOG
This guide is an introduction to mastering the art of blogging. It provides easy to follow steps to start, maintain, and grow your blog.