The Best Live Chat Software in 2023
The Ultimate List of The Best Live Chat Software For Small Business
FirstSiteGuide is supported by our readers. When you purchase via links on our site we may earn a commission.
Read More
The Best Live Chat Software in 2023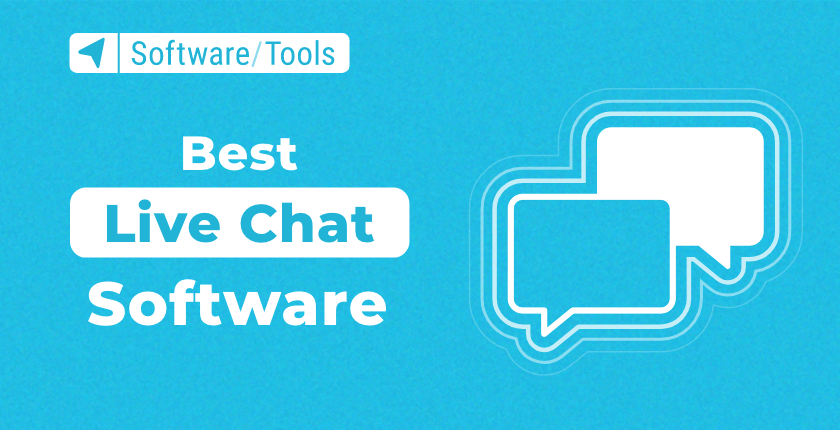 Customer support and digital technologies are the focal points of modern business. Companies must bring themselves closer to their customers while offering quick solutions in a digital environment.
Live chat tools are capable solutions that allow companies to help their customers quickly, solve their problems, and provide important information about their products or services. Even though these tools are available to all businesses at a variety of prices, smaller organizations can only afford some of them.
This is why we've decided to create a comprehensive list of the ten best live chat tools for smaller companies with the goal of helping you to understand how they can help you to improve your business operations. 
Top 10 live chat software for small business
If you want to skip reading through all of the details about these tools, here is a quick list of our top suggestions.
---
LiveChat — Complete visibility 
LiveChat is a combined help desk and online chat tool that allows companies to communicate with customers through websites. It includes functions and features that enhance live customer support, web analytics, marketing, and online sales.
LiveChat is an entirely web-based chat support with an optimized control panel that operators can use to set up cross-platform capabilities. With this tool, it's possible to chat with visitors from any device.
Key features
Extensive customization – customize chat windows, themes, logos, buttons, and other aspects.
Customer support and eCommerce sales – improve these areas without significant effort.
Excellent process visibility – LiveChat lets you open multiple tabs with performance metrics, operations, and chat history.
Integrated ticketing – this live chat offers a complete help desk with a ticketing system.
Pricing
LiveChat has four pricing plans, including Starter, Team, Business, and Enterprise, along with a 14-day free trial.
Free trial 
You can use a free trial (14 days) of the "Starter" package with all of its features.
Starter
$24 per month

$20 per month


(billed annually)
This package includes a ticketing system, basic widget customizations, and a 60-day chat history. This version also offers solid data security features.
Team
$49 per month 

$41 per month 


(billed annually)
The "Team" package has no chat history limits, and users receive complete widget customization, reporting features, branding options, and agent groups.
Business 
$69 per month 

$59 per month 


(billed annually)
Compared to the "Team" package, "Business" offers an additional work scheduler, staffing prediction capabilities, Apple messages for business, and routing based on geolocation.
Enterprise 
This option provides total control over the features you want, along with HIPAA compliance, SSO capabilities, software engineer support, and advanced security assistance.
Visit LiveChat for additional information >>
ChatBot — Create your live chat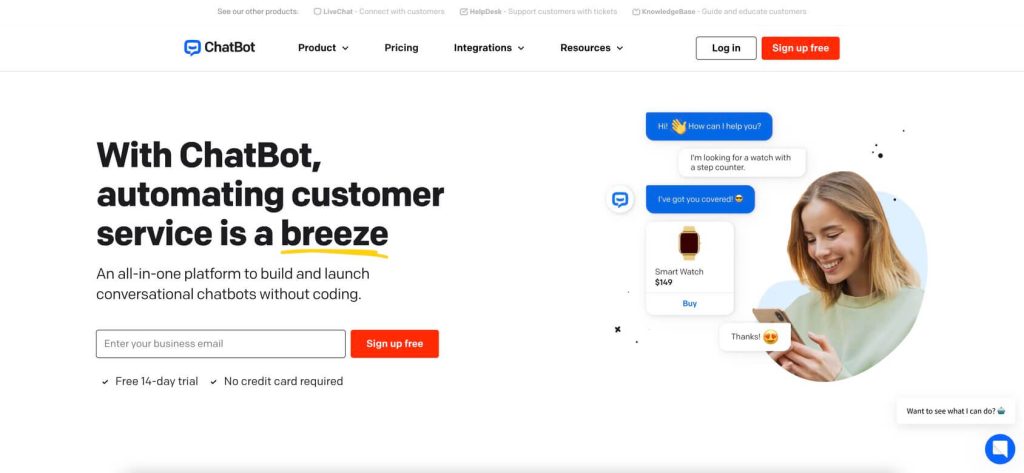 Live chat is a big thing for small businesses, but automated chatbots are the future. Companies will soon have sophisticated AI-powered chatbots that can effectively handle all customer communications 24/7.
This specific solution has an intuitive drag-and-drop system that lets you choose from hundreds of pre-made chatbot templates. You can use standard chatbots or customize them for your specific needs. At the same time, ChatBot enables you to create your own automated bot without coding knowledge and helps you to set up answers and responses in a variety of scenarios.
Key features
Drag-and-drop interface – anyone can create a virtual assistant using ChatBot's simple interface.
Many live chat templates – users can select and use a template instantly.
Seamless integrations – you can integrate ChatBot seamlessly with WooCommerce and WordPress.
Pricing
ChatBot offers four pricing plans: Starter, Team, Business, and Enterprise. All of these plans offer a 14-day free trial.
Free trial 
This trial can be activated with any plan to test out its features.
Starter
$65 per month

$52 per month


(billed annually)
Offers a single active chatbot with a maximum of 1,000 chats per month. This package provides data security, basic reporting capabilities, and all integrations.
Team
$169 per month 

$142 per month 


(billed annually)
Offers five active chatbots with up to 5,000 chats per month, unlimited training, endless stories, and advanced reporting. It provides button actions, team collaboration features, and version history.
Business 
$499 per month 

$424 per month 


(billed annually)
Provides unlimited active bots, 25,000 chats per month, unlimited stories, complete integrations, personal onboarding, premium customer support, and advanced security assistance.
Enterprise 
This option allows you to customize the features that you need, along with providing a dedicated account manager, custom integrations, dedicated maintenance, and chatbot-building capabilities.
Visit ChatBot for additional information >>
Freshchat — Blends human and artificial intelligence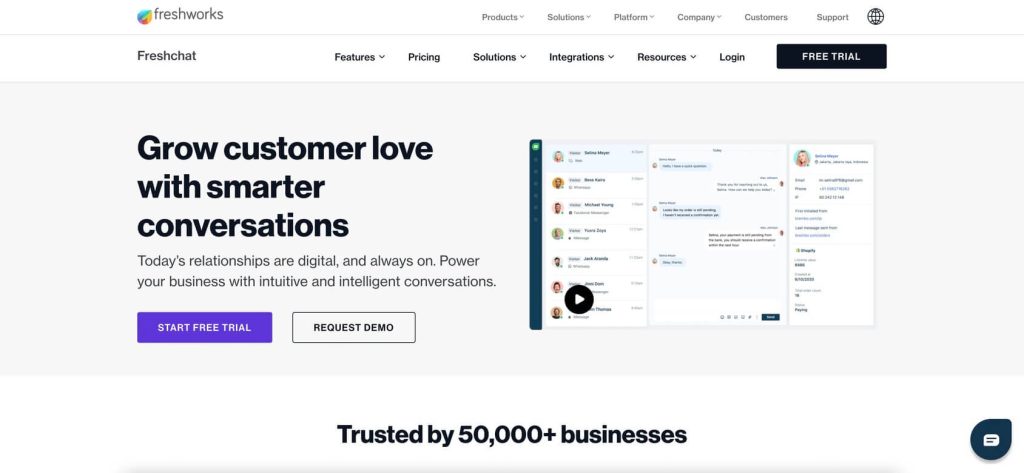 Freshchat or Freshdesk Messaging is a platform that also combines AI and human intelligence. It creates a consistent flow of messages through multiple channels, allowing you to address every customer query.
Freshchat allows companies to build trust and provide exceptional customer service. This messaging platform reduces interactions and uses multiple communication channels to provide tailored customer service. Intelligent work procedures and contactless AI services support companies to resolve issues much more quickly.
Key features
24/7 availability – the digital interaction management system is available 24/7 and can respond to customers anytime.
Automated load balancing and routing – these capabilities improve the speed of complaint handling and help improve customer service.
High engagement – Freshchat is famous for its AU chatbots that send proactive messages to engage users and impact their decisions.
NLP, ML, and AI capabilities – Freshchat uses these technologies to collect data about clients and interactions to recognize crucial trends.
Pricing
Freshchat has four pricing plans: a free option as well as Growth, Pro, and Enterprise packages.
Free
This plan has a limit of up to 100 agents and offers WordPress and Shopify integrations, analytics, bulk actions, conversation labels, and groups.
Growth
$18 per month

$15 per month


(billed annually)
Offers a maximum of 2000 bot sessions monthly with 500 contacts, assignment rules, FAQs, user segmentation, events and timelines, canned responses, a priority box, and a basic dashboard.
Pro
$47 per month

$39 per month


(billed annually)
An upgraded "Growth" option offering 3000 bot sessions, 500 contracts, auto-resolve capabilities, conversation APIs, reporting, roles, permissions, agent availability, advanced automation, and a comprehensive dashboard.
Enterprise 
$83 per month

$69 per month


(billed annually)
Provides all of the "Pro" features along with 5000 monthly sessions, user authentication, allowed domains, and allowed IPs.
Visit Freshchat for additional information >>
Olark — Easy to use 
Olark is a popular live chat tool that can be easily embedded into your website. It caters to all business types, whether your goals are to improve your sales process or boost marketing efforts, and is a handy widget that can resolve issues and provide support.
However, you can also use it to acquire verified leads, as it stores all conversations in email while transforming insights into transcripts. Olark also offers automated chat functions ideal for sales teams looking to increase automation.
Key features
Easy to use – Olark has a very straightforward platform that's simple to use for finding opportunities, delivering support, and monitoring leads.
Excellent reporting capabilities – Olark has an extensive reporting feature offering actionable insights and result tracking.
Different chat options – Olark supports instant notifications, offline messages, chat rating, target chat, and in-browser chat.
Quality customer support – Olark offers multiple customer support channels that are all very responsive.
Pricing
Olark has three pricing plans: Free, Self-Service, and Olark Pro.
Free
This plan offers 20 chats per month with all basic features. It's fundamentally a free trial.
Olark
$29 per agent/per month

$23 per agent/per month


(billed for 1 year)

$19 per agent/per month


(billed for 2 years)
The paid plan opens up all features, offering unlimited chat history, customizable chat, data security, real-time reporting, targeted chat, privacy features, and many more integrations.
Olark Pro 
The "Olark Pro" plan is an upgraded main plan with concierge support, chatbot copilot, custom contract terms, and enterprise-level features.
Visit Olark for additional information >>
Smartsupp — Seamless Google Analytics integration 
Smartsupp is an affordable chatbot and live chat software that you can use to record and track user sessions. Users can analyze all of the records along with messages. It's a perfect tool to learn about what engages visitors and employ that knowledge to improve customer experience.
This tool collects information about all visitors and creates a dedicated interaction history where you can see their entire journey and create customer context. It has an exceptional Google Analytics integration to help you understand your customers as well as how your staff operates.
Key features
Smooth integrations – integrate with Google Analytics, Shopify, Magento, and WordPress.
3-in-1 – combines video recording, chatbots, and live chat.
Seamless GDPR compliance – this tool stores all customer data in compliance with EU data protection laws.
API customization – you can customize Smartsupp's API for changing visitor identification, chat design, and more.
Pricing
Smartsupp has four pricing plans: Free, Standard, Pro, and Ultimate.
Free
This plan offers 100 monthly conversations with one agent and a 14-day conversation history.
Standard
The "Standard" package offers three agent coverage, unlimited conversations, 1-year conversation history, unlimited chatbots, up to 500 chatbot conversations, automatic messages, and video recordings. 
Pro
The "Pro" package is an upgraded "Standard" version with up to 10 agents, 3-year conversation history, up to 10,000 chatbot conversations, ten automatic messages, and 50k videos per month.
Ultimate
This is a custom-made package with wire transfer payments, individual contracts, a dedicated account manager, advanced features, AI chatbots, and a custom number of agents and integrations.
Visit Smartsupp for additional information >>
Velaro — Excellent routing systems 
Velaro is a full-blown customer engagement tool with live chat as one of the core services. It also offers visitor surveys and social media integrations. Even though it's an affordable tool, it has advanced features like analytics, reporting, performance management, and visitor monitoring.
This platform has a push page capability that agents can use to help customers open website pages. The live chat tool, "Click to Chat," has configurable visuals and buttons and offers some basic automation features with canned messages for shared and personal modes.
Key features
Advanced routing system – probably one of the best routing systems available where you can assign chats according to the level of expertise.
In-depth insights – Velaro lets you understand how your live chat aligns with your business goals and the results that it produces.
Access restriction – companies can set who can limit what data and help protect customer information.
Pricing
Velaro has three pricing plans along with a free trial.
Small business 
The standard package is limited to a single user and comes with all features, including access restriction, in-depth insights, and advanced routing.
Professional
The "Professional" option gives additional features like automation, advanced analytics, social media integrations, visitor monitoring, and performance management.
Enterprise
This is an enterprise option with fully customizable features and users, along with dedicated account management and customer support.
Visit Velaro for additional information >>
Intercom — Easy to import and export data 
This tracking and customer support suite has a dedicated chat module that small companies can use separately. It's ideal for sales teams looking to acquire leads, enabling them to communicate with visitors and respond to their questions.
Intercom uses a Lead Qualification Bot that qualifies and captures leads while redirecting data to a designated team for reporting. There are also various engagement tools such as message progress insights, A/B testing, email campaigns, and auto-messaging.
All messages come with data sources and valuable information like referral URLs or user behavior, making it easy to adjust approaches and engage customers effectively.
Key features
Flawless data import/export – you can import and export all user data with Mixpanel, MailChimp, and CSV. Intercom also allows you to create accounts for this data and add new features or information.
Customizable messenger – you can customize the Intercom messenger visually and with functions. The chat can appear only for specific users, and it's possible to add links to products and create custom launchers.
Multi-language support – Intercom supports many languages, and agents can quickly change the interface and all of the basic functionalities to these languages, making it easier for customers who don't speak English.
Pricing
Intercom has basic pricing packages, but there are many customizable options. The company has separated them into small and large business categories. The small business categories are:
Starter for small buisenss
$74 per month


(billed annually)
This option includes 2 seats, but you can add additional seats for $19 per month. The first 1,000 monthly contacts are free, and you will have to pay $50/mo for every 1,000 people after.
Early Stage Program
$65 per month


(billed annually)
This option lets you add five agents and offers reporting dashboards, conversation ratings, integrations, chat support, and in-product messages. 1,000 monthly contacts.
Visit Intercom for additional information >>
HubSpot — Fantastic free version 
HubSpot is a comprehensive marketing platform with various tools and functionalities. It also offers a chatbot builder and live chat. Live chat allows many customizations so that you can create a tool that matches your branding.
With HubSpot, it's also possible to create automated bots that can handle some basic queries while your team is offline. The best part is that you don't need coding knowledge to develop chatbots using HubSpot.
You can integrate their live chat with HubSpot CRM to have all of your valuable information at your disposal. HubSpot also offers a help desk, sales CRM, email automation, and a self-service portal for customers.
Key features
Multiple integrations with HubSpot products – you can integrate your chat flawlessly and access valuable customer, marketing, and sales data.
Automation capabilities – you can automate various features and workflows, including support questions, answers, bookings, and lead qualification.
Free builder – you can use the free live chat builder with all of its features and automation capabilities.
Pricing
HubSpot live chat and chat builder are free, but three pricing plans with added features also exist.
Free
The free live chat plan includes real-time support, chat automation, and chat history logging.
Starter
The Starter package offers live chat, email marketing, forms, email automation, form automation, and US payments with 1,000 marketing contracts.
Professional
Offers 2,000 marketing contracts with contact scoring, social media, dynamic personalization, automation, A/B testing, live chat, and phone support.
Enterprise
This is the complete HubSpot marketing platform with advanced reporting, sandboxes, adaptive testing, custom objects, hierarchical teams, and partitioning.
Visit HubSpot for additional information >>
Pipedrive — Top-notch reporting system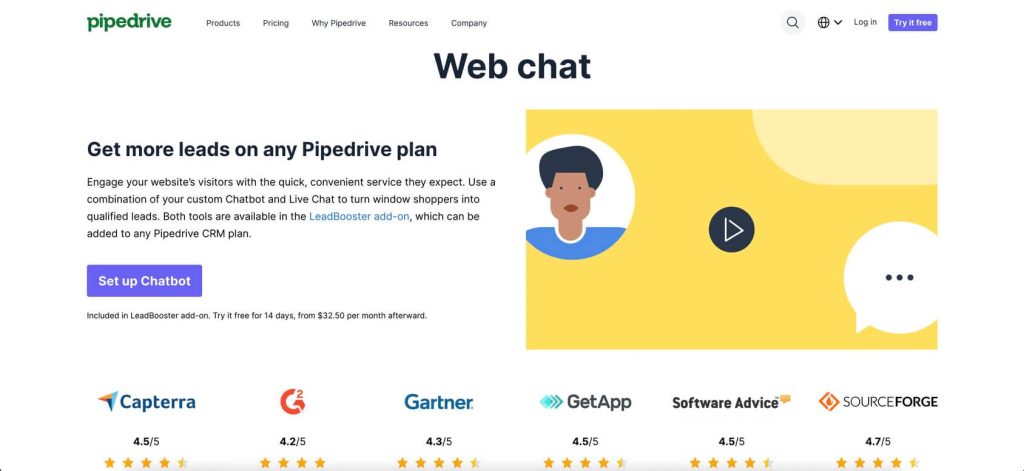 Pipedrive is a CRM and sales software that has a built-in live chat. Overall, it's an excellent tool to help you communicate with customers and track all interactions effectively. Pipedrive has valuable sales management, workflow automation, and lead generation tools.
Users can manage pipelines effectively, nurture leads, and close sales deals. This tool also includes activity reminders and visual representations of your pipelines to enhance collaboration and provide the best experience to your customers.
Key features
Extensive reporting features – Pipedrive has comprehensive reporting features that let you monitor some of the most critical sales metrics such as deal values, losses, wins, and more.
Smart docs feature – your employees can use this feature to create contracts, quotes, and proposals on the app.
Workflow automation – sales agents can customize workflow automation depending on their needs.
Pricing
Pipedrive offers a 14-day free trial for all three of its pricing plans.
Essential
$9.90 per month

$9.90 per month


(billed annually)
This plan is paid per user and offers 15 reports, 30 custom fields, and 3,000 active deals.
Advanced 
$24.90 per month

$19.90 per month


(billed annually)
A single-user subscription with 30 reports, 100 custom fields, and 10,000 active deals.
Professional
$49.90 per month

$39.90 per month


(billed annually)
This plan offers 150 reports, 1,000 custom fields, and 100,000 active deals.
Visit Pipedrive for additional information >>
Tidio — Impressive live chat templates
Tidio is the preferred live chat for more than 300,000 companies, most of which are smaller organizations. It allows you to add live chat to your site in just a few minutes and customize the interface according to your brand.
What makes this live chat so special are its 40+ live chatbot templates that take over when your agents are away. They all have automation capabilities, and you can edit them without any coding knowledge. Tidio has an intuitive interface that lets you see all visitors on your site, their information, and what they are currently typing.
Key features
Multi-language support – Tidio allows you to add several languages to widgets.
Offline messaging – chatbots can talk to clients and collect their information when you're unavailable.
Canned responses – agents can create vast libraries of answers to frequently asked questions and use them appropriately.
Pricing
Tidio has four pricing plans: Free, Communicator, Chatbots, and Tidio+.
Free
The free plan includes 50 live chats with 100 users along with email support, ticketing, third-party integrations, API, and visitor info.
Communicator
$19 per month

$15.83 per month


(billed annually)
The Communicator plan has no conversation limits on live chat, and this plan supports up to five agents. It has all of the free features + notes, permissions, a live visitor list, live typing, Shopify integration, and analytics.
Chatbots
$39 per month

$32.50 per month


(billed annually)
The Chatbots plan offers up to 40,000 users with 24/5 chat support, over 35 chatbot templates, Zapier integration, chatbot editor action, and analytics.
Tidio+ 
$289 per month

$240.83 per month


(billed annually)
The Tidio+ plan offersemergency support, email marketing, custom integrations, AI bots, dedicated management, account reviews, and training sessions.
Visit Tidio for additional information >>
How to choose the best live chat for your small business
As you can see, there are many live chat tools to choose from even for a small business. While we've recommended some of our top picks, you still need to understand your specific needs to find the right tool that will work perfectly for your business. Sometimes, it's not about getting the most expensive solution.
Consider the size and needs of your business
Even small businesses have different sizes, meaning that they have different needs and goals. If you have a few employees or a single agent, select a simple solution to help them pay attention to essential information and respond to customers.
If you have multiple people or have more customers than you can handle, consider finding a live chat with the automation capabilities of chatbots.
Evaluate how you will be using it
How you will be using live chat is an essential factor. Some companies use it for customer support, while others utilize it for sales. In some cases, they use this tool for both purposes.
If you plan on offering support, you will need a solution with canned answers and features that allow you to troubleshoot problems.
Many sales teams can benefit from a live chat with visual aids, helping them understand where customers are coming from and enabling them to engage them adequately. At the same time, they also have data analytics and crucial metrics available.
Features and functionalities
Features and functionalities are what make a program. All of them have their own specific uses and goals, so choose them carefully in light of your own needs.
As far as live chat goes, these are some of the most critical features to look for:
Message routing
Customer tracking
Mobile optimization
Chat rating
Chat monitoring
Operator monitoring
Surveys
Forms
Offline messaging
Smart triggers
Automation
Chatbots or agents?
Many people assume that chatbots and live chat are the same tools. However, live chat is a tool that an agent can use to communicate with customers, while chatbots have AI capabilities and can reply without human input.
Companies need to carefully consider if they need chatbots. It's important to recognize that these tools come at a price, but one that is often worth paying. For example, if you have many basic questions from customers and your agents can't handle the volume of queries, getting a chatbot is generally a good idea to prevent losing clients.
Integrations
You must integrate live chat with multiple tools to enable new business functions. For example, integrating live chat with CRM can help you save essential contact details and learn about your customers.
You can further use this information to adjust your approach and understand your customers in a more effective way. Some other valuable integrations are marketing tools, messaging apps, and help desk platforms. They can help you provide a better experience and improve your business processes to achieve stronger results.
Pricing
Of course, price is always a crucial factor. First, create a shortlist with your top choices and essential features. Once you've completed this list, you can compare prices to see which tool has everything you need and comes at a lower price.
At the same time, consider those features that would be nice to have but aren't essential. See how much they cost and think about whether it would be worth getting them for your business.
Best of the best
Here is our list of the best live chat tools based on different criteria.
Best for marketing and sales teams
Best for new startups
Best for targeted messaging
FAQs
Can I build my live chat tool? 
Yes, of course. Some live chat platforms let you build a tool according to your requirements. There are even pre-made templates that you can customize to get what you need quickly. These platforms allow you to create a live chat tool without coding knowledge with a simple drag-and-drop system.
Is it easy to set up live chat on my site? 
Adding live chat to your site is a simple process. You simply identify the pages where you need a live chat and integrate the live chat code into those pages. From there, you will have to set up triggers, add members, and adjust the tool according to your needs. 
Can I initiate communication with live chat? 
Yes, most live chat tools allow you to see all of the visitors on your site and initiate communication with them. Some of these tools also have triggers that you can set up to start communication automatically when specific conditions have been met. 
Should I choose a free live chat tool? 
Free live chat tools are generally less equipped with advanced features. Still, free tools can seamlessly handle your business's simple live chat needs. 
Conclusion
This comprehensive guide can help you find the best live chat for your small business. Take the time to consider all of the tools on this list and carefully compare their pros and cons. Every company has specific needs, and there's no one-size-fits-all product. Good luck!