The Best Fashion Blogs To Follow
Every blog should look good, and First Site Guide is here with tips and tricks to help you
make your blog
beautiful. If you're unsure on
how to get started
, you should definitely look around. We've got general guides and we add to our library of more specialized posts regularly. In other words, we'll help you look good.
True beauty is more than skin-deep, however, and we help with the behind-the-scenes bits as well. Fashion blogs, though, have to be even more polished than their compatriots. No one is going to take fashion advice seriously if it's coming from a blog wearing stripes and plaid. Golf advice? Sure. Fashion advice? Heck no.
Fashion is strange though, because it's both arbitrary and the product of common consent.
How do you know what's in fashion? You look at what the fashionable people are wearing. How do the fashionable people know what's fashionable? They're wearing it.
Then again, a big part of many fashion blogs is dedicated to the fashionable failing miserably. The point here is twofold. First, fashion's a bit less shallow than it might look at first glance. Second, look to the fashionable until you become one them.
How do you know which fashion blogs are fashionable? You ask us. We've collected the absolute best fashion blogs on the internet and showcased them here.
List of Best Fashion Blogs
Sort By Metrics
Updated: April, 2016
By Alicia
Social Media Followers - The total number of followers combined from the following blog's social media profiles: Facebook, Twitter, Pinterest, Instagram and Google+.
12426
Alexa Rank -
Alexa's Traffic Ranks
are based on the traffic data provided by users in Alexa's global data panel over a rolling 3 month period.
1180116
SemRush Rank -
SEMrush lists
the most popular websites ranked by organic traffic coming from Google's top 20 organic search results.
2192873
20-something life + style blogger serving up a healthy dose of sparkle, shimmer and sass.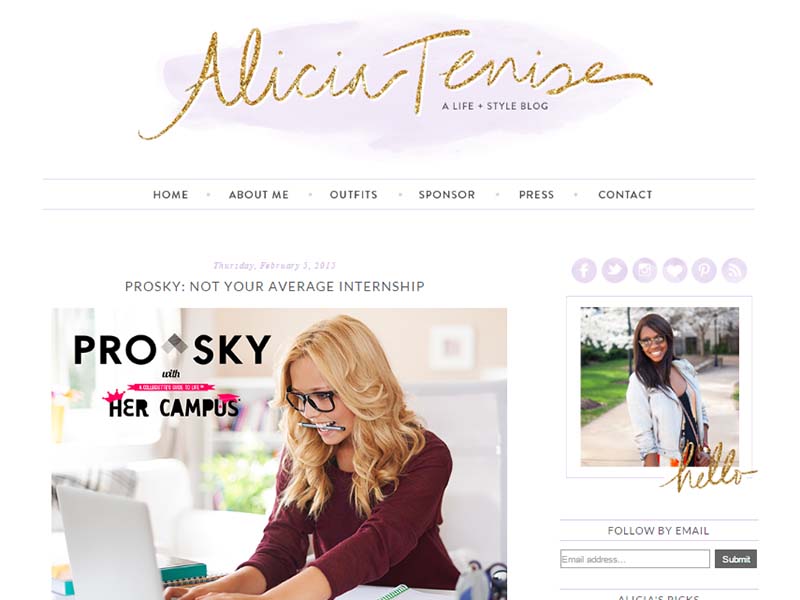 START YOUR OWN BLOG
This guide is an introduction to mastering the art of blogging. It provides easy to follow steps to start, maintain, and grow your blog.