The Best PDF Editors (Free & Paid) in 2023
The Ultimate Guide to Choosing Your Go-to PDF Editor
FirstSiteGuide is supported by our readers. When you purchase via links on our site we may earn a commission.
Read More
The Best PDF Editors (Free & Paid) in 2023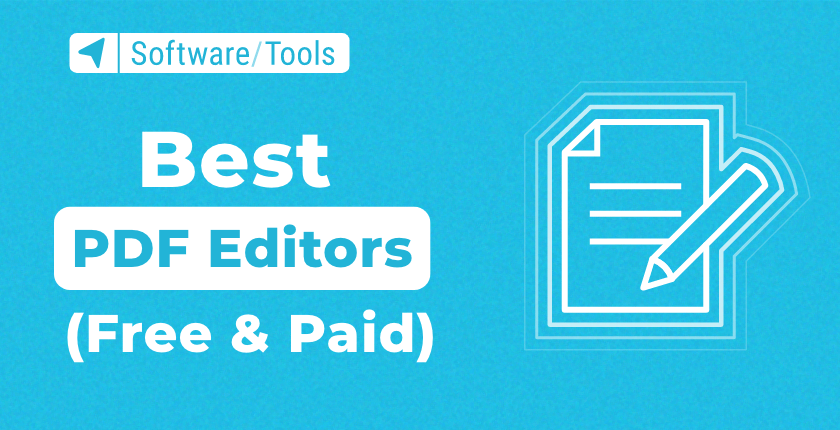 While first impressions might make it seem like PDF files are uneditable and unmodifiable, almost as if they were set in stone, that's far from the reality of the situation. With the right PDF editor, you can easily make any necessary changes that you want to your documents.
A reliable PDF editor can recognize text and images, allow you to alter them, make annotations, prepare your documents for eSignatures, and more. The key, of course, is finding the best editor that suits your needs – a task that's often easier said than done.
EDITORS' CHOICE
Top 10 PDF editors
To make your choice easier, check out the top-rated PDF editors listed below, give them a try, then take your pick.
---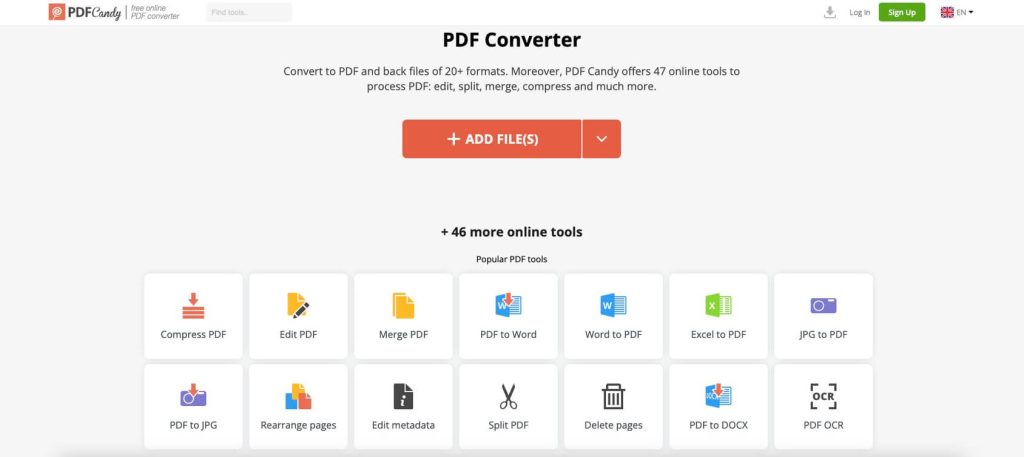 PDF Candy is one of the top PDF editors available for free. You don't have to spend a dime to use its many features and start modifying your PDFs. Users can quickly scan documents, convert multiple files at once, and even add watermarks to PDFs.
Once you've modified your PDFs, you can protect them with a password, then download or save them directly to your Google Drive or Dropbox.
Key features
OCR capability – PDF Candy can recognize text from any document, scanned image, or photo and convert it into machine-readable text;
Metadata tools – you can seamlessly edit your PDFs' metadata;
Password protection – set up passwords on your PDFs to secure them;
eSignature feature – PDF Candy allows you to add signatures to your PDFs directly through the platform; and
Watermark tools – add watermarks to copyright your documents and prevent theft.
Pricing and plans
PDF Candy offers an array of features for free, though the free version does have some limitations.
Free plan 
With the free plan, you can use all of the tools available from PDF Candy. However, you're limited to editing only one PDF per hour.
Web monthly 
With the paid plan, you have no hourly limitations. Users can edit files of up to 500 MB, enjoy the secure HTTPS connection, receive high-priority processing without queues, and access priority support. Additionally, you can cancel this plan at any time.
Web yearly 
$4 per month


1-year plan billed as one payment of $48
The Yearly plan includes everything that the monthly plan offers. The only difference is that you'd be paying upfront for the entire year, so you would be receiving a discount on your monthly subscription.
Desktop + Web lifetime 
With a single payment of $99, you can receive lifetime access to both web-based PDF Candy and the desktop version of the software. This offer comes with all of the features available through both the Web yearly and Web monthly plans, so you could get the best bang for your buck this way.
Visit PDF Candy for additional information >>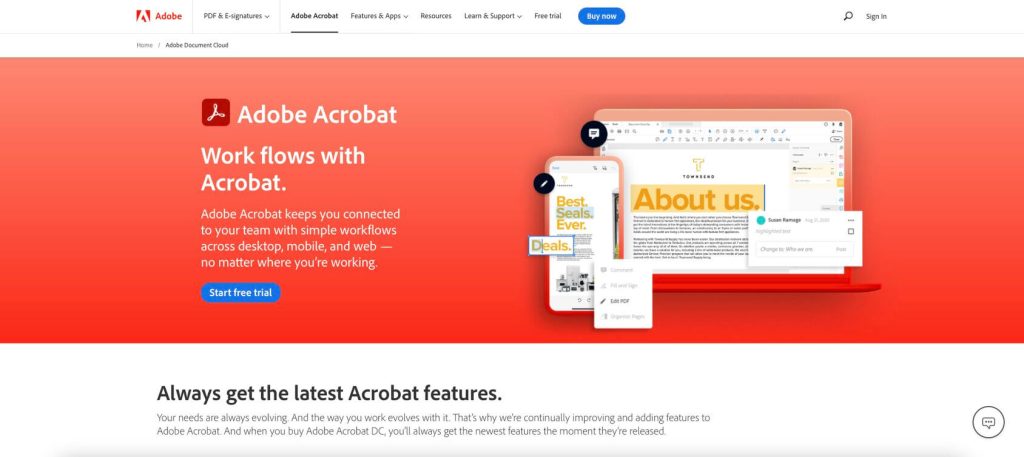 It's not surprising that Adobe Acrobat DC has made it on to this list. After all, Adobe products always set the highest industry standards for others to follow.
Acrobat DC is a comprehensive solution, allowing you to create, edit, and revise your documents quickly and efficiently. The only issue is the slightly steeper learning curve you'll have to overcome if you want to use this solution to its full potential.
Key features
Comprehensive editing tools – edit text and images, add comments, compress files, use OCR to make scanned documents editable, and more;
Document conversion – you can convert virtually any type of document into a PDF, then export it to different file types;
eSignatures – use Adobe Acrobat DC to fill in and request eSignatures and prepare forms;
Feedback collection – you can send files for comments and easily collect feedback on documents from your teammates; and
Advanced security – you can protect your PDFs, preventing them from being copied, edited, or printed.
Pricing and plans
Adobe Acrobat DC has a variety of subscription options suitable for individuals and teams.
Acrobat Standard DC individual plan 
$12.99 per month 


1-year plan billed as one payment of $155.88
The Standard plan allows you to create and export PDFs, modify page order and content, delete pages, create and send forms, and request eSignatures. You can also combine different documents and file types into a unified PDF, use mobile editing features, and protect your documents.
Acrobat Pro DC individual plan 
$14.99 per month 


1-year plan billed as one payment of $179.88
The Pro version has all of the standard plan features and allows you to compare versions of PDFs to pinpoint the differences, convert scanned files into editable PDFs, redact or remove sensitive information from your files, and validate your documents for ISO and accessibility standards.
Acrobat DC business plan 
$14.99 – $16.99 per month 


1-year plan billed as one payment of $179.99 – $203.88
The basic Business plan contains all of the features of the Standard plan for individuals, plus valuable integrations with tools such as Microsoft 365 and SharePoint, advanced 24/7 tech support, a unified admin console, and more. The price will depend on the size of your team.
Acrobat DC for enterprise
Acrobat DC for enterprise has all of the features included in the Business plan, plus the ability to assign multiple admins, deploy with select users based on your SSO, enterprise ID, or Adobe ID, and receive volume discounts.
Acrobat Pro DC for students and teachers 
$14.99 per month 


1-year plan billed as one payment of $179.88
With this plan, you can create and export PDFs, edit text and images, convert scanned documents, and edit text and images using your mobile device. You can also add comments to your PDFs and reorder, delete, and rotate your PDFs via your smartphone or tablet.
Creative Cloud All Apps 
Includes all of the Acrobat Pro features, plus over 20 additional apps, including Photoshop, Illustrator, InDesign, and more.
Visit Adobe Acrobat DC for additional information >>
Nitro PDF — Best for desktop Windows users 
Although Nitro PDF is also available for Mac, it's one of the best PDF editors for Windows users. Anyone who's used Microsoft Office in the past will immediately understand how they can use Nitro PDF.
With a clean interface, user-friendly design, and powerful editing features, it's just as valuable for casual users as it is to businesses that need to stay on top of their documents.
Key features
Customization options – you can add logos, branding, watermarks, and custom designs to your PDFs;
OCR available in multiple languages – you can scan documents and convert them into readable PDFs in several languages, including English, German, Finnish, Dutch, Italian, Spanish, and more;
Interactive elements – add clickable hyperlinks to your PDFs and embed any electronic file;
Bates numbering – assign identifiers to each page on legal documents; and
Cloud storage integrations – Nitro PDF has valuable integrations allowing you to store your PDFs directly in your cloud.
Pricing and plans
Nitro PDF offers different subscription options for Windows and Mac users.
Nitro PDF Pro Essentials for Mac  
$129.99 per user


One-time payment. 
With the Nitro PDF Pro Essentials plan, you can access up to 20 licenses, create, combine, and edit PDFs, convert files to and from PDFs, create markups and annotations, digitally sign and certify documents, use the customizable ribbon tab, and more.
Nitro PDF Pro for Mac 
$179.99 per user


One-time payment. 
With the Nitro PDF Pro for Mac, you receive all of the Essentials plan features, plus batch and edit OCR, the option to convert files to Excel or PowerPoint, add and edit permissions, bookmarks, and PDF portfolio.
Nitro PDF Pro for Windows 
$179.99 per user


One-time payment.
Nitro Productivity Pro for Windows has all of the same functionalities as Nitro PDF Pro for Mac, with the additional Windows-only Microsoft Office-like interface.
Nitro Productivity Platform 
Available for both Windows and Mac, this platform is suitable for companies that need 20+ licenses. In addition to the Nitro PDF Pro features, you'll also receive eSignature capabilities, premium customer support, and customer success management.
Visit Nitro PDF for additional information >>
PDFescape — Top online option 
PDFescape is a web-based solution (with a desktop version for Windows) suitable for individuals and small businesses that only need occasional PDF editing capabilities.
Although it only offers basic editing functionality, it has everything that you need to create, modify, and share your PDF documents with ease.
Key features
Seamless annotations – add comments and additional information to your PDFs with a few clicks;
PDF forms – create and share fillable PDF forms;
PDF protection – password protect your PDF files to prevent unauthorized copying and editing;
Conversion functionality – convert to and from PDF, Word documents, and more; and
Compress files – compress your PDF files to make them easier for sharing.
Pricing and plans
PDFescape is one of the most affordable editing solutions available.
Free plan 
The free version enables you to annotate and markup your files, create, fill, and save basic PDF forms, and print to PDF from any application. However, you're limited to only 10 MB/100-page files, and you can only store up to 10 files for seven days.
Premium plan 
$2.99 per month


1-year plan billed as one payment of $35.88
The Premium plan includes all of the Free plan functionalities, plus the ability to edit PDF text and images in existing files, combine and extract individual pages, convert PDFs to other formats, compress your files, and scan paper files to PDF. You have an upload limit of 40 MB or 1,000 pages and can store up to 100 files for 30 days.
Ultimate plan 
$5.99 per month 


1-year plan billed as one payment of $71.88
The ultimate plan comes with all of the premium plan features, plus the ability to create advanced forms, create eSignatures and seals, redact content, and publish your documents. Additionally, files in your storage have no expiration.
Visit PDFescape for additional information >>
Preview — Best editor for macOS 
Preview is Apple's native app, coming pre-installed on all macOS devices. Not quite as powerful as some of the other editors mentioned on this list, it still has functional features that will help you modify your documents. While you won't be able to do extensive editing, you can easily make annotations, highlight text, and more.
Key features
Markup tools – add notes or offer feedback on your PDFs;
Live text – copy parts of the text that appear in a photo;
Page editor – add, delete, and rearrange pages in your PDFs;
eSignatures – create an eSignature using Trackpad, then add it to your PDFs; and
Effects – apply filters or change the colors of your PDFs.
Pricing and plans
If you're running the macOS 10.14 Mojave version or later, your device will come with a free, pre-installed Preview app. You can use all of the available features without paying a dime.
Visit Preview for additional information >>
PDFelement — Great for beginners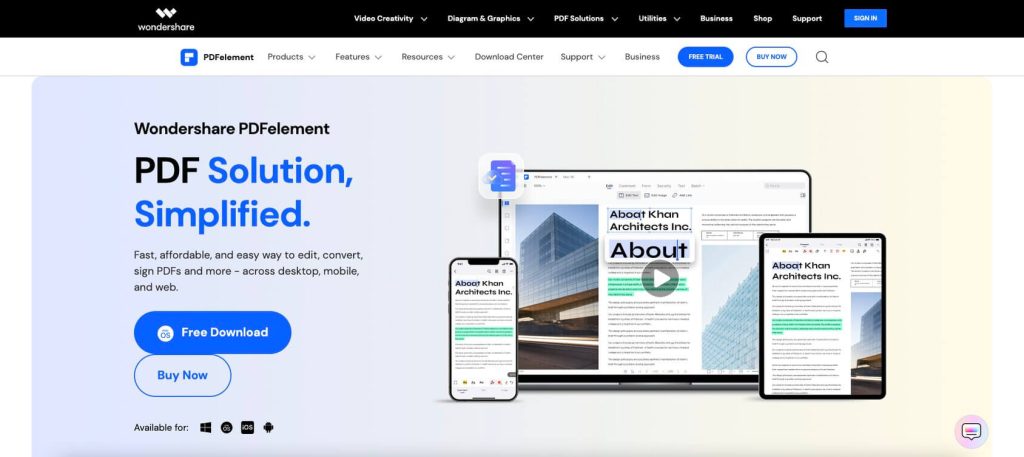 Developed by Wondershare, PDFelement is one of the most beginner-friendly solutions on the market. Even those who've never seen a PDF before can easily start using it. However, just because it's beginner-friendly doesn't mean that it's light on features. PDFelement boasts robust capabilities that make it a powerful editing solution.
Key features
Cloud storage – depending on the plan you choose, you can receive between 1 GB and 100 GB of cloud storage;
Robust editing tools – you can edit text, images, watermarks, links, header and footer, background, and Bates numbers;
Page editor – add, combine, split, replace, extract, reorder, and erase pages with ease;
Conversion options – convert PDFs to and from Word, Excel, PPT, PDF/A, TXT, EPub, or HTML; and
eSignatures – create your own unique eSignatures and include them in your PDFs.
Pricing and plans
PDFelement has unique plans for individuals, businesses, and educators, and you can also choose from cost-saving bundle options.
PDFelement Professional for Windows OR Mac
$79.99 per year 

$129.99


One-time payment.
This plan is best-suited to individual users. You'll receive 1 GB of cloud storage, OCR capabilities, batch document processing, and robust editing features.
Bundle PDFelement Professional for Windows AND Mac
$139.99 per year 

$219.99


One-time payment.
Includes all Professional features for Windows, with full access to the iOS platform.
PDFelement Professional for teams 
Includes all Professional features, plus the flexibility to track and manage your license across teams.
PDFelement Professional Business 
Includes all Professional features with customizable plans for teams of over 20 individuals.
PDFelement Education for students
$47.99 per year


PDFelement Pro for Windows

$99.99 perpetual (one-time fee) license


PDFelement Pro for Windows

$67.99 per year


PDFelement Pro for Windows + Mac + iOS + Cloud
Educators can also receive unique plans for classes of over 20 students.
Visit PDFelement for additional information >>
PDF Expert — Simple user interface 
PDF Expert is a solution designed solely for Mac users. It has a highly intuitive user interface with a minimal learning curve – as soon as you click on the text in your PDF, the relevant editing tools will slide out and provide everything that you need to modify your document. The only drawback is that PDF Expert doesn't handle large documents as well as it should.
Key features
Reading mode – PDF text is automatically adjusted to fit your screen size;
Easy search – search through the document and your notes for a specific word or sentence;
Editing tools – fix typos, add new paragraphs, and modify your text;
Write and draw – add notes or even drawings to your PDFs; and
Audio notes – record your notes and include them in your PDFs.
Pricing and plans
PDF Expert offers a generous free version as well as paid plans that unlock more features.
Free plan
The free app allows you to seamlessly edit text and images in your PDFs, make annotations, create notes, and fill out forms.
Yearly plan 
$6.67 per month


1-year plan billed as one payment of $79.99
With the Yearly plan, you can use PDF Expert across iPhone, iPad, and Mac devices, unlock advanced editing tools, access valuable PDF conversion options, take advantage of the OCR tech, sign documents, and more.
Lifetime plan 
$139.99 


One-time payment. 
The Lifetime plan includes all of the functionalities of the Yearly plan, but you'll have limited access to future updates.
Visit PDF Expert for additional information >>
pdfFiller — Great for making PDF forms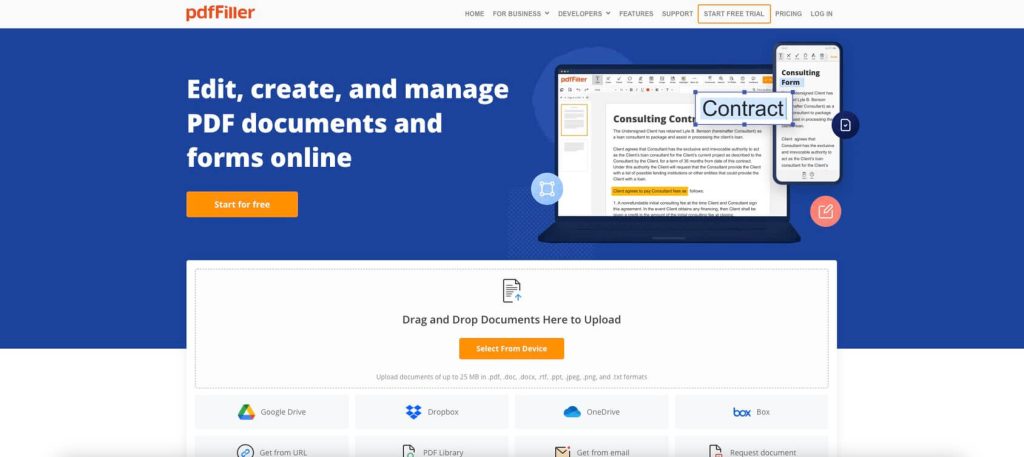 PDF Filler is a comprehensive editing software jam-packed with useful features. It is especially valuable for those who frequently make PDF forms, handle large volumes of digital paperwork daily, or even for those trying to make additional money online by selling eBooks.
Key features
Type in PDF – you can type into a PDF document in the same way that you would with any other document format;
PDF toolbar – intuitive toolbar where you can add text, checkmarks, images, dates, and eSignatures;
Spell checker – use the online spell checker to eliminate mistakes and typos;
API – include PDF Filler functionality in any app you're using; and
Advanced security – create encrypted files and audit trails and ensure HIPAA compliance.
Pricing and plans
PDF Filler offers a 30-day free trial with all subscription plans, allowing you to test a solution before committing to it.
Basic
$10 per month 


1-year plan billed as one payment of $120
Enjoy all of the basic editing features, convert PDFs to word documents, add highlights and annotations, and access your documents from anywhere. Additionally, receive expert customer support within a day.
Plus
$12 per month 


1-year plan billed as one payment of $144
With the Plus plan, you receive all of the editing tools and features as well as the added ability to create reusable templates, merge and rearrange pages, add fillable fields, and more. You can also enjoy customer support responses within 30 minutes.
Premium
$15 per month 


1-year plan billed as one payment of $180
With the Premium version, you can enjoy all of the Plus plan benefits with several additional features. Use SignNow to send eSignature requests, take advantage of the US legal forms library, create advanced workflows, and collect and export data with ease. Additionally, receive instant chat customer support.
Visit PDF Filler for additional information >>
Kofax Power PDF — Good real-time collaboration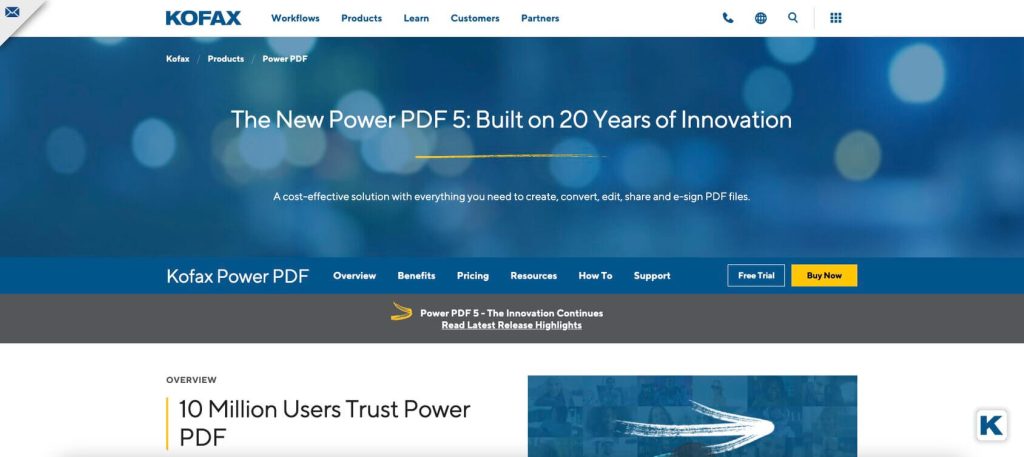 Kofax Power PDF is a flexible solution that offers access to advanced editing features. You'll enjoy the office-style interface that makes team collaboration a breeze. Often considered the affordable Adobe alternative, its robust functionality is valuable to anyone who has to edit PDF documents regularly.
Key features
User-friendly – intuitive office-style interface for both Windows and Mac users;
PDF conversion functionality – convert PDFs to or from any file type;
Advanced security – protect your documents with passwords, high-end encryption, and unique permissions;
Mobile support – you can view, markup, annotate, sign, and share PDFs using your smartphone; and
Collaboration tools – create and edit PDFs through your local network or self-hosted servers.
Pricing and plans
Kofax Power PDF offers no monthly subscriptions. Instead, you only have to pay once and use your solution for a lifetime. Free trials are available with all plans.
Power PDF Standard for Windows and Mac 
Gain access to a powerful editor, create PDF documents, add password protection, request eSignatures, and more.
Power PDF Advanced for Windows 
Includes all Standard features, plus reduction capabilities, Bates numbering, and enhanced security.
Power PDF Advanced Volume  
Includes all Advanced features for over five users with a single license. You can enjoy flexible network deployment, gain access to a collaboration server, and receive a custom installation package.
Visit Kofax Power PDF for additional information >>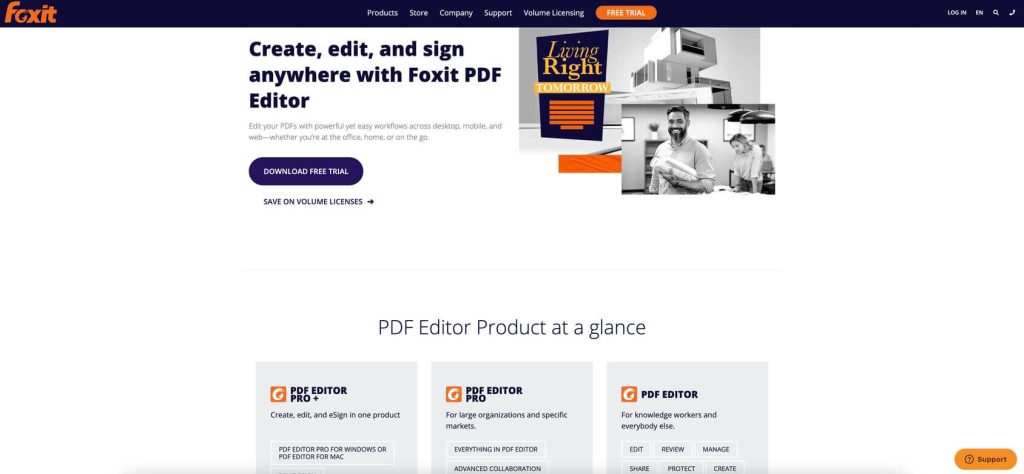 Foxit PDF Editor is a feature-rich solution with excellent security. It makes creating, editing, and modifying PDFs smooth and straightforward – and if things don't seem to be going your way, you can always contact their responsive customer support for help.
Key features
Accessibility features – you can enable document accessibility to ensure that even readers with disabilities can understand your files;
Legally-binding eSign capabilities – create and request eSignatures with ease;
Powerful editing tools – seamlessly change document layout, text size, and font, add multimedia, and more;
Live collaboration – collaborate on PDFs simultaneously with your teammates; and
Data protection – redact and remove sensitive information and metadata from PDFs, organize access permissions, and use password encryption to protect your data.
Pricing and plans
All Foxit PDF Editor plans come with a free trial so that you can see what you're getting before making an investment.
PDF Editor
$79 per year

$159 


One-time payment.
PDF Editor allows you to edit, view, and print PDFs, create PDF documents and forms, export files to Microsoft Office, and scan, convert, and obtain OCR hardcopies. It is supported on Windows, macOS, Cloud, iOS, and Android. You'll also enjoy basic collaboration and sharing functionalities, document security, and accessibility features.
PDF Editor Pro  
$99 per year

$179


One-time payment.
Includes all PDF Editor features, plus advanced collaboration and sharing, document security and accessibility features, action wizards, and high compression for scanned PDF documents. It is supported on Windows.
PDF Editor Pro + 
Includes all PDF Editor Pro features, plus Foxit eSign service, PDF Editor for cloud service, and PDF Editor for mobile. It is supported on Windows and macOS.
Visit Foxit PDF Editor for additional information >>
What does a good PDF editor have?
PDF editors are available in many different options. Some offer simple, rudimentary editing features that are almost worthless to businesses but indispensable to students. Others are sophisticated solutions with advanced capabilities suitable for enterprises but not small business owners.
To find a good PDF editor, you must examine your options carefully and identify your specific needs before making your choice. Obviously, you also have to assess the software's features, security, and price.
Essential functions
For any editor to be useful, it needs to have these essential functions:
Ability to create and edit PDFs,
Ability to convert different file types to and from PDF;
Cross-platform functionality;
Search option; and
Advanced security.
Of course, you should also consider the design. Is it user-friendly and intuitive? Can you use the editor without wasting hours whenever you need to find a specific feature? The user experience is critical, so make sure that you choose a solution that doesn't have an impossible learning curve.
Great editing features
The best editing software will offer robust editing features, allowing you to add and remove text and images and redact sensitive information (including sensitive metadata). It should also let you create annotations, highlight text, leave comments, change the font, line spacing, text size, and more.
OCR technology and file type support
OCR technology lies at the heart of every great PDF editor. Without OCR, editors wouldn't be able to identify textual information and allow you to modify and make changes to the contents of your PDFs. OCR allows you to scan and edit any file type with ease.
Security features
Even if you're only using a PDF editor to complete a simple college assignment, you need to consider its security features. Without advanced security, it's not only data from your PDF that could be compromised. All information contained on your device (smartphone, tablet, PC) could be threatened if you use editors without advanced security.
Price
Finally, consider the price carefully. The most expensive options aren't always the best, nor are the cheapest options always the worst. However, price does play a part in how functional a solution is.
As a general rule of thumb, cheaper solutions will have only the basic features, while advanced capabilities are usually unlocked with tools with a heftier price tag.
Best options
While there are countless excellent PDF editors out there, the best solution for you depends entirely on your unique needs. Take a look below to find some of the best tools for different purposes, but be sure to test out a few solutions yourself before you make your choice.
Best value for money
While it's easy to assume that more expensive PDF editors are inherently more valuable, that's not always the case. Many cheaper (and even free) solutions offer powerful features that can help you to stay on top of your documents with ease.
Best features
Although PDF editors are relatively straightforward solutions, many come with unique features that help you to make the most of your files. Along with the ability to modify and edit text and photos, the best editors can also help you to create and request eSignatures, leave comments, take notes, and more.
Best security
Security is never something to take lightly. Your PDF documents could contain an abundance of sensitive information that could easily be compromised if they fall into the wrong hands. Always choose solutions with advanced security that help you to keep your data protected.
FAQs
What does a PDF editor do? 
PDF editors are simple tools that enable you to modify the contents of your PDFs. You can use them to create new PDFs from scratch or scan physical documents and turn them into PDFs. Convert other types of files (including Excel documents and even images) into PDFs, modify text and images in your documents, merge different files into one, remove and redact pages, and more. 
What is OCR? 
In a nutshell, Optical Character Recognition (OCR) is a feature that enables programs to recognize and read text from scanned documents, image PDFs, and photos. With the help of OCR, your PDF editor can convert images of typed, printed, and even handwritten texts into machine-readable texts. 
Should I use a free PDF editor? 
Free PDF editors are a safe, reliable solution for those who need to modify their documents occasionally – for a few school projects, one-off tasks, and the like. However, if you need a PDF editor more frequently, it's in your best interest to use paid solutions. As a general rule of thumb, they offer more sophisticated features and advanced security practices that will keep your data safe. 
Conclusion
A powerful PDF editor will enable you to create and modify all your documents with ease, seamlessly add eSignatures, and convert all file types to and from PDF. It will allow you to change your document layout, add and remove pages, and so much more.
Whether you just have to edit PDFs for a one-off school project or handle countless electronic documents a day, the right choice of a PDF editor can make your work significantly easier.
We've selected the aforementioned PDF editors after careful testing and consideration, offering a comprehensive list of only the best solutions. Give one of these editors a try and start editing your documents like a pro.