The Best Phone Services for Business in 2023
Top 10 Phone Service Providers for Business Organizations
FirstSiteGuide is supported by our readers. When you purchase via links on our site we may earn a commission.
Read More
The Best Phone Services for Business in 2023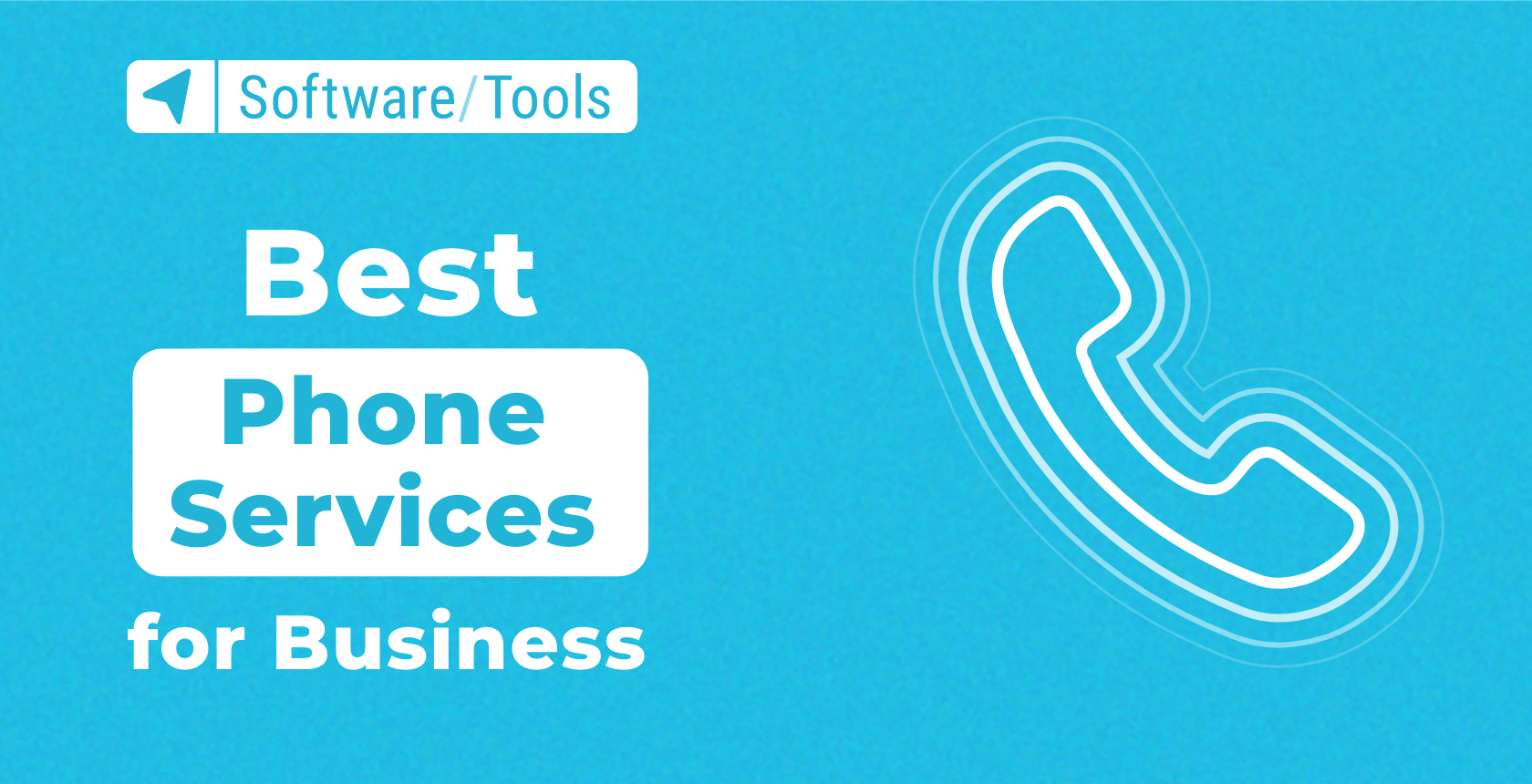 In our modern world, maintaining communication with your customers and partners is the very lifeblood of business. However, finding the right communication solution in a highly competitive business communications market can take a lot of work because there are so many options available.
Adding a high-quality, easy-to-use phone service can help your customer support and service agents to efficiently manage calls with customers. If you're the owner of a small business website or an online store, having an active phone service can help you to expand your operations.
EDITORS' CHOICE (JUNE 2023)
Top 10 phone services for business
In addition, an effective phone system is vital to building meaningful connections and long-lasting customer relations. With this in mind, let's review the top business phone service providers to help you to choose a solution that will best match your business needs.
---
Nextiva — Most calling features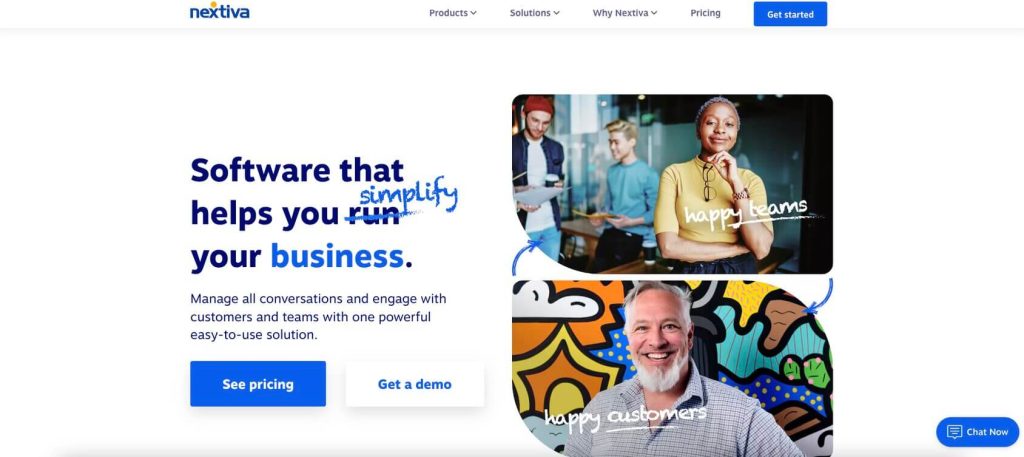 When it comes to ease of use and a wide range of features, nothing beats Nextiva. This company also offers reasonable pricing, a quick setup, and a user-friendly web-based admin interface to help businesses streamline communications via a unified phone system.
Aside from essential features, such as text messaging, online faxing, unlimited calling, and call routing, Nextiva offers various enhancements and functionality that you won't find with any other phone service provider.
Key features
AI-powered tools – use the potential of AI features, such as conversational AI and advanced interactive voice response.
Call management – utilize call routing, transferring, forwarding, and blocking, as well as caller ID and multi-level auto attendants, all in one place.
Call analytics – assess your Google Ads calls, conversion rates, and overall business performance.
Easy implementation – purchase or rent Nextiva phones, port existing numbers to the platform, or use your existing devices.
UCaaS functions – access to unified messaging, enterprise telephony, instant team messaging, and web, video, and audio conferencing in one place.
Pricing
Nextiva offers two pricing plans: Professional and Enterprise.
Professional
The Professional plan provides 24/7 customer support, free local and toll-free numbers, unlimited internet fax, and voice calling. It also includes voicemail to SMS and email, team collaboration tools, business text messaging, and unlimited audio/video meetings.
Enterprise
In addition to Professional features, clients receive advanced call management, Salesforce, and Microsoft integrations, audio/video conference recording, call recording, and voice analytics.
Visit Nextiva for additional information >>
Grasshopper — Great option for freelancers and one-person companies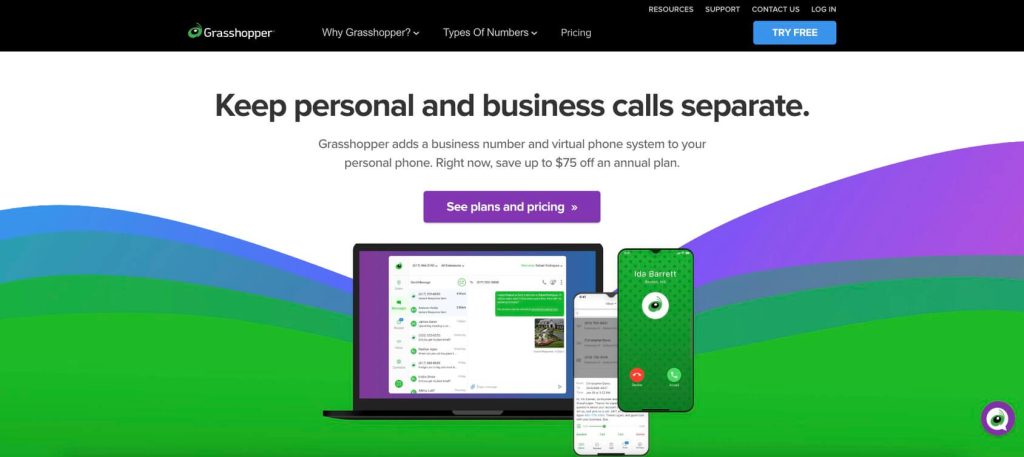 Grasshopper is an excellent solution for one-person companies, freelancers, small teams, and sole proprietors. Instead of breaking your budget on robust corporate phone solutions with complicated setups and massive software requirements, you can use a simple and affordable call-forwarding service.
Grasshopper provides features for creating a personalized business phone number to keep your ID private while pushing important calls to your personal line. Although you won't have an abundance of integrations or outbound calling features, Grasshopper can offer ease of use, basic analytics, and unlimited call minutes.
Key features
Route or block calls – block unwanted calls and route important conversations according to your business needs.
IVR – record messages to engage your callers, set up smart routing options, and identify incoming callers.
Ruby integration – integrate your phone system with Ruby and deploy third-party auto attendant.
Virtual phone system – combine a virtual phone system (call handling, extensions, custom greetings) with your business number and seamlessly forward your calls.
24/7 support – receive access to 24/7 customer service via live chat, Facebook, Twitter, email, and phone.
Pricing
Grasshopper offers three pricing plans: Solo, Partner, and Small Business.
Solo 
$26 per month


(billed annually)
The Solo plan offers one local, toll-free, vanity business phone number with up to three forwarding extensions. Clients also receive virtual fax service, VoIP and WiFi calling, and voicemail.
Partner 
$44 per month


(billed annually)
The Partner plan offers three business phone numbers with six forwarding extensions, mobile and desktop apps, text messaging, voicemail transcriptions, instant responses, and custom pre-recorded greetings.
Small Business 
$80 per month


(billed annually)
In addition to Solo and Partner features, the Small Business plan provides advanced reporting, incoming call control, simultaneous call handling, and call transfers, including unlimited forward extensions and five business phone numbers.
Visit Grasshopper for additional information >>
Aircall — Easy to set up 
Aircall is an ideal solution for business organizations that are buried by customer calls. If your organization is struggling with heavy phone traffic, Aircall can help you to mitigate high call volumes without sacrificing the quality of your customer service.
Along with effective phone system management, Aircall offers advanced analytics to help you to measure your team's performance and discover areas for improvement. Finally, clients receive CRM integrations and intuitive data filters for data analysis.
Key features
IVR – manage your incoming calls and provide menu guidelines for your customers.
Call routing – set routing sequences according to your business phone needs.
Queue callback – provide customers on hold with callback options instead of keeping them on hold.
Parallel calls – manage two callers simultaneously and prioritize callers by pausing less important calls.
Call blocking – create a handpicked list of unwanted numbers to filter out spam.
Pricing
Aircall offers a three-tiered pricing structure that includes Essentials, Professional, and Custom pricing plans.
Essentials 
$30/month/user


(billed annually)
Essentials provides an easy-to-use and manage voice solution with options to add up to three users, over 50 integrations, API access, SMS messaging, IVR, call recording, unlimited outbound calling, and more.
Professional
$50/month/user


(billed annually)
In addition to the Essentials features, you receive Salesforce integration, call tagging, call monitoring with advanced analytics, and callback queuing.
Custom
Contact to receive a quote.
The Custom plan includes all Professional features plus API access, SLA, custom onboarding and analytics, unlimited outbound calls, and more.
Visit Aircall for additional information >>
GoToConnect — Offers video conferencing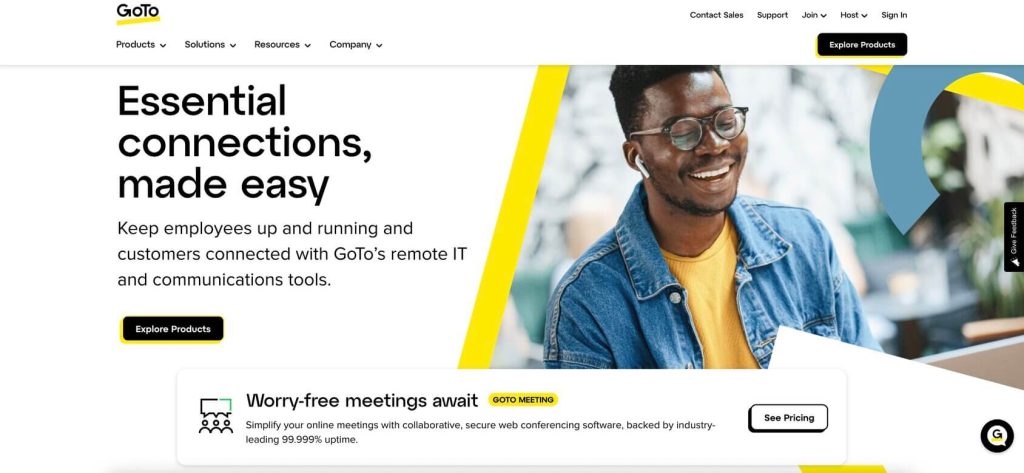 GoToConnect is an exceptional phone service provider for businesses because it allows users to access multiple features at an affordable price. This makes it an ideal solution for small teams.
Aside from being packed with features, the basic plan offers one call queue, one ring group, and one auto attendant recorded greeting.
Even though GoToConnect doesn't offer AI-powered features, the brand makes up for it by providing an easy set-up for all-cloud VoIP and hosted PBX systems.
Key features
Local vanity or toll-free numbers – choose from multiple numbers and add up to 20 users per number.
Video and audio conferencing – take your video meetings to the next level and add up to four participants per session.
Cloud-based phone system – place and receive calls inside/outside your organization and integrate your entire team collaboration under a single platform.
Dial plan editor – use a drag-and-drop interface to create and personalize team call flows.
Call monitoring tool – track, monitor, and manage employee calls and generate reports to visually represent your phone communications.
Pricing
GoToConnect offers three pricing plans: Basic, Standard, and Premium.
Basic
The Basic plan includes basic meeting features, including voicemail messages to your email, charged-per-minute international calling between 50+ countries, seamless call management, unlimited extensions, and more.
Standard 
The Standard plan provides a fully-featured video conferencing system with chat and phone features, such as unlimited customizable dial plans, ring groups, call queues, call recording, real-time analytics, and the option to add up to 150 meeting participants.
Premium 
The Premium plan includes all Basic and Standard features plus an exclusive support center with functionalities such as a supervisor dashboard, customizable admin controls, inbound/outbound call monitoring, and agent-specific performance monitoring.
Visit GoToConnect for additional information >>
Phone — Affordable option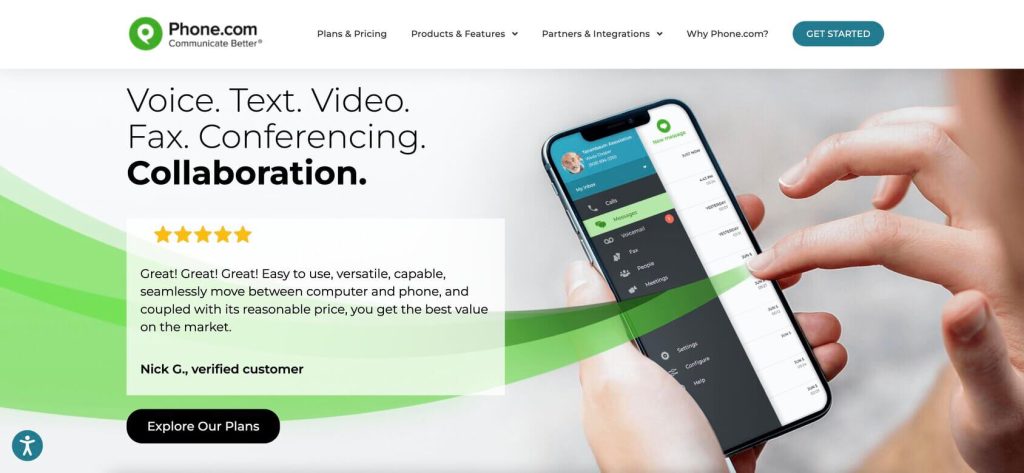 Phone.com is a high-end business phone service that offers an app and web-based administration interface with essential features such as video conferencing, conference calling, caller ID, call routing, call forwarding, and more.
Business owners might find Phone.com to be their best option due to affordable local call minutes for Canada and EU countries. In addition, Phone.com offers third-party software integrations such as Zoho and Salesforce.
Key features
Local numbers – create a professional appearance for your customers by adding your personal numbers to your business phone system.
Vanity toll-free – build your brand credibility by adding 800, 888, or 877 custom toll-free numbers to your business.
HIPAA compliance – ensure HIPAA-compliant text messaging for your customers and keep sensitive information off limits.
Video meetings – facilitate communication with customers from any device by providing a first-class web, video, and audio web conferencing experience.
Live receptionist – add availability, flexibility, and versatility to your live answering service with advanced appointment booking, multiple extensions, high call volume, voicemail box, and more.
Pricing
Phone.com offers three pricing plans: Basic, Plus, and Pro. Clients can choose to pay monthly or annually (20% savings). All plans include volume discounts and a 30-day money-back guarantee.
Basic 
$11.99/month/user 


(billed annually)
Basic users receive one business phone number per account, 500 calling minutes, 1000 texts, 10-participant video conferencing, web and mobile app access, and 50 voice features.
Plus
$15.99/month/user 


(billed annually)
Plus users access all Basic features plus unlimited minutes, conversational text messaging, HIPAA-compliant video conferencing with video recording, voicemail transcription, and an IP desk phone.
Pro
$11.99/month/user 


(billed annually)
Pro includes all Plus features and adds call analytics, call recording, CRM integration, YouTube live streaming, HiHi transcriptions, and 100-participant video conferencing.
Visit Phone for additional information >>
Vonage — Good for companies that want long-term service
Vonage allows users to tailor their business phone systems to their exact business needs by offering more than 50 features across three pricing plans.
Along with exceptional customer support and network reliability, Vonage provides data center redundancy, automatic failover, QoS reporting, 99% uptime, and multiple customer support communication channels.
Since Vonage enables cross-platform collaboration, it's an ideal solution for organizations of varying structures and sizes.
Key features
Vonage app center – integrate multiple business apps to fine-tune the Vonage platform according to your business needs.
Soluto-powered SupportPlus – 24/7 personalized and prioritized customer support with highly trained agents, self-service webinars, FAQs, user guides, and omnichannel communications.
Setup guide service – receive assistance from sales representatives to help you set up the platform.
Remote support – provide support to your remote team with unlimited team messaging, seamless mobile and desktop integrations, SMS messaging, and softphone calling.
Amazon Chime-supported video conferencing – add up to 100 participants to your video conferencing sessions with file sharing and chat options.
Pricing
Vonage offers three pricing plans – Mobile, Premium, and Advanced.
Mobile
$19.99/month/line 


+ fees and taxes
The Mobile plan allows you to connect your desktop and mobile apps to create a unified communications platform for remote support with unlimited SMS, calls, team messaging, and access to the Vonage app center.
Premium
$29.99/month/line 


+ fees and taxes
Add up to 100 participants to unlimited video meetings and access CRM integrations, IP desk phone, and multi-level auto attendant.
Advanced
$39.99/month/line 


+ fees and taxes
Harness the power of premium calling features to level up your productivity with visual voicemail, interactive call groups, and on-demand call recording (up to 15 hours).
Visit Vonage for additional information >>
1-VoIP — Offers pay-as-you-go solutions 
1-VoIP is an excellent solution for business organizations that need flexible business phone services. The company's pay-as-you-go pricing structure makes 1-VoIP one of the most affordable phone services in the marketplace.
Instead of paying a flat monthly fee for a fixed range of services, you can choose the features you need and only pay for the services that you use. Every 1-VoIP pricing plan includes over 40 standard features such as voicemail, custom hold music, digital queues, and configurable caller ID.
Key features
Extension transfer – make calling easier by call-transferring to any phone.
Call recording – ensure top-class quality assurance with each call.
Queues – create custom messages for your callers and exert control over caller answering.
Auto attendant – develop an automated phone tree to direct your clients to individual call agents.
Digital call forwarding – avoid missing important calls by forwarding your office or extension to unlimited destinations.
Pricing
1-VoIP offers three pricing plans: Metered, Corporate, and Professional.
Metered
The Metered plan allows you to choose from over 40 features and pay for what you use at a $0.02/minute rate.
Corporate 
Corporate is an excellent plan for users who need more than 200 minutes per month, and offers standard features for customizing phone experiences, such as virtual fax, custom hold music, and more.
Professional 
The Professional plan gives you access to all available features at lower starting costs, including voicemail, digital queues, and configurable caller IDs.
Visit 1-VoIP for additional information >>
RingCentral — Flexible features and great integrations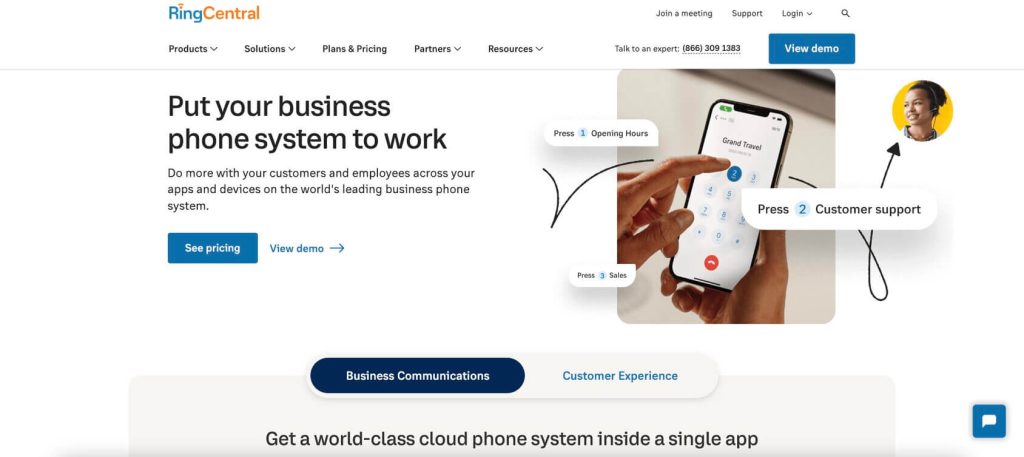 RingCentral is a fantastic all-in-one business phone solution for business organizations that need both desk and remote phone systems.
With top-rated Android and iOS apps, RingCentral allows businesses to develop a functional phone environment with over 250 integrations, SMS messaging, unlimited faxing, team messaging, file sharing, and international calling plans.
In addition, clients receive access to three-tiered 24/7 live chat/phone support.
Key features
UCaaS tools – encompasses file sharing, team and SMS messaging, 200-participant video conferencing, and unlimited faxing.
Admin portal – establish seamless admin management with real-time call tracking, versatile call recording, and more.
RingCentral mobile app – manage your business phone system on a phone, tablet, and other mobile devices.
RingCentral Rooms – connect your hybrid teams in and outside the office by creating personalized meeting rooms.
Softphone integrations – automate your business phone system by integrating top-grade business communication apps.
Pricing
RingCentral offers four pricing plans: Essentials, Standard, Premium, and Ultimate.
Essentials 
$19.99/month/user


(billed annually)
Essentials provides access to standard features such as toll-free numbers, free minutes, SMS messaging, voicemail-to-text, team messaging, call management, mobile apps, and call log reports.
Standard
$27.99/month/user


(billed annually)
Standard includes all Essentials features plus analytics suite, advanced call menu, unlimited video conferencing, unlimited internet fax, and virtual desktop integrations.
Premium
$34.99/month/user


(billed annually)
Aside from Standard features, Premium offers custom, multi-site administration management and popular industry-specific CRM integrations with Zendesk, Salesforce, Canvas, Smarsh, and more.
Ultimate 
$49.99/month/user


(billed annually)
In addition to Premium features, you receive advanced reporting, unlimited storage, device status alerts, custom and developer platform integrations, real-time analytics, and more.
Visit RingCentral for additional information >>
Dialpad — 100% uptime guarantee 
If you're looking for a business phone system with real-time analytics and a 100% uptime guarantee, Dialpad is the right choice. Although many phone service providers offer top-grade analytics, Dialpad takes feedback gathering and analysis to the next level.
Thanks to its AI-powered analyses, you can improve your customer phone communications. In addition, you receive file sharing, audio-only chat rooms, video conferencing, team messaging, and access to UCaaS features. Every user gets a 14-day free trial to test the service before committing.
Key features
UCaaS set – SMS and team messaging, audio/video conferencing, chat rooms, and real-time analytics.
Real-time customer feedback – gather and analyze customer feedback in real time and make improvements to your phone calls on the go.
HD calls – avoid dropped calls with 100% uptime SLA.
Custom IVR – track and manage conversations and set custom call routing rules to sort incoming calls more efficiently.
Call summaries – receive notes, snippets, action items, and call transcriptions in your inbox.
Pricing
Dialpad offers three pricing plans: Standard, Pro, and Enterprise.
Standard 
$15/user/month


(billed annually)
The Standard plan offers access to basic features, such as chat/web support, unlimited video meetings, Microsoft/Google Workspace integrations, voicemail transcriptions, and unlimited calling.
Pro 
$25/user/month


(billed annually)
The Pro plan includes Standard features and adds CRM integrations, open APIs, global SMS coverage, local number support in over 70 countries, and more.
Enterprise 
Contact to receive a quote.
Enterprise is an all-encompassing pricing plan that includes all Pro features plus 100% uptime, data retention policies, priority live support, SSO integrations, dial by extension, and more.
Visit Dialpad for additional information >>
Mitel's MiCloud Connect is a cloud-based business VoIP phone service for business organizations in need of comprehensive collaboration tools and contact center solutions. This platform operates on Google Cloud and offers full compliance with SOC 2 and HIPAA regulations.
MiCloud Connect is an all-in-one business communications solution that includes integration options, a contact center, group chat, VPN, web sharing, and audio conferencing in one unified platform.
Key features
Google Cloud – ensure SOC 2 and HIPAA compliance for your business phone system.
Mitel hosted PBX – set up one-click system management and run your business phone through mobile devices on the go.
SLA performance – make your phone system more efficient with 99% uptime.
VoIP – get call management, routing, paging, forwarding, and transferring under one roof.
Multi-office environments – move data and applications seamlessly, enhance security, and manage communications anywhere.
Pricing
Mitel doesn't offer insights into its pricing structure on the official website. You need to contact sales to request a quote.
Visit MiCloud Connect for additional information >>
How to choose the best phone services for your business
While this list outlines top business phone solutions, it isn't all-inclusive. In other words, you still need to give careful consideration before choosing a phone system. Here are a few tips to help you to evaluate a phone service and make an informed decision.
Number of features
Since many phone service providers offer numerous features, it's vital to first determine the essential functionalities for your own business organization. Every company is unique and has different needs.
Aside from determining what kind of features that your business needs, we recommend looking for phone services with reliable and robust features. You should also select a brand that allows you to upgrade services on the go.
AI solutions
Traditional phone systems are slowly going out of use, giving more space to AI-powered solutions such as VoIP.
AI-based telecommunications can benefit your business in several ways:
Call recording analysis – improve caller experience by analyzing sentiment and identifying areas of improvement for your customer service.
Conversational AI-powered IVR – mitigate your hiring costs by harnessing the power of AI to automatically respond to caller queries.
Chatbots – automate customer interactions and other repetitive tasks.
Advanced web conferencing – improve web conferencing capabilities with speech recognition and real-time language translation.
Price
While you should select an affordable and reliable phone service, you should also look beyond pricing.
Traditional brands may be everyone's favorites, but they can often offer little for modern telecommunication needs.
We recommend looking for business VoIP solutions without hidden fees. Even though you might pay more, you will receive reliable, flexible, and scalable business phone solutions.
Seamless call management
Seamless call management is an essential phone system feature. It ensures that you don't miss any calls, improves agent performance, offers better customer service and experience, and keeps your costs down.
Reliability
Look for a reliable phone service that allows you to scale phone time according to your needs. Brands with a 99% uptime guarantee should be high on your priority list.
Call limits
Call limits can pose many problems for your customer service. Although many phone service providers claim to offer unlimited services, most of them have a drop in quality during heavy phone traffic loads. Read the fine print to see what type of unlimited service a provider offers.
Location flexibility
International availability has many perks. If your business isn't bound to domestic traffic, we recommend opting for a phone service provider with global coverage.
Best options
Here is our selection of the best options based on various metrics such as feature range, flexibility, reliability, ease of use, and pricing.
Best overall
Best for voice intelligence
Best for collaboration
FAQs
Can VoIP support cordless phones? 
VoIP can support cordless phones, desk phones, and softphones. However, you'll need a mobile app or a VoIP adapter to install VoIP on your existing business phone system.
Can I upgrade from landline phones to VoIP? 
Yes, you can easily upgrade your landline business phone system to VoIP if you choose top-rated providers such as RingCentral and Nextiva. These providers allow you to keep the same business line after the upgrade.
How do cloud phones work? 
Cloud telephony requires a VoIP service provider to work. When you want to make a call, your provider routes it, converts it from an analog signal to digital data and transfers it via your internet connection.
How are business phone systems and phone services different? 
While a phone service includes only the features that the client has asked for, a business phone system offers a complete package of services. These include different types of phone systems, a cloud-based or on-premise phone service, virtual phones, desk phones, landline phones, VoIPs, and more. 

A service serves a particular purpose, whereas a system enables the user to create an interactive environment for improving a service.
Should I invest in a phone service for my business? 
If your customer service team would benefit from advanced phone features, consider investing in a business phone service. 

However, before you invest, ask yourself the following questions:

– Does your business need a phone service?
– How many extensions do you need?
– How much phone time do you need?
– Do you plan to scale your operations?
– Is your customer support overwhelmed by the current phone traffic?

These questions should help you to make an informed decision.
Conclusion
Our goal is to provide comprehensive guidelines to help you choose the best phone service according to your specific needs. Each service provider on our list is unique and offers specific advantages and disadvantages.
We recommend taking your time and thoroughly testing each service provider before making a decision. Most providers offer free trials so that new users can test their services. Use these free packages, test different features, and experiment with a variety of traffic volumes to identify the provider that matches your exact telephony needs.