The Best Press Release Distribution Services for 2023
Top Selection of the Leading Press Release Distribution Services Right Now
FirstSiteGuide is supported by our readers. When you purchase via links on our site we may earn a commission.
Read More
The Best Press Release Distribution Services for 2023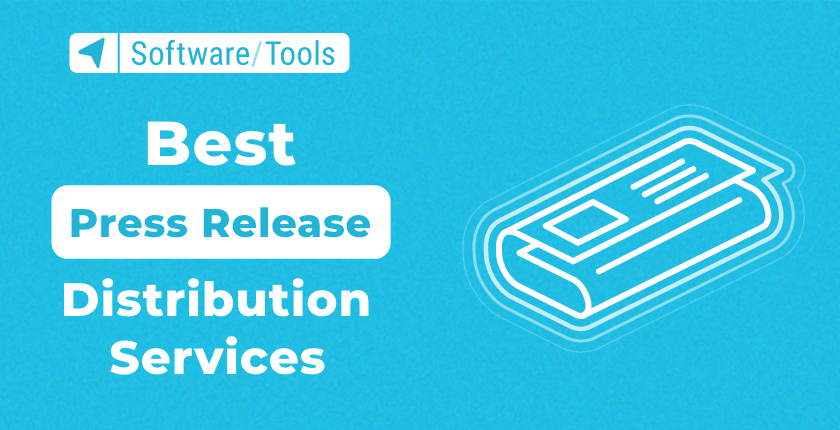 The best press release distribution services provide top-grade features for businesses to help them stand out and accomplish maximum online exposure across available communication channels. They also allow clients to select social media targeting by niche, location, and more.
A company benefits from such services by guaranteeing that its press releases reach their target audience and receive support from leading journalists. A press release distribution service provides your business with merit and social standing by supporting your claims with relevant arguments.
EDITORS' CHOICE (JUNE 2023)
I've gathered this list of the best press release distribution services by analyzing dozens of companies based on their pricing structures, services, and features. This selection of the best press release distribution companies provides the highest value for businesses seeking promotion.
Top 10 press release distribution services
Here's a brief overview of our selection of the most notable press release distribution services.
---
eReleases — Exceptional customer support and personalization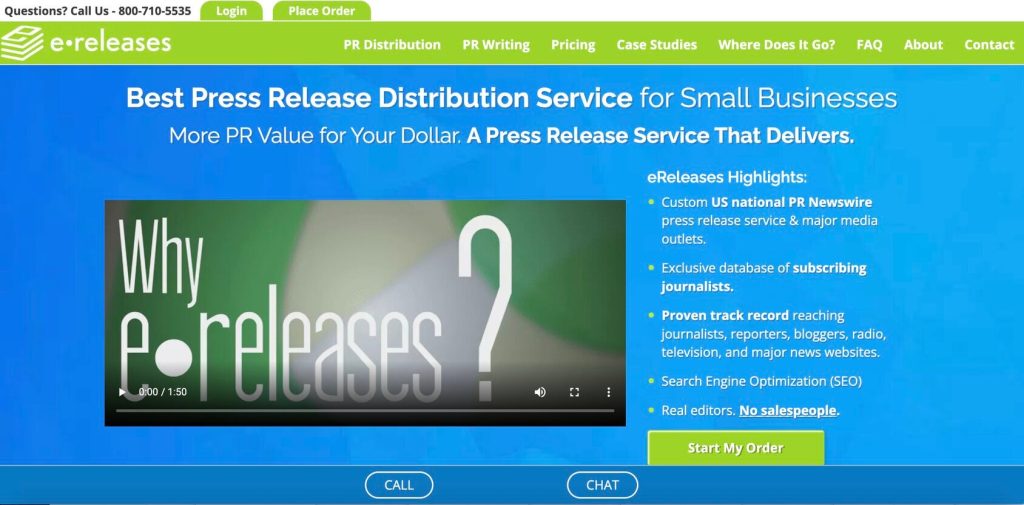 eReleases has been around for over two decades. It's one of the leading PR release services in modern-day journalism. This company caters to small businesses on a tight budget by providing a carefully selected team of professionals to handle content distribution.
Its experts will handle your writing and editing needs and ensure that you receive optimized, SEO-friendly content. With eReleases, you have a better chance of getting your content to a broader audience.
eReleases also offers connections with its custom partner, PR Newswire, which distributes press releases nationwide. This partner can ensure that your press release reaches about 150,000 journalists, 3,000 newsrooms, and over 4,700 blogs, forums, and websites, including GoogleNews and Yahoo.
Key features
SEO options – rank your documents higher in search results.
PR performance measurement – tap into detailed reporting to measure traffic, audience, and engagement.
Press release distribution – use an in-house writer or submit a ready document.
PR Newswire – gain more exposure for your content.
Research tool – access a searchable database listing over 90,000 journalists, reports, writers, and editors.
Pricing
eReleases offers three pricing plans.
BuzzBuilder 
BuzzBuilder secures 400 words and two images for one target industry.
NewsMaker 
This plan offers 500 words and two images for two target industries.
PR Pro 
PR Pro allows you to target three industries and includes 600 words, two images, and SEO.
Visit eReleases for additional information >>
EIN Presswire — Great solution for small businesses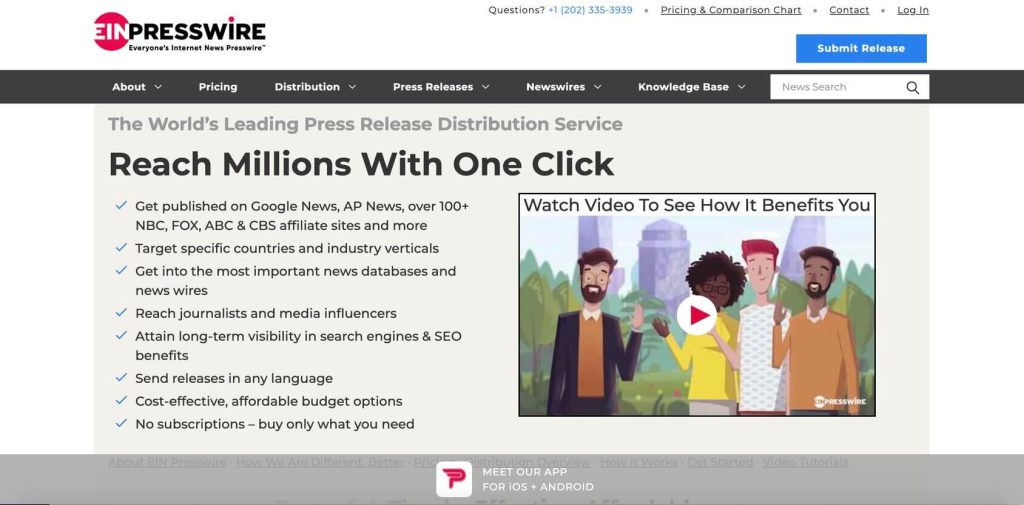 EIN Presswire is an excellent solution for small businesses looking for affordable and reliable press release distribution services. This company provides a well-established distribution network for clients to release regular updates for local and international audiences.
In addition, clients receive access to press releases with multilingual support, distribution to US radio and TV, and a one-hour editorial process with free embedded media. Quick turnaround, top reach, and affordability make EIN Presswire one of the best press release distribution solutions.
Key features
Instant content distribution – have same-day press-release distribution.
Analytics reports – gather metrics to measure your performance via clicks, views, placements, and more.
Free multimedia embedding – enrich your news with videos, images, and other multimedia elements.
Multi-channel presence – distribution to social media channels, local radio, and TV stations.
Target demographics – targeting by location and industry.
Pricing
EIN Presswire offers three pricing packages.
Basic
Receive one press release on one distribution channel, 700 words, and social media support.
Pro+ 
In addition to Basic features, you receive five press releases and five distribution channels.
Corporate 
Combine Basic and Pro+ features and get 2,500 words and 25 press releases.
Visit EIN Presswire for additional information >>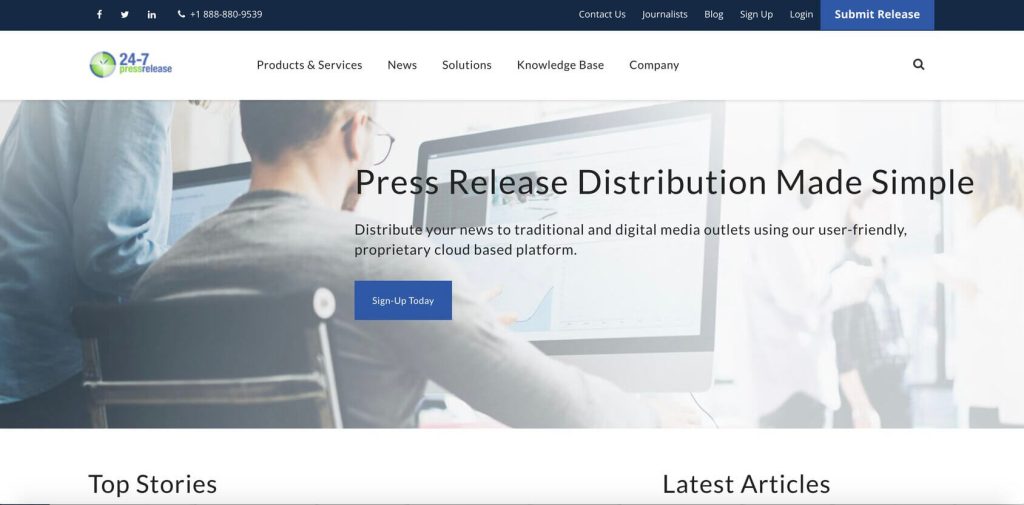 With an intuitive user interface, real-time performance metrics, and affordable and transparent pricing, 24-7 Press Release is the top cloud-based press release distribution solution for businesses of all sizes.
This platform provides access to over 30,000 bloggers, influencers, and journalists who can publish your content to top-grade forums, blogs, social media channels, as well as search engines such as Yahoo and Google.
Key features
Instantaneous reports – track various metrics such as user interaction, shares, traffic, and more.
In-house writers – receive professional help with crafting your press release content.
PR media desk – grow your PR via media desk for journalists, reporters, and bloggers.
PR distribution – publish your content to top blogs, social media, websites, and search engines.
Magazine repositories and newspaper databases – tap into over 1,500 magazines and 3,000 newspaper databases.
Pricing
24-7 Press Release offers four pricing plans.
Visibility Boost 
Increase your visibility and brand presence online with a starter pack that includes 50+ online syndication sites and targeting up to 5 industry categories.
PR Network PLUS 
Receive additional exposure with online media partners and Associated Press.
Integrated Media PRO 
Harness the power of traditional and digital media to reach journalists, newspapers, bloggers, and more.
Mass Media Visibility
Secure maximum online visibility by distributing your news to over 2,500 websites.
Visit 24-7 Press Release for additional information >>
Sitetrail — Competitive prices with global access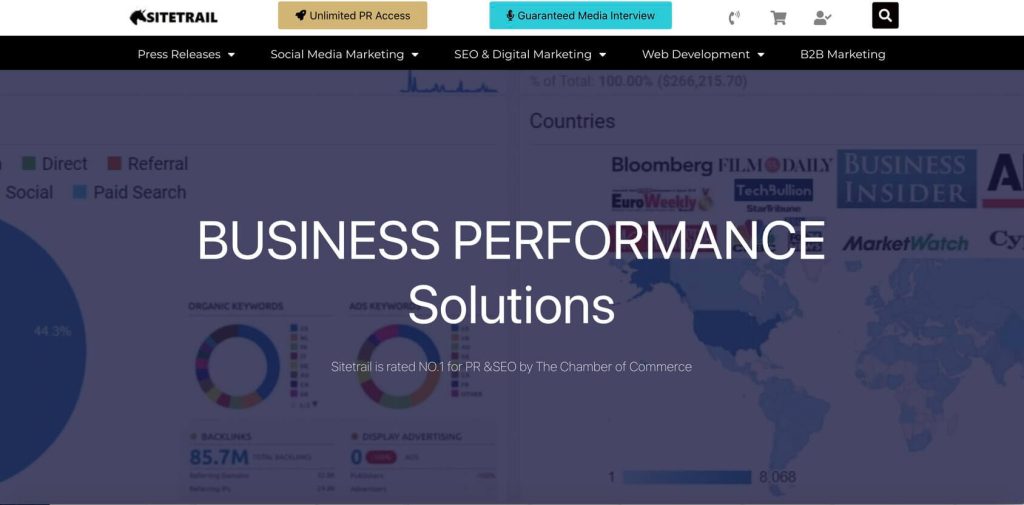 Sitetrail is an excellent solution for clients looking for SEO and editorial news coverage. This company provides everything that you need to generate captivating and well-crafted PR pieces.
More importantly, this platform offers access to a carefully handpicked team of ex-journalists and in-house writers who can provide the latest insights into the industry.
Clients looking for Google News indexing, professional journalistic support, and top-grade DA editorials should consider Sitetrail. They offer unique content and social media authenticity to enhance the notability of their news.
Key features
Dofollow links on high DA sites – publish your news on Yahoo Finance, Forbes, Bloomberg, CNBC, and MarketWatch.
Google News indexing – index as many sites as you want on Google News.
Social media account verification – exclusive access to networks like Twitter, Instagram, Facebook, TikTok, and YouTube.
Journalistic support – craft original news articles with the help of ex-journalists and in-house copywriters.
Embedded media – embed videos and images in your news pieces.
Social authentication – boost your profile to assure readers of your trustworthiness.
Pricing
Sitetrail offers five pricing plans.
Press Release & Editorial News
Receive unlimited international channel distribution and a 700-word news article with in-house editorial and a press release.
Unlimited Press Releases
Publish your news articles to 5 popular Google websites.
Weekly Writing & Distribution
Receive four articles of 700-word per month on news indexed websites.
Premium Brand Awareness
Receive unlimited international distribution, two press releases, and three in-house editorial news.
Accelerated SEO, PR & Google News plan
Receive 14 high domain authority links per month.
Visit Sitetrail for additional information >>
PRWeb — Ideal for data-driven marketing
PRWeb is an ideal, all-around service for companies with any budget. Aside from a user-friendly interface and affordable services, this company offers various performance metrics, online document monitoring and coverage, and automatic content optimization for an increased organic reach.
PRWeb is an excellent solution for improving ranking on popular search engines like Yahoo and Google News. This company also connects clients with high-grade journalists, bloggers, and influencers in over 20 industries.
Key features
Advanced performance metrics – online coverage monitoring, traffic generation, reader engagement, and audience location.
Engagement boosters – optimized content with call-out quotes, images, videos, and hyperlinks to boost your reach.
Enhanced visibility – share your content with over 12 million readers.
Network distribution – publish your news articles on 1,200 websites.
Influencing – connect with top influencers in various industries.
Pricing
PRWeb offers four pricing plans.
Basic
The Basic plan provides a 48-hour turnaround time, increased search visibility, relevant content keyword tagging, and visibility on popular search engines.
Standard 
The Standard plan includes the Basic features and access to over 120 PR Newswire websites.
Advanced 
The Advanced plan combines Basic and Standard features and adds email distribution and expert proofreading.
Premium 
The Premium plan encompasses Basic, Standard, and Advanced features and adds connections with influential bloggers and access to two industry-curated journalist lists.
Visit PRWeb for additional information >>
PR Distribution — PR Distribution – Excellent for international distribution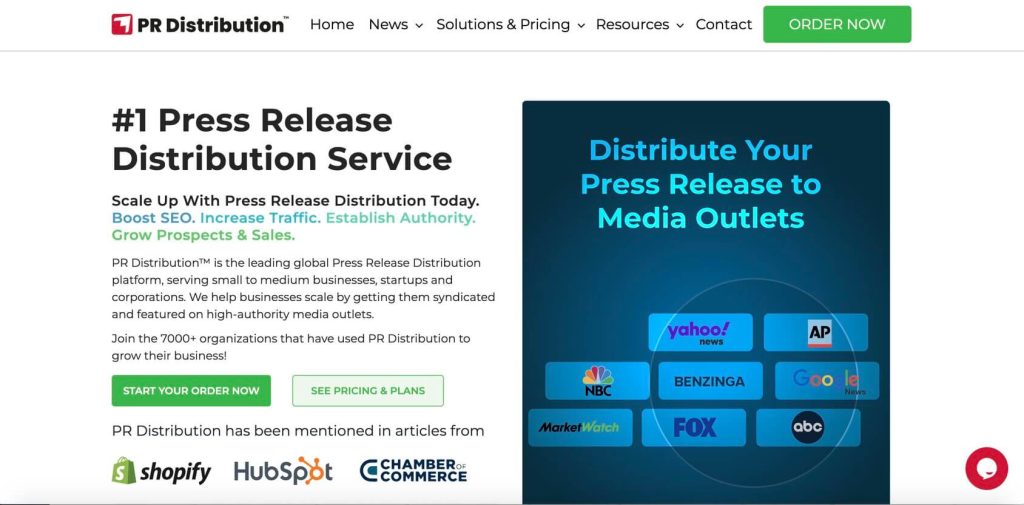 PR Distribution is a perfect press release distribution service for businesses seeking selective audience targeting and international news coverage. This company provides an all-in-one PR solution, including advanced analytics, global distribution, professional in-house editing, and expert writing.
PR Distribution offers access to an international distribution platform for information syndication. Their PR distribution platform provides multi-wire plans for clients that publish their news content to local and international outlets.
All pricing plans include financial feeds, placement and sharing on popular search engines like Yahoo, Bing, and Google, social and visual media, and more.
Key features
Global placement – publish your news articles with over 25 digital and traditional outlets.
Selective targeting – increase your press coverage with industry, local, regional, and national targeting.
Performance measurement – receive up-to-date reports with various performance analytics and metrics.
Media embedding – embed multimedia in your PR content.
Content writing – receive unlimited word count.
Pricing
PR Distribution offers five pricing plans.
Web
This entry-level plan includes unlimited word count, one visual media inclusion, social media shares and distribution, and placements on Google, Bing, and Yahoo.
Web Plus
The Web Plus plan offers web distribution, four embedded media, social syndication, and access to major news outlets.
Web Pro
The Web Pro combines Web and Web Plus features and adds placement on high-authority websites like Ahrefs, Moz, Fox, CBS, ABC, and more.
Multi-Wire Pro 
Multi-Wire Pro encompasses Web, Web Plus, and Web Pro features, including global syndication and access to international Yahoo News.
Multi-Wire Max 
Multi-Wire Max is an all-encompassing pricing plan that includes all available features and placement on top-grade websites such as Microsoft Cortana, Google Home, Amazon Alexa, Apple News, and International Yahoo Finance.
Visit PR Distribution for additional information >>
Cision PR Newswire — Guaranteed placements in some of the most prominent outlets
Business users looking for a press release service for worldwide distribution should consider PR Newswire. This company has a global reach, and its worldwide network includes over 500 news content systems, 400 websites, and 3,000 media outlets.
PR Newswire is a perfect solution for improving lead generation via broad distribution. Their platform allows clients to target different demographics by religion, lifestyle, gender, race, and age. In addition, its premium services also provide brand exposure to over 50,000 Twitter users.
Key features
Worldwide distribution – global access to news content systems, websites, and media outlets.
Mobile access – make your news available on 76 mobile apps.
Demographic targeting – target demographics according to your needs.
Syndication network – deliver your news to Business Journals, CNNMoney, Yahoo Finance, Newsweek, Reader's Digest, CNBC, NewsNow, and New York Magazine.
Real-time analytics – track advanced metrics such as click-through rate, engagement, search visibility, social media shares, and more.
Pricing
PR Newswire doesn't offer insights into its pricing structure on the official website. However, Cision has created a pricing guide about its press release costs.
Visit Cision PR Newswire for additional information >>
Linking News — Perfect for white-labeled releases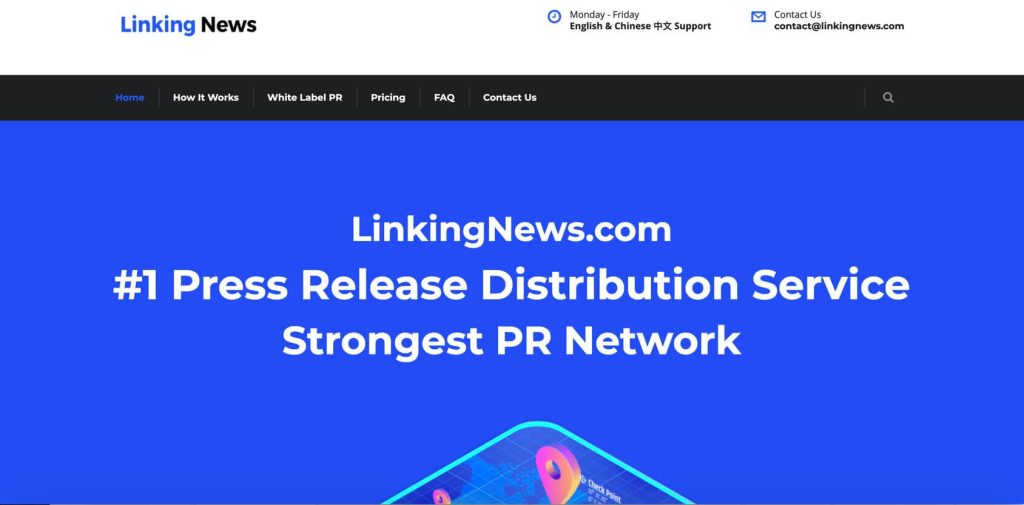 Linking News stands out from the rest because it provides access to white-label releases. This company also offers unlimited word count and responsive customer service. In addition, clients receive access to top-tier outlets, including USA Today, Associated Press, NBC, Fox, ABC, and CBS.
With Linking News, you can automate your press release distribution, publish your PR on leading media platforms, and tap into high DA and PA website targeting that directly improves your ranking on search engines.
Key features
White-labeled PR – distribute your PR without Linking News branding.
Media outlet publishing – distribute news across popular outlets such as USA Today, NBC, and CBS.
High DA and PA website targeting – ensure your links go to top-grade websites.
Content writing – unlimited word count.
Business website backlinking – tap into a vast network of 90 million influencers, 300K publications, and 750K journalists.
Pricing
Linking News offers four pricing plans.
Basic
Publish one press release on over 100 media sites, news websites, portals, and more.
Standard 
Distribute your PR across over 400 media and news websites, including MarketWatch.
Silver
Share your PR with over 500 leading news and media websites, including international portals in eight countries like China, India, Canada, and the UK.
Gold 
Tap into a global network of over 600 news and media websites.
Visit Linking News for additional information >>
Globe Newswire — One of the largest platforms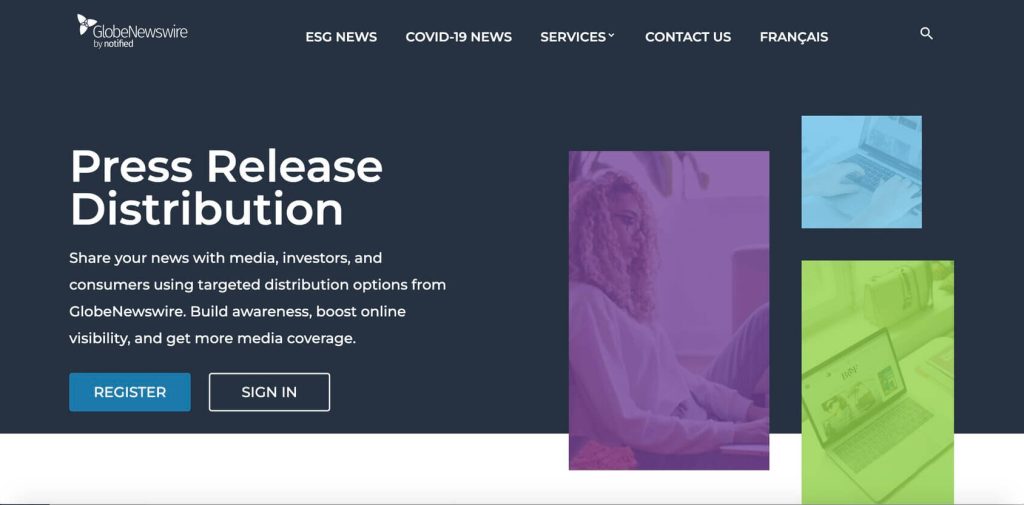 Aside from being one of the best, largest press release distribution platforms on the web, Globe Newswire offers targeted distribution listings by industry. Clients can use them to target a global audience and cover regions like the Middle East, Latin America, Africa, Canada, Europe, Asia, and the USA.
This company offers a pay-as-you-go pricing structure, allowing clients to pay only for the services they use. In addition, Globe Newswire hires a professional team of regulatory filing and disclosure experts to help with the European Transparency Directive, SEDAR, EDGAR, and XBRL regulations.
Key features
Global distribution – publish your PR worldwide.
Regulatory support – receive help with SEDAR, EDGAR, XBRL, and the European Transparency Directive.
Multimedia – add image carousels, infographics, audio files, and videos to your PR.
Post-release reports – track your reach, engagement, visibility, and more.
Pay-as-you-go pricing – pay only for the services that you use.
Pricing
Since pricing information isn't available on the company's website, you must request quotes based on the services you wish to use.
Visit Globe Newswire for additional information >>
NewswireJet — Beginner-friendly platform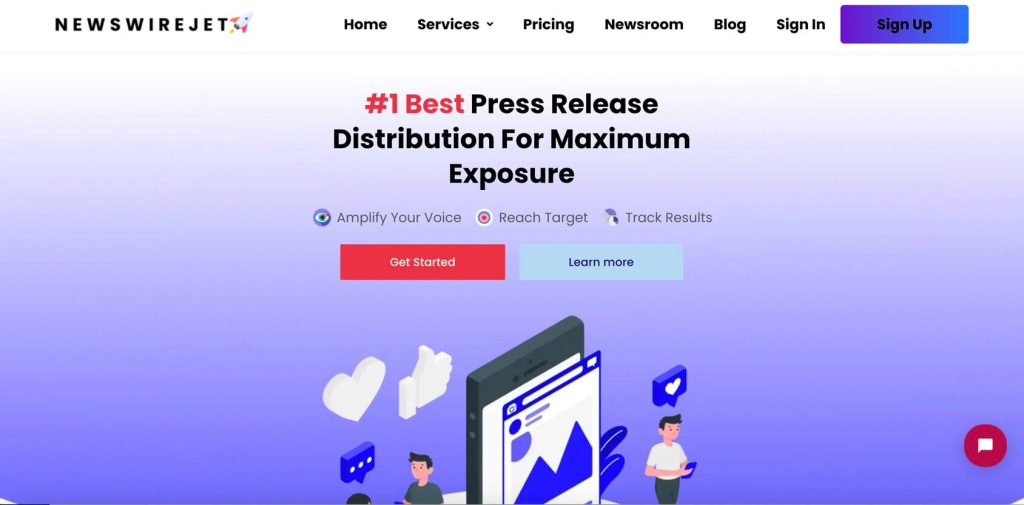 NewswireJet is an ideal solution for clients who need professional PR guidance, affordable distribution services, and top-class customer support. This company offers a dependable PR platform for small businesses with access to curated journalists and top media outlets like NBC, The Huffington Post, The Business Journals, and more.
Clients can find helpful content on the company's official website, including PR writing and distributing tutorials and guidelines. However, it's important to mention that NewswireJET isn't a writing service but an editorial platform that provides feedback on your mistakes.
Key features
Global social media reach – publish your news on platforms like Facebook, LinkedIn, and Twitter.
PDF reports – track your performance across websites, portals, media networks, and more.
PR guidelines – learn how to write top-grade PR.
Editorial service – proofread your PR.
Niche-based publishing – connect with trade magazines, blogs, and websites.
Pricing
NewswireJet offers three pricing plans.
News Power 
$59

$110 per month


2 press releases per month.

$200


4 press releases per month.
Publish your PR on 250 media websites.Publish your PR on 250 media websites.
Buzz Maker 
$99

$160 per month.


2 press releases per month.

$350 per month.


4 press releases per month.
Receive 420 guaranteed placements for your content.
Buzz Maker Plus 
$149

$260 per month.


2 press releases per month.

$526 per month.


4 press releases per month.
Tap into professional writing and publish your PR on 420 websites.
Visit NewswireJet for additional information >>
Factors to consider when choosing a press release distribution service
Here are the essential qualities to look for when selecting a PR distribution service for maximum ROI.
Types of packages
PR distribution services typically provide two types of services:
Manual distribution; or
Automated distribution.
Although manual distribution allows for more personalization, the automated option instantly distributes your content to multiple outlets worldwide. A top-class PR distributor should offer both options.
Pricing structure
Pricing is one of the critical factors in choosing the best service for your specific needs. You need a service provider with a multi-tier pricing structure so that you can opt for a pricing plan that fits your publishing goals.
More importantly, you need a company that offers the most value for your budget. However, going with the cheapest deal is usually a poor decision. We recommend choosing a provider where the benefits outweigh the price.
Distribution list size
How many websites, portals, and media outlets does the service cover? The distribution list of your PR service provider should include news content systems, media outlets, news aggregators, and leading portals.
Often, the distribution list size depends on factors like the demographics, geographical scope, and pricing plan you select. Generally, the best option is to choose a provider that offers guaranteed placements on all major websites and search engines.
Added marketing services
Additional features can make all of the difference when choosing a PR distribution service. Check what extra features your options offer.
Look for interactive and customizable marketing content that you can further personalize with multimedia.
Most companies provide additional features outside of the pricing plans. That's an additional cost to keep in mind.
Level of customer service
Your service provider must have customer support that is user-friendly, responsive, and available 24/7. You need a reliable customer service team that you can contact via multiple channels at any time.
Customer service should also include editorial support and proofreading and offer guidelines and tutorials for using the platform.
Publishing time
Although this factor varies from user to user, look for a publisher who offers same-day or 48-hour publishing time. Thankfully, most service providers currently offer such services.
Quality of publishing sites
You need a high-end service provider to publish your PR on the most relevant, trustworthy, and authoritative websites. Relevance, trust, and authority are three critical driving factors of SEO.
These factors are also vital for your marketing efforts. Therefore, choose a service that can guarantee placement on trustworthy, authoritative, and relevant media outlets.
Writing quality
Since the success of your press release promotion depends on the quality of your content, you need a PR distributor that provides express writing services.
This will ensure that your content contains all of the keywords and phrases necessary to create a buzz. It will also ensure that your content complies with the latest PR regulations and SEO requirements.
Press release optimization
In the world of PR distribution, visual processing is everything. Internet users best react to visual content online, such as images, videos, and infographics.
That's why multimedia optimization is vital for maximizing your PR ROI. Look for a service provider that provides media embedding features for adding images, videos, and other visuals to your press release.
Best options for different needs
Even though this list contains only the best press release service providers, not every company caters to all clients. With this in mind, let's quickly review the best options according to specific use cases.
Cheapest option
Top option for targeting specific groups of people
Best customer support
Best if you need writing services
FAQs
What is a press release? 
A press or media release is an accurate, concise, up-to-date, and relevant document that presents the latest journalistic developments. 

It discusses the why, what, how, where, when, and who of an announcement or news story. It aims to inform the public of the latest events through media coverage.
What is a press release distribution service? 
A press release distribution service is a professional service that publishes your PR content to leading media outlets, news portals, websites, and more.
When should I use press releases? 
You should use PR distribution services when you want your news to appear on radio, TV, print, social media, blogs, and websites and go viral. Press releases are also an excellent option for establishing public relations.
How much time does it take to write a press release?   
Since the ideal length of a PR piece is about 400 words, writing a press release piece can take between 15 minutes and one hour. However, it takes 24-72 hours for your content to become visible online.
Conclusion
PR distribution service providers are vital for establishing your brand image, boosting brand awareness, and gaining recognition. They have the expertise, contacts, databases, and connections to make your content reach the desired destination.
My list above contains the top PR distributors. These companies can turn your content into a true SEO monster that dominates the digital realm of blogs, websites, social media, and news channels.