The Best Registered Agent Services in 2023 with Features and Pricing
FirstSiteGuide is supported by our readers. When you purchase via links on our site we may earn a commission.
Read More
The Best Registered Agent Services in 2023 with Features and Pricing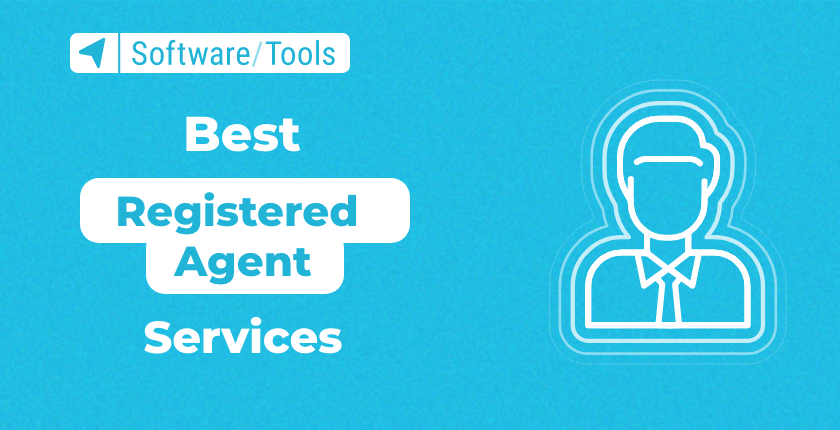 If you're having trouble meeting important filing deadlines and staying compliant with your state's regulations, you should consider hiring a registered agent service provider.
Registered agent service providers are experienced and trained professionals who take care of legal matters for business organizations. They are designated experts in charge of handling all of your legal correspondence.
EDITORS' CHOICE (JUNE 2023)
Since there are so many different services available, we have compiled this comprehensive list of the top ten registered agent services.
Top 10 best registered agent services
With many companies offering registered agent services, selecting the best option for your business is a challenge. That's why we have researched and discovered the best services to suit specific business needs.
Read on to find out more about their respective features, prices, and more.
---
ZenBusiness — Well-rounded service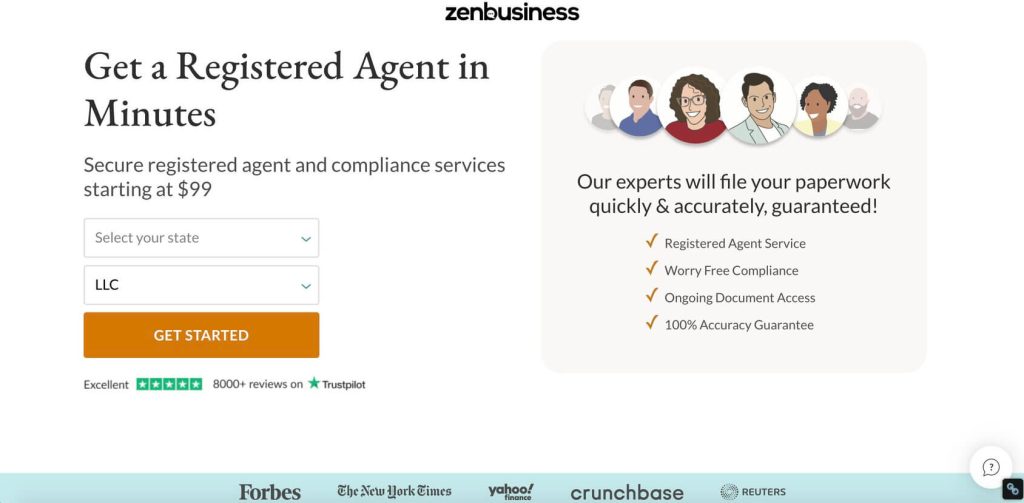 ZenBusiness is the strongest registered agent solution for business formation and maintenance on our list. The annual price for their base registered service is $99, which is quite affordable compared to other candidates.
Even though you'll have to pay $50 more to get top compliance dates, you receive access to a free registered agent service for the first year. If you need a reliable, affordable, and basic registered agent service, ZenBusiness is the right solution for you.
Key features
User-friendly online dashboard for managing legal documents;
Adds protection;
Worry-free compliance;
Ongoing document access for scanning and receiving documents; and
Registered agent service with annual report filing.
Plans and pricing
ZenBusiness offers two pricing plans:
Standard Coverage
Standard Coverage provides a registered agent, online document access, and expert formation service during business hours.
Complete Coverage
Complete Coverage includes all of the standard features with the addition of worry-free compliance to complete your business formation promptly and according to your expectations.
Visit ZenBusiness for additional information >>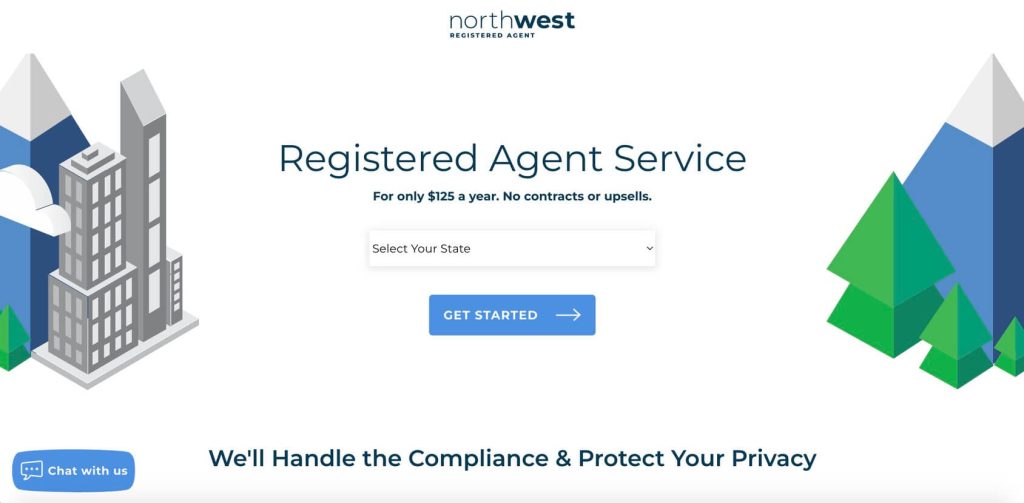 NRA is an excellent solution for people looking for industry-standard customer support, top LLC packages, and the best-registered agent services.
This company is affordable and offers an array of registered agent features such as essential compliance alerts, an online access portal, and access to various business addresses.
What makes NRA stand out is its email scanning and forwarding service that processes all of your company's incoming and outgoing business emails.
Key features
24/7/365 registered agent service with experts in every state;
Access to an online portal for easier document management;
Full email and document scanning and forwarding, including uploading to your online account;
Top-grade customer support; and
Full-range privacy maintenance, including business address, reducing junk mail, and more.
Plans and pricing
NRA provides one plan for their high-end registered agent service.
Basic
This service includes automated privacy features, same-day document scanning, mail scanning/forwarding, and expert support.
Visit Northwest for additional information >>
LegalZoom — Experienced company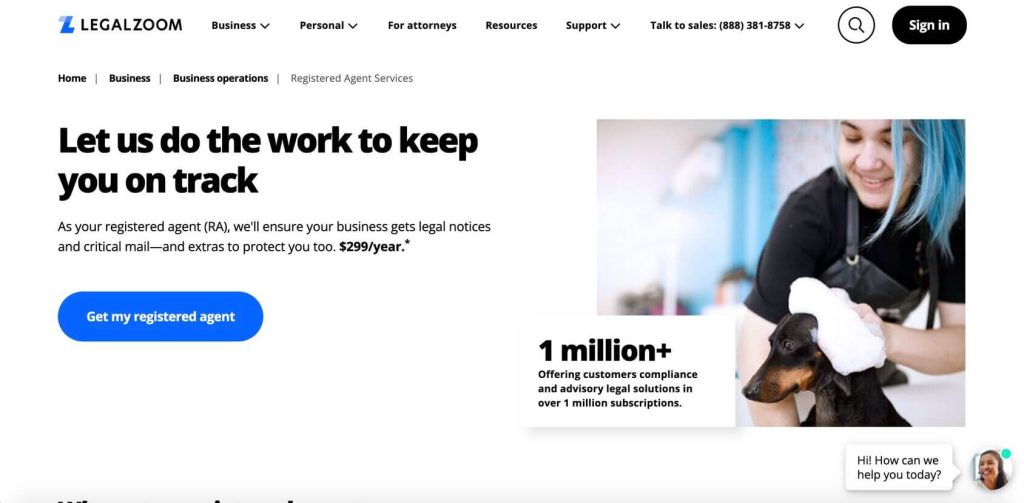 LegalZoom is one of the most experienced providers in the registered agent services realm. Although their pricing is higher, their experience, high brand awareness, and the range of features on offer are all enough to ensure that your business gets the high level of service it deserves.
Additionally, the company provides fantastic customer service and advice for franchise tax forms.
Key features
Mail alerts to keep you up to date with the latest business updates;
Access to the compliance calendar with annual report deadlines and essential tax mail;
Experienced credit monitoring and identity theft protection for your organization;
Unlimited cloud storage for keeping your business documents safe and secure; and
State paperwork and fees filing and management.
Plans and pricing
LegalZoom has a simple pricing structure. There's only one registered agent pricing plan.
Pro
The operating agreement, which helps you set entity guidelines and settle disputes, comprehensive guide to business licenses for your location and industry. Receive access to critical mail, legal notices, and more to protect your operations and keep your organization in good standing.
Visit LegalZoom for additional information >>
Rocket Lawyer — Available customer service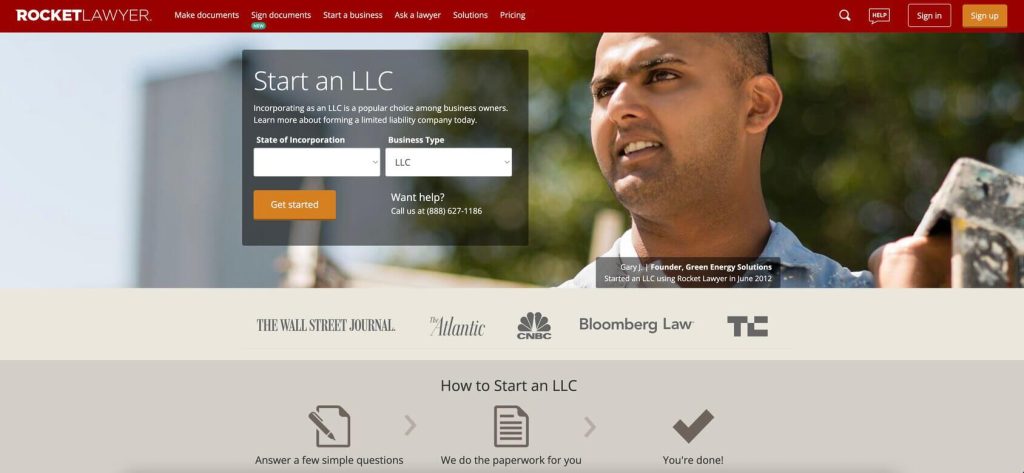 Rocket Lawyer is a dominant force in the registered agent services industry. This company primarily caters to small businesses and is well-known for exceptional customer service and offering a wide range of legal services for businesses.
Aside from the expected registered agent services, this provider gives you access to email notifications, a customer portal, and online document storage. If you need access to both LLC formation and registered agent services, Rocket Lawyer is the perfect solution for you.
Key features
Free registered agent service for the first year (agents in every state);
Customer portal for managing legal documents;
100% satisfaction guarantee on RA service;
Email alert system for dealing with the latest updates and events; and
Professional assistance and consultation for legal forms.
Plans and pricing
Rocket Lawyer provides one plan for their registered agent services.
Basic
The company also offers a 25% discount on RA services and a money-back guarantee.
Visit Rocket Lawyer for additional information >>
InCorp — Discounts for volume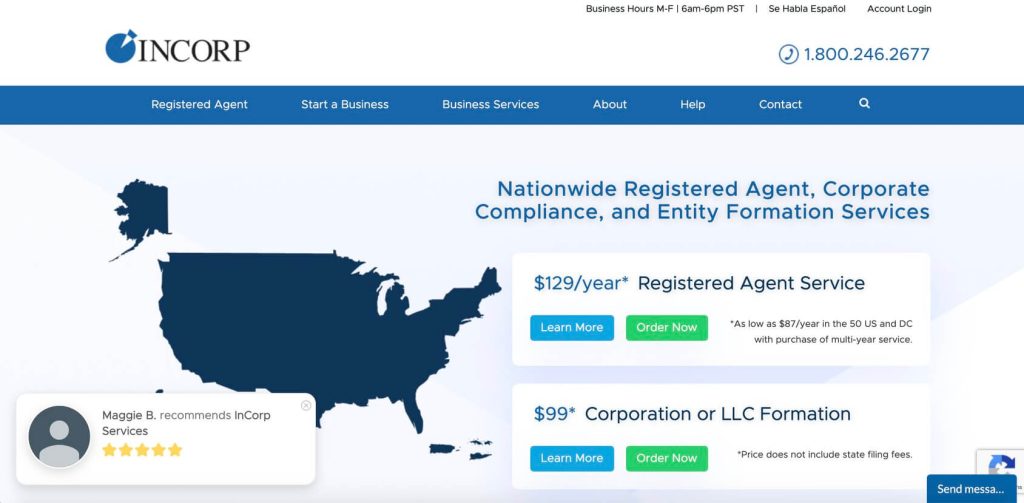 With an array of business formation services, top security, a user-friendly site, and one-year free RA solutions, InCorp has you completely covered.
Their services include everything that you need for document preparation, annual reports, and state filings, including an operating agreement, domain name registration, and excellent customer service. If you're an entrepreneur on a budget, InCorp could be the best RA solution for you.
Key features
McAfee secure website with a user-friendly interface;
Compliance and business formation services;
Free one-year online registered agent services;
Discount on transfer fees; and
24/7/365 customer service.
Plans and pricing
InCorp offers to serve your business as a registered agent for $129 per state.
Visit InCorp for additional information >>
IncFile — Great online tools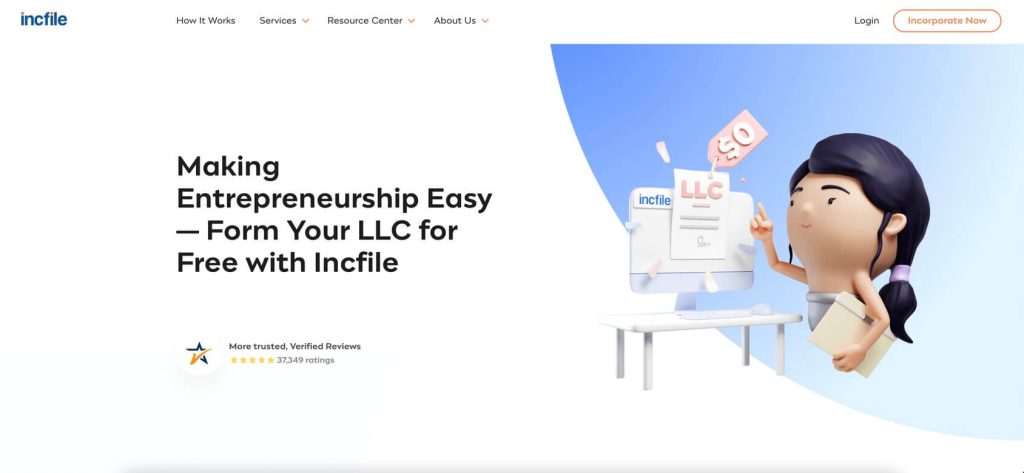 Aside from a fantastic range of business formation features, IncFile offers access to a one-year registered agent service for free. You can pair this service with any of the available incorporation packages.
What makes IncFile so unique is the range of add-on features available for forming a business online, including contract templates, customer documents, bookkeeping, banking, and more.
Key features
One-year registered agent service (free for one year if you combine it with formation purchase);
Free business formation service;
LLC formation add-on tools;
Annual reports;
Change/renew registered agent; and
Access to certificates of good standing.
Plans and pricing
IncFile offers one registered agent service:
Visit IncFile for additional information >>
MyCompanyWorks — Top-tier practice and experience
With more than 20 years of experience, MyCompanyWorks has helped countless businesses handle their legal matters. If you're looking for affordable RA services, top-tier customer service, comprehensive business formation features, and a high level of transparency for clients with concerns and questions, MCW should be your number one option.
Key features
100% one-month satisfaction guarantee;
Multiple resources and assistance for business leaders;
Business tax consultations;
Registered agent services and a federal tax ID; and
Compliance alerts to ensure that you're compliant with the latest business regulations and filing dates in your state.
Plans and pricing
MCW is known for economical rates for both business formation and registered agent services.
Visit MyCompanyWorks for additional information >>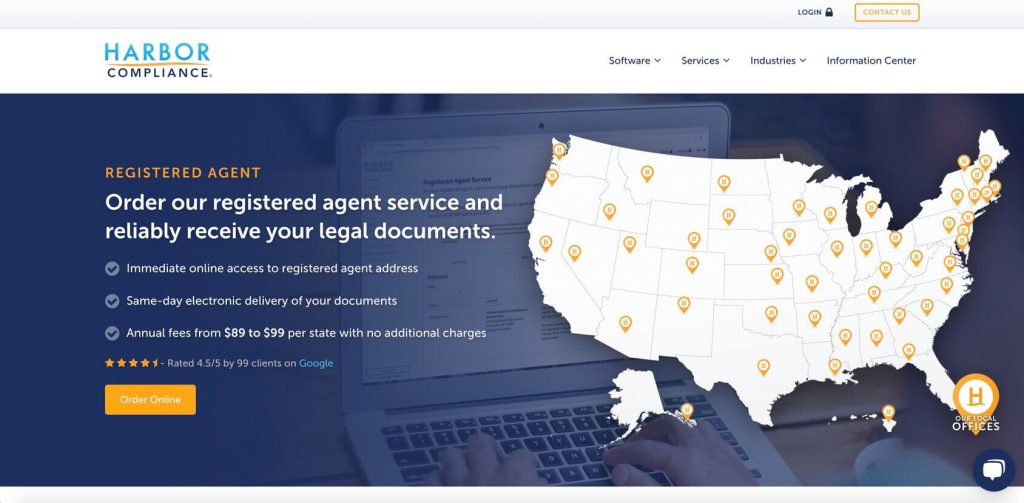 Harbor Compliance takes pride in providing exceptional services, including nationwide agent service, at the market's most reasonable and competitive prices. This provider is suitable for multi-state businesses looking for top levels of efficiency and security.
In addition, this company offers discounts on multiple purchases. You can access annual report notices, customizable notifications, and high-end customer support at no additional cost.
Key features
Same-day access to legal documents with secure online access and email notifications;
Client portal with a dedicated local registered agent address with pre-filled state forms and more;
Annual report alerts and software tracking with reminders;
Online account for easier management of legal documents; and
24/7/365 customer support with assistance with filings (includes a flat fee).
Plans and pricing
Depending on the state, Harbor Compliance provides a registered agent service at $89–$99 per year.
Basic
If you purchase for 2+ years, you receive a 5–10% discount.
Visit Harbor Compliance for additional information >>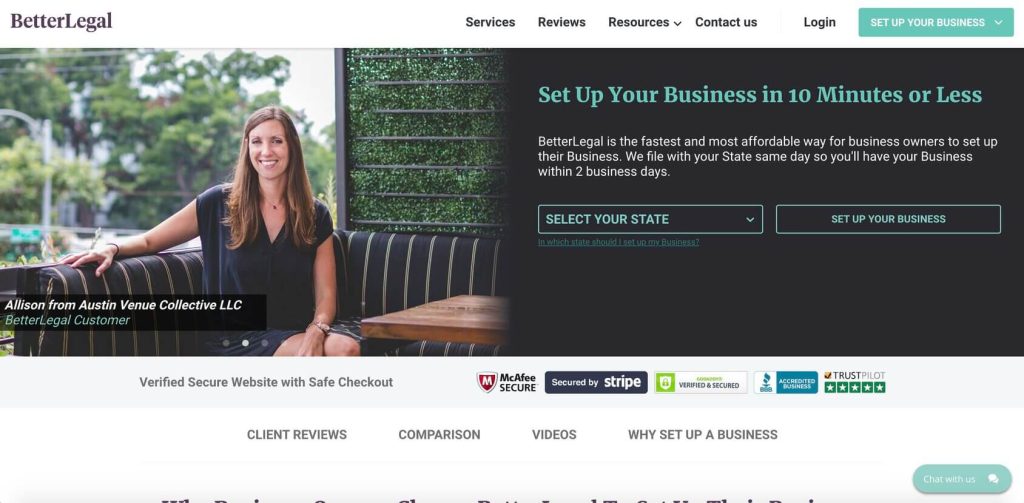 Better Legal is one of the country's most popular providers of registered agent services. If you opt for this company, you receive the services of personal compliance professionals who will handle all of your legal documentation tasks in your name.
Their consultations are paramount to understanding the complexity of compliance issues. Aside from registered agents, the company also provides a full range of LLC formation services.
Key features
Dedicated registered agents in every state;
Assistance with annual reports;
Same-day document scanning, forwarding, and delivery;
Personalized customer support; and
App tracking, operating agreements, and organization drafting.
Plans and pricing
Better Legal offers one registered agent service:
Basic
Their Registered Agent's services are considered the most affordable services in the market.
Visit Better Legal for additional information >>
Founded in 1980, Inc Authority is an excellent choice for all people looking to form new businesses in the most affordable way. Aside from a comprehensive range of top features, the company offers a free one-year registered agent service. If you need business formation services, the company also offers a 20% discount, including a $100–$500 bonus.
Key features
Business name check within your state;
Registered agent to manage your legal notices;
Digital storage for easy online access to all essential business and legal documents;
Tax planning consultation; and
Preparation of business formation documents and state filing.
Plans and pricing
With Inc Authority, you receive access to a free registered agent for one year (you only pay state fees).
Visit Inc Authority for additional information >>
How to find the right registered agent for your needs
Here are some tips for locating the best registered agent service for your needs.
Level of professionalism
Since registered agents handle all legal matters on your behalf, you need a service provider with the highest level of professionalism and long years of experience in legal correspondence with various states in the country and beyond.
See the value
If you're paying for a service, you have to be able to see your money's worth. Top companies offer top customer support, an extensive range of features, affordable pricing, and additional services, including useful add-ons such as mail forwarding and a compliance calendar.
Levels of service
Top-grade service providers should be proactive in handling issues and looking out for client interests. They should also provide you with a responsive, effective, and reliable customer support team that is always at your disposal.
What kind of evaluation software do they have?
Aside from impeccable customer support, top features, and affordable packages for all business types, top-grade registered agent service providers should also use the latest evaluation software with automation and additional features. Legal regulations and compliance are complex issues that require advanced software tools.
Which states do they cover?
The more states that your provider covers, the better.
Best of the best
If you're still not sure, here's a short list of the best providers according to specific needs.
Best for clients looking for the cheapest option
Best for clients looking for the fastest option
The best option for a complete LLC formation package
Best for beginners
FAQs
What are the benefits of using registered agent services? 
Hiring a registered agent service provides several benefits for users:

Compliance – since each state has unique requirements, a RA helps you to stay on top of compliance with the latest regulations in your state.
Peace of mind – instead of dealing with compliance issues alone, you'll have professional help to act on your behalf while you focus on growing your business.
Flexibility – registered agents can represent you during working hours so that you can save valuable time and effort that you can use elsewhere.
Privacy – a registered agent can replace your office address with their own to add another layer of privacy to your business affairs.
Can I switch registered agents? 
Yes. If you want to switch your registered agent, file a form with your state and be prepared to pay a filing fee.
What are the costs of registered agent services? 
While some companies offer free access to RA services, this type typically ranges between $90-$200.
Do I need a registered agent? 
While you do not have to use a registered agent service, we recommend that you do because all 50 states require business organizations, including LLCs and corporations, to have a statutory agent.
Conclusion
We've used a carefully selected methodology to choose the most reliable, trusted, and affordable registered agent services.
We took things like accessibility, transparency, features, and pricing into consideration to provide you with the best registered agent services on the market right now.
Whether you only need a registered agent or you're looking for business formation as well, these are trusted, legal, and reliable service providers with top customer reviews, outstanding user testimonials, and fully transparent website policies.
Since compliance regulations can be quite complex, these service providers can help ensure that you're in good standing with your state.