The Best Tech Blogs To Follow
Blogs are technology, so it's no surprise that the internet is full of blogs about technology. As competitive niches go, they don't get more cutthroat than tech blogging. It's not that the techie crowd is hard-bitten and cruel—generally, they're the exact opposite—it's just that these are exactly the folks who know how to make their blogging platforms, themes, plugins, and custom coding shine. That makes for some stiff competition for new entrants to the blogosphere trying to make their name.
So what are you going to do? Well, your homework, for starters; you've got to know your stuff to stand out in this crowd. A good place to start might be our own guide to starting your first site.
But, in the same way you know any really nice feature popping up in an Apple or Windows product will soon be popping up in both, you've got to scour the net for the people who are blogging tech the best.
Or, you can just look at what we've put together right here. That's right! First Site Guide has gone ahead and gathered up the best tech talk the internet has to offer. Go ahead and take a look!
Sort By Metrics
Updated: October, 2016
by Dave Taylor
Social Media Followers - The total number of followers combined from the following blog's social media profiles: Facebook, Twitter, Pinterest, Instagram and Google+.
78562
Alexa Rank -
Alexa's Traffic Ranks
are based on the traffic data provided by users in Alexa's global data panel over a rolling 3 month period.
4232
SemRush Rank -
SEMrush lists
the most popular websites ranked by organic traffic coming from Google's top 20 organic search results.
25602
Dave has been in the computer industry since 1980, believe it or not, and have been online since before the beginning of the Internet. Some say that it wasn't Al Gore but he who actually invented the Internet. He has created and launched four Internet related startups, the first of which was The Internet Mall. The original one.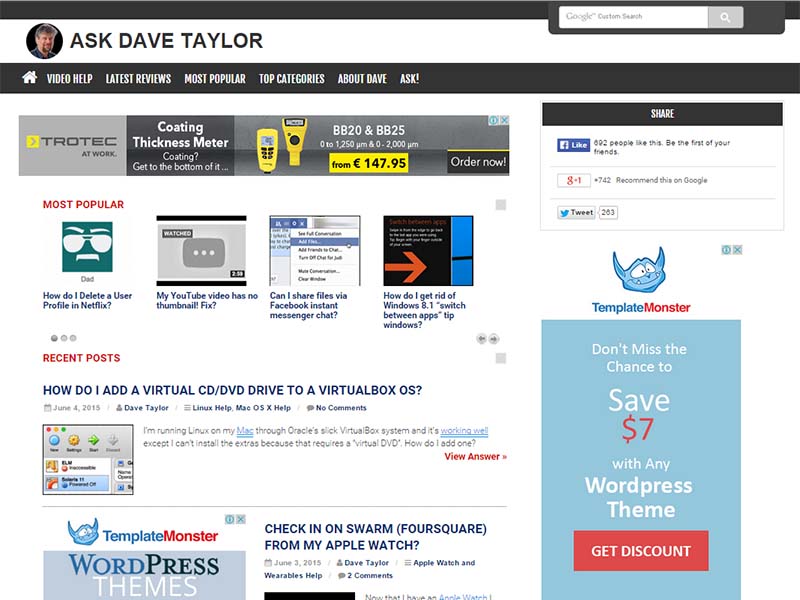 START YOUR OWN BLOG
This guide is an introduction to mastering the art of blogging. It provides easy to follow steps to start, maintain, and grow your blog.