The Best Trademark Registration Services in 2023
The Ultimate Guide to Choosing the Best Trademark Registration Service
FirstSiteGuide is supported by our readers. When you purchase via links on our site we may earn a commission.
Read More
The Best Trademark Registration Services in 2023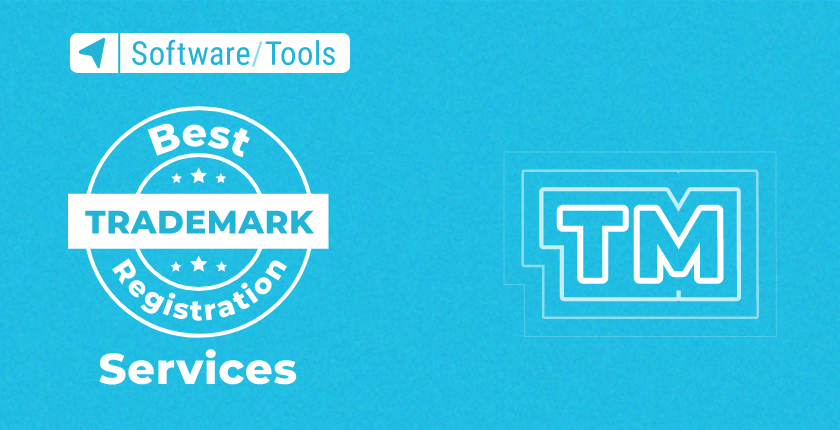 If you're a brand owner, trademark registration is the only way to protect your company name, logo, and slogan from potential fraud and counterfeiting. Trademark registration provides much-needed legal protection to ensure that your brand receives deserved recognition and credit.
However, if you've been planning to register a trademark, you've probably encountered dozens of companies offering similar services. How can you know which company is the right fit for you?
EDITORS' CHOICE (JUNE 2023)
We've reviewed countless companies working with trademark registration to single out the best ones. Check out the eight best trademark registration services currently available on the market.
Top 8 trademark registration services
Are you looking for businesses that will offer you premium trademark registration services? There's no need to look any further because these eight companies are the best.
---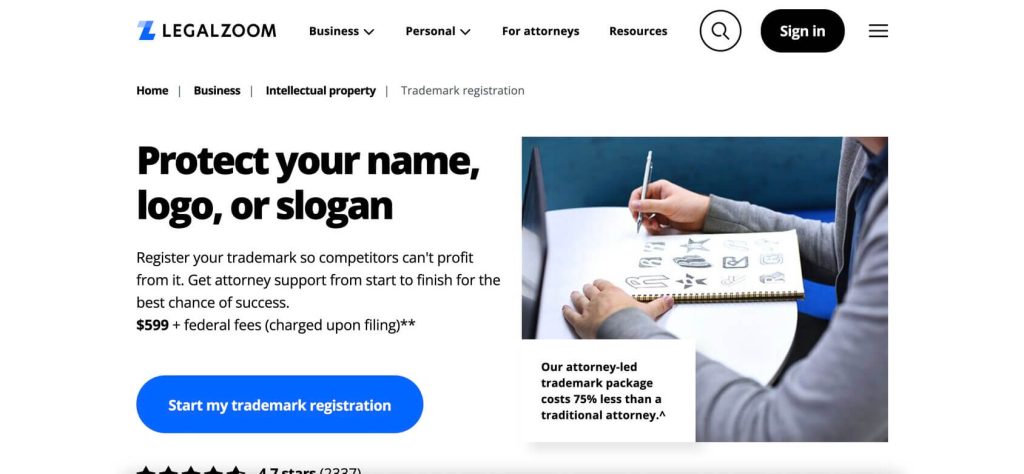 LegalZoom is an online legal technology company with headquarters in California. This company aims to help its clients create legal documents without hiring a lawyer.
Using LegalZoom's services, people can quickly and easily start a business, secure their families' interests, and protect their intellectual property. From creating wills and living trusts to submitting trademark applications, LegalZoom can assist you in every step of your life.
Key features
A wide selection of services – LegalZoom covers you in many other spheres of your life besides trademark registration;
US coverage – all legal documents are recognized in all 50 US states;
Quick turnaround time – get your documents in record time;
Flat-rate fees – no surprises with unexpected costs; and
Customer support – clients can contact the customer care team via phone or live chat.
Plans and pricing
LegalZoom offers only one type of package for its trademark registration services.
Standard package
LegalZoom's trademark registration service includes research, registration filing, and full attorney support throughout the process, even if the attorney believes that your first trademark idea has some issues.
Visit LegalZoom for additional information >>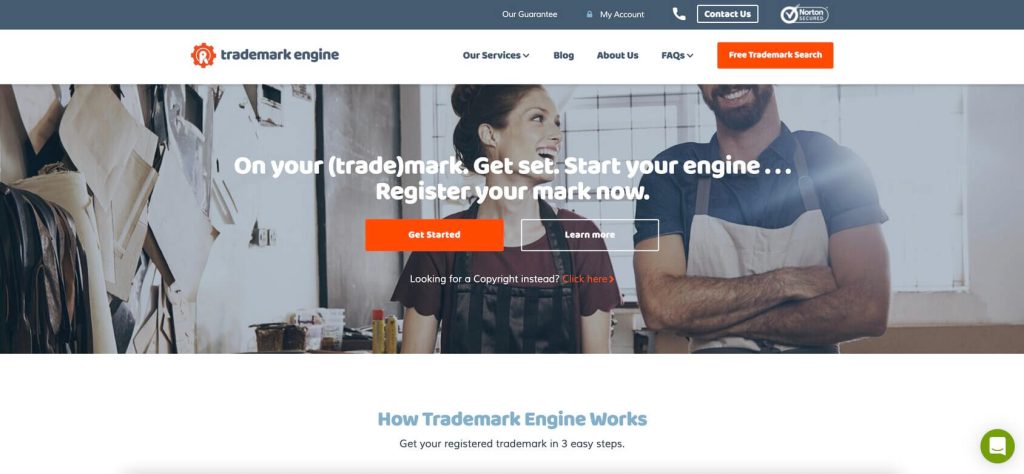 Trademark Engine is a company established to provide small businesses with a simple, quick, and affordable approach to trademark registration. Trademark Engine stands out due to its excellent features, versatile pricing plans, and an experienced team that takes care of every application with great care.
Key features
Affordable prices – the Basic package is among the cheapest pricing plans for trademark registration;
Trademark monitoring – almost all pricing plans include trademark monitoring;
Direct-hit search – gain access to all pending and live trademark applications;
Federal e-filing – complete the entire application online without dealing with a bunch of emails and paperwork; and
Customer support – contact the customer care team via phone, live chat, or email.
Plans and pricing
Trademark Engine offers three pricing plans for those looking to register a trademark.
Basic package
$99


Plus USPTO filing fees
The basic package includes features such as direct-hit search, federal e-filing with USPTO, and electronic delivery.
Standard package
$149


Plus USPTO filing fees
In addition to including all services from the basic package, the Standard package also includes a cease & desist letter, a custom transfer/assignment template, and one month of trademark monitoring.
Deluxe package
$199


Plus USPTO filing fees
Along with all services from the Standard package, the Deluxe package also includes private registration and 24-hour expedited processing.
Visit Trademark Engine for additional information >>
Incfile — Streamlined user interface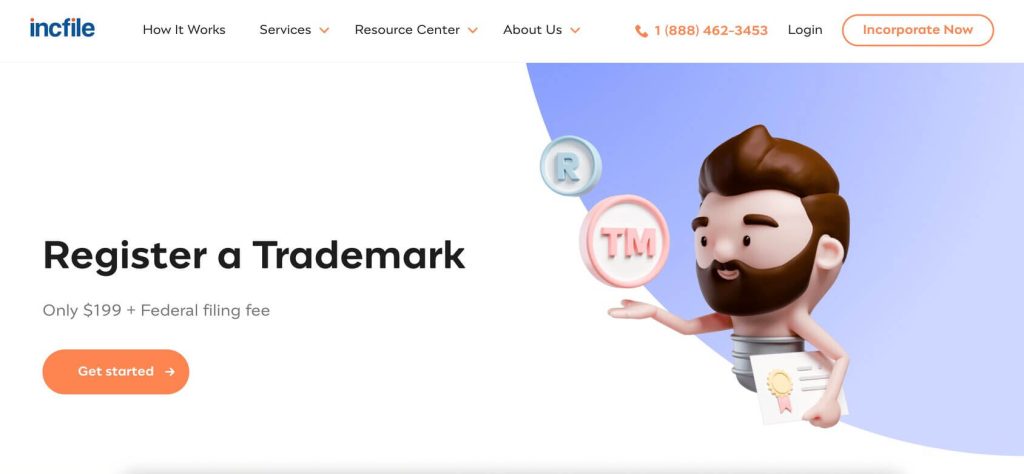 If you're searching for a company that offers trademark registration services and an engaging and streamlined experience while using its platform, you can't go wrong with Incfile. With one of the best user interfaces, working to protect your brand's documentation is fun and easy.
Key features
Cost-effective trademarking – Incfile's services allow you to save a lot of money from the start;
Online storage – store all of your essential files and documents in one place;
Dashboard – track deadlines and receive reminders with their user-friendly dashboard; and
Unlimited customer support – contact customer support via phone or email as often as you need.
Plans and pricing
Incfile offers only one pricing plan for registering a trademark at their company.
Basic
Registering your trademark with Incfile includes legal counseling with a trademark attorney, a detailed search of existing trademarks, and trademark application preparation and filing.
Visit Incfile for additional information >>
Rocket Lawyer — One of the cheapest options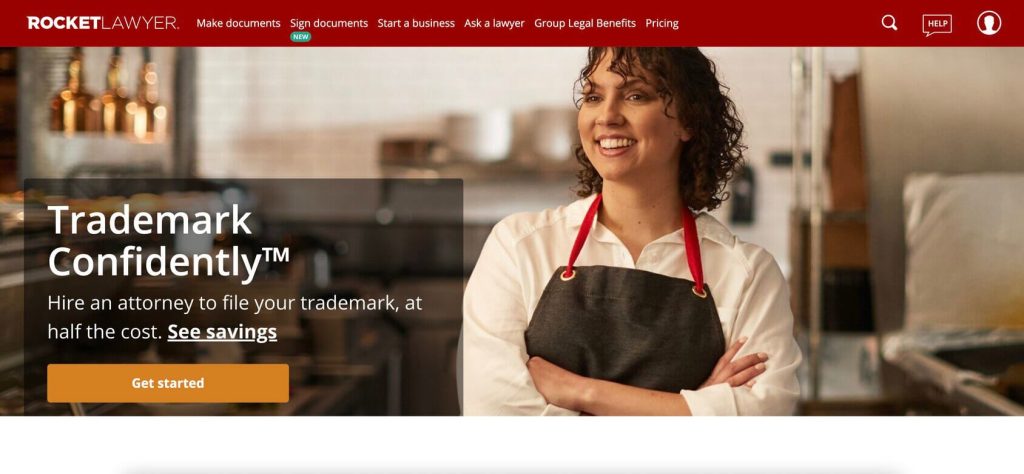 Rocket Lawyer is another outstanding choice, primarily if you're searching for a cost-effective trademark registration service. If you sign up for a Rocket Lawyer membership, you can receive additional discounts that will lower the price of the company's services even further.
Key features
Discounted prices – members receive special discounts for services;
Affordable plans – trademark registration service plans are some of the cheapest on the market;
One-on-one consultation – meet with an attorney to discuss your trademark registration;
Proper protection – choose a trademark class that best fits your intellectual property; and
Professional assistance – get help from an attorney to ensure that your application is complete.
Plans and pricing
Rocket Lawyer has one plan.
Basic
Easy-to-create, reliable documents for hundreds of purposes, share, download and print anytime, etc.
Visit Rocket Lawyer for additional information >>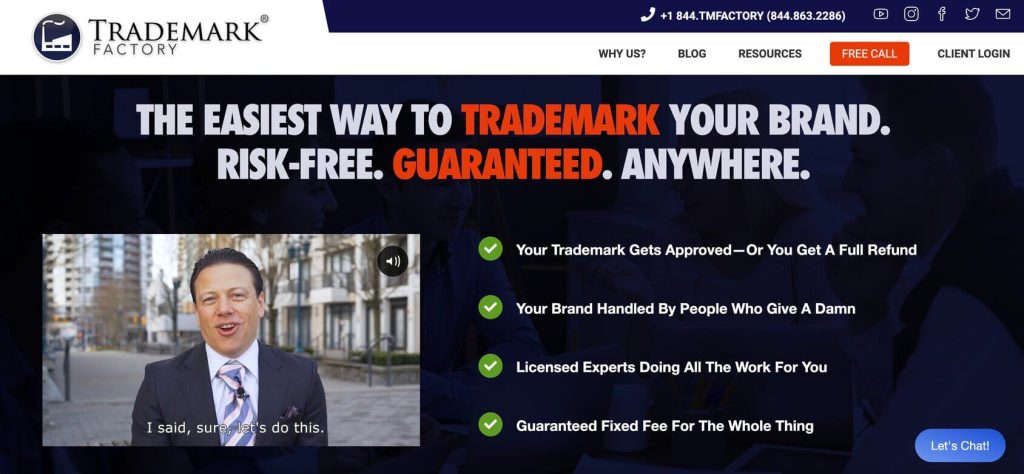 Finding a legal company that genuinely cares about its clients and will do anything to help them is challenging but not impossible. Fortunately, you don't have to look far if that is your primary goal. Trademark Factory offers you all of the legal help you might require while registering a trademark.
Key features
99.3% success rate – a high chance of your trademark registration approval;
Nine years in business – work with experienced professionals who know everything about trademark registration;
Get a full refund – you will get all your money back if you don't get trademark approval;
Handling of all office actions – licensed professionals handle all office actions for you with most plans; and
A fixed fee – no hidden or unexpected costs.
Plans and pricing
The three pricing plans at Trademark Factory are:
I Feel Lucky
The most cost-effective plan at Trademark Factory includes a trademark search, free additional searches, application filing and handling, and a trademark certificate.
All-Inclusive
The All-Inclusive plan incorporates all of the features from the plan above, plus a 100% refund if the application gets rejected, as well as unlimited responses to office actions.
Ultimate
The Ultimate plan includes several additional features, such as defending your trademark and weekly trademark monitoring.
Visit Trademark Factory for additional information >>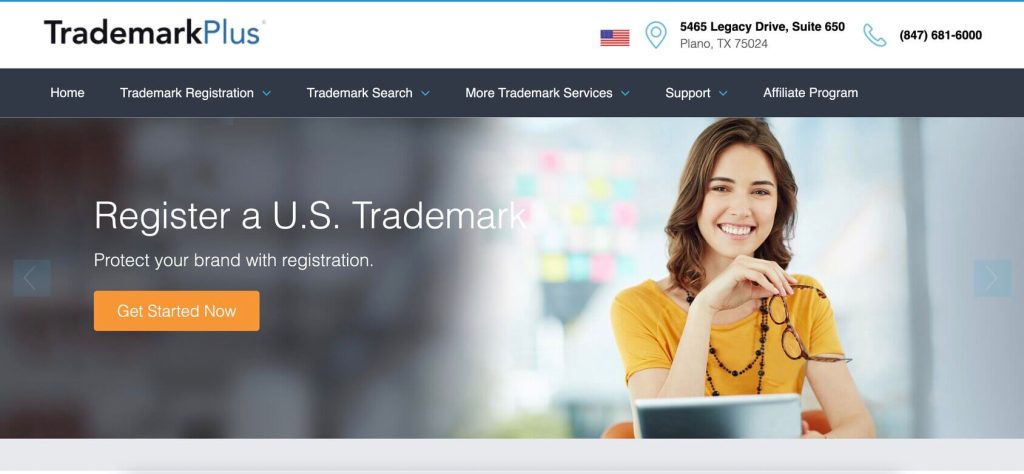 As one of the newer companies working with trademark registration, Trademark Plus offers flexible services to its clients compared to some older companies in the field. With their 30-day money-back guarantee and affordable plans, Trademark Plus allows its customers to remain flexible.
Key features
Affordable plans – with cost-effective pricing plans, Trademark Plus is an excellent budget-friendly option;
30-day money-back guarantee – receive your money back if you're not satisfied with their service within the first 30 days;
Application preparation and filing – with select plans, the Trademark Plus team takes care of your entire application;
Perfect for small businesses – if you know your trademark is available, the easy filing process is ideal for you; and
Six- to eight-month turnaround – receive a decision quickly.
Plans and pricing
The four pricing plans available at Trademark Plus are:
U.S. Federal
The U.S. Federal includes an in-depth search of federal trademarks, submission of the draft application to the USPTO, and review of the application.
U.S. Federal & State
The U.S. Federal & State includes an in-depth search of federal trademarks, experienced trademark attorney assistance, as well as submission of the application to the USPTO.
U.S. Comprehensive
Email delivery of search report, state search of pending and registered trademarks from all 50 States, etc.
Worldwide and U.S.
Worldwide search of active International trademarks including Canada, European Community, United Kingdom, Germany, and World Intellectual Property Organization (WIPO).
Visit Trademark Plus for additional information >>
Trademark Center — Best for small business owners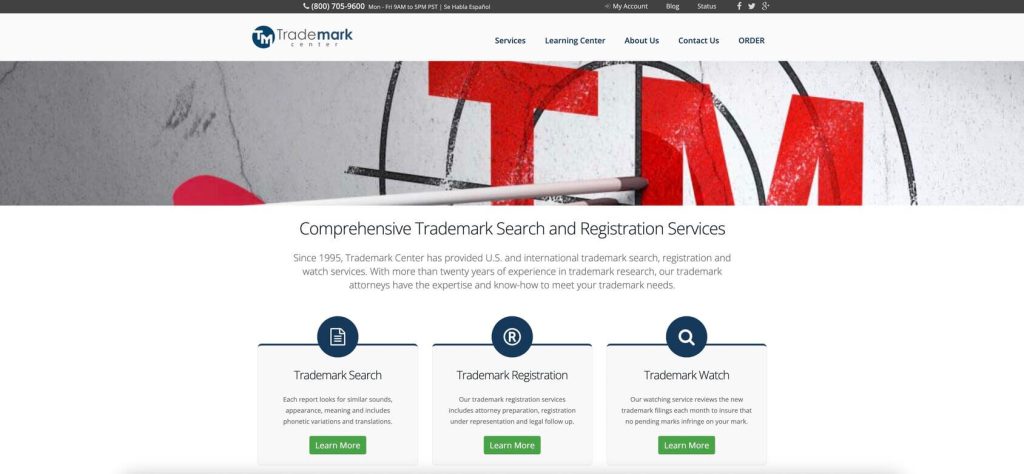 If you're a small business owner, the services at the Trademark Center are perfect for your brand. Since money-back guarantees aren't that common among companies working with trademark registration, this feature can help you to avoid wasting money.
Key features
20 years of experience – work with a company that has filed over 6,000 trademark applications;
Attorney consultation – consult with an expert regarding your trademark registration;
Trademark monitoring – make sure that there aren't any infringements of your intellectual property;
Comprehensive search – examine all common, state, and federal trademark laws; and
Money-back guarantee – get your money back before or after filing a trademark registration application.
Plans and pricing
The two pricing plans available through the Trademark Center are:
Standard
The Trademark Center's Standard package includes federal search, application drafting and filing, 6 months of quarterly trademark watch, and trademark attorney assistance, among other services.
Premium
The Premium package includes a more comprehensive search, application drafting and filing, one year of quarterly trademark watch, trademark attorney assistance, and several other services.
Visit Trademark Center for additional information >>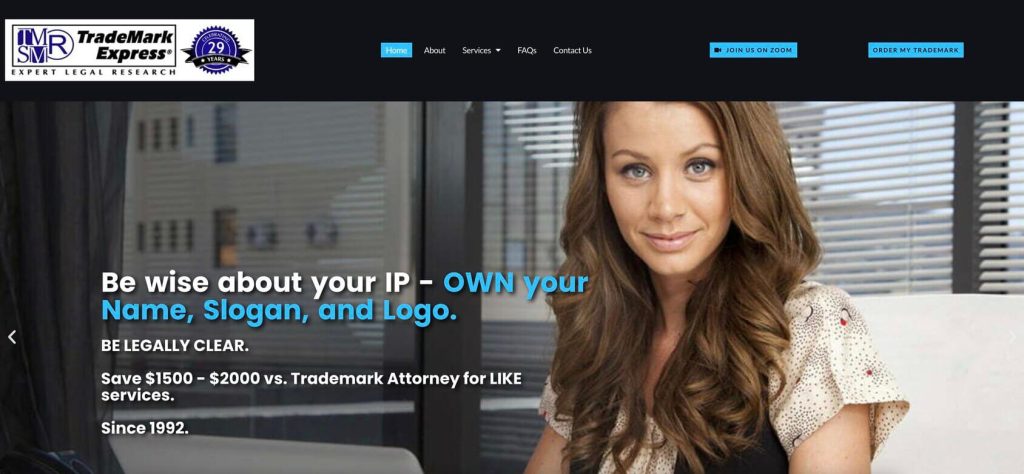 Finally, Trademark Express is the best choice for people seeking an individualized approach and one-on-one communication. Trademark Express excels at providing customers with custom plans that best fit their needs.
Key features
100% success rate – all trademark applications since 2008 have received approval;
Specialist consultations – learn about how the company works before making a deal;
Expert analysis – let trademark experts take care of your application;
Comprehensive search – examine common, state, and federal laws related to trademarking; and
Customer support – contact the customer care team via email or phone.
Plans and pricing
The Trademark Express trademark registration services are available in two different pricing plans.
Application Prep Package
If you want the company to take care of your application, Trademark Express can prepare and file the application for you.
Start-Up Package
Start-Up Package includes federal, state, and common law research by the company's expert team.
Premium Package
The Trademark Express team will search the pending and registered trademark files and fully prepare your US Federal trademark application.
Urgent Trademark
Urgent Trademark package includes the trademarking service in just 10 hours.
Visit Trademark Express for additional information >>
How to select the best trademark registration service
As more and more people start to trademark their intellectual property, the number of companies working with these processes is also beginning to increase. As a result, you might struggle with selecting the right one for you out of so many trademark registration companies.
Luckily, some valuable tips and tricks can simplify selecting the best trademark registration service.
Our best tip is to choose a trademark registration company that understands your goal and shares your mission. This way, the company that you're working with will be able to help you every step of the way.
Since you need to work closely with your trademark registration service, finding the best match for you is essential.
Tips for successful trademarking
Evaluate the competition
One of the first things that you need to do is to examine the competition. Look at what other companies in your industry frequently use for brand names, logos, and slogans.
Find unique and compelling marks
Once you know what the competition in your industry or field frequently uses, it's much easier to discard unoriginal ideas and create something unique and creative. This will allow you to find compelling marks and brainstorm original ideas.
Use marks consistently
You must use your marks consistently if you don't want to lose your rights. Whether you trademark your brand name, logo, or slogan, inconsistent use can impact your existing rights because you risk unintentionally forfeiting them.
Consider the future
When creating your trademark, look at the bigger picture of your business and consider what you want it to be in the future. This doesn't only include what you plan on achieving in a year or two, but much further.
Creating a trademark that will be a perfect representation of your company not only today but in several years is the only way to secure a long-term trademark on the first try.
Obtain federal registrations for your marks
You can't protect your intellectual property if you don't secure the necessary federal registrations for your marks. Simply registering a business isn't enough to claim the particular intellectual property as your invention, so you need to take additional steps.
Get all the necessary federal registrations for your marks to protect them from possible infringement before it's too late.
Find an experienced attorney
Not everyone is a legal expert, and that's okay. If you're unsure about whether you're taking all the necessary steps to protect your intellectual property correctly, you can always seek help from an experienced attorney.
Many attorneys work with trademark registration, so finding one to take on your brand shouldn't pose a problem.
Best of the best
We're all in a hurry sometimes, so we understand if you're here to get some quick answers. If you don't have the time to read the entire article, here are the best of the best trademark registration services that you should check out.
Best for reliability
People interested in protecting their intellectual property want to work with experienced professionals to that ensure their trademark registration goes smoothly.
Best for beginners
Dipping your toes into the legal world can be overwhelming, especially if no one is willing to explain to you what goes on behind complex processes and procedures.
Best for flexibility
Businesses grow and evolve, so finding a trademark registration service that's flexible enough to follow the development of your company is vital.
Best for small companies
Small companies also want to protect their intellectual property. Finding companies registering trademarks at cost-effective prices is essential for businesses on a budget.
FAQs
How much money do I need to register a trademark?
Trademark registration fees can vary in the US. That's because state and federal trademarks are available, meaning the costs will change between states. However, you'll have to pay a minimum fee of $250 for a federal trademark.
Can I complete the trademark registration process by myself?
You don't have to work with trademark registration experts to submit your application. Instead, you can complete the entire process by yourself. However, a minor mistake can cost you a lot of money, so it's always better to work with a trademark registration service that will review all of the details before submitting your application.

Read more: How To Do a Free Trademark Search
How long does it take to register a trademark?
Registering a trademark is a highly complex process that incorporates different stages. As a result, registering a trademark typically takes around 12-18 months.
How often do I have to renew my trademark registration?
Once you receive your trademark registration, you need to renew it every ten years if you wish to hold on to your rights. This means that you should submit a new application in your ninth year to ensure that you secure the renewed trademark registration before the old one expires.
Conclusion
Choosing the perfect trademark registration company doesn't have to be a complex and time-consuming process. With the top services mentioned here, you'll be able to quickly find the most suitable one for your needs.
The key features and pricing plans listed will inform you about the essential elements of each company, which can help to make the decision-making process significantly easier.