The best WordPress plugins you must have 2017
Having a WordPress website without installing additional extensions is like having a supercar without ever filling it with fuel. That would be crazy, right? Although it is possible to run a site without plugins, you would have to add features manually before activating them on the blog. It would require a lot of skill and time to invest into developing custom features.
Every #WordPress blog should have at least a few (if not most) of the plugins from this list
Click to tweet
Even the simplest of blogs are powered by at least several free or premium plugins. So, to save you time searching for the extensions that you might want to install, we will show you some of the best WordPress plugins that you simply must have in 2017.
Under Construction Page
Even before choosing the perfect theme and setting up the blog, Under Construction Page will be a valuable asset. This free plugin lets you create a maintenance, coming soon or under construction page that you can show to your visitors regardless the state of your website. So instead of making casual visitors land on an incomplete site, you can show them a beautifully crafted page.
By choosing a design from the list of more than twenty gorgeous templates, you are one step closer to publishing your site. Since Under Construction Page is completely free and updated twice per month, it's the perfect choice when starting out. A set of extra features will make you fall in love with the plugin; just take a look at the demo pages to see that even a site under construction can look stunning.
W3 Total Cache
When you decide to speed up a site, one of the first things you should look for is a caching plugin. With more than one million active users, W3 Total Cache is one of the most popular (and best) plugins for the job. By storing part of your site in the memory, users will be able to load it much faster than without having an active caching plugin.
The plugin does all the necessary steps in order to speed up your site. And an amazing part about it is that you don't have to know anything about how it works. It will cache pages, databases, objects and it even features browser caching. W3 Total Cache also supports CDN services, minifies and compress HTML, JS and CSS files. Even if you don't know what all that means, you will love the results.
Yoast SEO
Without optimizing a site for search engines, you're basically shutting both doors and windows for your potential visitors and potential customers. WordPress per se is good when it comes to optimizing content for Google and other search engines. But without additional help, your posts, pages, and images will still be harder to find to an average user. That's where Yoast SEO comes in to save the day.
In addition to improving your site from the technical aspect, Yoast SEO is mostly popular for its user interface. While writing a new post, this free plugin will help you find the focus keywords. It will inform you on the quality of your content, warn you if there are too many mistakes in the structure of sentences or if the article is too short, for example. Yoast SEO keeps track of your permalinks, and much more.
Akismet
This fantastic plugin comes preinstalled with WordPress, so you just have to configure it. Akismet fights spam in comments and forms, so you don't have to. Whenever you receive a comment or a new form submission, the plugin will silently check the database. If there are any threats, Akismet will mark them as spam and leave you the option to review the submission.
Since it will stop most of the spam messages before you even realize them, and it will do everything for free, it would be a shame not to put Akismet on the list of the best WordPress plugins.
WP-Optimize
While you're adding new posts, pages, images, and other types of content to your site, WordPress diligently stores everything in a database. As time passes by, the tables of a database keep getting larger. And no matter how much you try, there will always be stuff to clean up.
Obviously, it won't be necessary to manually examine databases and tables to find data which can or should be deleted. Instead, you can use WP-Optimize. This free plugin finds all unnecessary data like unwanted comments, pingback, and trackbacks.  It will compact tables and optimize them to run faster. Since the clean-ups can be scheduled to run automatically, you won't have to do a thing in order to keep your site optimized.
WooCommerce
With more than 3 million users, WooCommerce is the most popular solution for creating an online store with WordPress. The plugin gives you the total control of building an eCommerce site, and it doesn't surprise that the plugin powers more than 30% of all e-stores.
Even though it's quite simple so that even a complete beginner can use it, the plugin allows you to run multiple huge stores that sell both physical and digital products. Since there are hundreds of free and premium extensions available for WooCommerce, possibilities are practically endless. If you ever decide to start selling with WordPress, this is the plugin you will want in your arsenal.
Google Maps Widget
Not that long after Google Maps became popular, WordPress users wanted to show locations of interest on their sites as well. While it is possible to copy the code directly from the Google's service, Google Maps Widget makes everything much faster and allows for detailed customization.
Whether you want to show an entire country or add the precise address to your office, Google Maps Widget will let you set up everything in just a few minutes. By using thumbnails in combination with interactive maps, you can speed up your site in comparison to other similar extensions. If you want to improve your maps even more, the PRO version allows you to change and customize pins in more details, use multiple locations per map, use different skins, map modes, etc.
UberMenu
Although WordPress features a menu editor, it is basic and doesn't allow many customization options. So, if you decide to upgrade the standard menu that comes with your theme, UberMenu is something you will just have to have.
This premium plugin lets you build any type of menu that can come to your mind. Add rows and columns. Insert images, videos, maps, icons, and practically any kind of media that you desire. Its Customizer comes with more than fifty options that will allow you to edit fonts, colors, sizes and other menu elements.
You can also create tabbed submenus, add any custom HTML, and so much more. And the great part about all this is that you don't have to know anything about coding and designing. UberMenu is very user-friendly, and it will take just a few minutes to get accustomed to its intuitive user interface.
Backup Buddy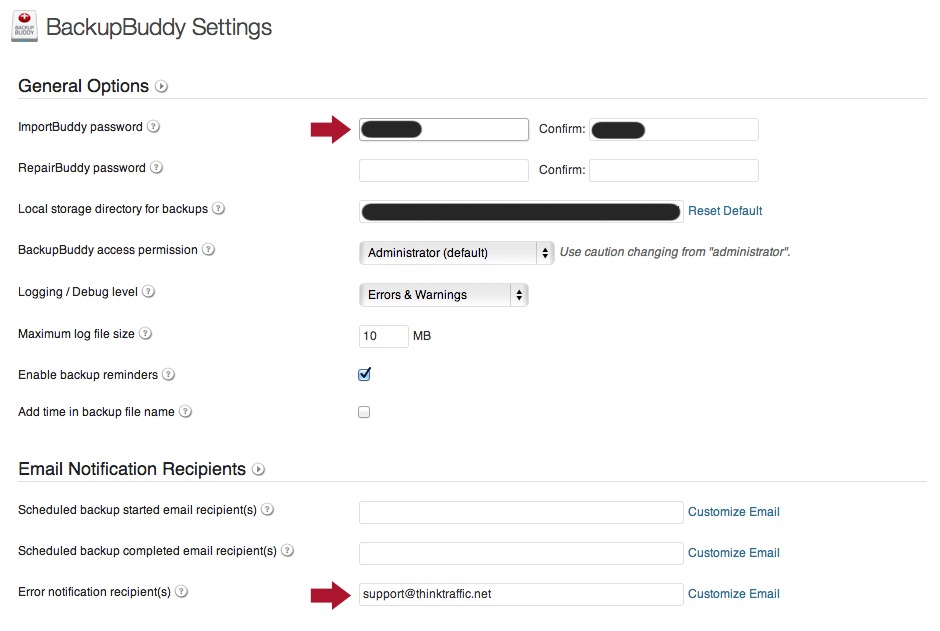 The more you work on the site, the more it becomes valuable. So, you can't take that risk and never do backups. It would be simply a call for disaster. Although the hosting company might take care of creating backups, wouldn't you be more relaxed knowing that the site is in your control?
So, when it comes to the security of your site and its content, you will want to have the best service there is.
One of the best backup plugins is Backup Buddy. It will create full backups of the site, so you don't have to worry about WordPress files, images, videos, posts, users or anything else that's in the folder. Backup Buddy lets you create automated scheduled backups, so you don't have to think about it all the time. The plugin stores everything in a safe location, and it can restore the site anytime you want, no matter what.
Google Analytics Dashboard for WP (GADWP)
Google Analytics is the most popular analytics tool that helps you keep track of website visitors. But instead of navigating away from your site to see how many visitors saw your site and which pages they looked at, this amazing plugin bring the service to WordPress.
After connecting the plugin to the site with your unique Google Analytics ID, you will be able to see all stats directly from the dashboard. In addition to general stats, you can view in-depth page and post reports. There is also the support for real-time statistics. You get to see graphs, details, and much more.
Security Ninja
Whether it's a new site that you have just launched or a high traffic and popular one that receives millions of users, your website is prone to hacker attacks. Numerous omissions around WordPress can help hackers to get access to your site. But if you install Security Ninja, the plugin will perform more than fifty tests that will tell you how safe your blog really is.
The little ninja guy will check for vulnerabilities, issues & holes, and teach you how to fix problems before it is too late.
If you opt-in for the professional version, you get access to several extra modules. Those will scan your site for malware, allow you to automate the entire process of scanning, log events and see what users are doing on the site. The latest add-on can even automatically fix certain security issues.
TinyMCE Advanced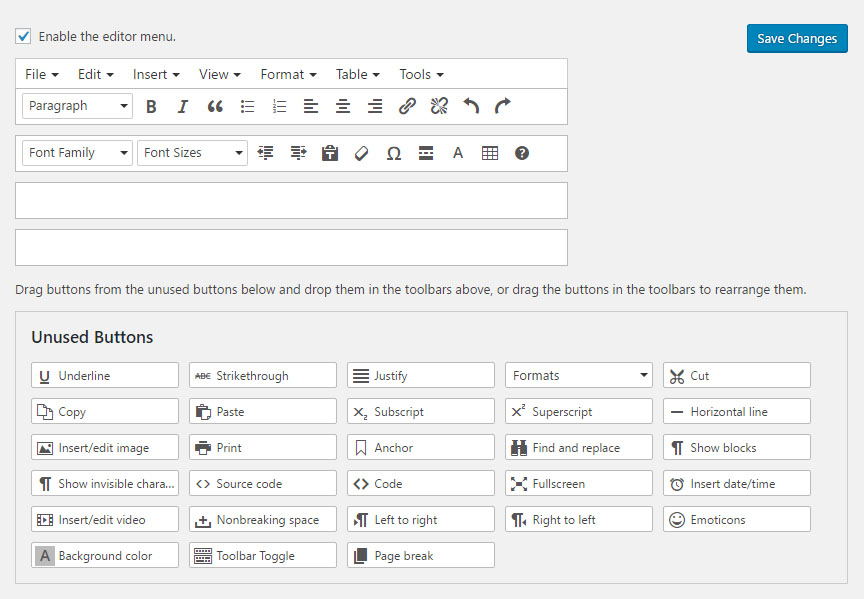 When you start to write posts, you will realize that the visual editor doesn't have all the options you might want. If that's the case, TinyMCE Advanced is the plugin that you will want to install immediately and join the happy family of more than two millions users.
This free plugin can add, remove and arrange buttons on the visual editor toolbar. Depending on your needs, it is possible to add up to four rows of extra options. Whether it's font size, background color or even option to insert HTML table directly to the editor, the plugin got you covered.
One of the amazing features of TinyMCE Advanced is the search and replace that will help you with editing long posts.
NextGEN Gallery
This simple gallery plugin can display single images or entire photo albums on your site. With more than a million users, it's one of the most popular gallery plugins for WordPress.
NextGEN Gallery is a complete photo management solution that lets you add, remove and edit images in WordPress from the backend. At the same time, the plugin creates visually attractive galleries and slideshows that will entertain visitors on your site.
The free version will be more than enough for many bloggers, but if you decide to use some of the advanced features, you should know that numerous extensions can transform the plugin into the perfect gallery plugin for WordPress.
WP Smush
With more than 700,000 active installs, WP Smush has to be one of the best and most popular image optimization plugins for WordPress. It can quickly optimize photos by using different compression techniques. Images affected by this plugin don't lose on quality; it can't go better than that!
With WP Smush it is possible to set maximum image dimensions. So, instead of worrying when and how to resize all the images from the Media Library, the plugin will do it automatically for you.
This fantastic plugin can work with JPEG, GIF, and PNG files. It also works with all directories, attachments, and you can even set it up in a multisite. Whether you want to optimize just one image or make the best out of the entire library, WP Smush is a plugin that you will want as your sidekick. WP Smush PRO is also available with numerous other features.
 Social Warfare
After publishing a post, you will want to share it. Hopefully, users will want to share articles with their friends and family as well. So, to give them the best options when it comes to sharing on social media, you will want a good plugin for the job.
Social Warfare generates beautiful social media icons that will attract the attention of anyone who lands on your site. Since the plugin is customizable, you will be able to set up accounts and create icons that both you and your visitors will love.
Add shareable quotes, create Twitter cards, show number of shares, and do much more with this fantastic plugin. Social Warfare even protects your content and integrates an analytics service that lets you track the number of shares.
Conclusion
With more than a few of tens of thousands various WordPress plugins, it is almost impossible to settle down on just a few best ones. Although the plugins listed above are definitely one of the best out there, there are still hundreds of fantastic ones that we left out.
Also, many of the plugins from the list have great alternatives, and you won't make a terrible mistake by finding similar popular extensions. We know that you have your favorites; so don't be shy and leave a comment with the list of plugins you can't work without, and don't hold a grudge if we left out your favorite ones.