The Best WordPress Themes in 2014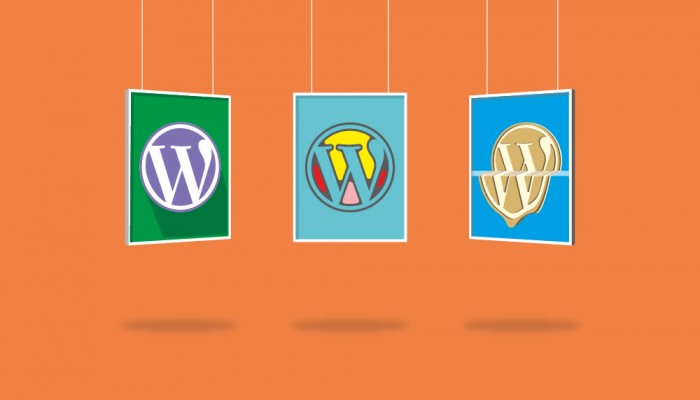 First Site Guide uses WordPress. It's true there are plenty of options out there for casual bloggers, but there's really only one best option for the professionals, and that's the WordPress platform. It's portable, modifiable, diverse, beautiful, flexible, and supported by a legion of themes, plugins, and so on.
This post is all about themes. Themes started out as the skin of the blogs, but they're more than that now. They add layers of structure and functionality to site. Most of them have free versions, and most of the really good ones have both free and (more complicated) paid versions. Selecting a theme is a big decision. One of the highlights of WordPress is that it's very easy to switch themes (literally the press of a button), but there are lots of fine controls that can't be moved from one to the other. Changing themes is like test driving cars; sure, all you have to do is step out of one and into the other, but you still have to adjust the seat, the mirrors, and learn which lever controls the wipers and which one controls the turn signal.
Rather than let you slog through the thousands of themes out there, we've collected the best themes of the year right here. No matter what you want to do, you can almost certainly do it with one of these themes in our guide.
Free Themes
Anderson
Developed by Thomas
Sleek and feature-rich, the Simple Business WordPress Theme offers multiple page layouts, FontAwesome icons, and more!
Aocean
Developed by Modern WP Themes
Aocean is a simple and beautiful responsive WordPress theme. The boxed layout of post makes your posts standout.
Besty
Developed by Faster Themes
Besty is really going to be the best WordPress theme for architectural blog, photography blog or design blog because of its features and its modern look and feel.
BoldR
Developed by Mathieu Sarrasin from Iceable Themes
BoldR is a bold, responsive, magazine style WordPress Theme. Create a beautiful and professional looking site in minutes with the revolutionary layout builder.
Bose
Developed by InkHive
Bose is a powerful multipurpose WordPress theme.This theme is a must if you wish to create a powerful and elegant website with some awesome features.
Fruitful
Developed by Ilya Pavlov from FruitfulCode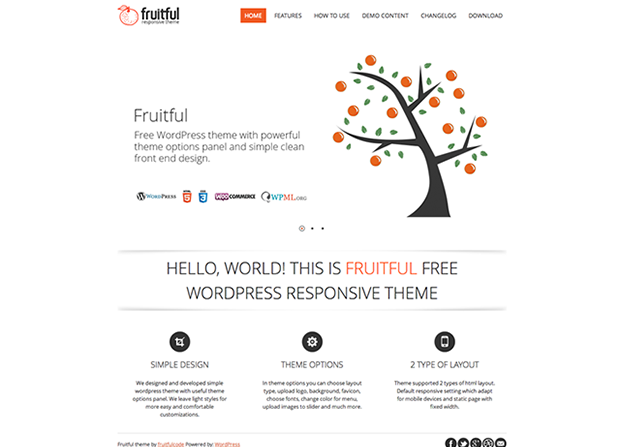 Free WordPress responsive theme with powerful theme options panel and simple clean front end design. Ability to modify styles and options according to your needs.
The Funk
Developed by Hardeep Asrani
The Funk is a responsive theme which allows you to customize theme layout and colors very easily. It's an elegant design with a lot of flexibility.

Hueman
Developed by Alexander Agnarson
Hueman presents what you love to write about in a visual & user-friendly way on all devices. A fully featured, responsive high resolution magazine & blog theme.
Ignite
Developed by Ben Sibley from CompeteThemes
Ignite is a simple, responsive, free WordPress blog theme. It's perfect for personal blogs and businesses.
Life Is Good
Developed by Daniel Klose
Life Is Good WordPress Theme is a sleek personal blog theme, giving the control back to the user. The theme focusses on a lean user experience.
Mansar
Developed by Ansh Gupta
Mansar is a Free WordPress theme designed to be used on blogging WordPress websites. The theme is eye pleasing and will make you spellbound for a moment.
OMG
Developed by WP Dev Shed
OMG is a modern full width, fully responsive theme especially suited to bloggers who want to feature bold images on their home page and archive pages.
Pho
Developed by Themato Soup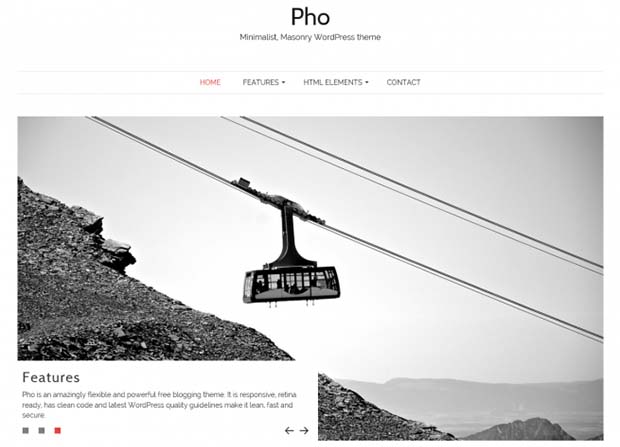 Pho WordPress theme is a minimalist blogging theme with beautiful typography, lots of white space and the love for big featured images.
Portfolio Press
Developed by Devin Price
Portfolio Press is a responsive theme for showcasing your photography, art, web sites, or other projects. It also works nicely as a regular blog site.
Realty
Developed by Michael Soriano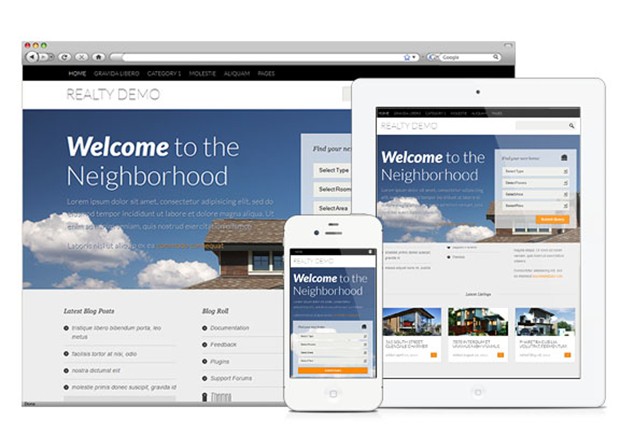 Realty is a powerful and fully responsive WordPress Theme that is packed with all the trimmings of a Real Estate Website.
Saga
Developed by Justin Tadlock
Saga allows you to customize your site and preview the changes before they go live. There are custom color options and a header icon option with 400+ icons to choose from.
Seller
Developed by Rohit Tripathi
Powerful theme with stunning features, built upon redux and bootstrap framework for backend and frontend, respectively. This is one of the most powerful themes you will come accross.
SSMag
Developed by Hary from Hot Clone Themes
SSMAG features masonry style homepage with auto resize thumbnails for the best user experience.
Sugar & Spice
Developed by Aleksandra Laczek
Sugar & Spice is a chic, feminine theme created with wedding blogs and wedding industry in mind. Showcase your brand with style!
Torch
Developed by MageeWP
Torch is a 100% responsive business wordpress theme. As a lightweight free WordPress theme, Torch steps ahead a lot compared with similar free themes.
Travelify
Developed by Aigars Silkalns from Colorlib
Theme is responsive and is optimized for any screen size. It will look awesome on iPad, iPhone, Android or any Windows Phone.
Umbra
Developed by Kelly Dwan & Mel Choyce
Umbra is a colorful new WordPress theme. Powered by Jetpack's Tonesque library, Umbra derives its palette from your very own images, or from a color you pick.
WriterStrap
Developed by Basanta Moharana from Crayonux
WP WriterStrap is a flat and minimal design theme powered by TwitterBootstrap 3.0. This is fully responsive theme, works perfectly with any mobile devices or tablet.
Premium Themes
All Around
Developed by Shindiri Studio
This template is a responsive, universal and rounded template for WordPress which will integrate online shopping into your website.
Apex
Developed by Templatic
Apex is a responsive construction WordPress theme ideal for all sorts of construction-related businesses. Use Apex to create a site for builders, architects and more.
Arcade
Developed by Chris Bavota
A big and bold header image will quickly grab the attention of anyone who visits your site.
Blink
Developed by John Fraskos and Ram Ratan Maurya – Codestag
In a saturated market of overly complicated themes, Blink allows users to achieve a visually stunning website right out the box.
Blossom
Developed by Lauren from Restored 316
Blossom is helping you grow your site and have the flexibility to show the things that are important for your business and your customers all while being absolutely gorgeous!
Bromo
Developed by Rizki Akmanda from Themes Awesome
Bromo is classic and unique blogging WordPress theme from ThemeAwesome. This theme was build with grid post and crafted to provide easy reading.
Chronos
Developed by Derk Jan ten Ham
Clean, minimal and easy-to-use that's Chronos. Chronos is a unique layed out – timeline oriented – blogging WordPress theme.
Connor Miller
Developed by CrocoBlock
Cherry WordPress theme is full set of Bootstrap features. It amazes the viewer with photos of various sights from around the globe and uncommon motion graphics.
Corpbiz
Developed by Webriti Themes
A responsive theme for Corporates and any type of business that uses multiple nav menus, Right-sidebar, Featured Slider. Beautifully designed home page all manage via option panel.
Cousteau
Developed by cssIgniter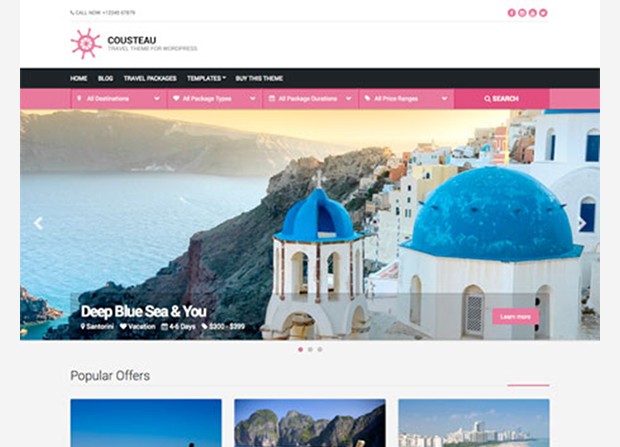 Let people know about all these beautiful places around the world. Cousteau will show the way.
Cuisinier
Developed by Tesla Themes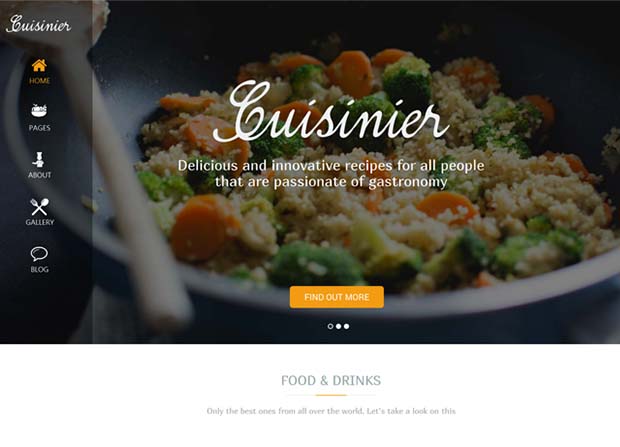 Cuisinier is an elegant food and recipe WordPress Theme, developed with your food blog requirements in mind. Use this premium template to offer your customers an eye catching design and a professional feel.
Eternity
Developed by Leo Acosta from ThemeChills
Eternity is an elegant and beautifully hand crafted responsive wedding WordPress theme.
Feminine
Developed by Magazine3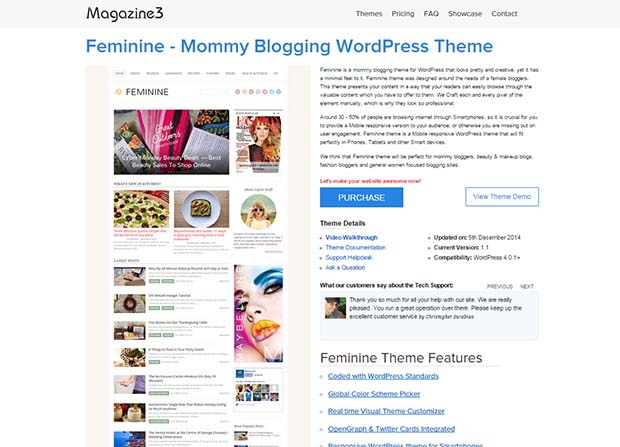 Feminine is a mommy blogging theme for WordPress that looks pretty and creative, yet it has a minimal feel to it. Feminine theme was designed around the needs of a female bloggers.
Finch
Developed by Tommus Rhodus
Finch is a responsive photography and magazine WordPress Theme with various portfolio & blog options which is suitable for artists, photographers, etc.
Fox
Developed by Luis Zuno
The Fox WordPress Theme is a Retro style perfect for creatives looking to showcase their work. This theme focus on featuring your portfolio.

FreelanceEngine
Developed by Engine Themes
A WordPress Freelance Marketplace theme beautifully crafted with simplicity in mind. Get your site up & running in minutes. Monetize easily.
Frenzy
Developed by Hermanto Lim
Frenzy is clean & flexible Multi Purposes WordPress Template based on Twitter Bootstrap framework, Frenzy is suit for any blog, news site and portfolio site.
Gardener
Developed by Nexus Themes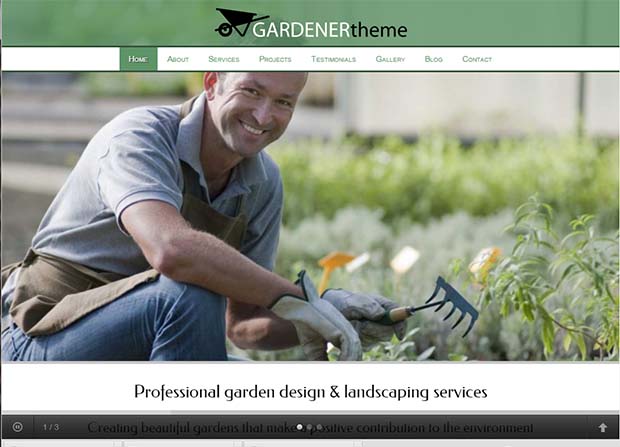 Filled to the brim with potent features, the fully renewed Gardener WordPress theme is a rock-solid WP theme for professionals in the gardening and landscaping business.
Garnish
Developed by Puneet Sahalot from IdeaBox
Garnish is a stylish, trendy, girlish WordPress theme for all female bloggers & entrepreneurs.
Gridspace
Developed by Graph Paper Press
Gridspace is responsive portfolio theme for WordPress that is perfect for showcasing vertical, horizontal or square images. Gridspace supports seven post formats.
HarmonUX
Developed by Piotr Bielecki
HarmonUX was design according to the idea of modern blog with SEO and UX optimization. Clean design provide a harmony experience, all easily tuned to fit your content.
Kulkuri
Developed by Sami Keijonen
Kulkuri is a fantastic One Page theme! You can literally do everything in just one page and scroll to your content using beautiful fixed navigation.
Lasseter
Developed by Anders Noren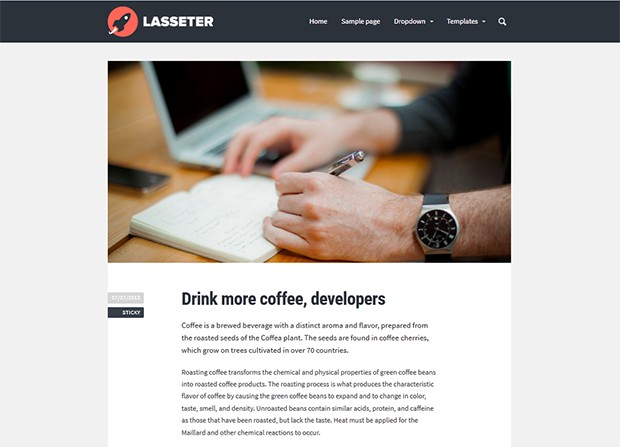 Lasseter is a clean, bold and beautiful theme that puts your content front and center.
Mobile First
Developed by Felix from RichWP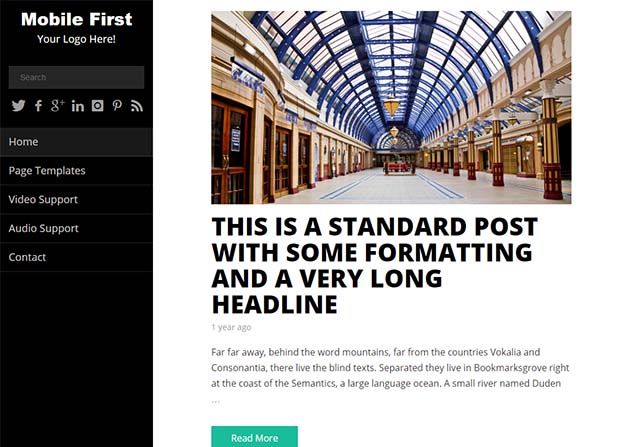 Mobile First is a fully responsive WordPress Blogging Theme. It's disruptive design combines style and function.
Moesia Pro
Developed by aThemes
Moesia is a striking business theme you can use to build an effective online presence. Choose from eleven predefined blocks and build the homepage that best suits you.
Novelti
Developed by Themes Kingdom
Novelti is a Bold News Magazine WordPress Theme. Great User Experience, simple way to present your content in an accessible, logical and beautiful manner.
Parlament
Developed by Paul from IcyPixels
Meet Parlament, clearly the right choice for a political theme. A groundbreaking desing and remarkably easy to use. This features take you closer to your dream.
Personal
Developed by Obox
A customizable content-first theme tailored for writers, journalists and bloggers. One of the cleanest and minimal themes in our collection.
Plethora
Developed by Rocket Theme
Plethora is ideal for news, magazine or similar content driven sites, whilst still being visually and functionally flexible for other types.
Rumblings
Developed by SkatDesign
Theme Demo
Rumblings is built on a fast loading, search engine optimized framework. It has unlimited possibilities and it will take your website to a whole new level.
Sharp Magazine
Developed by Gabfire
The Sharp Magazine WordPress theme features a clean design with ample use of white space to allow your content and images to shine.
Phototastic Photography Theme
Developed by Tokokoo
Phototastic is the best WordPress photography theme you need to create a Photography-based website. You can use Phototastic to display your beautiful portfolio or use it on your business website (with WooCommerce support). Check out the demo site for sure!
Simple Business
Developed by Nimbus Themes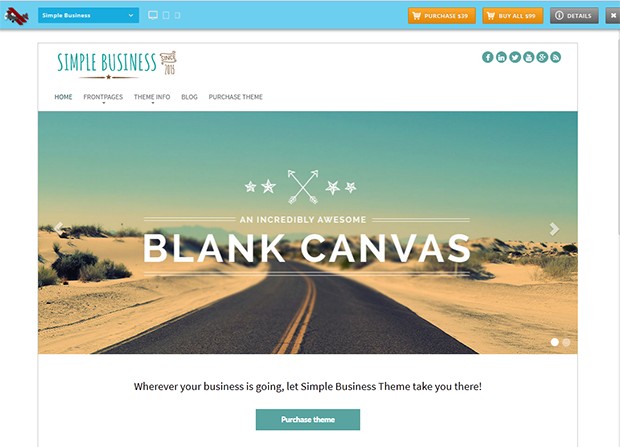 Sleek and feature-rich, the Simple Business WordPress Theme offers multiple page layouts and sliders, FontAwesome icons, responsive design, and more!
Stack
Developed by Themify.me
The Stack theme is ideal for showcasing your portfolios (design, photography, etc.), creating an unique eCommerce site, and building general corporate sites.
The Kitchen Table
Developed by Christopher Molitor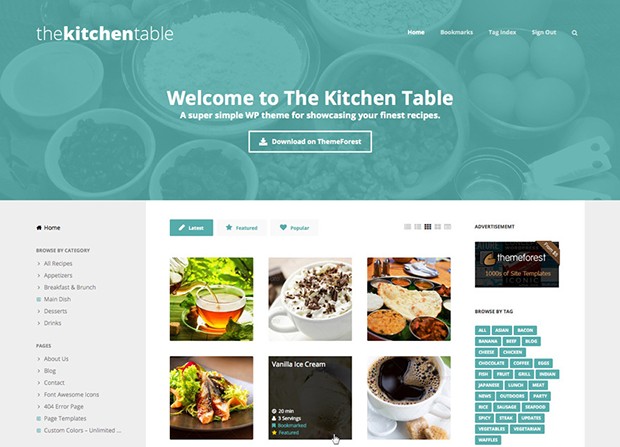 The Kitchen Table is a super simple recipes theme for WordPress. The Kitchen Table is super easy to manage and control using the theme customizer.
The Thinker
Developed by Anariel Design
The Thinker is a perfectly simple blogging theme. It has just enough detail without being flashy and just enough features not to get complicated.
Themetick
Developed by Tickera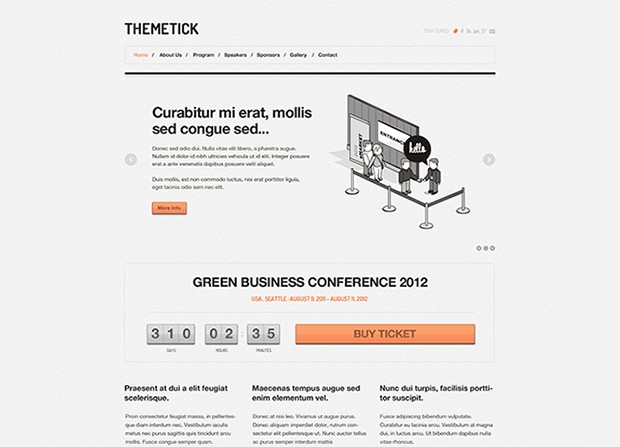 Themetick theme is premium WordPress theme built specifically to present your event in the best possible way.
Travel Affiliate Theme
Developed by Flytonic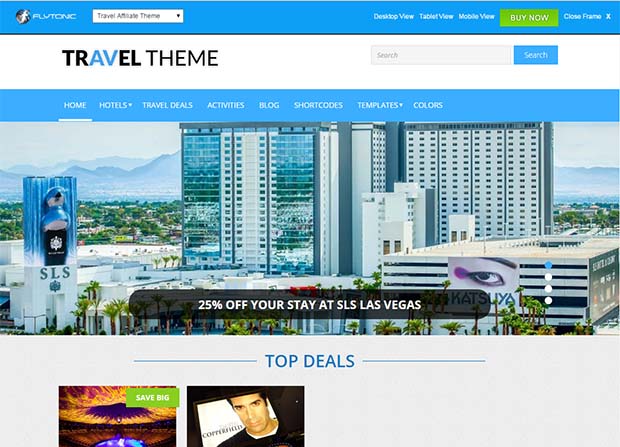 The Travel Affiliate Theme is a flexible, responsive theme for travel affiliates or bloggers for promoting or publishing content for a particular region or city.
Trolley
Developed by Colorlabs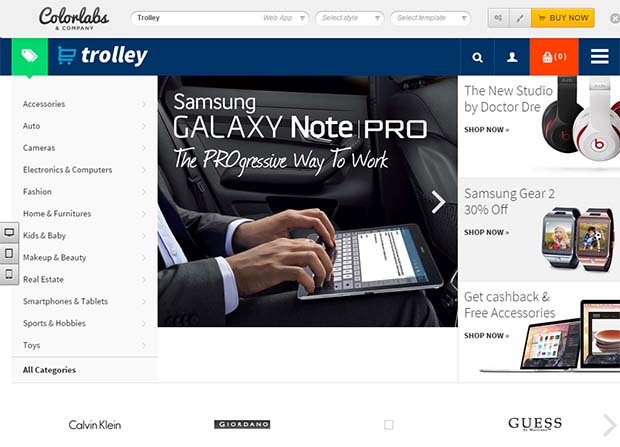 Trolley is a professional e-commerce WordPress themes created with a clean design. It's a good choice to showcase your products to be lined up on your online store with a colorful scheme.
Ushuaia
Developed by wpCasa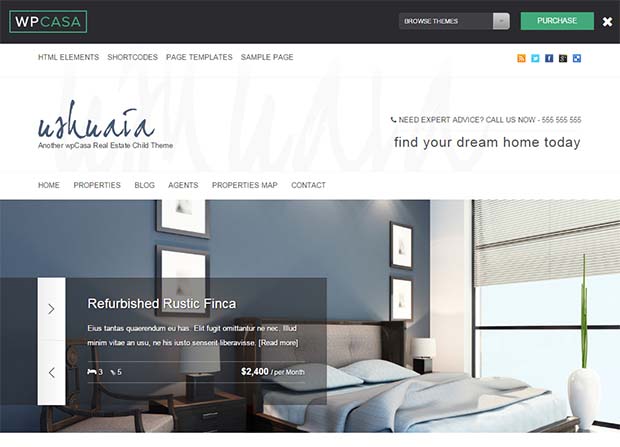 Ushuaia is a minimal wpCasa child theme with a great visual impact for your professional real estate website
WP Brilliance
Developed by Solostream
Beautifully bright, and loaded with creative functionality. That pretty much sums up WP-Brilliance.
START YOUR OWN BLOG
This guide is an introduction to mastering the art of blogging. It provides easy to follow steps to start, maintain, and grow your blog.