Blogs Like Thought Catalog That Can Help You Develop Your Style
FirstSiteGuide is supported by our readers. When you purchase via links on our site we may earn a commission.
Read More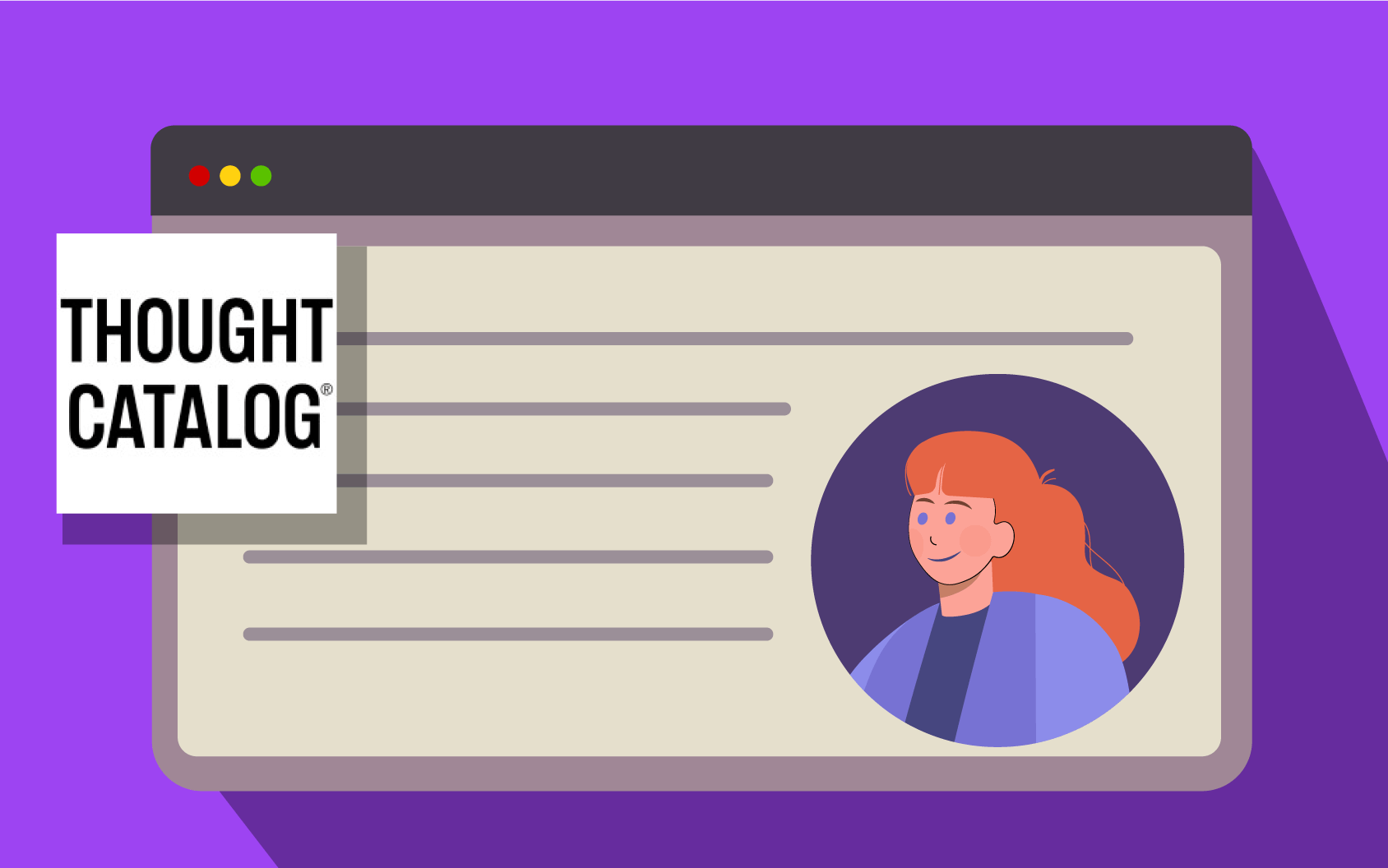 The internet houses over 600 million blogs, so standing out can be challenging. A unique style and voice can help, among other factors, but how can you develop them? You can find inspiration in top-performing blogs like Thought Catalog and its many competitors.
What is Thought Catalog?
Thought Catalog is an online magazine focusing on youth culture and coming-of-age stories. Its writers share personal experiences, opinions, ideas, and tips regarding family, friendships, romance, beauty, physical and mental health, self-reflection, self-improvement, and many other everyday topics.
Besides inspirational and heartfelt stories, it features poetry, books, movie and TV show discussions, and genuine reviews of everything you can imagine.
Why do people love it?
Thought Catalog attracts 30 million monthly readers seeking honest, thought-provoking, relatable stories that make them feel like they're not alone. It has a supportive community of inspiring people on a journey to discovering themselves and helping others heal, tackle challenges we all face, and live life to the fullest.
It empowers creative minds to share thoughts and experiences, cataloging their stories to help build a better tomorrow.
Top 8 blogs like Thought Catalog
The versatile Thought Catalog content can be an excellent inspiration when starting a blog and developing your blogging style. However, extending your research to other blogs might help expand your horizons.
Here are the top blogs like Thought Catalog every aspiring blogger should read.
ViralNova — ViralNova homepage
ViralNova is among the fastest-growing blogs – ever. Sharing trending global stories, it garnered over 100 million readers within months of its 2013 launch.
The secret to its soaring success? Clickbait headlines. Say what you will about that, but those posts go viral.
Upworthy — Upworthy homepage
Upworthy is another blog with (mostly) sensational headlines, which is why it swims in viral waters. However, it features stories worth sharing, so we forgive it for all the clickbait.
This blog stands out for sharing positive content, from education-related posts and heartfelt stories on family and animals to thrift shopping and pop culture news.
Elite Daily — Elite Daily homepage
Elite Daily caters to Gen Y and Gen Z women seeking relatable experiences for living a better life. It tackles relationships, beauty, fashion, astrology, social justice, politics, and many other topics.
Besides general news, you can find stories and tips regarding travel, food, wellness, college life, dating, and tech. There's also an entertainment category with TV, movie, and celebrity news.
PairedLife — PairedLife homepage
PairedLife focuses on relationships, including dating, love, breakups, physical intimacy, marriage, and family. It also tackles friendship, social skills and etiquette, genders, sexuality, and partner compatibility.
It's the go-to blog to find relatable stories, advice, and tips for making meaningful, long-lasting connections with loved ones.
Odyssey — Odyssey homepage
Odyssey (The Odyssey Online) features stories and tips from creative minds to drive positive social change. Its writers share thoughts, opinions, and ideas from diverse perspectives, helping readers improve their lives. You can find content on lifestyle, health, wellness, college life, and adulting.
Additionally, this popular blog has designated spaces for entertainment, politics, activism, and sports news.
HelloGiggles is a lifestyle and entertainment blog for millennial women. Its creator, the famous Hollywood actress Zooey Deschanel, may have helped propel it to towering heights, but the fun, uplifting, and empowering content ensured its ongoing success.
Besides trending news, this blog covers beauty, lifestyle, entertainment, fashion, and love topics. The cherry on top is post-pandemic dating advice – who doesn't need that?
Bored Panda — Bored Panda homepage
You've undoubtedly heard about Bored Panda, the go-to place to look at heartwarming photos when feeling down. This ever-growing community of artists, designers, photographers, and creators shares amusing and uplifting news and stories that quickly go viral.
It features user-generated content in numerous categories, including travel, social issues, nature, family, parenting, animals, food, fashion, entertainment, relationships, humor, climate, and recycling. It's typically image-heavy and spreads like wildfire.
SheKnows — SheKnows homepage
SheKnows is a women-oriented blog publishing inspirational, empowering stories and helpful advice for busy moms looking to make the most of their action-packed lives.
It covers parenting, relationship advice, health, wellness, beauty, lifestyle, food, recipes, decor, DIY projects, and shopping. It throws in entertainment news for good measure – because life is more fun with books, music, movies, TV shows, and the latest celebrity tea.
Are you ready to start your own blog like Thought Catalog?
Creating a personal blog can be done so quickly. You need to choose a name for your blog first. It's one of the most important steps when starting a new blog.
Recommended tool:
After choosing your domain name, you need to decide on a blogging platform and a web hosting provider.
1st choice for new bloggers

Starting at
$8.99
$2.75/month
Free domain name
63% off regular price
30-day money-back guarantee
Set up a blog with a one-click 
Visit Bluehost website →
Conclusion
Many blogs like Thought Catalog can help you find the inspiration to develop a unique style and make your voice heard. Some of the best include ViralNova, Upworthy, Elite Daily, PairedLife, Odyssey, HelloGiggles, Bored Panda, and SheKnows. Explore their content to see how their creative minds uplift their readers, capture their attention, and inspire the next generation of writers.