Blog vs Podcast: How Are They Different?
FirstSiteGuide is supported by our readers. When you purchase via links on our site we may earn a commission.
Read More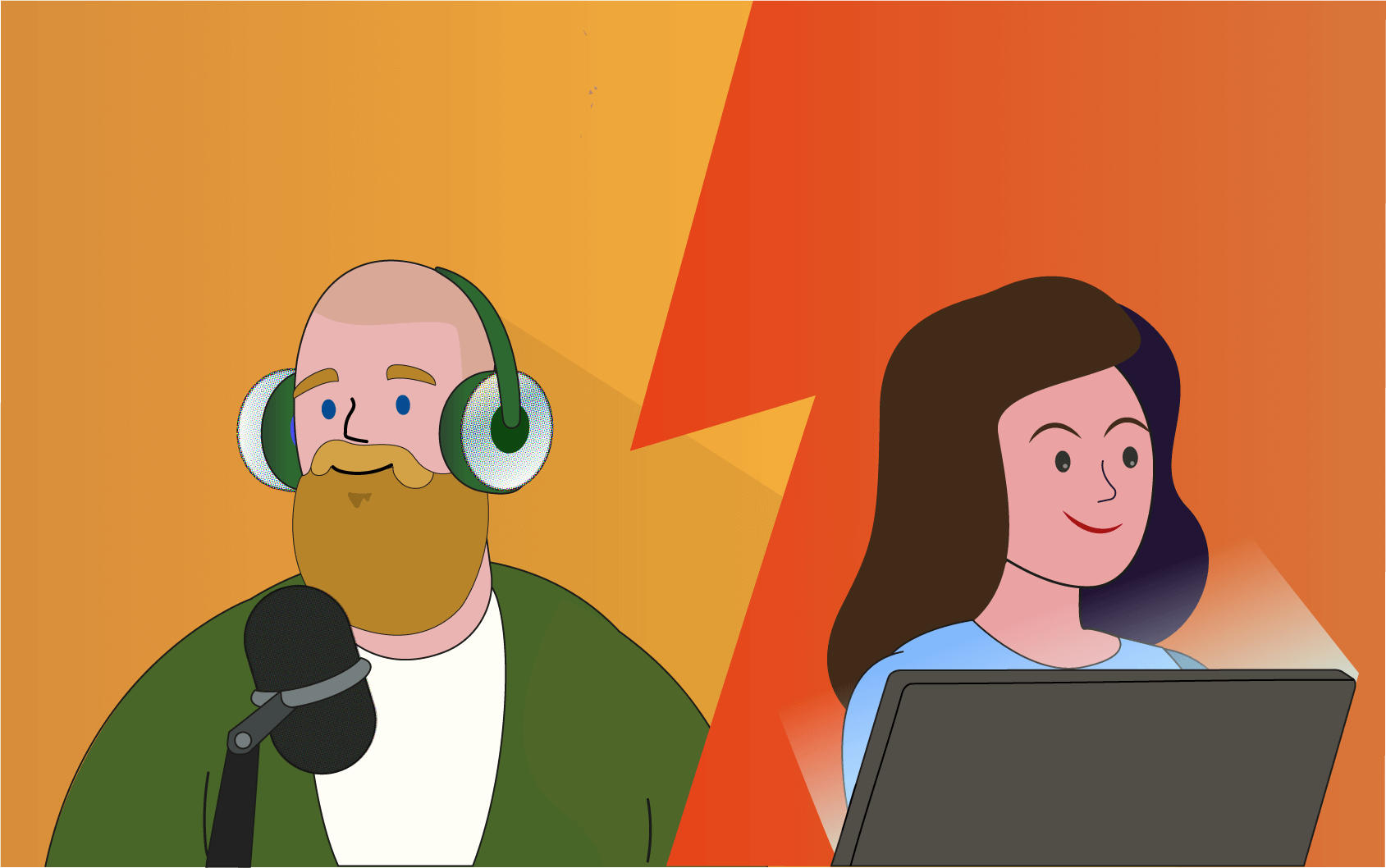 Blogs and podcasts are viral mediums people like consuming. This makes them perfect for creative types looking to build their expertise in specific subjects, promotion, networking, etc.
But which one is a better option?
Blogs are written online journals that post content frequently and let visitors read about a particular topic. Podcasts are live-spoken online shows where one or multiple people talk about a topic in a more or less formal way.
Blog vs podcast: comparison table
Here's a brief overview of some of the greatest differences between blogs and podcasts:
| | | |
| --- | --- | --- |
| | Blog | Podcast |
| Content Format | Blogs use writing, video, and images with an emphasis on reading. | Podcasts mostly use audio content, but videos are getting more popular. |
| Time required to produce one piece of content | Starting and posting a blog lasts around 3-4 hours on average. | Creating a short podcast requires 4-5 hours, with additional time invested in preparation and setting everything up. |
| Essential skills | Writing, blogging platform use, proofreading, researching, and marketing. | Conversation skills, using recording equipment, video and audio production software, podcast hosting platforms |
| Branding | Building brand awareness through words can take a lot of hard work. | Podcasts are suitable for building a brand through communication. |
| Consumability | Reading blogs requires sitting down and focusing on the text. | People can listen to podcasts while walking, running, or traveling. |
Before discussing their differences, let's see what these terms mean.
What are blogs?
Blogs are public online diaries that anyone can access. These websites have a specific blog section where visitors can see all the latest blog posts and access them. Blogs are regularly updated and deliver content regarding a specific industry, niche, or topic.
The name blog comes from the combination of the words blog and log. At first, blogs were simple online personal diaries where people could log their thoughts, activities, and important events. Modern blogs have turned into something different, and they are often used for business and marketing purposes.
Many people want to become professional bloggers and try to create a lucrative career for themselves. Luckily, anyone can start a blog today and try blogging themselves.
What are podcasts?
Podcasts are basically online radio or TV shows that come in episodes. Podcasts are usually available on various podcasting platforms. In some cases, specific podcasts even have their own websites. Stitcher, Spotify, iTunes, Apple Podcasts, and YouTube are commonly used podcast services.
Podcasters need to set up their hosting platforms before they can start podcasts. This format revolves around talking where one or more people speak directly into microphones while the whole conversation is aired online with or without video.
Different medium
The most crucial difference between a blog and a podcast is the medium.
Blogs are written pieces of text available to anyone and sometimes contain videos or images.
Podcasts can be video or audio recordings accessible through various platforms like YouTube, Spotify, and Apple Podcasts. Podcasts can be played in real-time or replayed later.
The medium is the fundamental difference between the two, creating all other significant differences.
Podcasts are usually much longer than blogs and could last for hours. On the other hand, blogs can be read in about six to seven minutes on average.
Requirements for starting a blog or podcast
Starting a blog requires a couple of things. First of all, you will need the necessary writing skills. You won't get that far if you can't write well to keep the reader's attention.
Furthermore, you will need the knowledge and creative thinking to research your topics, develop interesting insights, and connect the right dots. Blogging is more of a background role where you aren't directly interacting with people or talking to them.
To start a successful podcast, however, you will need knowledge of podcasting software, the business world, marketing skills, and speaking skills.
You will have to talk live, deliver your key points, and articulate all your thoughts clearly. It requires a more hands-on approach with adequate preparation.
Type of content
Even though blogs come in the form of written text, there is a lot of variety. You can write how-to guides that teach people to do something, offer extensive blogs with all relevant information about a topic, do definition posts, write listicles, publish news posts, offer case studies, etc.
There are different ways you can structure your blogs with how you deliver information. The most common options are the inverted pyramid and pyramid structures.
Podcasts also have several formats, including interview podcasts, where you invite guests and focus on them. Alternatively, there are conversational podcasts with a more casual approach and multiple speakers.
You can do educational podcasts to build your authority on a topic or do a podcast theater to bring less intensity to your content.
Monetization options
Blogs and podcasts can be monetized in several ways:
Bloggers make money through affiliate marketing, selling ads, offering subscription content, selling products or services, offering online courses, posting sponsored posts, etc.
Podcasts can also make money through affiliate marketing, but other revenue sources exist, including offering exclusive content, sponsorship deals, selling paid content, donations, crowdfunding, YouTube ads, etc.
Both of these options have multiple revenue sources. The profits you get directly depend on how well you build your channels and whether you have a base of readers/viewers that tune in regularly.
Production time
Writing a typical blog post (a bit over 1000 words) can last 3 to 4 hours, but more in-depth 2000–3000 word posts can take closer to 6 or even 8 hours.
It all depends on the topic and how in-depth you want your content to be. It involves finding the right topic, researching online, comparing numbers, finding studies, and putting them together in a well-structured piece.
On the other hand, producing a 40-minute podcast requires roughly 4 to 5 hours of work. Remember that most podcast episodes last longer and that creators release a single episode per week. In other words, this requires more preparation before actually releasing the content.
The first stage is planning and preparing the show. Then you have to record and edit the podcast. All of these stages require a lot of time and hard work.
Starting costs
Initially, it looks like both are relatively simple to create and don't require a lot of investments, but this isn't exactly true. Creators can save up in many ways, but if you want your blog or podcast to compete, you must offer top-quality content.
Your budget for starting a blog should cover the costs of development, web design, hosting, advertising, and branding. Setting up a simple blog can cost you as low as $33 but building your audience and improving will require additional investments.
Starting an affordable podcast will set you back at least $400, and you will need a good computer, headphones, microphone, recording software, editing tools, branding, and advertising. Like with blogs, you will have to invest a lot more down the road to improve the quality of your podcast.
Conclusion
We hope this post has helped you understand the main differences between blogs and podcasts. If you are more of an introvert who likes to communicate with people indirectly through text, it's probably a better option to go with a blog. On the other hand, if you like the spotlight and want your voice to be heard, consider starting a podcast.