Blog vs. Vlog Income Differences You Should Know
FirstSiteGuide is supported by our readers. When you purchase via links on our site we may earn a commission.
Read More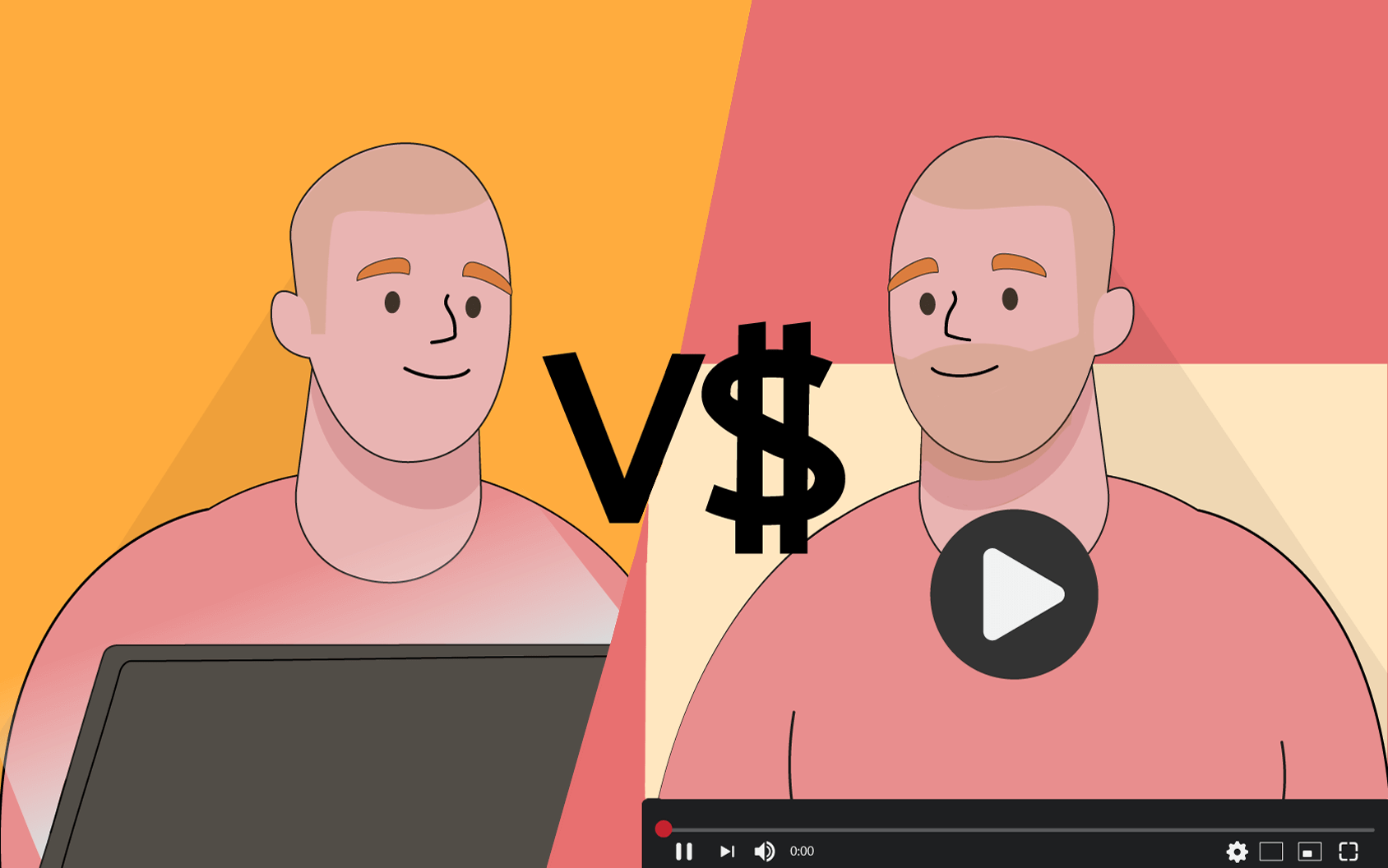 Choosing between blogging and vlogging comes down to your preferences. Starting a blog is a no-brainer if you love writing and are a subject matter expert. A vlog is perfect if you're a visual storyteller who loves being on camera and engaging people on a deeper, more personal level.
However, opting for one becomes challenging when you find both exciting. That's where the blog vs. vlog income debate comes into play. Knowing which option is more profitable might nudge you in the right direction.
Let's explore the essential income differences between blogging and vlogging, including how long it takes to see the money rolling in.
Before diving into the specifics, here's a quick overview of the crucial income differences.
How much can you make blogging vs. vlogging?
According to ZipRecruiter, bloggers in the US make an annual average of $45,000, while top earners generate around $104,000. Travel blogs are among the most lucrative, helping their creators make $86,200 yearly, on average, while some bloggers earn a whopping $222,500.
Vlogging is typically more profitable, primarily on YouTube. YouTube channel earnings range from $14,000 to $129,500 in the US, with $60,900 as the national average. However, many YouTubers worldwide make tens or hundreds of millions of dollars.
How much you can make blogging or vlogging depends on many factors, including your niche, topics, digital traffic, audience size, monetization strategies, invested time, and – most importantly – content quality.
Increasing blog traffic over time with relevant posts and monetizing your blog can help you earn as much as vloggers do.
Initial investments
Besides choosing a blogging platform like WordPress, starting a blog requires purchasing a domain name ($10–$20 annually) and paying for a web hosting service (several dollars monthly).
You don't need to invest in high-tech equipment – you only need a working computer to set everything up and craft relevant content in a word processor. After all, an online journal where you share personal opinions, experiences, and expertise is the definition of a blog.
Of course, you'll need to spread the word about your blog to get more views and boost traffic. Investing in online advertising, SEO tools, and email and social media marketing software will help.
Starting a vlog on YouTube, Instagram, Facebook, Vimeo, or another platform is free. However, you must invest in a high-quality camera, microphone, tripod, lighting, and video editing software. Those can be expensive but are crucial for professional videos.
Monetization options and revenue
You can monetize your blog in many ways. The best include affiliate marketing, sponsored reviews, memberships, subscriptions, selling products or services, and displaying ads on your blog.
Making money on YouTube or another vlogging platform is similar. You can sell products, publish sponsored posts, leverage ads, offer memberships, and become an affiliate. You can also monetize your YouTube channel with Super Stickers and Super Chat to highlight comments in live streams or generate revenue from YouTube Premium views.
How much time is necessary to start earning?
It takes about a year to earn money from blogging because building authority and growing an audience takes time. Since vlogging platforms already have both, you can generate revenue faster, primarily if one of your videos goes viral.
Conclusion
You can leverage other monetization strategies, but the blog vs. vlog income debate comes down to this question: "Would you like to generate revenue quickly or invest time to ensure you earn money in the long run?"