What Is the Difference Between a Blog and a Website?
FirstSiteGuide is supported by our readers. When you purchase via links on our site we may earn a commission.
Read More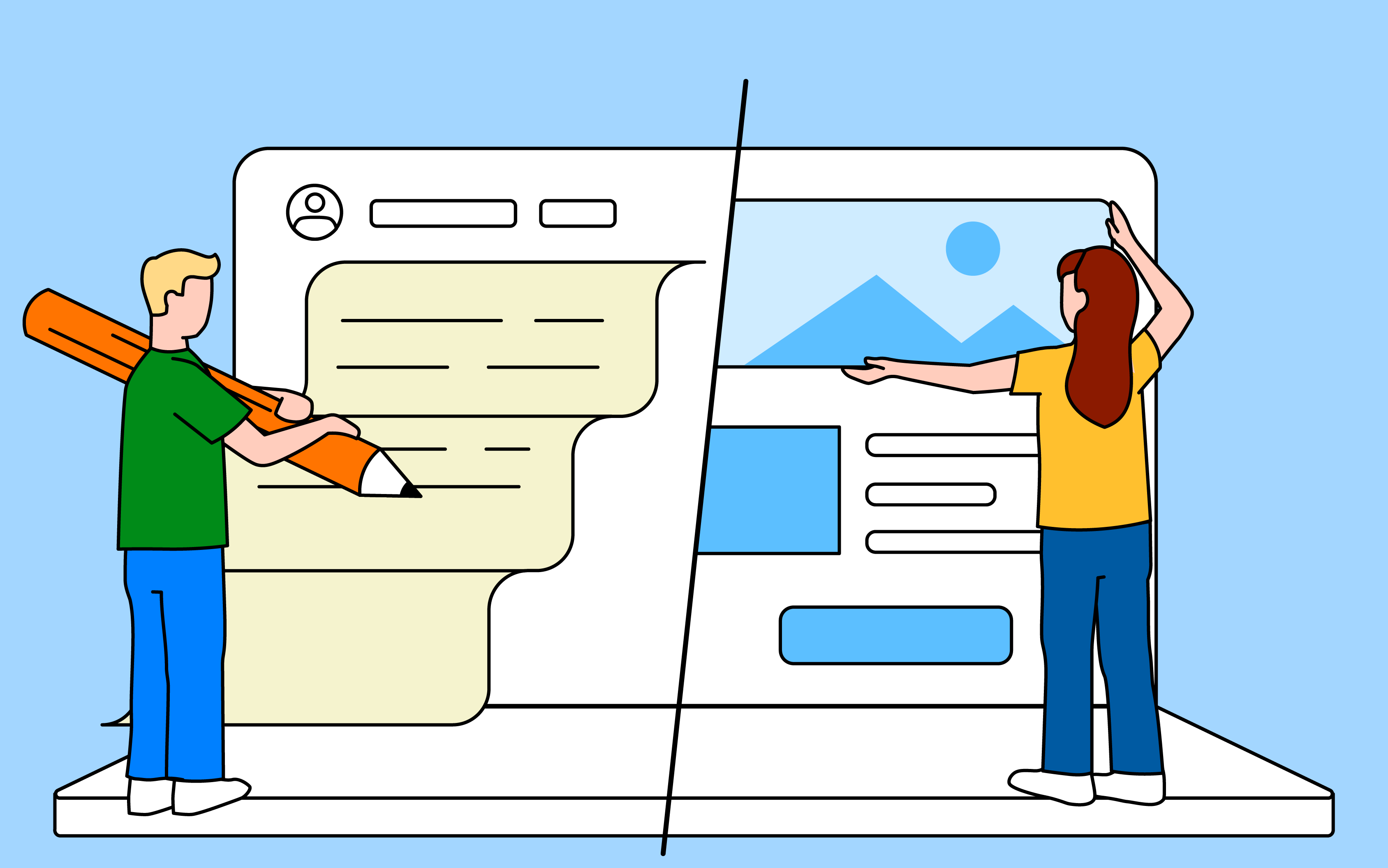 If you want to start making money online, having a blog or a website can both be excellent options. If you want to increase your disposable income, you have many opportunities to do so online. With a simple blog or a website, you can quickly start accumulating an audience, building up your reputation, and boosting your revenue. The only question is which route you should take.
Should you start a blog and try to connect with readers worldwide? Build a website and start your own business? Or do both?
To determine your best course of action, you first need to know what a blog is, what a website is, and whether there's any difference between the two.
So, let's get into it.
What is a blog?
When blogging first started back in 1994, it was a way for individuals to express their thoughts and beliefs. You'd use your blog as an online journal or a personal diary, sharing opinions with your readers and logging your daily activities. That's where the name comes from – it's short for weblog.
In essence, a blog is a website, but the opposite is not always true. It's a platform where you can post frequent articles related to any topic that you find interesting. All of your content will be presented in reverse chronological order – the newest entries appear at the top of the page.
Most commonly, you'll stick to a specific niche, such as a food blog, a fashion blog, a car blog, or anything in between. However, you can also mix and match if it makes sense for your audience. You'll have a comment section where you can communicate with your readers, and you'll generally stick to a more conversational tone.
Over the years, blogs have evolved into the go-to method for businesses and individuals to communicate with their audiences, share relevant information and updates, and, most importantly, improve their online presence.
When businesses started blogging, the lines between websites and blogs became more blurred than ever before. Suddenly, you started seeing websites with dedicated blog pages, as well as blogs that were slowly turning into websites in their own right.
What distinguishes blogs from websites today is that they're dynamic, with new posts and content published monthly, weekly, and even daily, they're primarily informal (although that depends on the author), and written for entertainment, education, and most commonly, for fun.
Today, there are well over 570 million blogs online (not including websites with dedicated blog pages), with more being created by the minute. If you want to get into blogging, you'll have to brace for some fierce competition, but it can be well worth it.
What is a website?
While a blog is a type of website, not every website is a blog. A website is a collection of related web pages that belong to a single domain.
Most commonly, it's a set of landing pages and multimedia content that's static. A website will have a clear structure, with a homepage that has buttons, widgets, and a menu that you can use to navigate the site. However, it won't have some of the elements often included in blogs, such as author references, publishing dates, tags, topic categories, and the like.
You won't see frequent updates or changes on a website like you would with blogs – unless a website sells products, in which case you might see changes as new products are added.
Websites are generally more formal and professional than blogs. Their aim isn't so much to engage with visitors or build rapport with them but rather to inform them and drive them to perform an action such as buying an item, scheduling a demo, calling the provided phone number, or visiting the physical location.
Many businesses and government agencies, for example, will have websites where they explain (and sell) their products/services, offer their contact information, and educate the audiences about their niche.
Some of the best business websites will also have dedicated blog pages where they can reap the benefits of blogging. These blog pages will have semi-regular updates because blogging allows business owners to improve their Search Engine Optimization (SEO) and increase their online ranking. Furthermore, it allows them to establish stronger relationships with their audiences and inspire trust and loyalty.
Which is better, a blog or a website?
Whether a blog or a website is the better choice depends entirely on your needs.
If you don't have your own business and aren't planning on starting one, a blog could be a much better choice for you. As long as you have a topic that you're passionate about and a willingness to commit to frequently writing new articles, you can benefit from blogging.
However, don't rely on blogging as your get-rich-quick scheme. It takes time to attract a high number of readers and even more time to become a trustworthy source of information. Once you reach that stage, though, you can monetize your blog through various means – publish ads, write sponsored posts, become an affiliate marketer, offer relevant services, post gated content, sell eBooks, and more.
A website can be a better choice when you already have your own business. If you don't have a dedicated business website, you're missing out on hundreds of potential leads and customers. After all, about 76% of customers will look up a business's online presence before visiting it in person.
They'll either skip over you if they can't find you online or use unreliable information about your business from third parties and draw conclusions from what others are saying. This is why you need to have a website for your existing business.
Creating a website opens many doors for business owners, especially when the site has a blog page. You can still use monetization tactics like publishing sponsored posts and selling eBooks, but you can also use this as an opportunity to get into eCommerce.
Any products that your business may be already selling can likely be sold online as well, whether we're talking about apparel, handmade crafts, computer parts, vintage furniture, or anything in between. While the eCommerce industry is definitely competitive regardless of your niche, it does allow you to expand your audiences and reach new customers.
Whether you choose the blog or the website route, today you don't need much technical expertise to build your place on the web. Solutions such as the renowned WordPress Content Management System (CMS) make blog and website creation significantly easier.
How to start a blog
If you've decided that a blog makes more sense for your needs, you'll have to start building one. While this may seem overwhelming, especially if you've never dabbled in similar tasks, it isn't all that complicated.
You can complete the whole process in a few simple steps, discussed in full in our introduction to starting a blog:
Pick a niche
You can choose any niche you like for your blog, as long as you have enough knowledge about the topic to share with others. Make sure that you're passionate about your niche, as you'll likely have to dedicate much of your time to writing relevant blog posts.
Choose your blogging platform
There are numerous blogging platforms that you could go for, from Tumblr to Medium, Blogger, and WordPress. Over 43% of the web is built on WordPress, so it's your safest option.
Choose a domain name and find a host
Your domain name is how people will recognize you in the online communities. Make sure that the name is relevant to your topic and that it's unique, easy to pronounce, and concise.
Your web host is where your blog will be stored. It will ensure that your blog is visible, online 24/7 and that it can handle the traffic you'll receive.
Set up WordPress
WordPress simplifies the whole process of designing your blog and making it functional. It's user-friendly, allowing you to build a professional-looking blog site without any prior knowledge.
Select a theme
Although it's much more important what your blog does rather than how it looks, appearances still matter. Find a theme that reflects your tastes and matches your niche.
Create and publish content
While it's much easier said than done, now's the time to start writing. Start with the static content (such as About Us), then come up with your first post topic. Keep it clean and concise, and make sure to update your blog on a regular schedule.
Optimize your blog for search engines
Attracting adequate readership depends on your ranking on search engines like Google. To improve your ranking, you need to optimize your content. Research the keywords relevant to your niche, improve your link-building, make sure that your site is optimized for mobile, and stay on top of SEO trends.
Promote your blog
Few people will stumble across your blog accidentally. You'll need to promote it by using social media, participating in discussions on relevant forums, and even guest posting on others' blogs. Get creative and be patient.
Monetize your blog
As mentioned, there are many strategies that you can adopt to monetize your blog, from affiliate marketing to selling eBooks. It can take a while before your blog starts to pay off, so stay dedicated to it.
How to build a website
If a website makes more sense for your needs than a blog, you'll have to start creating one. Our full guide to making a website contains all of the main details, summarized in a few steps:
Choose your tools
Website builders like WordPress, Wix, and Squarespace will make building a website from scratch significantly easier. The alternative is hiring a website developer and investing a hefty amount.
Plan the setup and structure
Your website needs to be well-organized and easy to navigate. Determine what kind of content you'll create and which features and elements you wish your site to have, then develop a clean setup and structure.
Choose a domain name and find a host
Like a blog, your website will need a name and a hosting solution. Ideally, your domain name will be the same as the name of your business. Otherwise, it will seem unreliable and inconsistent.
Set up your website
WordPress reigns supreme in the blogging and website spheres, powering over 65% of all websites using CMS technology. It's your best option when you're just getting started.
Select a theme
Finally, like a blog, your website needs a theme. Keep it clean and professional, without too many distractions that can crowd your pages and make them more difficult to peruse.
With your website complete, you can move on to building your small eCommerce empire.
The process can be somewhat overwhelming, so we've developed this thorough guide to starting an eCommerce business that will lead you through it.
Conclusion
Although blogs and websites share many similarities, they're ultimately quite different. Blogs are dynamic, informal, and entertaining. Websites are static, professional, and informative. Both can be excellent options for making money online – it all depends on your needs and interests.