June 23rd, 2017
Intro
CDNlion was founded in 2013 as a global CDN provider. Although relatively new, the company has offices on four continents: North America, Europe, Asia, and Australia. As a base, they use OnApp federation, the global cloud network.
The company began as the brainstorm of Adam Dunovsky, who at the time worked for National Gallery in Prague and wanted to bring some of the pieces to an online gallery for the public to see. So was the altruistic idea a success or did it fizzle out?
Starting up
If you want to test CDNlion's 7-day free trial, you won't have to provide any billing information. You will have to provide it only if you want to continue using the service. However, when you do sign up, you'll have to enter your first and last name, email, country and select your password.
After that, you'll be sent an email to confirm your email, but it's not necessary for using the resources. However, you do need to confirm the email if you want to contact them or they need to contact you. We also recommend confirming it since there's no tutorial in the dashboard on setup. Instead, you'll be sent an instructional email with all the necessary links and information. This works for those who hate tutorials and for those who need them.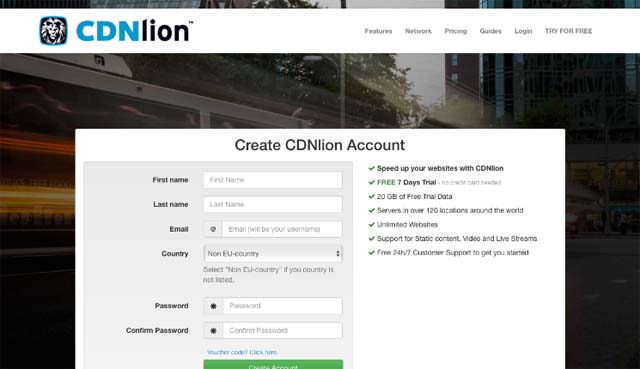 Setting up
Setting up is relatively easy, especially if you use their guides. First, you'll have to provide your domain name if you want to use their shared SSL certificate and name a CDN domain. After that, you have to know where to implement your CNAME in your hosting account. The good news is that you will know! There's a message in the CDNlion dashboard—at each resource an instructions tab pops up. After your CNAME DNS settings are verified, the tab will disappear. This is quite useful since a lot of CDN providers leave you wondering if you did everything right. After this, you're automatically assigned the Europe and North America zones, but you can add or remove zones as you want.
Features
OnApp federation is the basic foundation for CDNlion, which means you will have a lot (120) of PoPs, although all of them are not automatically included. There's an extra charge for additional zones, so, although using them improves the quality of service, your credit might run out quicker.
The Dashboard is straightforward. On the left side of the screen, you'll see a menu with: Dashboard, Resources, Statistics, Billing Overview and Buy More Data. Below that you'll find: Guides & Instructions, Customer Support and Website.
While Dashboard will give you a general overview, the real fun is under Resources. There, you'll be able to adjust your zones, and settings. Although we felt all the essentials were covered, we did miss API. You will have push, pull, purge and other essentials, together with lots of CMS implementation guides for WordPress, Joomla or Drupal. While the rest of the dashboard is self-explanatory, Website will take you to the CDNlion homepage.
Testing it out
Without the CDN support, the longest it took our website to load all content and files (5.53KB) in the browser was 15.91 seconds. To say this was slow it is an understatement. It took 952s to establish a connection to the web server and 1.75 seconds to download all the data. Best time with CDNlion was 1.64 seconds to load all content and files, it took 33ms to establish a connection to the server and 0.96 seconds to download all the data.
On average, without CDNlion it took about 1.13 seconds for the first byte. Load time on average was 6.67 seconds. With the CDNlion, it took, on average, 0.54 seconds for the first-byte response, while average loading time was 0.67 seconds. The worst loading time with CDNlion was from Beijing, China when it took 35.6 seconds. We tested times with approximately 60 simultaneous requests.
Help and support
As far as the support and help go, their platform is simple enough to understand without any support, but they do have knowledgeable agents and very user-friendly guides. However, if you need a live person for help, you have email and contact form 24/7. They do provide different addresses for sales, support and media. For chat support, they use Zendesk platform, but their agents were often busy. It was not the best solution, but for a real-time support (when you got through) it was sufficient.
Pricing
Unlike other CDN providers, CDNlion has prepaid packages. They're not time binding and you have to add funds only when you spend all of the previously prepaid one. Packages are:
Mini – 750GB
Starter – 1TB – 30GB free bonus
Business – 2TB – 100GB free bonus
Agency – 5TB – 450GB free bonus
Big Data – 10TB + 1TB free bonus
You can use all zones from your CDNlion account, however each continent has different pricing. Europe and North America are in the starter network. Other continents are charged extra and using these zones improves the quality of service, but your credit might run out quicker. They are charged as follows:
Europe – $49 per 1 TB
North America – $49 per 1 TB
Asia – $$119 per 1 TB
South America – $179 per 1 TB
Australia – $199 per 1 TB
Africa – $699 per 1 TB
They also have zones marked as "Extra," which give you access to more servers in the same zones. You can combine all of the mentioned zones, however, if you want. For "Extra" zones, there's an additional charge.
Europe Extra – $69 per 1 TB
North America Extra – $69 per 1 TB
Asia Extra – $$199 per 1 TB
They also offer customized plans; contact CDNlion for more information.
Pros
OnApp federation network
scalable zones and networks
pay-as-you-go prepaid packages
Cons
no access logs
no API
advanced users might find it limiting
Conclusion
CDNlion is a scalable CDN provider established for customers that run the gamut from small personal websites to customers with multiple websites and high volumes of bandwidth. They are extremely user-friendly and their guides are easy to understand. However, missing access logs or API may turn some more advanced users away. Uniquely, they have prepaid pricing that is a combination of pay as you go, because they don't have any time limit to the creed you prepaid. Although the 7-day free trial is shorter than most, it gives you enough time to test the majority of the features. All in all, you may want to try out CDNlion, especially if you anticipate that you'll need to scale up your usage fairly quickly.
Read full article