June 23rd, 2017
Intro
CloudFlare was launched in 2009 and it quickly became an established name among CDN providers. The company is unique in offering flat-rate bandwidth and a permanently free plan. It has a presence in China and other up-and-coming markets. CloudFlare PoPs are increasing rapidly and show no sign of stopping anytime soon. Is this boom good like a jackpot or bad like a viral infection?
Starting up
Signing in was one of the easiest processes we've ever seen in CDN industry. After you enter an email and password, you'll need to provide your website domain. After that, you'll see a short introductory video while they're scanning your DNS records and changing them accordingly. You'll have to choose the plan you want and change your name servers on your hosting account. Not a problem; you'll be given the exact information needed to make the change.
After a short wait time while your domain is propagating, you will be ready to venture into the CloudFlare world. You will have a selection of four plans: Free, Pro, Business and Enterprise. That's right, CloudFlare has an option for a free plan forever, not just a free trial, which will cover your needs for personal blogs or websites. This is definitely something that not all CDN providers offer. It is also a good way to test out the water if you want to upgrade.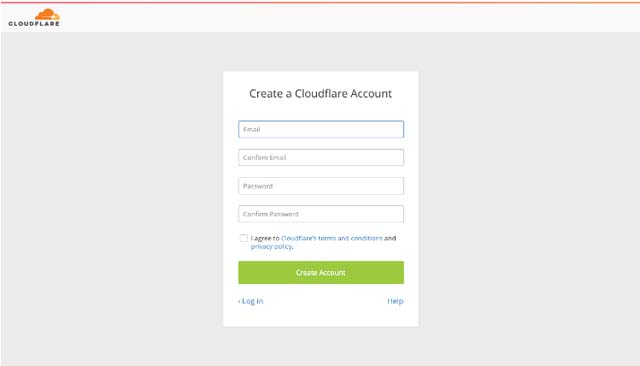 Setting up
Setting up your website is easy. In fact, it's pretty much an automatic process. Granted, you'll have to change your name servers, so you'll need to determine where they are on your hosting account. But you will be provided with the exact information so there will be no confusion about what has to be changed. All other DNS records can be rerouted through CloudFlare if you want, but it's an automatic process and you won't have to lift a finger if you don't know how or don't want to hassle with it. However, their dashboard is simple and easy to use so it's easy to navigate the process.
Features
Once you're up and running, you'll be able to access the following tabs in the dashboard: Overview, Analytics, DNS, Crypto, Firewall, Speed, Caching, Page Rules, Network, Traffic, Customize, Apps and Scrape Shield. The majority are self-explanatory, but we'd like to clarify few of them. Speed is for adjusting performance settings and Page is where you control your settings by URL. Unlike Analytics, Traffic is where you can actually control and manage traffic and review firewall events. Customize will allow you to personalize pages. Last, Scrape Shield is where you can protect content on your website.
The only downside of the dashboard is that you'll see every option, which means you'll be constantly bombarded by upselling if you're not on the most expensive plan. If you're on WordPress, as we were, there's also an official plugin that you can install. CloudFlare has constantly growing numbers of PoPs across all continents (currently 100) and interestingly, they don't charge extra bandwidth. Also unique is their app marketplace, where you can add apps that presumably work with any platform to your website, without code changes.
Testing it out
Without the CloudFlare support and flushed browser cache, the longest it took the browser to load all content and files from our 5.53KB data website was 15.83 seconds, which is really lousy. It took 668ms to establish a connection to the web server and it took 1.52 seconds to download all the data. Best time with CDN77 was 1.97 seconds to load all content and files, it took 9ms to establish a connection to the server and 1.02 seconds to download all the data.
Without CloudFlare, it took, on average, 0.29 seconds for the first byte. Average load time was
7 seconds. The worst loading time was from Beijing, China, when it took 30.02 seconds.
With CloudFlare, on average it took 0.03 seconds for the first byte response, while average loading time was 1.04 seconds. The worst loading time was also from Beijing, China, when it took 30 seconds, which isn't much of improvement. However, we tested it on the Free plan, which did not include their Chinese PoPs. We ran our tests with approximately 60 simultaneous requests.
Help and support
If you're on a Free or Pro plan, you'll get access to their knowledge base and email support—nothing more. If you want prioritized support, you'll have to upgrade to a Business plan. For 24/7 phone and email support, you'll need to buy the Enterprise plan. While this is far from ideal, the knowledge base and tutorials are beginner-friendly, so if you really need some support, it's likely to be for something serious like a large DDoS (denial of service) attack, which is covered under all plans.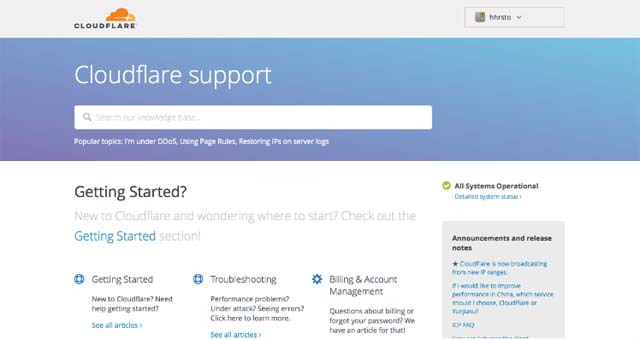 Pricing
Uniquely, CloudFlare is a CDN that offers four different plans and a flat rate for bandwidth. There are no limits or extra fees for extra GBs or requests. They accept credit cards and PayPal.
Free plan$0/mo.
for personal websites
Pro plan$20/mo.
for professional websites; includes upgraded security and performance
Business plan$200/mo.
for small eCommerce websites with advanced security and performance and prioritized support
Enterprise planPricing isn't transparent, though a free trial is offered
for big websites; with 24/7 support, guaranteed uptime and access to China PoPs
Pros
always-free plan for personal websites
very easy to use
all bandwidth is flat rate
Cons
upselling
no push zones
pay more for support
Conclusion
In conclusion, CloudFlare is one of the first CDNs you should test. It's fast, reliable and most importantly, it's free for small websites. The trade-off is that you'll be bombarded with upselling if you have anything but the most expensive plan. Sure, they don't offer pay-as-you-go plans, but that's balanced by not charging additional fees for extra bandwidth usage.
While we weren't thrilled that you have to pay extra for support that's not even 24/7, their processes and guides are very beginner-friendly. CloudFlare is a CDN power to be reckoned with. Transparent and helpful, there's no reason for you not to test and/or use it.
Read full article