Colorlib Review
Company Overview, Pricing, and Features
FirstSiteGuide is supported by our readers. When you purchase via links on our site we may earn a commission.
Read More
Intro
While there are many theme providers, there are few providers that will also encompass themes from other providers. Colorlib is exactly that. While it is a humble provider of free themes that exists from 2014, it is also a place where you will find numerous theme collections. But is its development in the gutter to they are just hibernating to jump up higher than ever? Let's find out.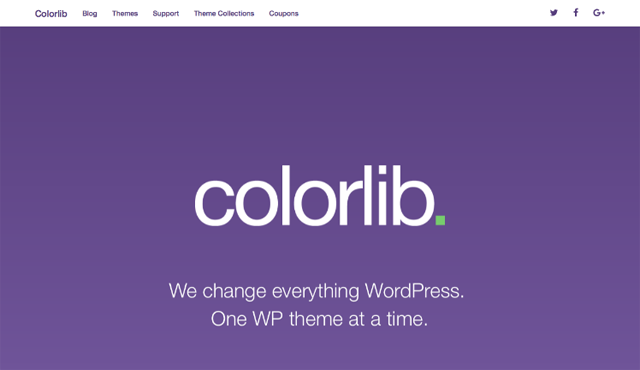 Setting up
Signing into Colorlib was not an easy task. There was no obvious registration form on their homepage so we browsed a bit on their website until we stumbled upon it on another page. So after the process of registering and checking our email and logging in, we were logged in into… We guess Colorlib's WP dashboard. We are still not sure what that was, or why we need it so we left and decided to go and see their themes.
While we found that they offer free themes, premium themes were available on other websites, cataloged on Colorlib. While we were still frazzled because we expected a theme provider (which we got) it looked like we stumbled upon something else, a login into WordPress.com. But we were not sure whose account it was, but ours was not. So we proceeded with downloading one of their themes, uploading it in .zip format on our WP website… and things were working. All's well that ends well?
User Friendliness and Functionality
We decided to test out their Sparkling theme. Which was free, just like the rest of them. No premium themes. But, somehow, Colorlib ends up on lists of theme providers, often on the same lists as premium providers. So what was the catch? Their sign in process or figuring out what they were, was not as streamlined as other websites. Sure, they were helpful, but in a confusing way. At least in the beginning.
So to make things clear here, because even the about page was not too helpful, with Colorlib you will get a page that is all about WordPress and its themes, that also offers some free themes that you could install yourself. While it was and probably still is a one-man job, it is a website that is active, at least according to its blog. So why, despite the 2015 notice, that they will "soon" provide us with premium themes, they do not have them? Do not ask us, but sometimes life happens.
But to get over that whole messy introduction, let's get to the point of their themes. You will barely get to the double digits with their catalog. Which is not so good, but since they are all free, we can't say that it is bad either. But then you can have the whole debate of premium VS free themes and honestly, we do not want to go there. If you want to go premium, you will have to go somewhere else, but you can take a discount coupon from Colorlib with you.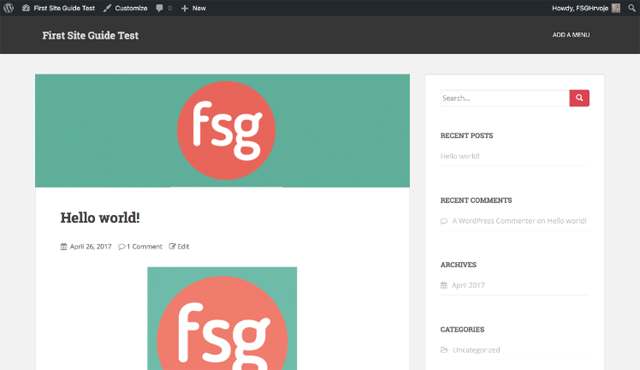 But we will say that, if you disregard initial confusion, you will get a provider of free themes with a little bit extra. But since they themes are free, that does not mean that they are bad. Or that they don't have support or documentation. Or that they are not multi-language ready. Because they are all that. We will say that it is on par with some of the premium themes and they definitively look better than some. And they are well coded so you won't have a performance issue. But they lack more frequent updates and plugins. And that leaves us with "meh" taste in our mouth.
Design and Graphics
While the graphics and quality of free themes can be disputable, in this case, it is not. While they may be small in numbers, their design is modern, coding is clean and all themes are responsive. You will get performance and simplicity without spending a dime. But then again, you are dependant on your default WP customization dashboard. Which sometimes doesn't do much. But when it comes to their catalog there are over 150 theme collections on various topics and they strive to deliver at least 3 new theme collection each week.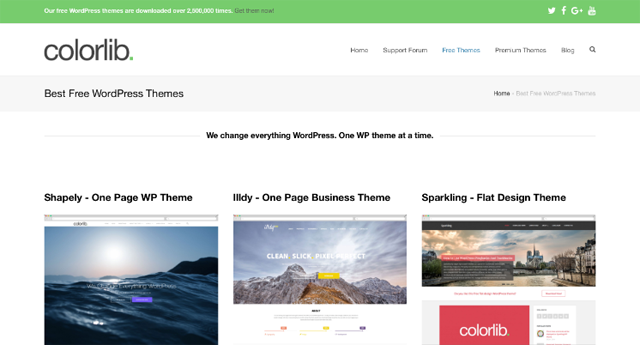 Support
In a way, we can argue that the whole website is one giant support. From the start, you will find several useful tips for WP themes and what to do with them. Each theme comes with customization and if you need support, there are support forums and tutorials. And that is it. There is a contact form, but it is not for support. While forums are active and helpful, and we do realize that we are dealing with the free provider, it somewhat feels lacking. Maybe future will bring something more?
Pricing
There are no prices on Colorlib's themes. They offer affiliate coupons for other premium theme providers.
Pros
all free themes
online theme collections repository
lots of affiliate coupons
Cons
no premium themes
confusing and unnecessary registration
rare updates
Conclusion
While there are many theme providers, Colorlib saw that there is one thing missing in the business: theme provider catalog. While you may argue that there are reviews and lists and websites that do that, none of them will also provide you with WordPress themes as well. But having said that, it looks like Colorlib is in a constant stage of "next big thing" but it is not getting where it is supposed to go. But even with a few free themes that they have, they keep them up to date, no matter if we are talking about coding, design or functionality. If you are just dipping your toes in the WP theme design area, Colorlib is a good place to start and they have some of the best free themes out there. If not and you have a few dollars to spend, you might want to look somewhere else.