20 Most Important eBay Statistics and Trends for 2023
FirstSiteGuide is supported by our readers. When you purchase via links on our site we may earn a commission.
Read More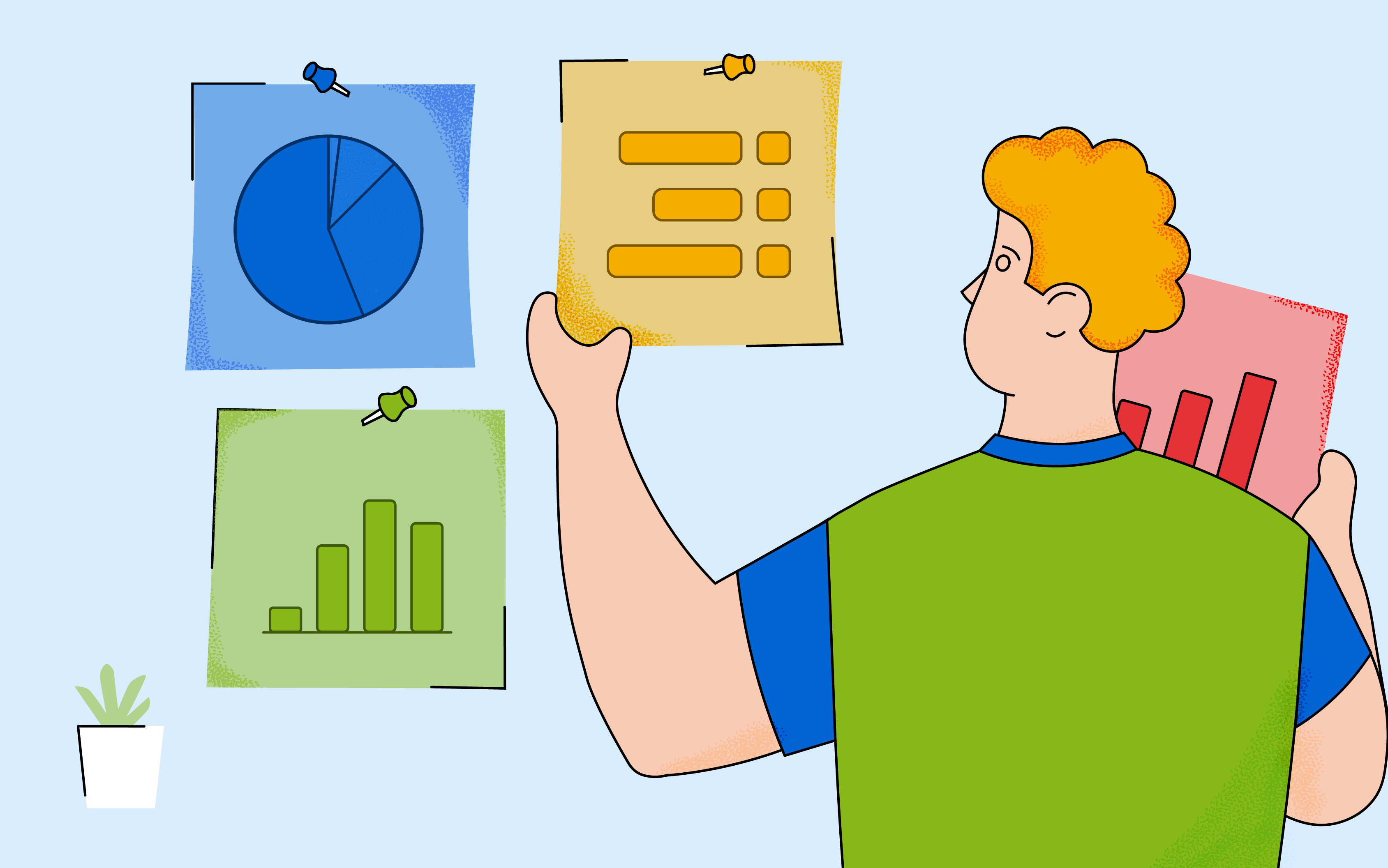 As one of the first and also most prominent global marketplaces, there's a lot to cover when it comes to eBay. Although initially launched as AuctionWeb, the platform was renamed eBay two years after its launch. However, the primary concept has remained unchanged: to bring buyers and marketers together in a safe and open marketplace.
Today, eBay remains a valuable eCommerce business across the globe. Thanks to its impressively large selection and unbeatable prices, users repeatedly return to eBay.
With online shopping becoming an increasingly popular trend that shows no signs of slowing down anytime soon, we've decided to review the 20 most important eBay stats and trends for this year.
Before we do that, let's check out some eBay facts and stats highlights that made this company a well-deserved successful worldwide marketplace.
Interesting eBay Facts and Stats
eBay generated more than $10.2 billion in revenue in 2020.
There are over 1.5 billion active listings on the platform.
Almost 187 million people actively use eBay.
More than 17 million sellers use eBay to sell their products.
eBay counts around 1.7 billion visits each month.
31% of top eBay sellers are US-based.
eBay has approximately 62% male and 38% female users.
35-64 is the largest age group that uses eBay.
Around 70% of purchased items are shipped for free.
General eBay statistics
Now that you know more about eBay and its powerful impact on the global digital marketplace, let's jump straight into the top 20 eBay stats and trends.
1. eBay revenue continues to increase each year.
With revenue generation of $10.2 billion in 2020, eBay continues to see a 5.1% annual revenue increase. Although a major decrease happened in 2014, that's only because of the business separation from PayPal. That is also when eBay started focusing on growing advertising revenue.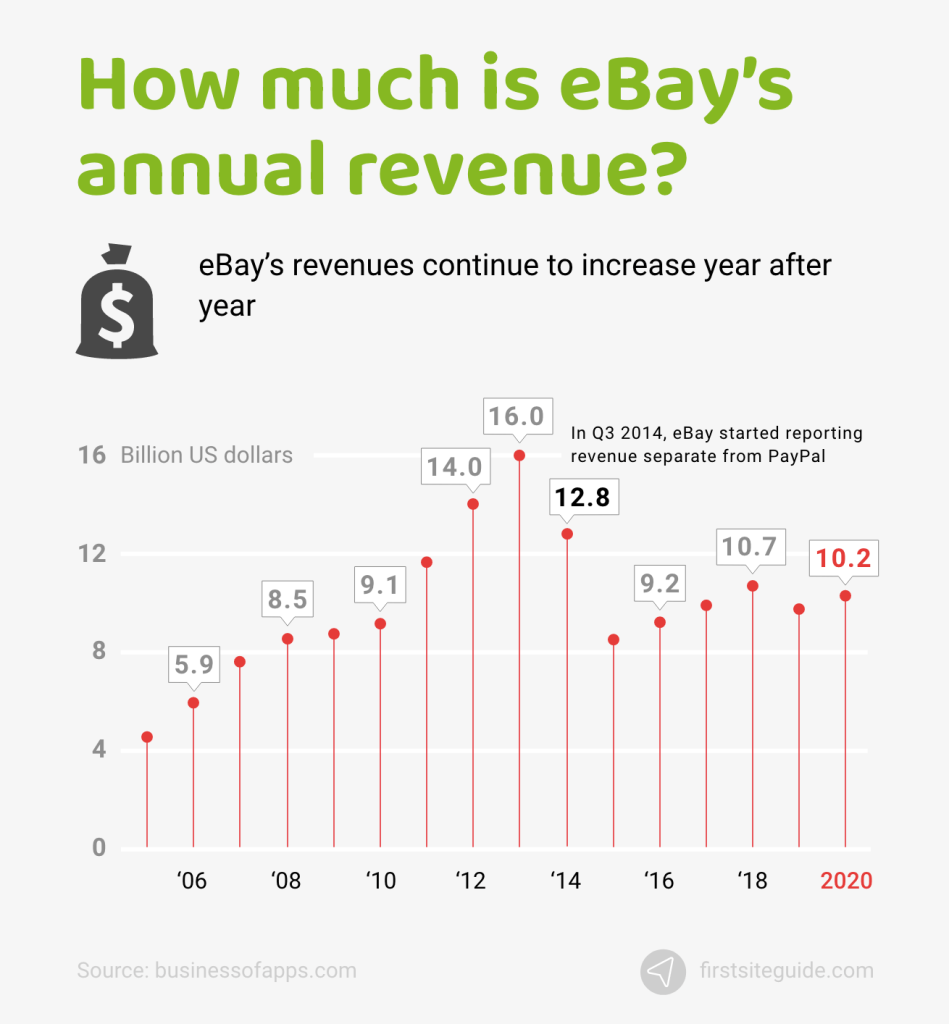 (Source: Businessofapps.com)
2. eBay's market capitalization is $47.83 billion.
As one of the top 10 large-cap eCommerce companies, eBay holds 9th place with a market capitalization of $47.83 billion. Since eCommerce is a highly competitive industry with Amazon and Alibaba leading the way, 9th place still reflects significant success.
(Source: Statista.com)
3. eBay's GMV in Q4 2021 was $20.7 billion.
Looking at the last quarter of 2021, eBay's GMV (Gross Merchandise Volume) was $20.7 billion. That means that eBay sold $20.7 billion worth of goods during that period.
(Source: Ebay.com)
4. eBay counts over 187 million users.
As of Q1 2021, this worldwide marketplace platform counts over 187 million users. Comparing this number to the number of eBay users in the previous quarter, that shows 1.08% growth and 7.47% growth compared to the previous year.
(Source: Ebay.com)
5. eBay counts 1.7 billion monthly visits.
With 1.7 billion monthly visits as of April 2021, eBay is officially the second most visited shopping website, following Amazon as the global leader.
(Source: Statista.com)
6. Each month, more than 885 million people visit eBay.
With more than 885 million website visits each month, eBay is one of the most popular eCommerce marketplaces. That is supported by the fact that more than 197 million people use their devices to visit eBay's online platform each month, whether they place an order on the site or not.
(Source: Statista.com)
7. 1.5 billion listings are currently live on eBay.
You probably already know that eBay is a prominent and influential marketplace, but did you know that there are 1.5 billion listings available on eBay right now? That is something to consider when deciding how you want to sell products online.
(Source: Ebayinc.com)
8. 17 million sellers offer their products on eBay.
You can find anything you need on eBay, from electronics and fashion products to gardening tools. A whopping 17 million sellers use the platform to offer their products to interested buyers.
(Source: Ebayinc.com)
9. 31% of top eBay sellers are US-based.
Although eBay is a worldwide marketplace, its popularity varies from country to country. For instance, 31% of top eBay sellers are from the US. Another popular destination is the UK, with 29% of top sellers. Finally, Germany takes 3rd place with 15% of leading sellers.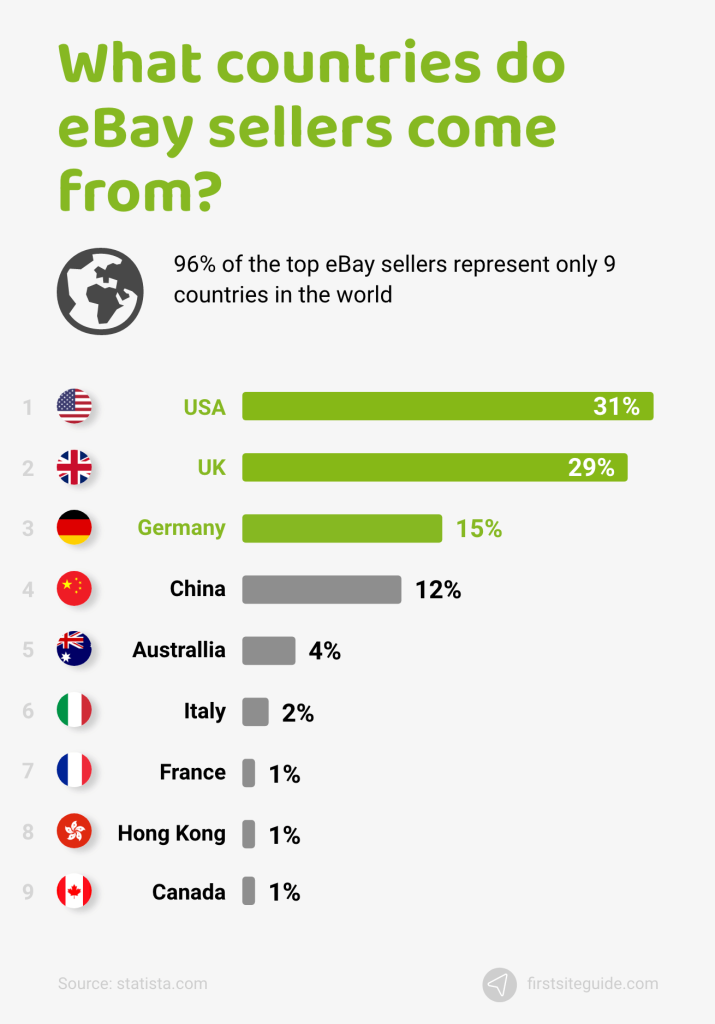 (Source: Statista.com)
10. 70% of sold items come with free shipping.
Most people prefer to shop for items that come with free shipping, as that adds no additional costs after placing their order. That's why 70% of items from the complete eBay product assortment come with free shipping in the US.
(Source: Ebay.com)
11. At 61%, 35-64 is the largest age group of eBay users.
eBay is particularly popular among adults with 61% of eBay users aged 35-64. However, the platform also attracts more and more young individuals, so we're interested to see how this statistic changes in the future.
(Source: Smallbiztrends.com)
12. Users can shop from 885,000 eBay stores.
As of 2022, eBay users can choose from 885,000 stores on this vast eCommerce platform. Each of these stores offers a wide selection of goods so that everyone can find something perfect for them.
(Source: Marketplacepulse.com)
13. Automotive, fashion, and jewelry are the most popular categories on eBay.
eBay has a lot to offer. However, the best selling products over the past six months include:
Car and truck parts and accessories;
Men's apparel, shoes, and accessories;
Watches, watch accessories, parts, tools, and guides;
Small kitchen appliances;
Fragrances;
WW2 military items;
Medical, lab, and dental supplies, equipment, devices, and instruments;
Bicycles, bicycle components, and parts; and
Action figures.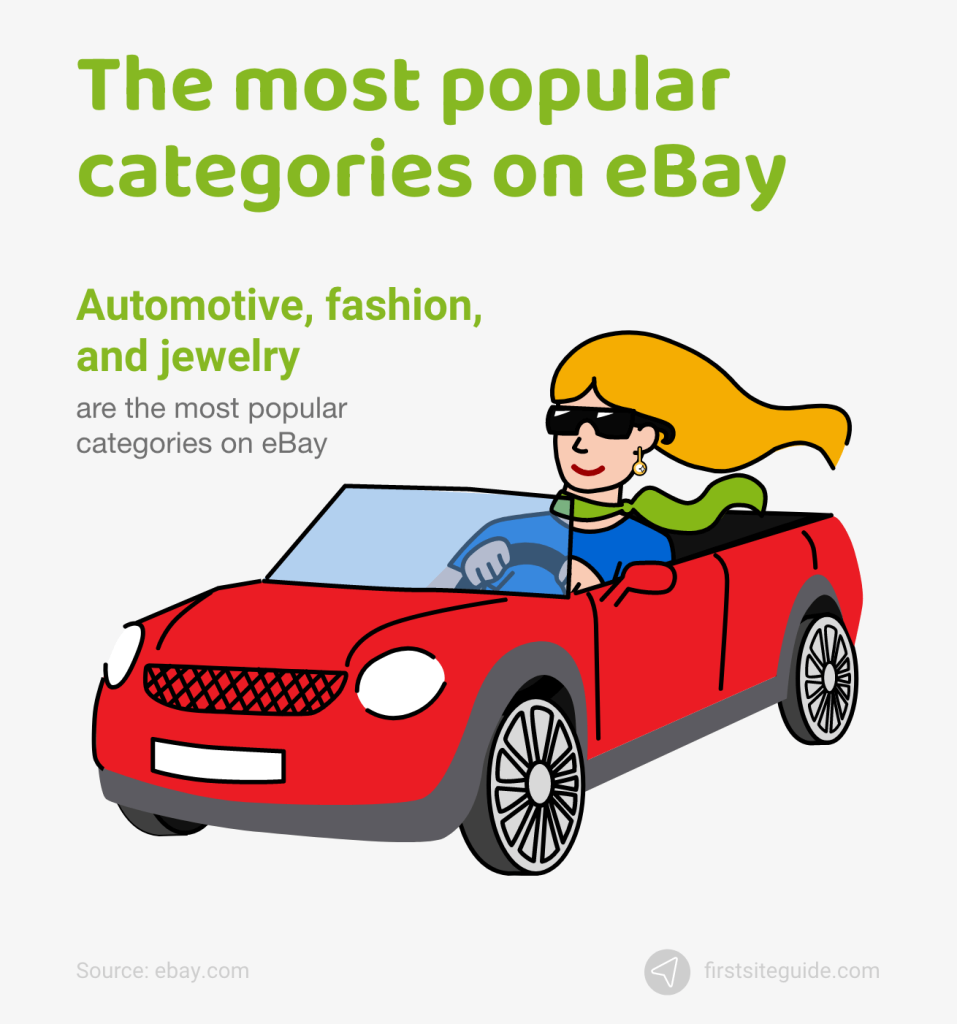 (Source: Ebay.com)
14. 16.4% of sold products belong to the electronics & accessories category.
More and more younger individuals are starting to use eBay, partly because there's a growing selection in the Electronics & Accessories category, which holds the first spot in popularity. 16.4% of all sold products on eBay belong to this category.
(Source: Edison.tech)
15. 80% of listed products are brand new.
While eBay started as a marketplace for purchasing and selling used goods, that's not the case anymore. Nearly all (80%) of products available on eBay are brand new. Many brands and retailers have opened their digital shops on eBay to sell their products to a global audience.
(Source: Prnewswire.com)
16. 55% of eBay's GMV involves a mobile touchpoint.
Learning that 55% of eBay's GMV is handled by mobile contact is notable in a world where mobile devices are becoming the go-to tech tool for all online activities.
(Source: Ebayinc.com)
17. Over half of eBay transactions are viewed on a mobile device.
More than half of eBay orders and transactions are viewed from a mobile device before the order is complete, so making the listings mobile-friendly and optimized for smartphones, tablets, and other mobile devices is essential.
(Source: Ebay.com)
18. The eBay app counts 476 million downloads.
As another indicator of the rising importance of mobile devices, the eBay app currently counts 476 million downloads, with the number continually rising. Apps are becoming increasingly popular compared to traditional websites, and the already-successful eBay app is proof of that development.
(Source: Ebayinc.com)
19. 62.15 million people visit the eBay app every month.
Out of 187 million users, 62.15 million use eBay's smartphone app each month. With 62.15 million app users, the eBay app is currently the third most popular shopping app in the US, following Amazon as the first and Walmart as the second.
(Source: Statista.com)
20. 940,000 eBay sellers advertise their product listings.
Similar to other digital marketplaces, eBay also offers the option of advertising product listings on its platform. An astonishing 940,000 sellers are using this opportunity, with 250 million listings on the site. Promoted Listings generated approximately $89 million in revenue in Q2 of 2019.
(Source: Ebay.com)
Conclusion
eBay is an active and successful online marketplace. Since its 1995 launch, the platform has built one of the largest eCommerce businesses and online marketplaces. Continuous advancements and upgrades have made the platform's success possible even after decades in the industry.
Today, eBay holds a valuable spot in the global eCommerce industry. With so many years of success, it is an inspiration for eCommerce businesses worldwide.