eCommerce Statistics, Facts, and Trends 2023
FirstSiteGuide is supported by our readers. When you purchase via links on our site we may earn a commission.
Read More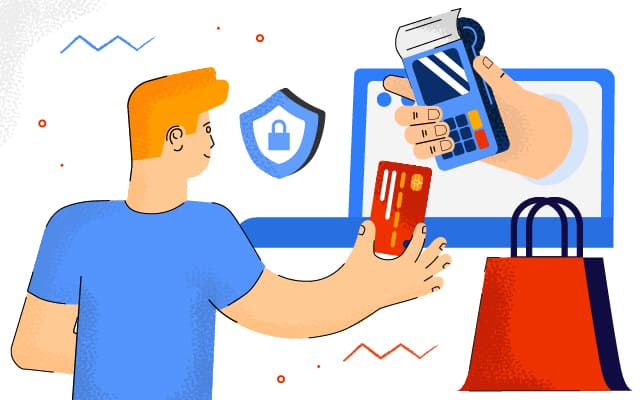 The future of eCommerce is looking very bright, based on collected stats from 2019 to 2021. It's evident that more and more people are buying products and services online. That's why many businesses, corporations, and small companies are now putting extra effort into their eCommerce stores.
The current pandemic situation is pushing businesses to go fully digital faster than ever before. Estimations show that businesses will completely switch over to online stores in the next 20 years. Don't just take our word for it! Take a look at the stats below, and see what we mean. eCommerce is the future.
Interesting eCommerce Statistics
By the year 2040, it's estimated that 95% of all purchases will be through eCommerce.
The eCommerce industry is growing 23% year-over-year, yet 46% of American small businesses still don't have a website.
93.5% of global internet users have purchased products online.
Segmented campaigns to email subscribers drive a 760% increase in revenue.
Online stores with a social media presence have an average of 32% more sales than those that don't.
74% of consumers rely on their social networks to make purchasing decisions.
40% of all online purchases made during the holiday season are done on smartphones.
eCommerce platforms and websites statistics
When we combine the earnings of all eCommerce platforms and the most popular online shopping websites, we can see that the numbers go up to a few billion dollars a year. Amazon has the most significant share of the market, followed by other eCommerce sites like eBay, Walmart, and Craigslist.
Here are a few interesting stats about what the eCommerce market looks like right now.
1. Most popular eCommerce websites in the United States 2020 (based on traffic volumes).
No one is surprised by the fact that Amazon has the most monthly visitors since it's one of the world's biggest companies. It has more visitors than the following three websites combined.
Amazon – Estimated traffic of 2.5 billion monthly visitors;
eBay – Estimated traffic of 940 million monthly visitors;
Walmart – Estimated traffic of 450 million monthly visitors;
Craigslist – Estimated traffic of 420 million monthly visitors; and
Etsy – Estimated traffic of 352 million monthly visitors.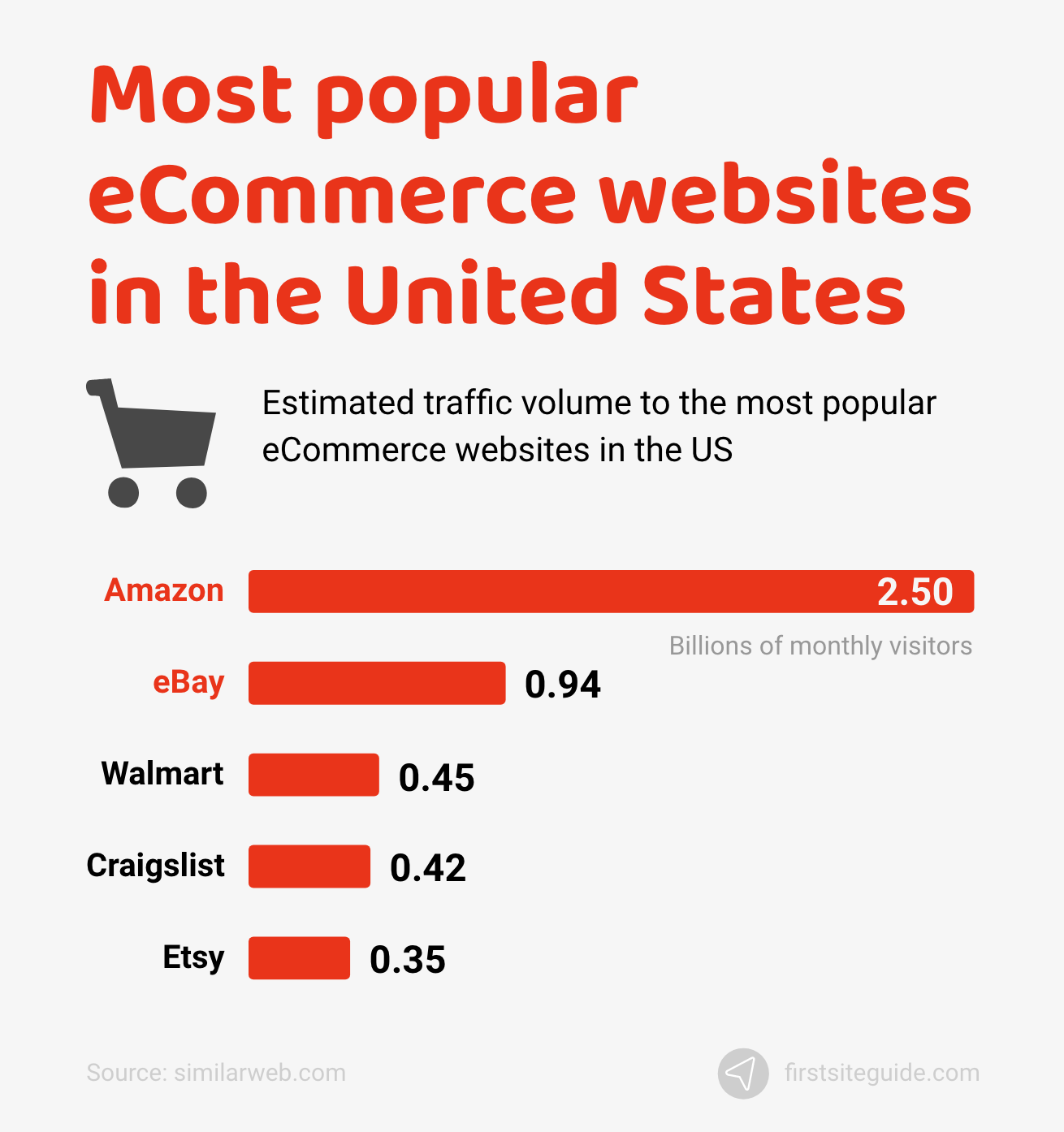 (Source: Similarweb)
2. 26% of online shops on the internet are utilizing WooCommerce eCommerce technology solutions.
According to statistics, WooCommerce is the most trusted online shopping platform, holding 26% of the entire market. Shopify is second with 17%, while Wix Stores has a 13% market share.
(Source: Builtwith stats)
General eCommerce statistics
The term eCommerce includes all purchases of products and services that take place online. As more and more businesses switch to digital platforms, online sales keep growing steadily every year. The eCommerce market is expected to generate over $4.5 trillion in 2021, and those numbers will continue to increase in the future. Check these stats and see for yourself:
3. The #1 reason people shop online is that they're able to buy at all hours of the day.
Online shopping is much more convenient, as buyers don't have to leave the comfort of their homes. Better yet, they can buy whatever they want. no matter what time of the day it is.
(Source: KPMG)
4. 93.5% of global internet users have purchased products online.
Approximately 60% of people in the world have internet access, and at least 9 out of 10 have made purchases online. Musk's Starlink project will surely boost these numbers substantially when it goes live.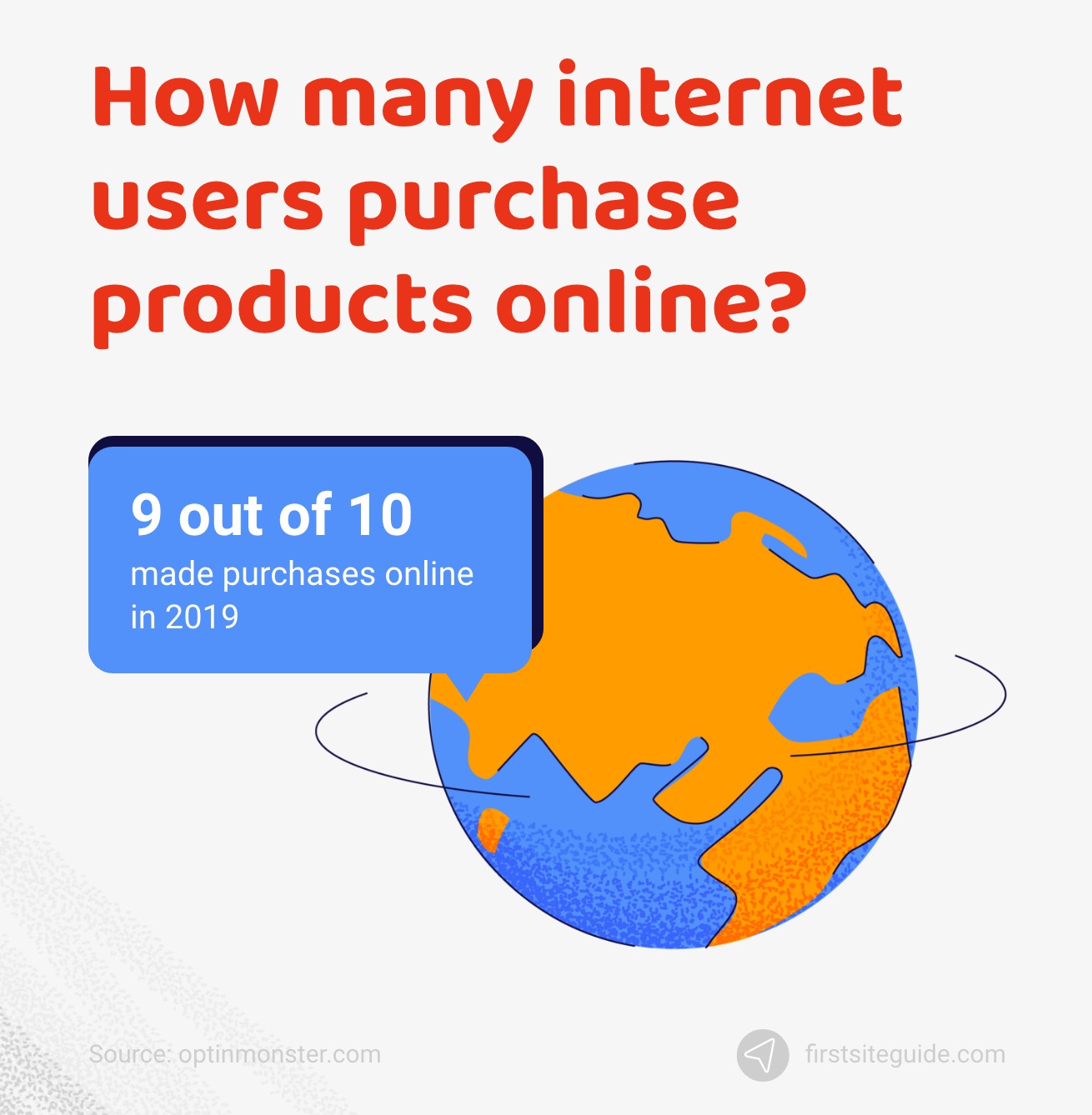 (Source: OptinMonster)
5. 61% of online consumers in the United States have made a purchase based on recommendations from a blog.
The importance of blogs is becoming more evident as businesses that have blogs are seeing an increase in sales. Blogs provide a perfect way of informing customers about products and services, making it easier for them to shop with you.
(Source: Content Marketing Institute)
6. 59% of Millennials will go to Amazon first when shopping online, making the giant online retailer one of your biggest competitors.
The rules of online shopping change with each generation. Most people born between 1981 and 1996 go to Amazon first to get more information about a product before making a purchase.
(Source: Inviqa)
7. By the year 2040, it's estimated that 95% of all purchases will be made through eCommerce.
According to Nasdaq, the way we buy products today will become a thing of the past by 2040. Their predictions say that almost all purchases will be made online 20 years from now.
(Source: Nasdaq)
8. 46% of American small businesses still don't have a website.
The need for eCommerce is quickly growing among the general population, but almost half of US businesses don't have an online store. That will have to change soon.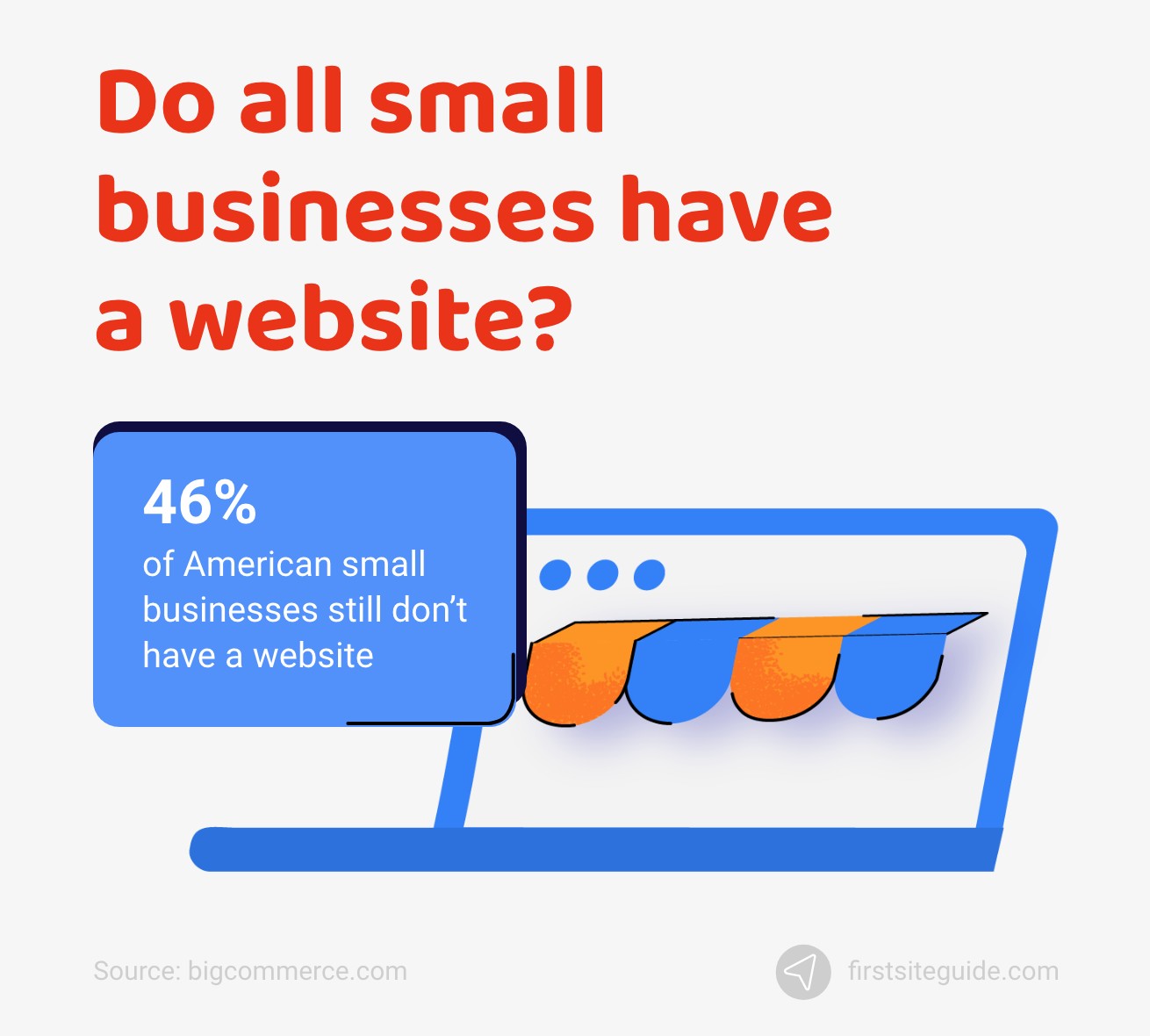 (Source: BigCommerce)
9. Statistics about retail eCommerce sales worldwide show that more than a third of users will buy a product or a service within five days of a Google search.
Many users turn to Google to find out more about a product or a service. 1 out of 3 users who do that will choose to make a purchase within five days.
(Source: Wordstream)
Email eCommerce statistics
When compared to other marketing campaigns, email has the highest ROI. It's a critical tool for growing your online business. Email campaigns generate leads and allow you to create stronger bonds with customers. These campaigns play a significant role in generating sales. Here are some stats that show more details.
10. 61% of consumers prefer to be contacted by brands via email.
Everyone has an email address these days. Email is a digital version of standard mail services, and it's the perfect way of spreading the word about new products and services. By informing your customers through email, you will see a significant increase in revenue.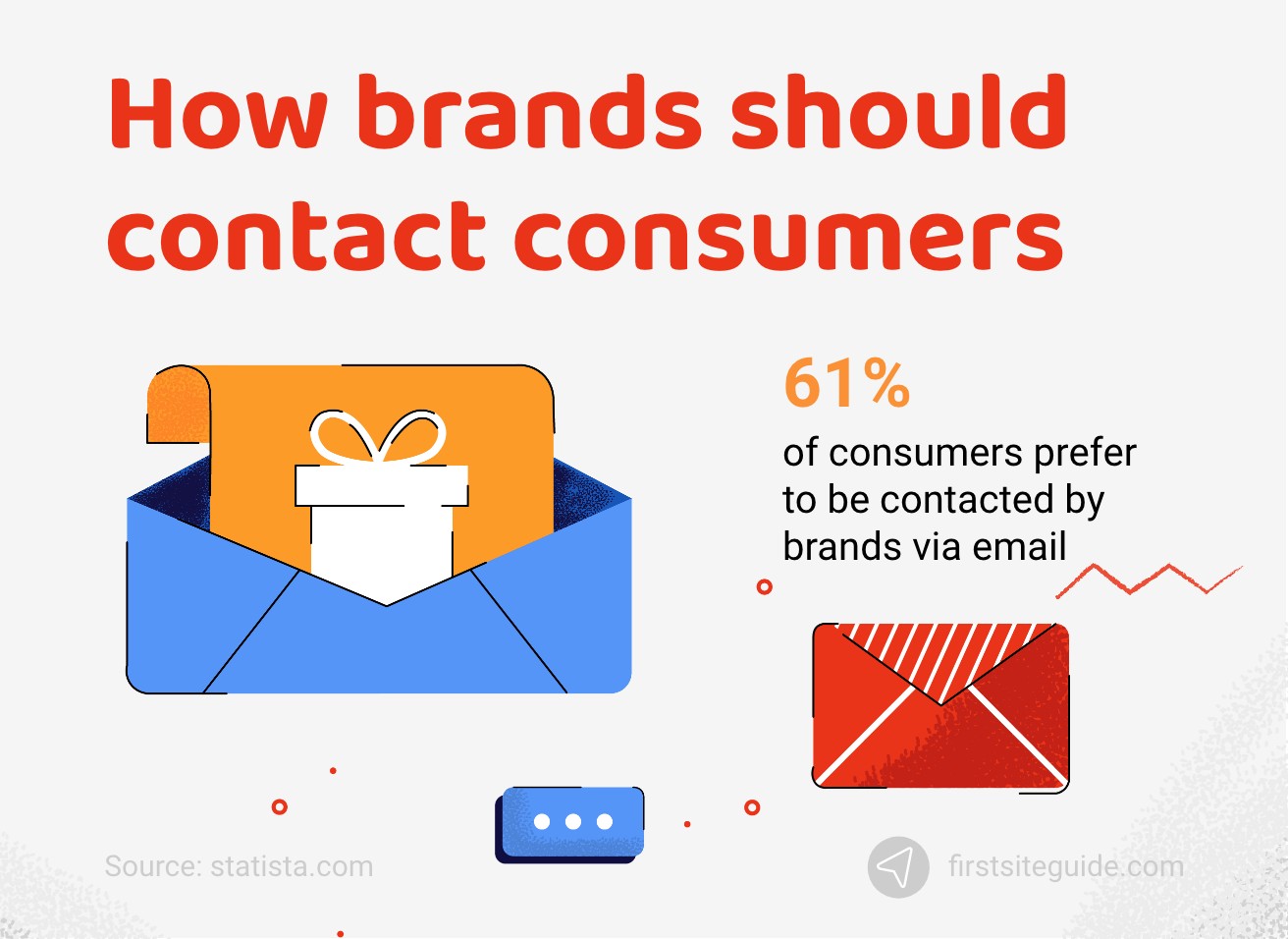 (Source: Statista)
11. Email marketing yields $44 for each $1 spent, for a 4400% ROI.
Email campaigns are generally more affordable than other marketing campaigns. The right email campaign can quickly return your investment and increase your website's ROI faster than any other method.
(Source: Campaign Monitor)
12. 58% of the top 1,000 US online retailers send welcome emails.
Welcome emails play an essential role in creating a healthy relationship with your customers. Something as simple as a welcome email strengthens the bond with customers, and most successful online retailers use this method to improve sales.
(Source: digitalcommerce360.com)
13. 60% of consumers say they've purchased as the result of an email marketing message they received.
The right email marketing campaigns are designed to get people interested in a product or a service. If everything is done right, people will want to see more about a product or service, which leads to more sales.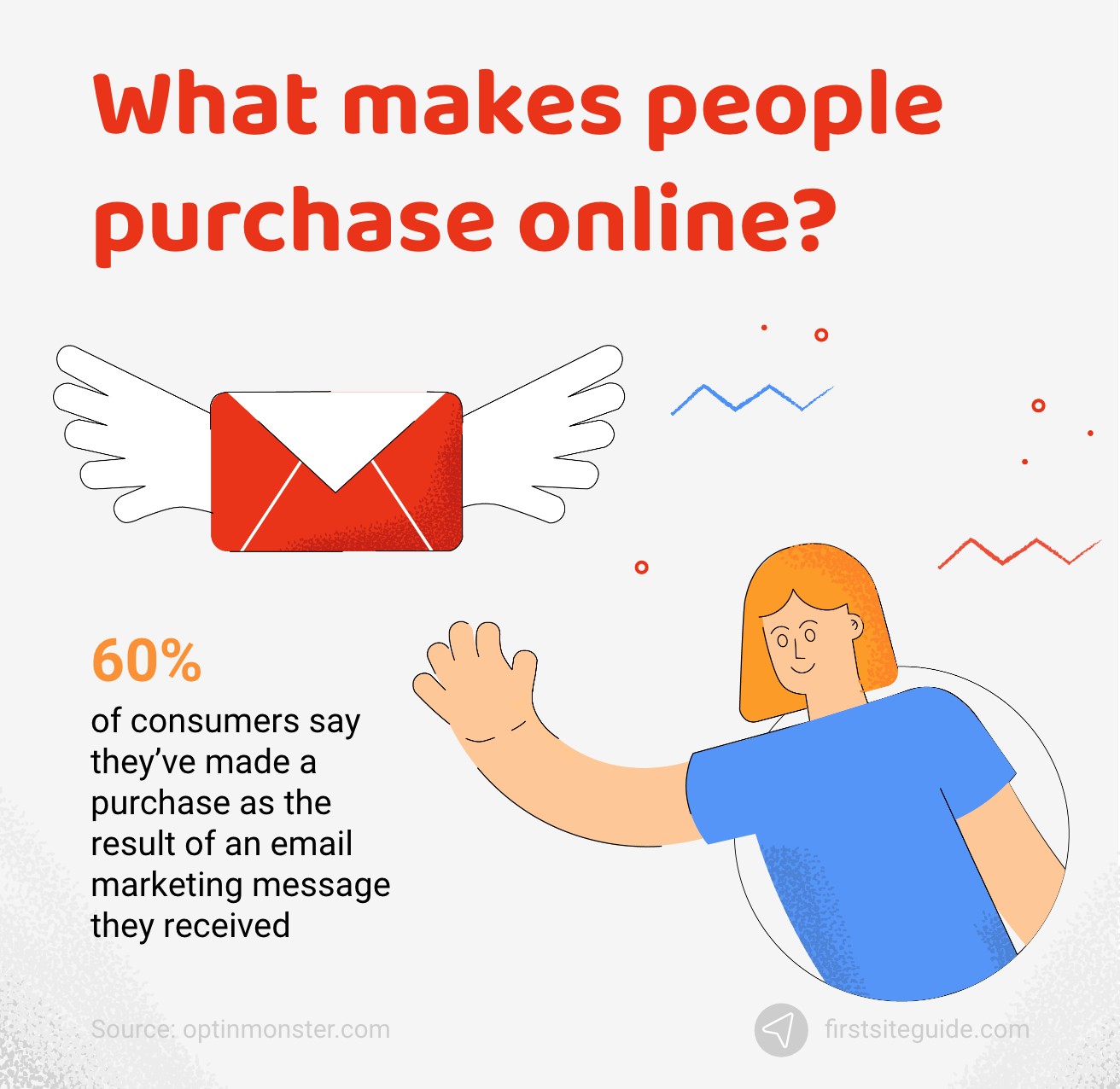 (Source: OptinMonster)
14. Segmented campaigns to email subscribers drive a 760% increase in revenue.
Segmentation is a critical factor for online success because it allows businesses to group customers based on information like purchase history, browsing activity, and more. This enables firms to tailor each email to specific groups, resulting in higher ROI.
(Source: Campaign Monitor)
15. Transactional emails get 8x more opens and clicks than any other email campaign and make 6x the money.
When you approach your customers with personalized emails, they will feel like you really care about them and sincerely want to improve their quality of life. This approach has the most success when it comes to engaging customers.
(Source: Experian)
16. Email marketing contributes to 20% of traffic driving eCommerce sales.
1 out of 5 eCommerce sales is a result of well-placed email marketing campaigns. Personalized emails with the right information can drive more traffic to your website, leading to more sales and higher revenues.
(Source: Wolfgang Digital)
Social media eCommerce statistics
Successful online businesses use everything that they can to increase sales, and utilizing social media marketing campaigns is one of the best ways to do that. Social networks provide a unique place where you can gain the social credibility you need to grow your business. The stats below will prove this in practice.
17. Online stores with a social media presence have an average of 32% more sales than those that don't.
Online stores that invest in social media pages and build a strong presence across the most popular platforms like Instagram, Facebook, Twitter, and YouTube can boost their sales up to 32% compared to sites that don't invest in social media marketing.
(Source: BigCommerce)
18. The average eCommerce site publishes 4.55 posts a week on their Facebook page.
eCommerce websites that use Facebook social media marketing campaigns publish between 4 and 5 posts every week. Consistency is critical if you want to build a strong relationship with customers and improve sales.
(Source: BigCommerce)
19. 74% of consumers rely on their social networks to help make purchasing decisions.
Social networks provide a perfect place for people to learn more about a product or service. Reading through other people's experiences and reviews can help customers to make the right decision and potentially make a purchase.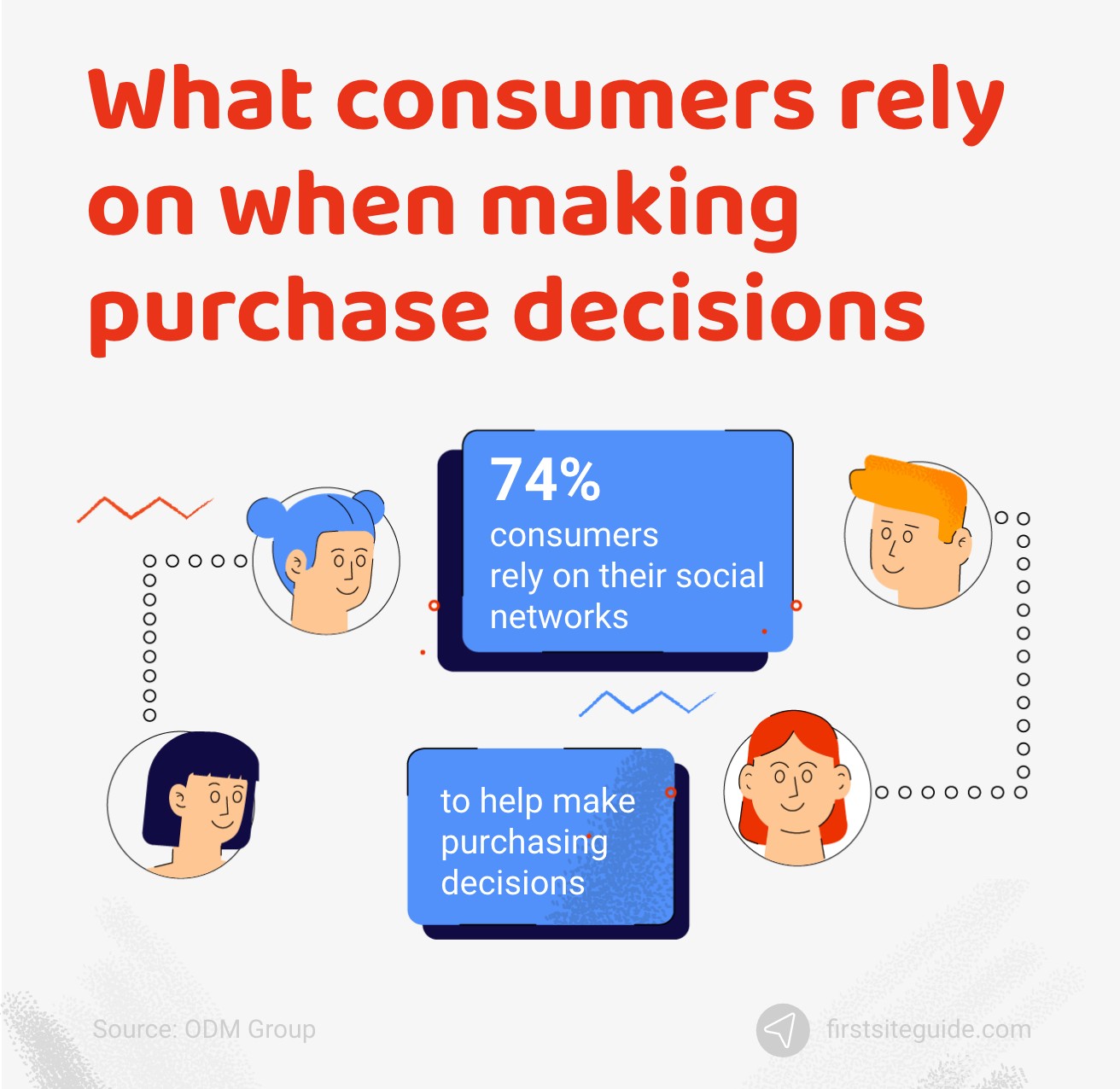 (Source: ODM Group)
20. 85% of orders from social media sites come from Facebook.
Shopify is the second most successful eCommerce platform, and most of their social media orders come through Facebook. This social network is, by far, the most influential when it comes to boosting sales.
(Source: Shopify)
21. 75% of Instagram users have taken action, such as visiting a website, after looking at an Instagram advertising post.
Instagram is primarily a visual social network that focuses on posting images and photos. Over the years, it has transformed into a handy tool for businesses that want to increase traffic and boost sales. It does a great job of redirecting users to business websites.
(Source: Locowise)
22. The average order value for customers referred from Instagram is $65.00, followed by Facebook ($55), Twitter ($46), and YouTube ($38).
While Facebook does wonders when it comes to getting orders, Instagram has a higher order value. The average order is 10 dollars higher on Instagram than it is on Facebook and other social networks.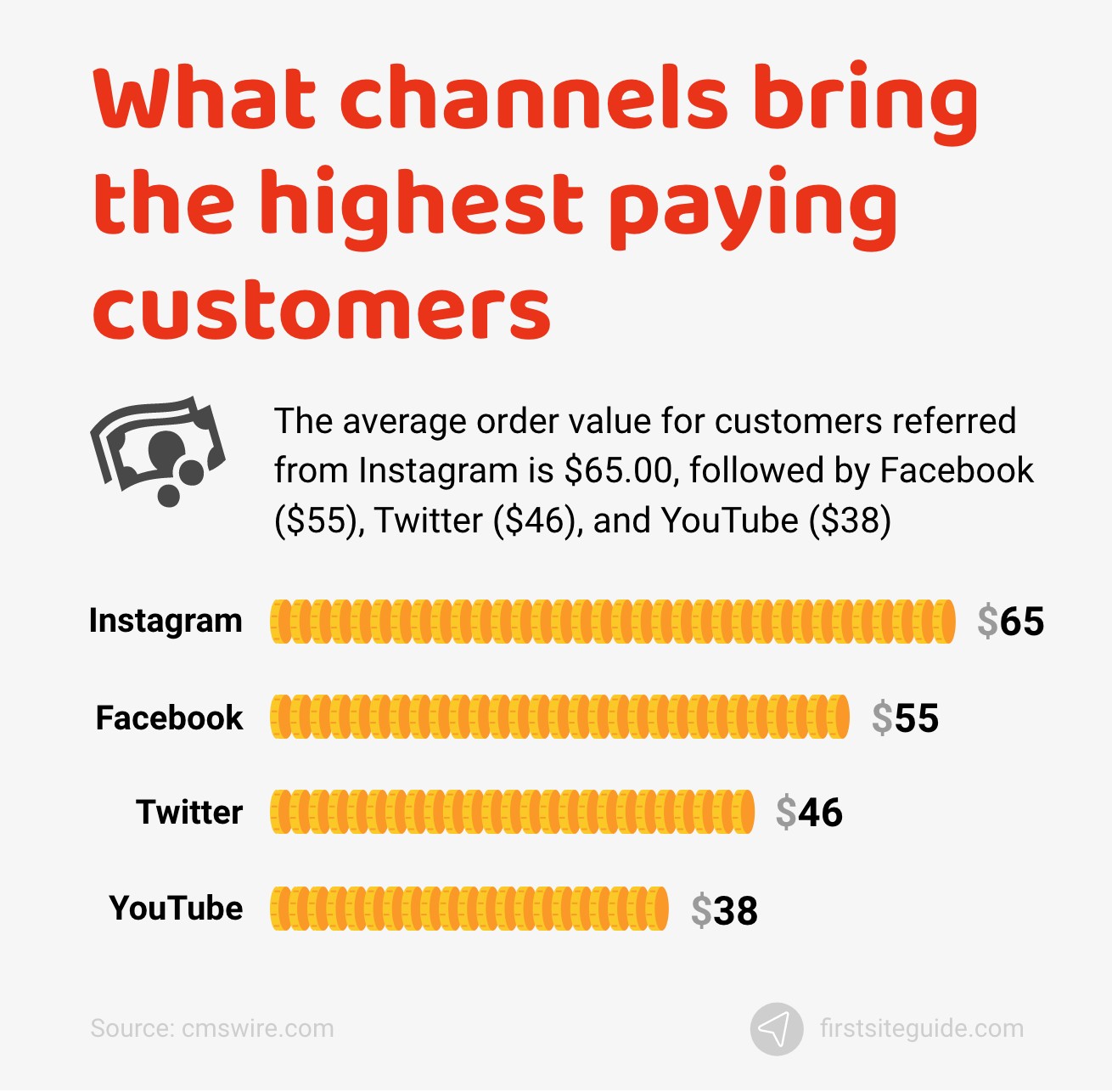 (Source: Cmswire)
Mobile eCommerce Statistics
Mobile optimization is one of the most critical factors for any eCommerce website. Everyone has a smartphone these days, so it's good to invest in mobile website optimization because that's where you can find the most customers. Here are a few stats that can back this up.
23. 82% of Internet users in the United States have used a mobile device to shop online.
Naturally, since everyone has a smartphone, the number of mobile purchases keeps rising every year. 4 out of 5 people who use the internet in the US have made at least one online purchase using their smartphone.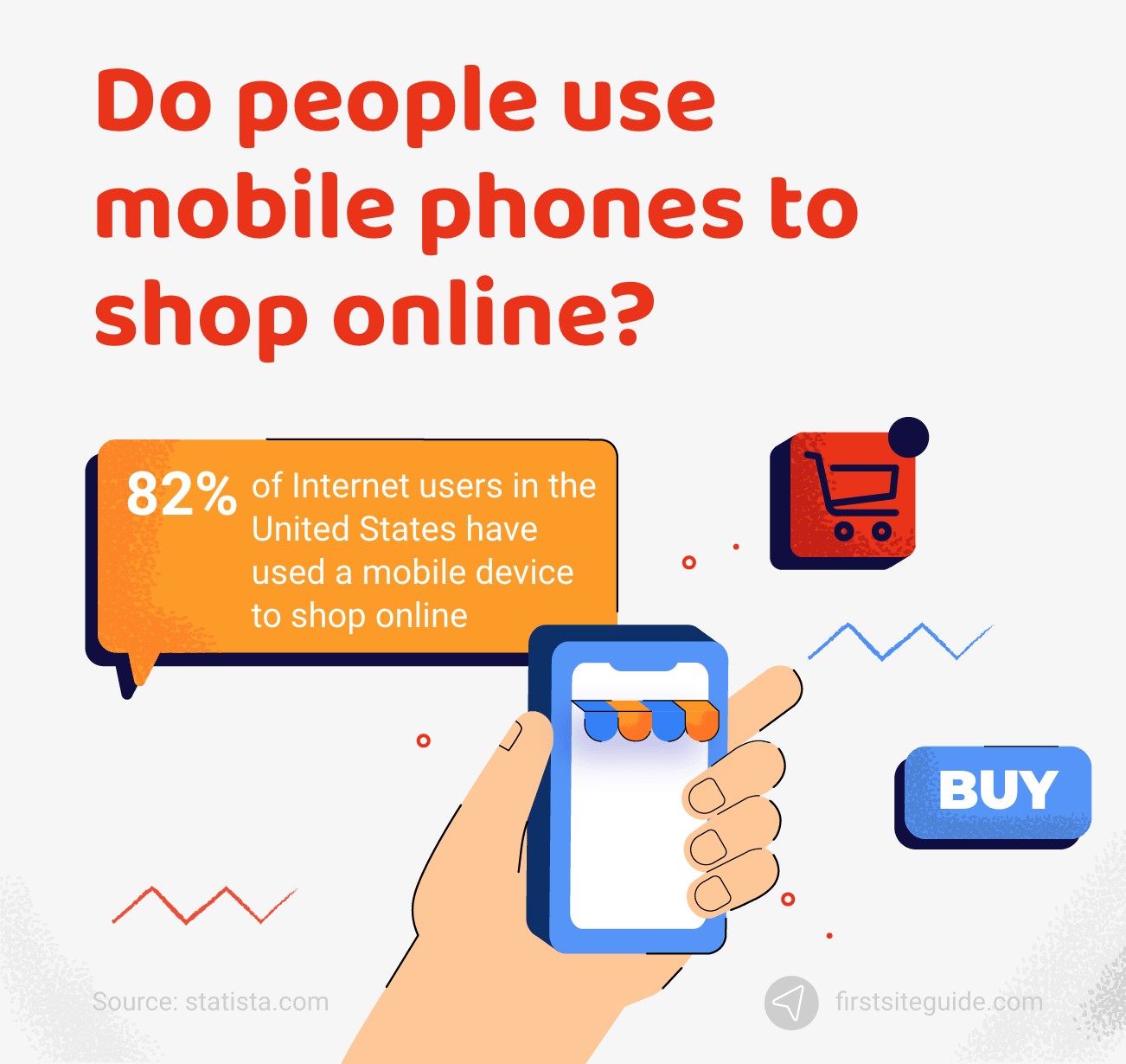 (Source: Statista)
24. 40% of all online purchases made during the holiday season are done on smartphones.
Most of us used to go on in-person shopping sprees during the holiday season, but things have changed in the last few years. Over 40% of all holiday shopping is now done on mobile devices because it's much more convenient.
(Source: OuterBox)
25. 53% of smartphone and tablet owners will shop on company-specific apps.
The biggest and most successful companies like Amazon, eBay, Walmart, etc. provide a complimentary smartphone app designed to make the online shopping experience simpler.
(Source: Smart Insights)
26. Sales from eCommerce on both Black Friday and Cyber Monday in 2018 were more than $2 billion, breaking the record set the previous year.
Sales generated by online mobile shopping on Black Friday keep growing every year. This trend will likely continue, and it will soon surpass regular sales.
(Source: Practical eCommerce)
27. 44% of internet retail minutes were spent on mobile, with 11% on tablets, and 45% on desktop.
The time spent in online shops is currently an even split between mobile users and desktop users. Both take up to 45% of the total time spent in online stores, while tablet users take up only 11%.
(Source: Readycloud)
Shopping Cart eCommerce Statistics
The online shopping cart has a lot to do with online sales. It's the very last step customers go through before finally making a purchase. That makes it an essential step in the sales funnel. With the right setup, you can minimize cart abandonment, which is one of the most significant challenges for online sellers.
28. 46.5% of small to mid-sized businesses say that offering free shipping increases their profits.
Shipping cost is an element found in every online store. It's no surprise that customers prefer making purchases in stores that provide free shipping. Today, nearly 50% of businesses offer free shipping for products all over the globe.
(Source: MCM)
29. If you require account creation, 28% of people will abandon carts immediately.
Cart abandonment is a real issue, and complicated checkout processes usually cause it. You can minimize that percentage by making the checkout as quick and straightforward as possible.
(Source: Baymard)
30. eCommerce sites can gain a 35% increase in conversion rates with an optimized checkout design.
By optimizing the checkout process with things like free shipping and simple purchases, eCommerce websites can increase conversion rates up to 35%. Every detail can make a huge difference.
(Source: Baymard)
31. With the average cart abandonment rate at nearly 70%, eCommerce sites could be losing a total of $3 billion a year.
2 out of 3 eCommerce websites lose money because of cart abandonment. Those losses are estimated at around $3 billion a year globally, which shows the importance of optimizing the checkout process.
(Source: Disruptiveadvertising)
32. Mobile has the worst cart abandonment rate of all devices at 86%, followed by tablets (81%), and desktops/laptops (73%).
Mobile users are the ones that abandon the most carts, but tablet and PC users aren't far behind. With better optimization and simpler checkout processes, these numbers should be reduced in the future.
(Source: Barilliance)
33. The top 10 countries that are spending money online (in billions):
China – $672 billion
United States – $340 billion
United Kingdom – $99 billion
Japan – $79 billion
Germany – $73 billion
France – $43 billion
South Korea – $37 billion
Canada – $30 billion
Russia – $20 billion
Brazil – $19 billion
As you can see, some countries make hundreds of billions of dollars in online revenue. China is the current leader with $672 billion, followed by the US at $340, and the UK with $99. All other countries spend less than $100 billion on online stores.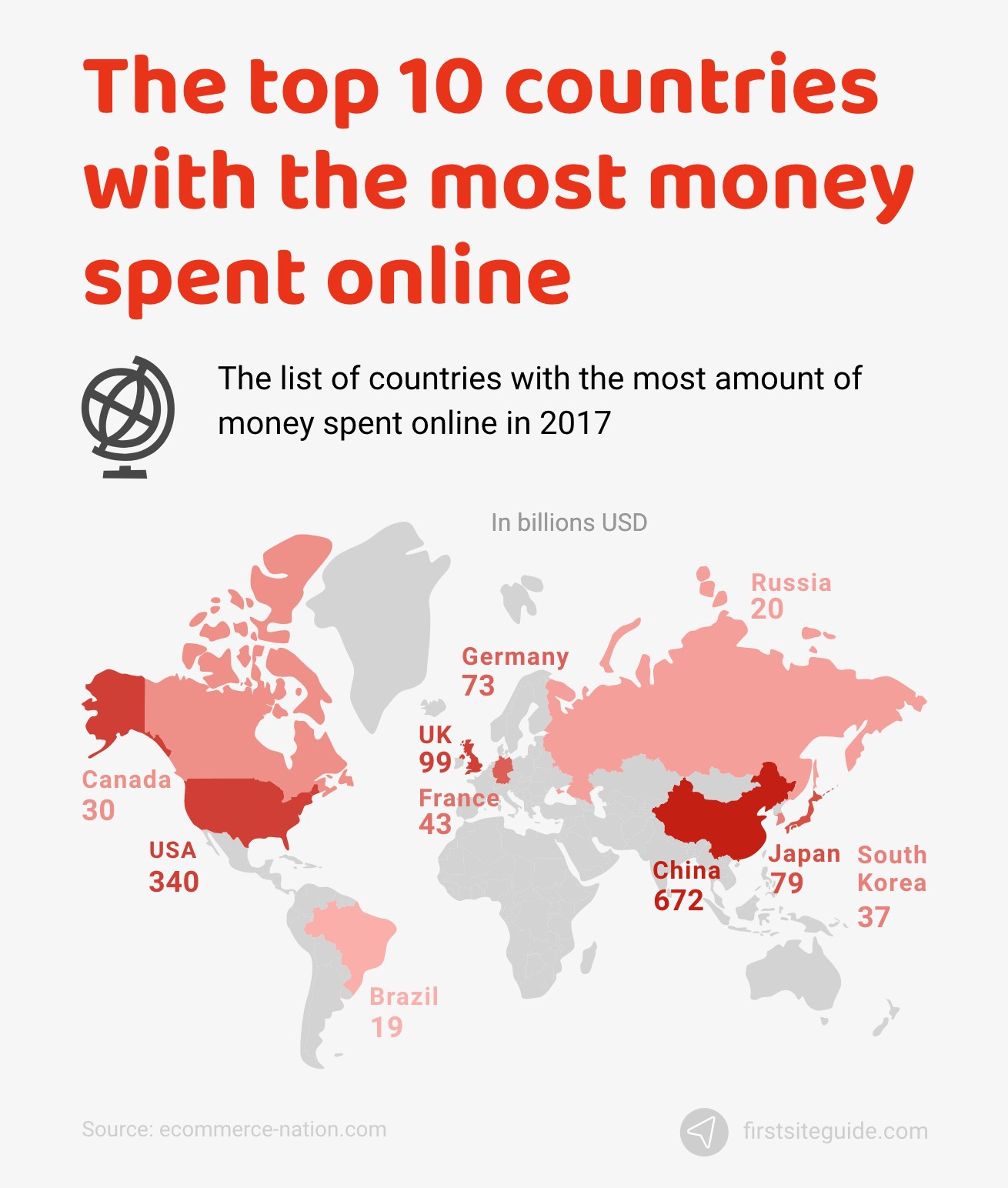 (Source: Ecommerce-nation)
Conclusion
All of the statistics above agree on one thing – the importance of eCommerce platforms. The world has reached a point where most healthy businesses have a strong online presence. It's only logical that eCommerce platforms keep growing year after year.
If you're still looking to boost your sales and grow your business, investing in an online store is almost certainly the best investment you can make. Pretty soon, there won't be any physical stores and shops where you can buy products directly. The faster you make the switch, the sooner your business will grow.