Fastly Review
Company Overview, Pricing, and Features
FirstSiteGuide is supported by our readers. When you purchase via links on our site we may earn a commission.
Read More
Intro
Founded in 2011, Fastly has been a presence in the CDN game for only a short time. However, during that time they acquired some big names like Twitter, Vogue, Buzzfeed, and Kickstarter. Young and spreading fast, with offices in San Francisco, New York, London and Tokyo, Fastly is promoting itself as a next-generation CDN. So, is this just youthful boasting or there is some credibility behind it?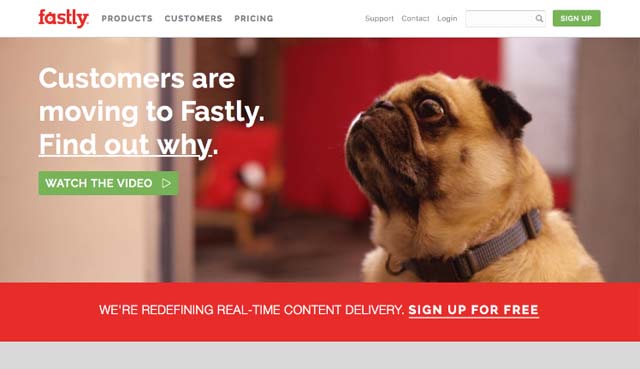 Starting up
Signing in requires your basic information: first and last name, email, password, company and phone. After that, you'll go to your email and confirm the account—then you're good to go. You will immediately be sent to quick start, where you'll set up your desired CDN source.
Interestingly, we were taken to the old control panel, which has clear tabs on the top bar: Analytics, Stats, Configure, Account and Billing. Right below that, another bar gave us the option of switching to a new control panel. There is a visual leap between the old and the new control panel. The new panel is more minimalistic, with only Dashboard, Stats and Configure tabs on the top bar. Which one you choose is simply a matter of personal preference. Sure, you need to access to each from the different second-level domain (app.fastly.com and manage.fastly.com), but the access username and password are the same. It's a nice way of accommodating users who are not fans of the relatively big changes, but we must say, that the old control panel will look outdated in about five years.
Setting up
At the quick start, you'll have to name your service, and add the server address and domain name. That will settle the majority of requirements on Fastly's end, but several more steps will need to be taken on your own hosting account. There are no CMS implementation guides, which is odd since they deal with two big ones, Drupal and Shopify, so you will have to get to know your hosting. To some people this can be daunting and to be honest, Fastly's guides can be a little overwhelming for beginners. However, fiddle around enough and you'll be up and running. However, be careful to actually implement the service. There is a free account, but the real damage would be purchasing and not using it.
Features
Fastly boasts that it's the next generation of CDNs and we must admit that their dynamic content delivery was pretty decent. Advanced instant purging and real-time analytics are gems that make using your resources feeling like you are using a microscope. The ability to see what's popular when and where, and adjust accordingly, can be crucial on a global scale. Incorporate Fastly's 29 PoPs, which are scattered across all continents, and you'll get decent performance. It's optimized for mobile and API content, and you can opt to have private CDN servers.
Testing it out
Without the CDN support, the longest it took for our website to load all content and files (5.53KB) in the browser was 11.38 seconds, which falls on the scale at "really bad." It took 103ms to establish a connection to the web server and 1.02 seconds to download all the data.
The best time with Fastly was 1.89 seconds to load all content and files, taking 12ms to establish a connection to the server and 0.57 seconds to download all the data.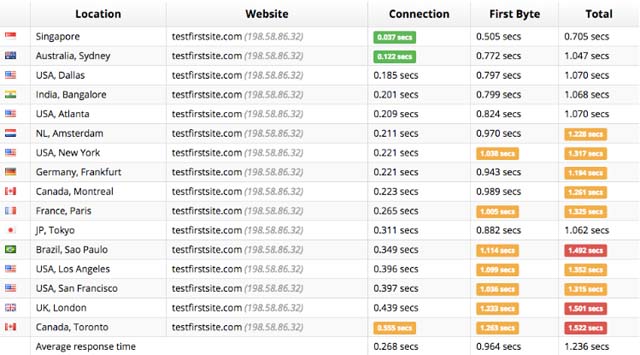 Without Fastly, it took about 0.99 seconds for the first byte. Load time, on average, was 7.2 seconds. The worst loading time was from Beijing, China when it took 38.30 seconds.
With Fastly, on average it took 0.60 seconds for the first-byte response. The average loading time was 0.84 seconds, which is good because it's under one second, but it barely passes the bar. The worst loading time with Fastly was from Buenos Aires, Argentina, when it took 25.8 seconds. There were much better results, but it lacked consistency. We tested this with approximately 60 simultaneous requests.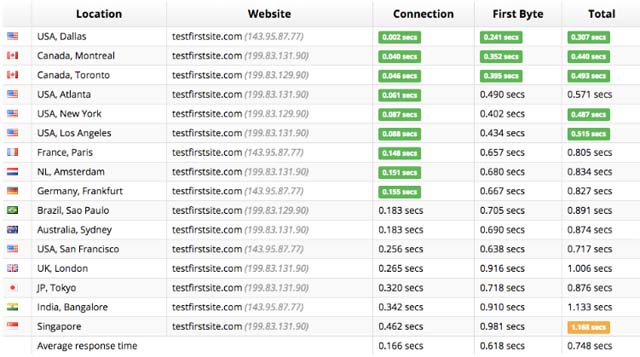 Help and support
The community forum and email support are the two main ways you'll probably use to access support. There also are helpful guides and internet relay chat (IRC), which was down more than once when we tested it. IRC is not a direct line to their online support chat. In fact, the only way to contact their team directly is through email. That leaves you with a slower response time or on your own, although they promote their availability as 24/7. While there was no particular flaw besides non transparent plans for different support levels, missing a direct help option seems like bringing a hare to a cheetah race: after a while, you might get eaten by faster competition.
Pricing
There are several pricing options, with a minimal charge of $50 per month. You can create a trial account where, for free, you can test up to $50 of traffic, which is combined with total bandwidth and requests.
Main pricing per bandwidth is:
North America/EU – $0.12 (up to 10TB) and $0.08 (over 10TB)
APEC – $0.19 (up to 10TB) and $0.14 (over 10TB)
Brazil – $0.28 (up to 10TB) and $0.24 (over 10TB)
Main pricing for requests is:
North America – $0.0075
EU/APEC – $0.009
Brazil – $0.016
For information about other areas, you should contact their sales support. There are discounted rates for bigger commitments, but they are not disclosed on their website.
Pros
no long-term contracts
accommodation of control panel options for old and new customers
option for private CDN
Cons
support could use some work
minimum fee, charges per request
no push zones
Conclusion
Fastly is that nerdy girl from Hollywood movies. It might not look like much at first, but you can accomplish a lot and it can look great. It might not be everyone's cup of tea, but for those who know what they're doing, it just might be a match. Granted, it may not be the most beginner-friendly CDN out there, but its performance and features place it solidly in the middle of the competition.
Without push zones, if you're not using a huge load of data transfer, the fixed minimum cap of $50 a month might turn you off, as the charge per request also might. But its bandwidth is moderately priced and you can test it out in a free trial. All in all, there aren't many reasons not to use Fastly, and there's no reason why you shouldn't test it out.