FastMail Review
Company Overview, Pricing, and Features
FirstSiteGuide is supported by our readers. When you purchase via links on our site we may earn a commission.
Read More
Intro
FastMail has gone through a number of changes since it was launched in Australia in 1999. Owned by Opera Software (famous for their browser) from 2010 to 2013, it discontinued signup for their free service level in 2012. The company changed its domain from fastmail.fm to fastmail.com in 2014. Do all these changes yield positive outcomes or do they just create chaos?
Setting up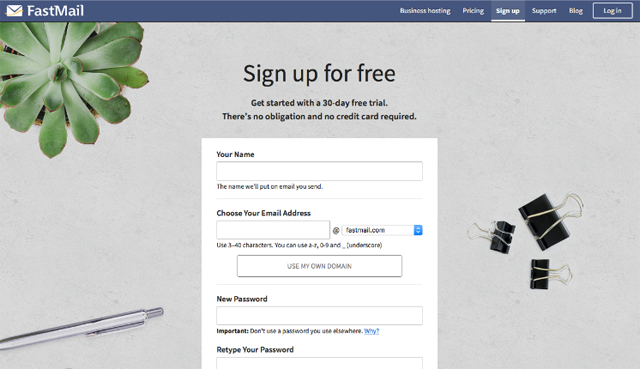 Signing in is pretty straightforward. You provide your name, email address and your own domain, if you have one, and come up with a password. After confirming you're not a robot, you're ready to go. Easy and fast. FastMail is a paid service, with three plans to choose from. If you're not sure the service is right for you, you can check it out with their 30-day free trial, but you will have one more verification step—mobile phone verification. A small bump in the road, but nothing too serious.
Since you can't use your own domain with the Basic plan, we strongly recommend that you upgrade to the Standard or Professional plan. Unfortunately, if you don't have your own domain, you won't be able to buy it on FastMail since they don't sell them and they aren't affiliated with any domain registrars. If you do have your own domain, after tinkering with your DNS settings and adding more users to FastMail, you're ready to do some serious business.
Components and details
Design, navigation and user friendliness
When you log in, you'll notice the classic, clean and somewhat minimalistic approach to your inbox. On the left is the standard navigation where you can compose emails, look at your inbox, archives, drafts, trash, etc. The upper bar enables you to delete, move, mark or report email spam, with another way to access your archive. In the upper left corner, you have a drop-down menu that gives you access to your address book, calendar, notes, settings, help and a few more things, among them a logout button. The search bar is in the upper right corner. The majority of the window will, naturally, be taken up by your actual inbox.
By default, you'll see your emails by date, but you have the option of viewing them by newest or oldest, or by the sender, subject or size. There also are folders/tabs between the upper bar and the inbox where you can choose to see your mail by: all mail, unread, personal, notifications or mailing lists. You can also pin emails and sort them so they appear on the top. You do that easily by pressing the pin icon on the email. If you exchange several emails with the same recipients and subject, they'll be compressed into one conversation.
When you compose a new email, you'll be taken to a new page and as we noticed, you'll automatically have a signature composed by using your name and email address. You can change this under settings, along with the how you view the panel. By default, the inbox is set up without the reading panel, so each mail will open a new page, but you can change that, as well. You'll also have plain-text formatting, but there's an option for rich formatting. A few things are hidden at first, but all in all, it's a clean interface that you'll get the hang of pretty quickly.
Features and Specs
FastMail is a paid service offering three plans, each with different storage. They are 2, 25 and 100GB per user. You can use your own domain, which means you can use a custom email address, but that option is not offered with the cheapest plan. You can also increase the storage for each user by adding the equivalent cost of an additional user to your account. However, bear in mind that they separate storage for emails and files.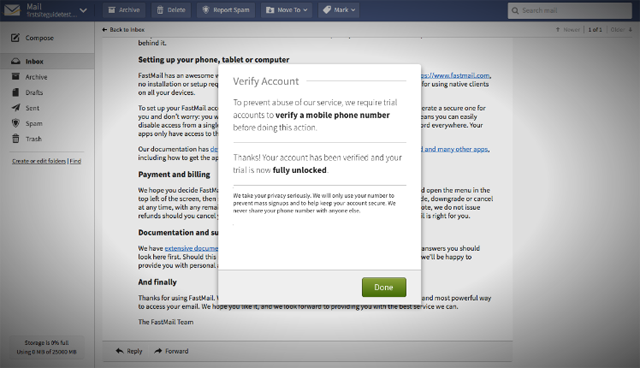 When you sign in, you'll automatically be taken to your inbox. Rich-text formatting and other customization options are located under settings and they are decent, but somewhat limited. Mail size is limited to 70 MB, which usually means you'll be restricted to 50 MB of attachments because of encoding. If you want to send larger files, you can upload them to file storage and they will be separate from email storage. FastMail offers 1, 10 and 50 GB per each plan. We're a bit confused as to why they separate email and file storage. If you're a small business, this should be enough, although 1 GB in the cheapest plan may be too limiting. There also are limitations in the number of emails you can send per hour and per day, but they're so high that you're only likely to reach them if you're a spambot. And, if you're on vacation? Under settings, you'll see a Vacation Response tab.
You can import and export your contacts, calendar, etc. from other services, so migrating to and from FastMail is easy and fast. By default, it's a web user interface (WUI), so you'll access it from your browser or from the official mobile apps, which are minimalistic, but neat and easy to manage. Unfortunately, they don't have an official desktop client that would allow you to access your account directly from a folder on your hard drive, but you can access it through a third-party client such as Chrome or Microsoft remote desktop access software. However, you still can have POP and IMAP access. Deleted mail and folders are kept for seven days, so you have a week to recover messages you've deleted and emptied from your trash.
FastMail is indeed, fast, however, we feel think a few things are missing. Folders and pinning of mail are effective, but competitors offer additional functionality. There's no in-house chat, which is a feature that can come in handy, especially if you're a business and sometimes require a quick, non-email exchange of words. Also, the number of users and aliases you can have depends on the plan, but the number is not clearly identified.
Security
Remember phone verification? We thought it might be the only security bump in the road, but the second one happened on day two of testing our trial account. We were logged out and couldn't log back in for some weird reason. Ten minutes after opening the ticket, we tried to log in, this time successfully, and support answered about an hour later.
You can report spam and choose the level of spam filtering you want, or customize your filtering. They have great spam filters and you can choose to receive or discard the mail based on the sender. If it detects that an incoming mail is carrying a virus, the mail is discarded. If you have privacy concerns, FastMail is an Australian company, which is harder for US and UK intelligence services to bully. And unlike some providers, there are no ads. FastMail also provides for two-factor login using a YubiKey. All in all, security is good, with some initial missteps.
Support
We must say that their knowledge base is wonderful and quite easy to understand and search. We found everything we searched for. Their support is available via email or via ticketing system, although it took us a while to figure out where that information is placed. Unfortunately, there's no live support.
Pricing
FastMail is a paid service. There are three plans.
Basic $3 per user per month or $30 per year
2GB storage per user.
Standard $5 per user per month or $50 per year
25GB storage per user and ability to use your own domain.
Professional $9 per user per month or $90 per year
100GB storage per user, ability to use your own domain and data retention policies with unlimited archiving space
FastMail offers a 30-day free trial that gives you the Standard package with five users. They accept all major credit cards, PayPal and Bitcoin.
Pros
clean, ad-free interface
synchronising with other devices and users
automatic seven-day email backup
Cons
some features are buried in not-so-obvious places
no custom domain with the cheapest plan
storage and pricing are not as competitive
Conclusion
FastMail is just as its name suggests: fast and easy to use, with no ads. It has automatic backup of all of your deleted emails up to seven days, so even if you screw up and delete something by accident, you can retrieve it. You can import and sync calendars and other emails on multiple devices and users. There's even a 30-day free trial without obligations or strings attached to it.
However, although it's great to use, a few things were missing that competitors offer as standard with their packages. Its storage is bare for the cheapest plan and there's no live support, although their support team is good. Many features are coming and if we look back a year ago, they've implemented a lot—though some are buried in not-so-logical places. There's a bright future ahead for FastMail, but for now, it sometimes feels a bit bare boned. However, since there are no strings attached for the trial period, you should try it out. It might be just the match for you.