10 Tips to Follow When Writing Your First Blog Post + Examples
FirstSiteGuide is supported by our readers. When you purchase via links on our site we may earn a commission.
Read More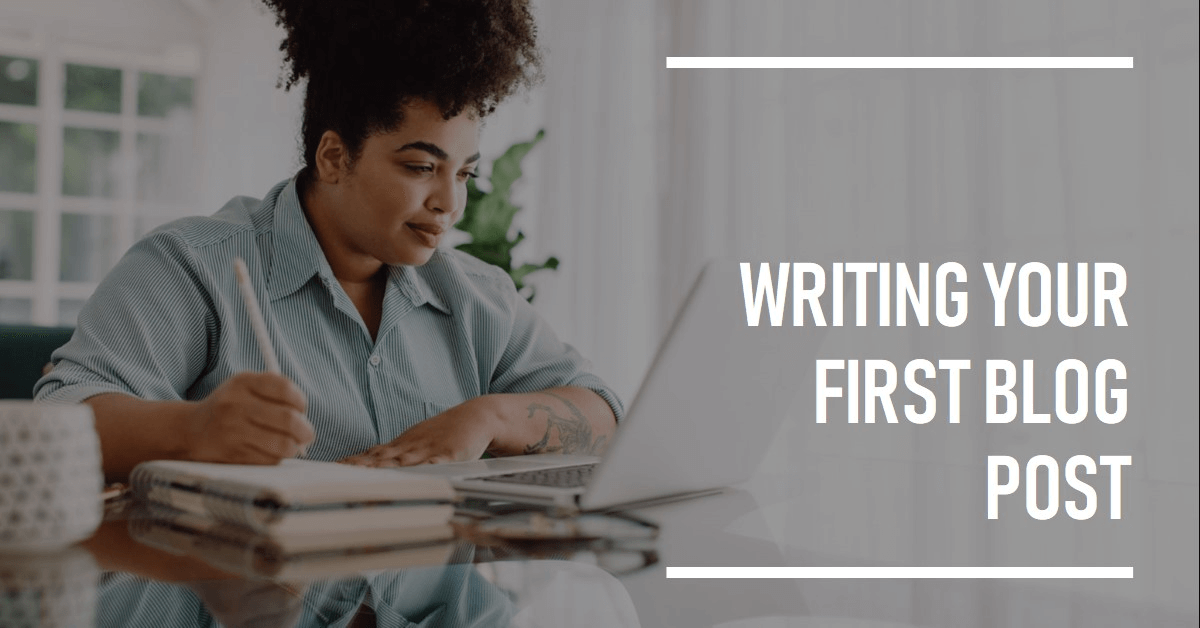 Starting a new blog can be overwhelming. What niche should you choose? What should you write about to engage your readers and compel them to return for more? What writing style to use to attract the right audience?
How should you write your blog post? Should you dive right in, providing relevant content to establish yourself as an expert in your niche? Should you create an "About me" introductory post to share who you are and why you're starting your blog?
The questions pile up, and the answers lie in research.
Whether you have writer's block or need help structuring your first blog post, sifting through popular blogs will give you insight into how professionals do it. First blog post examples can inspire and nudge you in the right direction, helping you kickstart your new blog like a pro.
Check out some of the best examples and discover the essential tips to follow when writing your first blog post.
Blog examples to use for inspiration
The online world is an infinite well of inspiration, with over 600 million blogs across various niches. However, fewer provide high-quality content that drives consistent traffic and attracts a loyal reading community.
Here are a few of the most popular blog examples to use for inspiration:
Apartment Therapy — This lifestyle blog provides interior design advice, including DIY tips, shopping guides, budgeting hacks, and cleaning and organization tricks. All its posts have a clean, SEO-friendly structure, with many images and a consistent flow to engage the readers.
Corporette — This work fashion blog offers career, lifestyle, and fashion tips for professional women. It's the ultimate blog for corporate wardrobe essentials, courtesy of Kat Griffin, who used to be a litigator at a Wall Street law firm.
Trips With Tykes — This family travel blog by a mom of two offers tips and tricks for traveling with kids. Lesley Harvey shares personal stories (with photos) to help families hone organizational skills, budget, and make the most of every vacation.
These blogs are the tip of the iceberg, but you must start somewhere (more examples below). Each suits a different niche but has a similar blog post structure with an attention-grabbing title, many headers, subheaders, lists, eye-catching images, and a logical flow.
Ten tips for writing your first blog post + examples
Have you checked other blogs in your niche, but your inspiration muse still needs a nudge? Don't worry — our top ten tips for writing your first blog post will help. Each includes an introductory post example to get your creative juices flowing.
Let's dive in.
1. Think of the purpose of your blog.
Do you want to teach your readers a new skill, provide extensive knowledge on a specific topic, solve a particular problem, or build a community through personal stories?
Share your blog's purpose to invest your readers in your story. You can provide a personal anecdote (like most blogs below) or use a professional voice to bring focus to what you want to accomplish with your blog
See how Full Focus did it.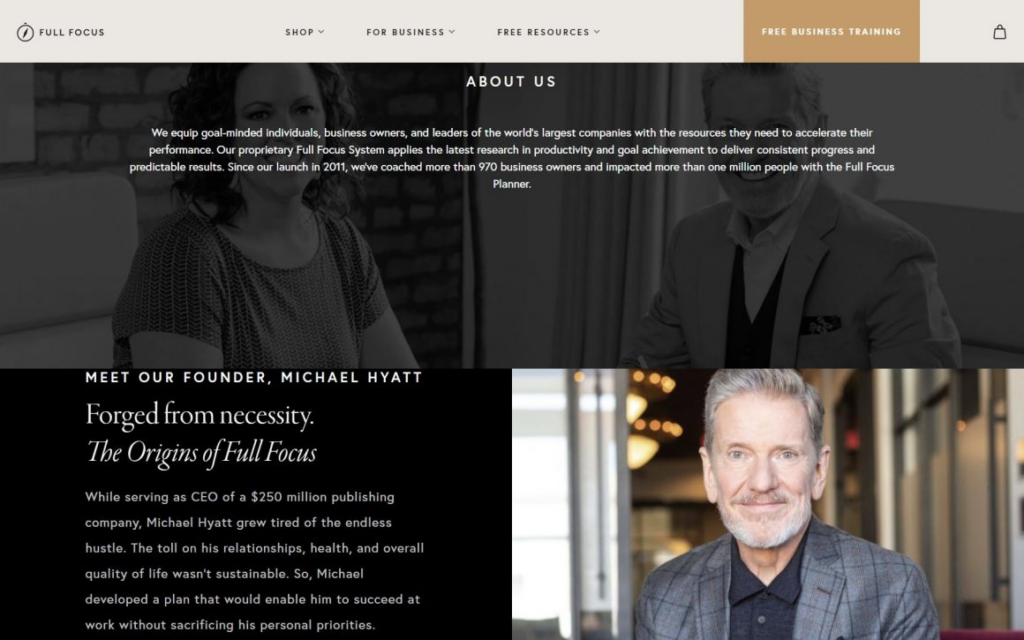 This introductory blog post — doubling as an "About Us" page — is a perfect example of showcasing you're an expert in your niche while sharing your mission with the audience.
2. Determine your goals.
Your blogging goals must align with your blog's purpose. Do you want to establish thought leadership? Do you wish to generate leads and customers because you'll focus on direct or affiliate sales?
Once you determine your goals, consider how you'll achieve them by providing readers with real value — and share those plans in your first blog post.
Look at how Chonce of My Debt Epiphany did it.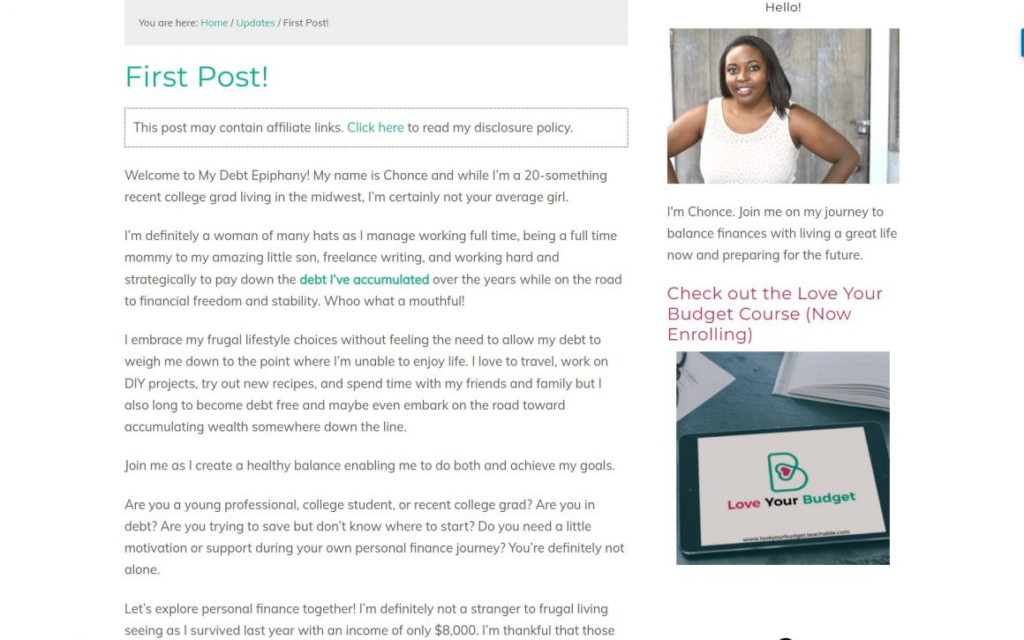 She told a personal debt-related story to help her audience relate, addressed their pain points, and shared her goal — living debt-free while helping her readers master personal finances.
3. Focus on what you want people to know.
Do you want your readers to know why you started a blog, what problems you aim to solve, what content to expect, or what products or services you'll promote (if any)?
Focus on that in your first blog post — without overwhelming people with details. After all, the key is to drive interest. Informing future readers about your planned content is crucial. It will capture their attention and entice them to tune in regularly.
Jamie Hord of Horderly did it perfectly.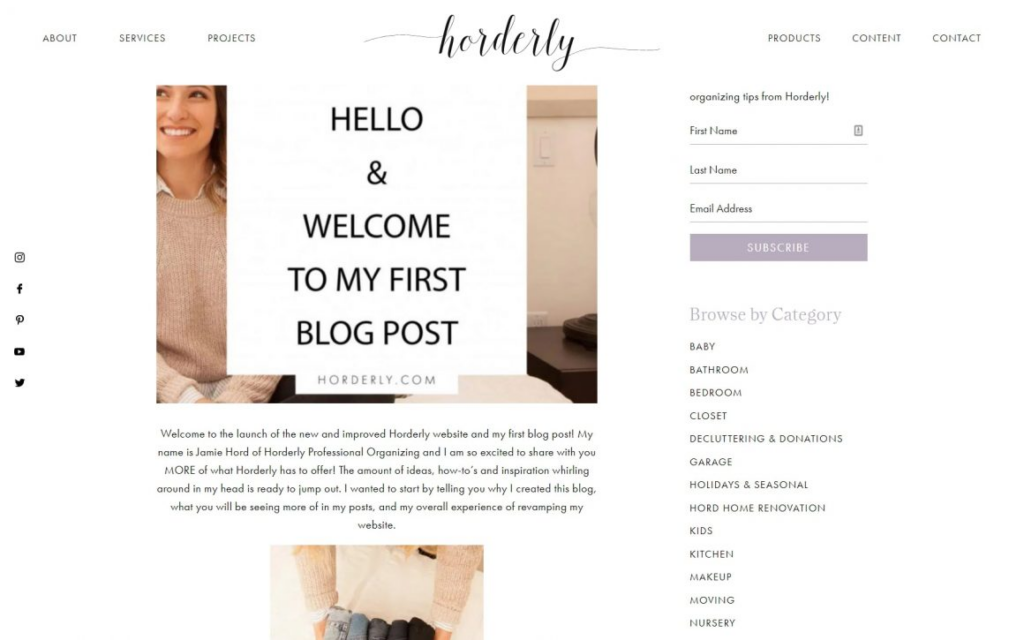 She started with an introduction, where she welcomed her readers, and proceeded to three sections:
Why she started Horderly;
What people can expect from her posts;
How she revamped her website.
Besides sharing her vision and story (with personal photos), she encouraged readers to reach out and share advice so she could continually inspire them.
4. Brainstorm your topic.
Focusing on your blog's primary topic is an excellent way to grab people's attention — and establish yourself as an expert in your niche. Brainstorm the subject to determine how to leverage it to stand out, adding a personal twist to make your post unique
Here is an example of how An OCD Outlook did it.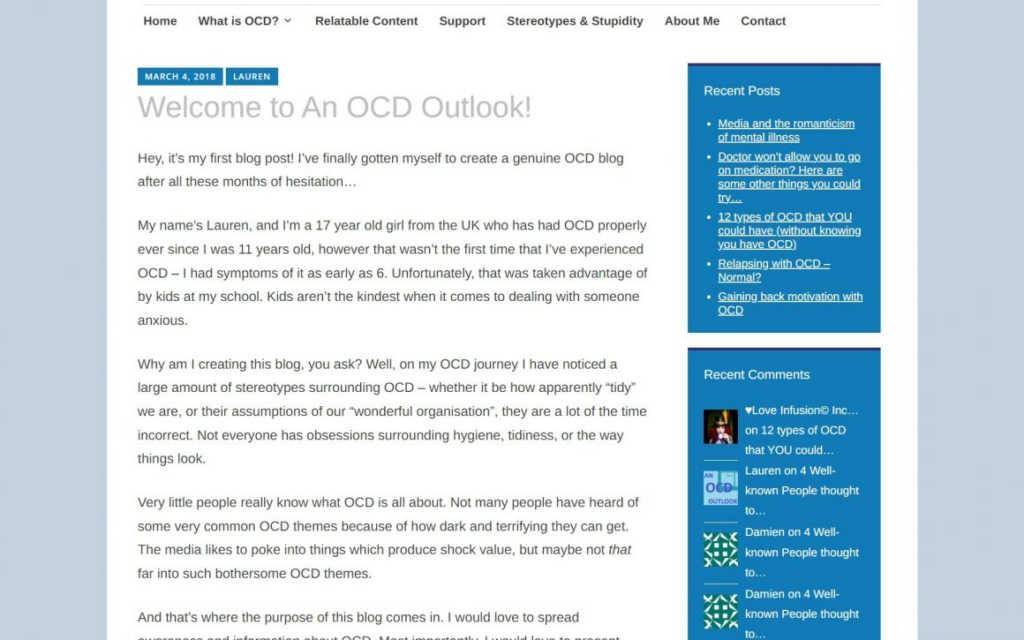 The blog's creator, Lauren, focused her first post around her primary topic — OCD. She shared a personal OCD journey, bringing awareness to stereotypes, assumptions, and genuine OCD struggles. She also told future readers what relatable content to expect.
5. Look at some of the best blogs.
Your successful future competitors are the best source of inspiration. Head to their first blog posts to see how they wrote and structured them — not to copy their work but to identify gaps you can close. Look at what they did, and do it better.
Take The Everywhereist, for example. It's among the best travel blogs — with accolades from The New York Times, TIME Magazine, and other renowned media.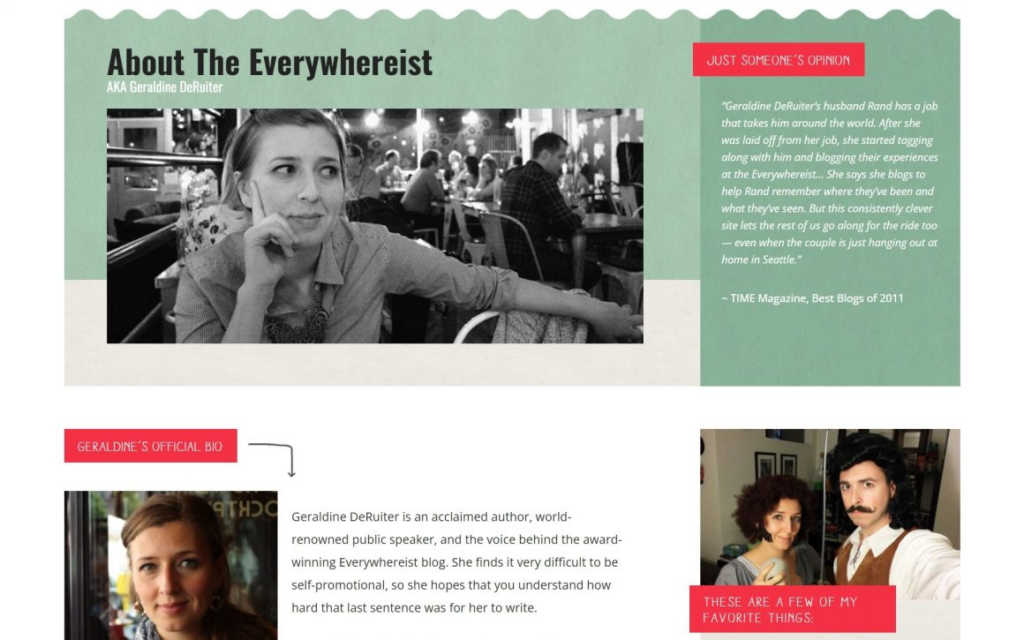 Geraldine DeRuiter infused her introductory blog post with humor to showcase a unique, fun personality and establish authority. Do something similar, and you'll be on the right track.
6. Conduct thorough research.
Besides competitors, research your target audience to understand their pain points and interests and discover relevant keywords to get on their radar. The deeper you dig, the better your first — and subsequent — posts will be.
Steve Chou of My Wife Quit Her Job used extensive research to dive right into producing content — without introducing his blog. His first blog post, "Why You Should Never Start an eBay Store," is an information-packed article of 2,600+ words, with many relevant keywords, numbers, and links.
Steve Chou instantly built authority with data-based facts and a step-by-step guide — his first step toward his seven-figure eCommerce store. It's an excellent first blog post example if you want to skip the introductions.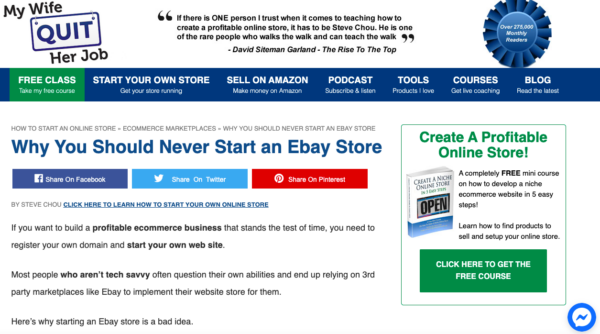 7. Craft a catchy title.
Most first blog posts don't have a title — unless they dive right into the content that their readers seek. Creating one is a perfect opportunity for you to stand out.
Gala Darling did it beautifully with her "Ever expanding, like the universe" title — apt for her personal development blog promoting self-love.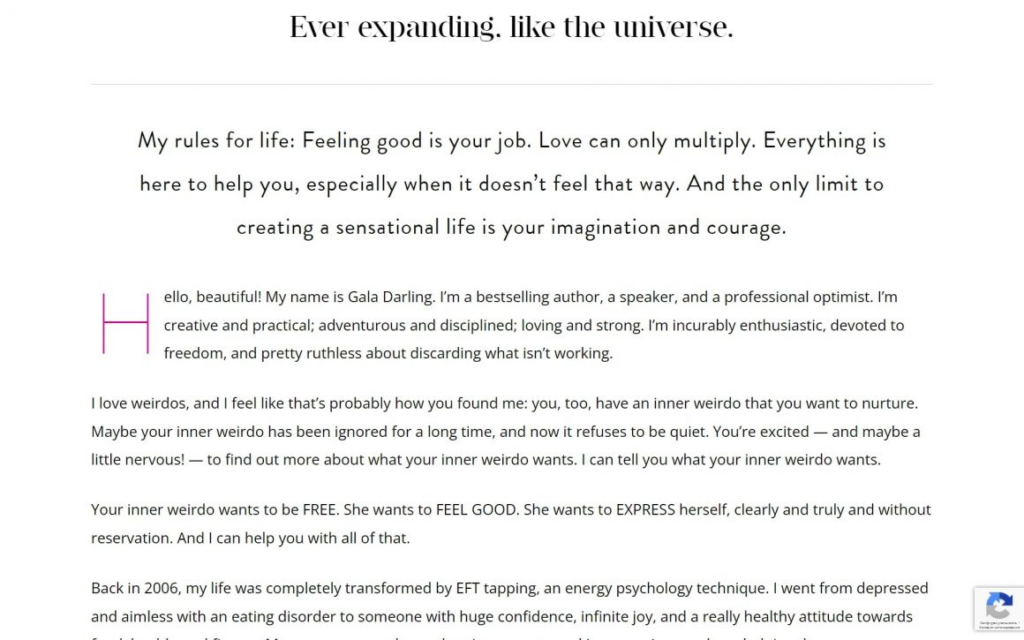 Be sure to tie your catchy title — which will grab your audience's attention and compel them to read on — to the content below, instantly forming a meaningful connection, as Gala did.
8. Prepare an outline and revise.
An outline will help you structure your blog post, organize information in naturally-flowing sections, and focus on the main points.
Here's an unconventional example on the Zen Habits blog.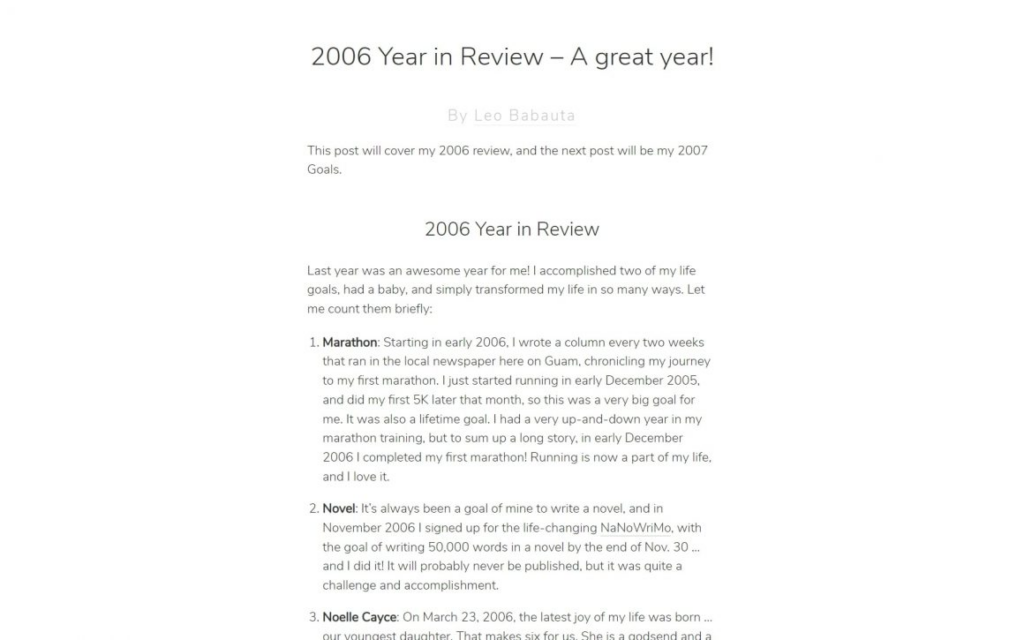 Leo Babauta's first post is like a diary entry, listing his 2006 accomplishments. Soon after, he followed with a list of goals for 2007 and plans for achieving them.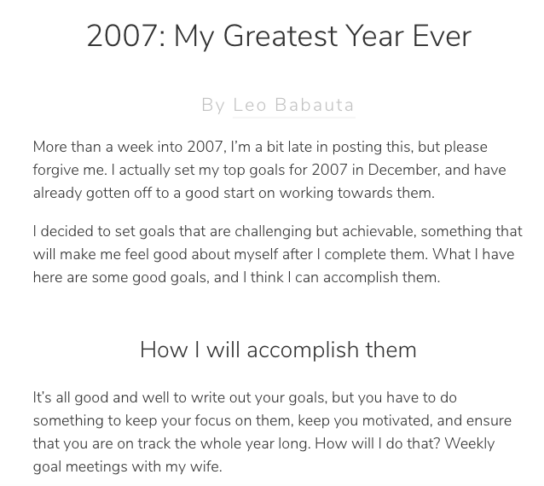 It's inspirational, sparking curiosity in readers and enticing them to stay tuned for motivational advice. It's excellent for a mindfulness blog like this one. Whether you follow suit or not, take a page from Leo's book by drafting a well-structured outline that answers the five Ws — who, what, why, when, and where.
9. Remove filler text.
When did filler text ever provide value? It unnecessarily lengthens a text and can even confuse readers.
Removing redundant words and phrases from your post will increase engagement and add credibility.
CityGirl Meets FarmBoy is a brilliant example.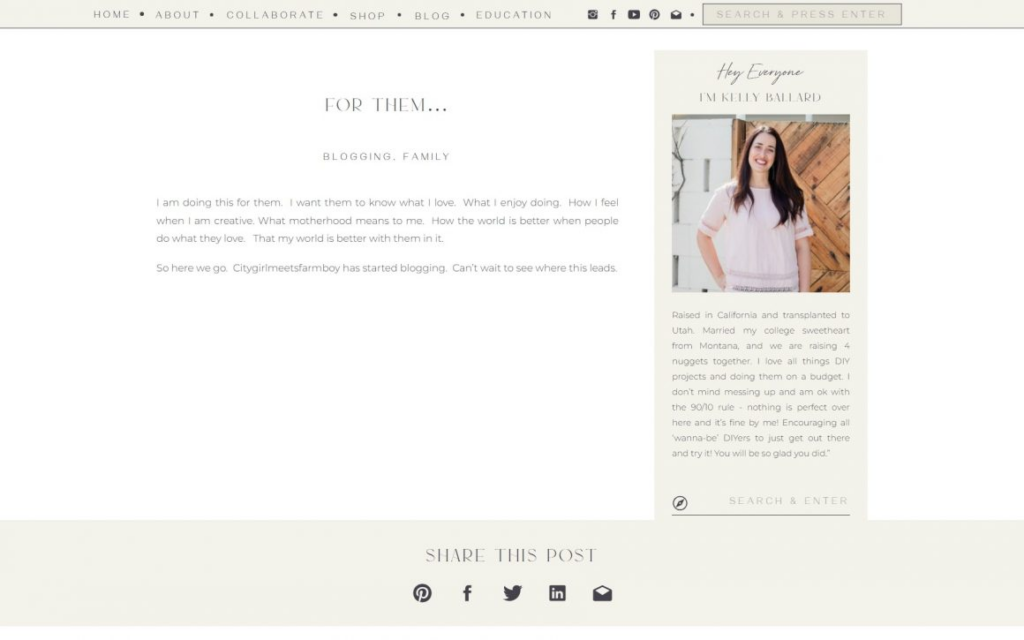 Kelly Ballard gets straight to the point, skipping the fluff and sharing her DIY home decor blog's ultimate message — "how the world is better when people do what they love."
10. Properly structure your blog posts.
Properly structuring your blog posts will improve your SEO. Posts with a clean structure — including an introduction, body, and conclusion — rank better in search engines because of higher readability.
A Girl's Guide to Home DIY is among the best first blog post examples regarding an SEO-friendly structure.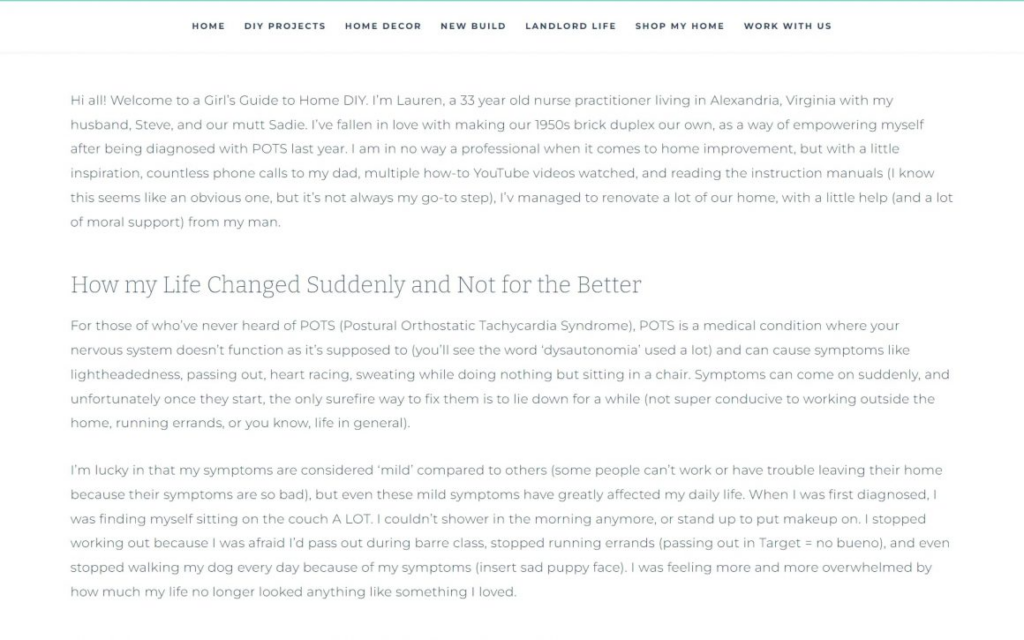 Lauren knew how to structure a blog post for SEO while telling an inspiring story and connecting with her readers.
Are you ready to start your own blog?
Creating a personal blog can be done so quickly. You need to choose a name for your blog first. It's one of the most important steps when starting a new blog.
Recommended tool:
After choosing your domain name, you need to decide on a blogging platform and a web hosting provider.
For all new bloggers, we recommend self-hosted WordPress.org and Bluehost, a company that powers over 2 million websites worldwide. You will get a free domain name when you sign up with them, and if you don't like their services, they offer a 30-day money-back guarantee.
1st choice for new bloggers

Starting at
$8.99
$2.75/month
Free domain name
63% off regular price
30-day money-back guarantee
Set up a blog with a one-click 
Visit Bluehost website →
Conclusion
Did you find these first blog post examples inspiring? Have your gears started turning yet? It's okay if you need more time to transform your thoughts into words. Inspiration will come if you have something unique to share with the world.