15 Must Know Flippa Statistics in 2023
FirstSiteGuide is supported by our readers. When you purchase via links on our site we may earn a commission.
Read More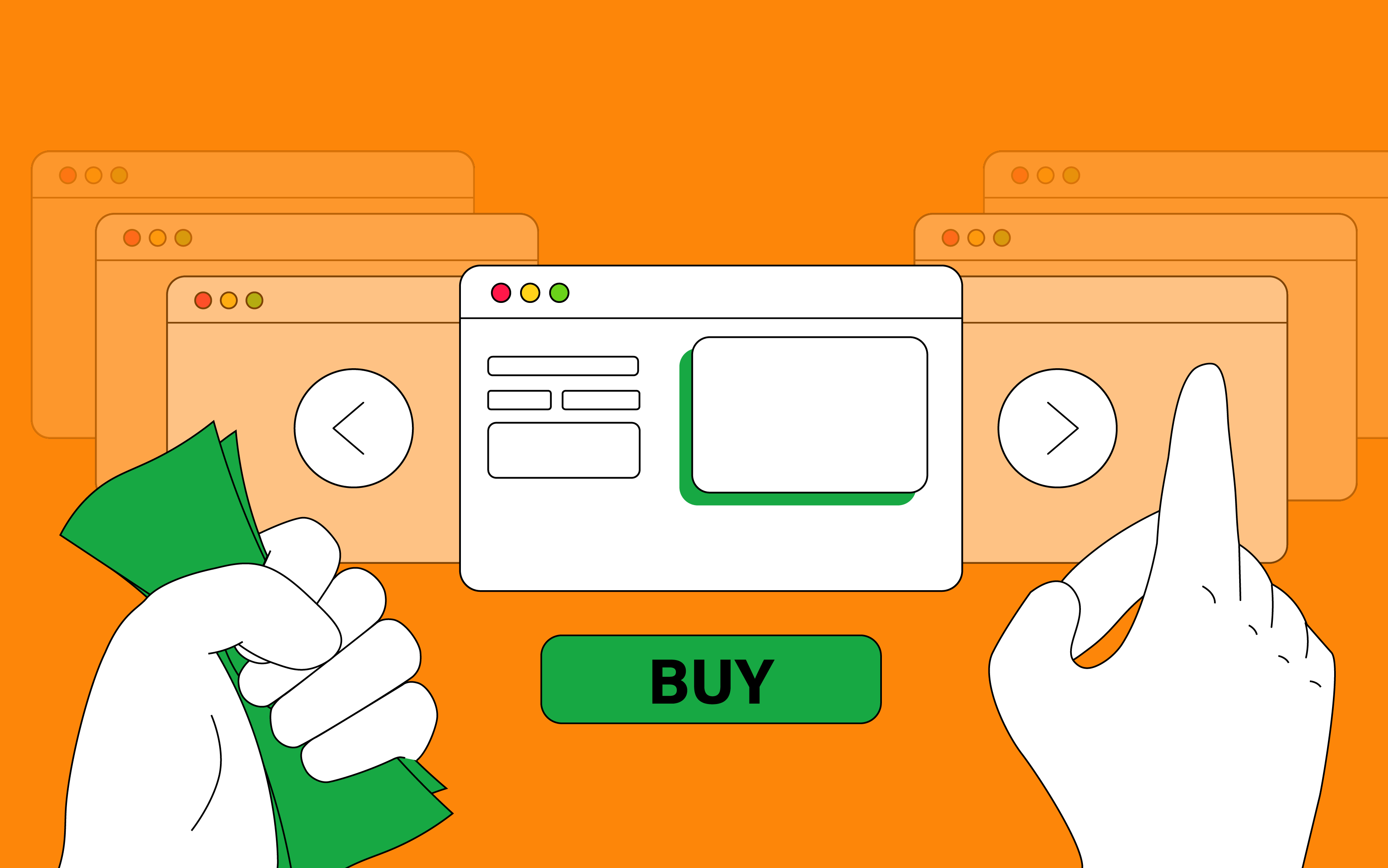 Flippa is an outstanding global marketplace and professional platform where business professionals and industry leaders meet to trade digital real estate assets, websites, applications, and online business models.
This platform gathers a large online community of like-minded, tech-savvy investors, business owners, and developers of SaaS model services. Flippa is also a peer-to-peer (P2P) platform where website and business owners can exchange the latest information regarding the best industrial trends, as well as sell their companies, websites, applications, and other similar services.
Flippa makes buying or selling a website, business, app, or service as straightforward and seamless as possible. To use the platform, users are required to pay certain fees, including an access fee for a standard listing ($29). Flippa also charges success fees for completing successful business transactions.
The success fee pricing includes:
10% success fee for businesses sold up to $50K;
7.5% success fee for businesses sold in the range between $50,001-$100K; and
5% success fee for businesses sold over $100K.
(Source: Flippa.com)
Most Interesting Flippa Statistics
Flippa hosts more than $41 million in business listings every month.
The Flippa platform receives 1.3 million mobile and desktop visitors per month.
So far, more than 300K global digital assets have been sold via the platform.
The platform has 3 million users from all over the world.
Website sales make up 50% of the platform's revenue.
Around 30% of successful deals are domain name sales.
Planetrx.com was the most expensive website sold on the platform ($1.2 million).
StockPhoto.com was the domain with the highest price, reaching $250K on Flippa.
General Flippa statistics to keep an eye on
Let's take a look at some of the general statistics related to Flippa to obtain a better understanding of how helpful this online platform can be for various investors, owners, developers, and more.
1. Flippa listings of businesses for sale earn more than $41 million every month.
The Flippa platform gathers together more than half a million business sellers and buyers worldwide, achieving a monthly profit of more than $41 million by listing businesses for sale. The prices range from $5K to $5 million.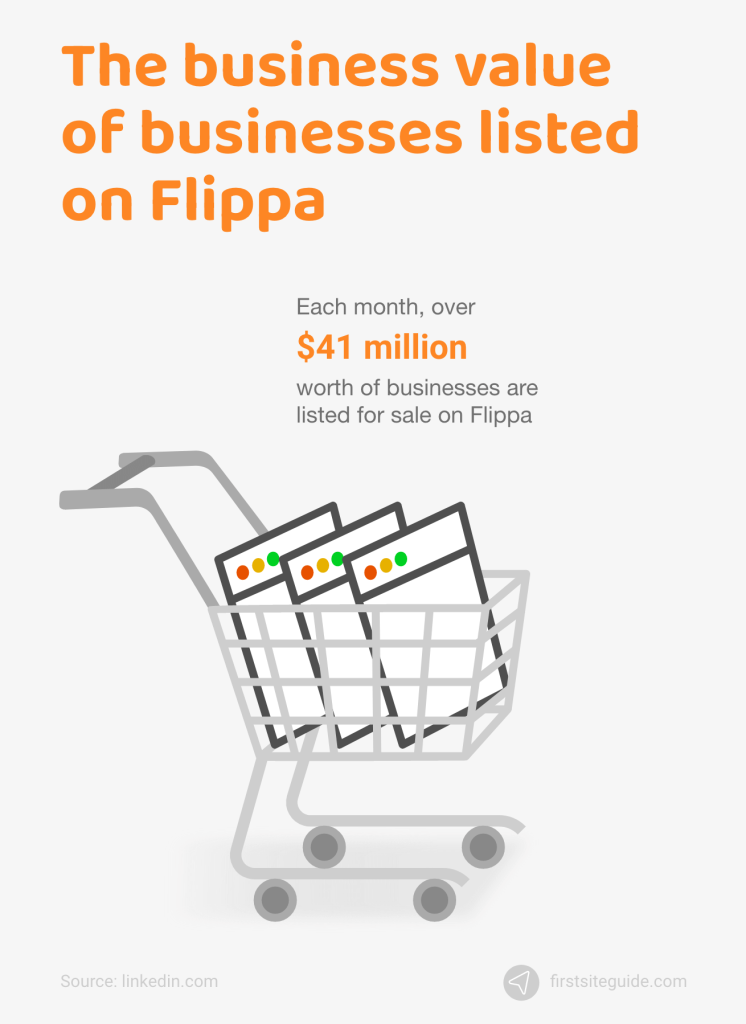 (Source: LinkedIn.com)
2. According to the latest traffic and engagement statistics from Flippa, the platform averaged 1.3 million total visits in the last three months.
The latest research indicates that more than 1 million visitors, including both desktop and mobile internet users, visited the Fippa platform per month. It showed the following stats:
1.4M in January
1.3M in February
1.3M in March
(Source: Similarweb.com)
3. With 3M users worldwide, the Flippa platform helped to sell more than 300K digital assets worldwide.
Since its founding in 2009, the Flippa platform has gathered more than 3M users and assisted with the sales of more than 300K digital assets, including social media accounts, mobile apps, SaaS companies, blogs, eCommerce businesses, and more.
(Source: Flippa.com)
4. Founded in 2009, the Flippa online marketplace gathers more than 3M members from all over the world.
According to the latest statistics, the Flippa online business marketplace has around 3 million users worldwide.
(Source: Flippa.com)
5. Niche-based business websites have the highest chance of selling for a good price on Flippa.
The latest studies indicate that niche websites have the highest chance of reaching a high selling price on Flippa. Flippa investors are primarily interested in the following niches and sub-niches with the highest sell rates:
Resorts and holiday accommodations;
Vacation, hunting, and camping resorts and accommodations;
Cooking and recipes;
Pets;
Home and garden; and
Health and beauty.
(Source: Flippa.com)
6. Website sales compose 50% of Flippa's revenue.
Flippa earns half of its revenues from selling websites. The next highest source of revenue (30%) comes from selling domain names.
(Source: Wikipedia.com)
7. Planetrx.com was the website sale that reached the highest price on the platform to date. The site sold for $1.2M.
Currently, Planetrx.com is the most expensive business purchase on the platform, fetching an incredible price of $1.2M. According to the stats, the other two websites that fetched the highest prices on Flippa include:
Bonusbonusbonus.com ($750K)
Makecashtakingsurveys.biz ($395K)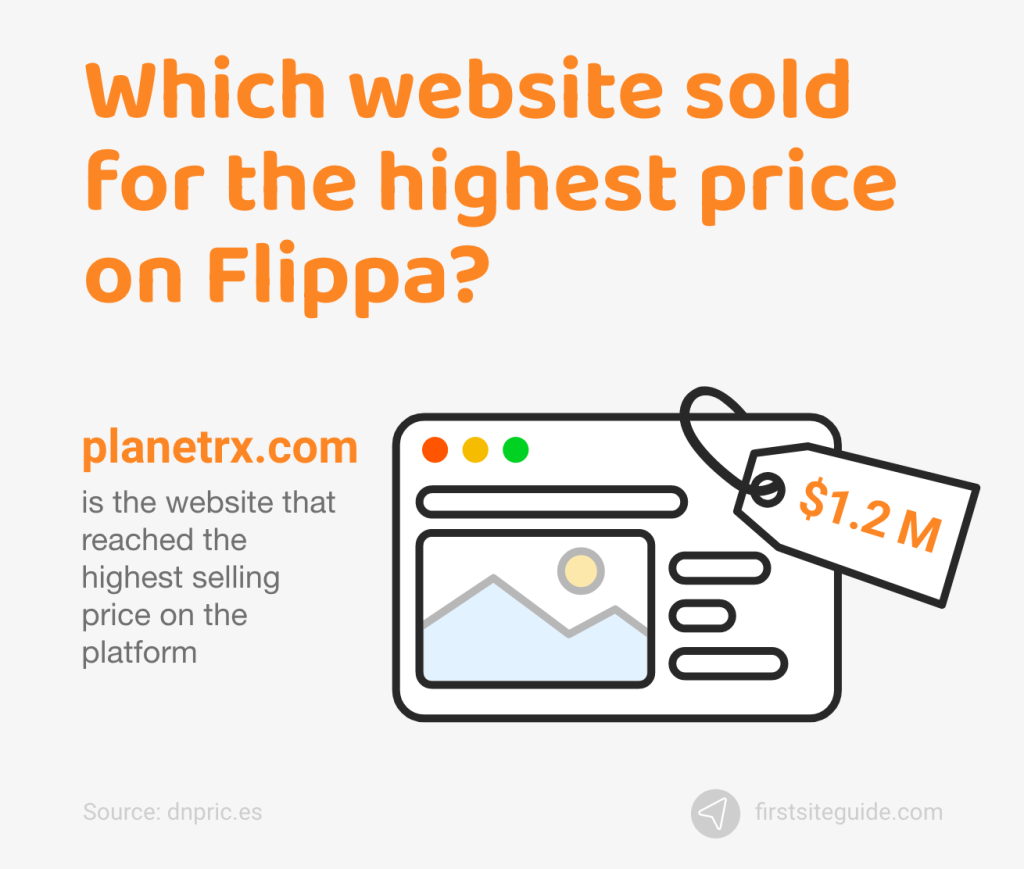 (Source: Dnpric.es)
8. Sold at a buy now price for $250K, StockPhoto.com is the domain name that has fetched the highest price on Flippa.
StockPhoto.com is a perfect example of a successful domain name sale on Flippa. As the most expensive domain name sold on the platform, StockPhoto.com's price reached a whopping $250K.
(Source: Wikipedia.com)
9. The Flippa online marketplace gives buyers access to a range of sub-niches that are in high demand.
Sub-niches that gather the most buyers on the Flippa online marketplace include:
Pets;
Baby;
Weight Loss;
Gaming;
Fitness; and
Website Design.
However, despite the incredibly high demand for these sub-niches, there are limited numbers of websites in the current supply. That's the biggest reason why these sub-niches gather so many buyers from all over the world. Since supply is low, these sub-niches are expected to fetch a high price.
(Source: Flippa.com)
10. As the leading online marketplace for buying and selling business websites and domains, Flippa offers access to the most popular niches with the highest median sales value.
Automotive, Style, and Design are among the niches that fetch the highest median value for sales. Sub-niches with the highest median sales value include Tattoo, Hair & Hair Loss, and Logos. These are the most popular categories that gather the highest-paying buyers.
(Source: Flippa.com)
11. The most searched terms for Starter Sites on Flippa include health, games, video, and travel.
Flippa attracts a lot of Starter Store buyers looking for various things. Most buyers search the platform for websites that match their interests and passions, hoping to find the best ways to earn big while having some fun.
(Source: Flippa.com)
12. Flippa offers access to an array of different sales categories, with service websites fetching the best sell rate.
According to the latest statistics, services websites have the highest potential for earning good revenues. Besides niches, these business sites have the highest sell rate on the Flippa online marketplace.
The platform categorizes the highest-selling websites by site type. Aside from services websites, the other popular website type with the best sell rate includeseCommerce sites.
(Source: Flippa.com)
13. The Flippa platform allows members to tap into a variety of monetization methods.
From all the monetization methods available on the Flippa platform, Dropship, Clickbank, AdSense, and eCommerce are the most watched ones.
(Source: Flippa.com)
14. The Flippa online marketplace has partnered up with Semrush to ensure the highest online visibility and exposure for its listings.
Since June 2020, Flippa has been using Semrush API to help its members to make better, more informed purchasing decisions and drive more revenue.
As one of the best online visibility management tools on the market, Semrush provides top-grade traffic insights that allow Flippa to drive more traffic to its comprehensive listings and earn more than $16K in revenue on purchased business reports (1,662).
In addition, the partnership between Flippa and Semrush has yielded the following results:
510 buyers used Semrush insights to buy a report that led to making a business offer on that specific listing;
869 buyers relied on Semrush reports to make an informed investment decision and make an offer on another listing on the platform; and
668 listings led to at least one report purchase.
(Source: Semrush.com)
15. 57% of all Starter Sites offered on Flippa get sold in post-auction negotiations.
You have double the chances to sell a Starter Site through bids compared to the Buy It Now option.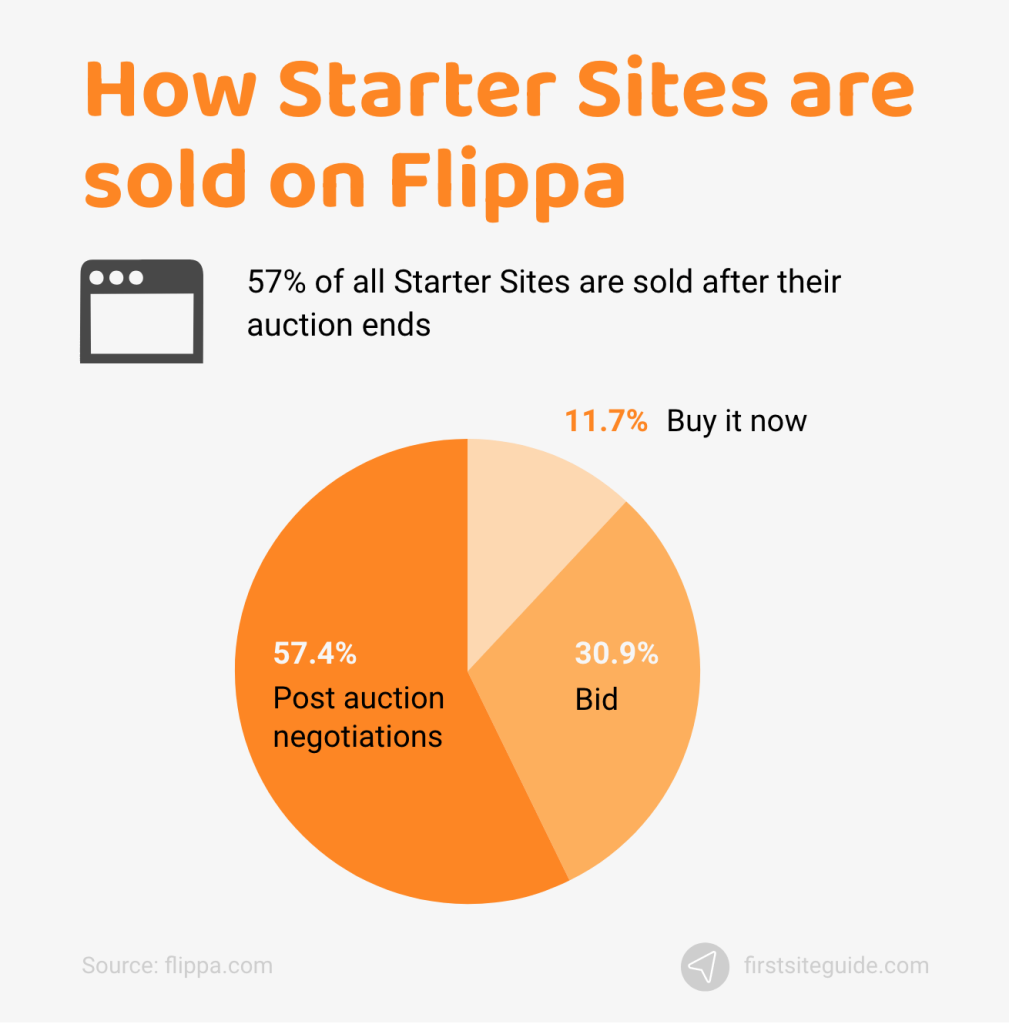 (Source: Flippa.com)
Conclusion
We sincerely hope that these stats will help you to make better decisions when investing in digital real estate, becoming an acquisition entrepreneur, or buying an online business.
Whether you're looking for an already well-developed business website or a parked, undeveloped, or premium domain for developing your own line of work, Flippa is a platform where you can discover every business category imaginable.
On the other hand, you can also sell your business on the platform by tapping into Flippa's immense online reach and connecting with potential buyers. The platform makes the entire negotiation and transaction process as straightforward as possible.