Google Workspace Review
Company Overview, Pricing, and Features
FirstSiteGuide is supported by our readers. When you purchase via links on our site we may earn a commission.
Read More
Intro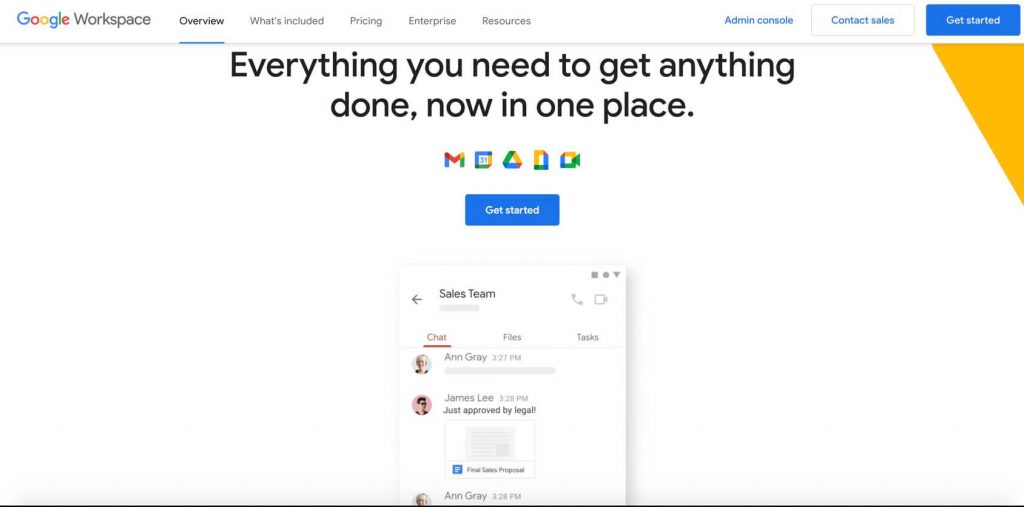 Google Workspace might sound new, but it's actually just a 2016 rebrand of the old Google Apps. The name change was made to reflect new positioning, "so organizations can move faster and achieve more." Among these apps is Gmail, a top player in the email client game. Gmail was introduced in 2004 as a stand-alone product that was initially offered by invitation only. There's a reason why Gmail is bundled with the rest of the apps. Let's look at why Google offers it this way.
Setting up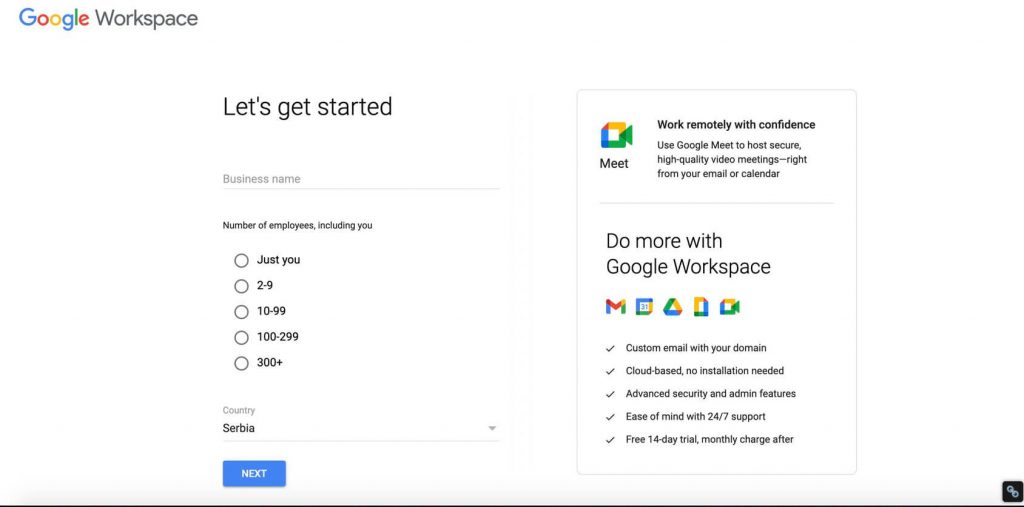 Getting a Gmail account is easy. You either set up a Google Account just for Gmail, or you can try out Google Workspace. Bear in mind that you'll need a Google Account for Google Workspace too. The setup experience is quite similar, with a few differences.
For starters, Google Account is free and it will give you a @gmail.com email extension and access to their other services. The interface is the same, but the storage is smaller and some features are different than those in Google Workspace. With Google Workspace, you set up a different Google Account with a custom email address—and you'll get more storage. In addition to personal information, you'll have to provide your domain and verify it. If you don't have a domain, you can purchase it from Google. After that, you're all set up and ready to go.
People often get confused about differences between the two options, so here's a short explanation:
Google Account is used for personal use.
Google Workspace is for business and professional usage. Google Workspace can have some restrictions in available services, which means that your business (if you aren't an owner, but just a user of Google Workspace) can control which services you can use with that account.
So if you want just personal stuff, use Google Account. If you mean business, go with Google Workspace.
Components and details
Design, navigation and user friendliness
When it comes to design and user friendliness, Gmail is the standard to which others aspire. It's a Web UI (Web User Interface), which means you access it from your browser. On the left side of the screen, you'll find the standard tabs with Inbox, Spam, Sent Mail and Drafts. You have the option of adding your own tabs, too.
Below the tabs is a small window for Hangouts, which is a Google's native app for chat and calls. On the top, you'll have a search bar. Below that, the majority of your screen will be taken up by your emails, which are automatically sorted by content into Primary, Social, Promotions, Updates and Forums tabs. The filters are quite intuitive and email gets sorted in the right place immediately.
You can choose how you want to see your emails; the default is in order by date. There's also an option for placing stars next to important emails so you can prioritize them and cross reference them, no matter the tab you're in. Many users complain there's no option to view the inbox and an email at the same time, but that's not true. It's merely an option that's turned off by default and you can turn it on under Settings. It also has customizable themes, but you can to have your own photos for the background, which makes their number infinite.
Since it's a Web UI, Gmail is available on all platforms, mobile or otherwise. It also has a handy pop-up window for composing a new email, which will always stay on your current page. This means you'll still see an overview of your inbox while you type a new email. And if you should close it by accident, it will be saved automatically in your drafts. There are text editor and options for the auto reply, so you don't have to worry when you're on vacation. And the interface supports 72 languages.
Features and Specs
The main differences between paid and free versions are:
Free Gmail comes with google text ads, 15 GB storage and a default @gmail.com extension.
With Google Workspace, there are two options but in both instances, you can use custom email, get more GB of storage per user and access to live 24/7 support. However, that will cost $6 or $12 per month and you'll share the storage with other Google products. So, if you go all out on Google Drive, you may find that you don't have storage left for Gmail.
In both instances, you can send emails that are 25 MB in size, which is annoying if you need to send a large attachment. However, that's why Gmail is bundled with the rest of the Google products, mainly Google Drive. There you can upload large files and create folders—then simply share links for them with anyone, even those who don't have Google Account. It saves a lot of download and upload time, but it does take some getting used to it at first. Also, if you want to remove, but not delete an email, you can archive it and it will disappear from your inbox, but you will be able to retrieve it later if wanted.
Gmail's search-oriented interface is good and you should be able to find what you're looking for. However, there's been some grumbling that the search for individual emails is not the best. The "conversation view" for emails is handy.
Gmail introduced us to collapsible emails, which allow you to work with a less-crowded interface. This means that instead of a list of all sent and received emails, it filters all replies into one line with the number of messages in that conversation. If you want to customize further, there are a lot of things you can add or remove under Settings. The most interesting is the Labs tab that will allow you to play with experimental options. There's Chrome extension if you want to check your email offline and for mobile apps. There are slight variations between Android and iOS interfaces but they're both easy to use.
Connecting other email accounts is simple and you can set your Gmail up to collect emails from up to five POP accounts. Gmail itself can be accessed using POP and IMAP, and you can create up to 30 alias email addresses per user. This is especially handy if you want to separate your personal and business accounts. It also has automatic integration with Hangouts, so (video) calling or chatting is a click away. Its integration with Calendar is also convenient and it allows you to create events and send invitations.
Security
As previously mentioned, Gmail has a certain notoriety, because text ads based on keywords are displayed in emails with the free version. Emails themselves are private, but Google automatically scans every email. Even emails sent from other email providers get scanned despite never having agreed to Google's privacy policy or terms of service. This could potentially be abused by government and organizations because privacy is somewhat eroded. There have been lawsuits from both Gmail and non-Gmail users concerning these privacy issues.
On the other hand, Gmail's automatic scanning of emails is great for spam and virus filters, which are convenient and give you another kind of security. It's also community driven, so if a user marks an email as spam, it helps identify future spam messages. You'll never see an unwanted email in your inbox and you'll be warned if possible viruses are attached to emails you received. You'll also be warned if there are suspicious attempts to log in to your account from devices you don't normally use. As for displaying unwanted ads, Google claims that Gmail refrains from displaying them next to potentially sensitive messages, like those mentioning race, religion, sexual orientation, health or financial statements.
It also has strong phishing protection and there's no automatic download of content. The encryption is HTTPS, so you should feel more than safe.
Support
Google offers several support options, including forums, FAQs and email support. If you use Google Workspace, you will also get live 24/7 support. It's unlikely that you won't find the answers you need, so not having live support with the free version is not as big a problem as you might expect. Granted, email support might not be as fast, but having a problem with Gmail is such a rare occurrence that you may never have a need for support.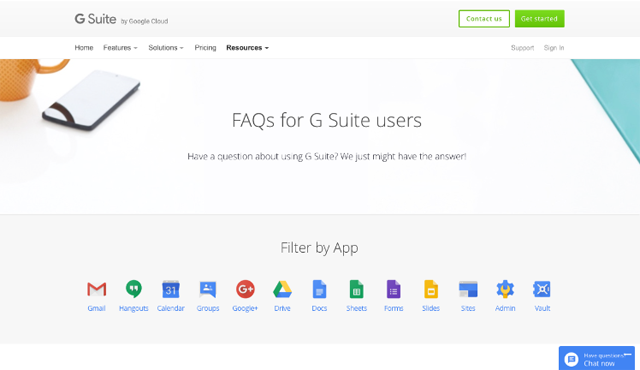 Pricing
Four options are available.
Free Gmail – 15GB of storage that you share with other Google Account apps
Google Workspace has four paid options, with 14-day free trial periods:
Business Starter $6/month.
Business Standard $12/month.
Business Plus $18/month.
Enterprise – Contact sales for pricing
Pros and Cons
Pros
stacking emails and conversations into threads
excellent spam management
integration with other Google products
Cons
automatic email scan for targeted text ads
no external social media integration, except for Google+
no folders for email
Conclusion
Google is so synonymous with internet search, that today you often hear "google it" instead of "search it." One of their earliest, and most successful, attempts to dominate the internet was the release of Gmail to the public. It's one of the most popular and well-known email clients—for a reason.
There are many customization options. It's an excellent service that, with the exception of ads in the free version, has no real downside. The spam filters are top notch. (It almost made us forget about the times we had to rummage through tons of unwanted emails, manually deleting them, just to get to email we wanted.) Gmail is secure, easy to use and seamlessly integrated with other Google products. It's equally great for personal and business use. All-in-all, Gmail is a top player for a very good reason.