GoDaddy Email Not Sending In Outlook – Causes & Fixes
FirstSiteGuide is supported by our readers. When you purchase via links on our site we may earn a commission.
Read More
There are many reasons why your Outlook emails aren't being sent with GoDaddy.
Today we'll look at some common causes and all the fixes you can try to get your Outlook back to work. Here's what you need to know.
Reasons why GoDaddy email is not sending in Outlook
It all comes down to technical issues or poor configurations. Here are the top reasons your GoDaddy email is not sending in Outlook.
Server issues
Sometimes the issue isn't on your end. Even though Outlook servers are usually up and running, they are sometimes down due to maintenance or some minor issues that get quickly resolved. You can check the status on Portal.office.com/servicestatus.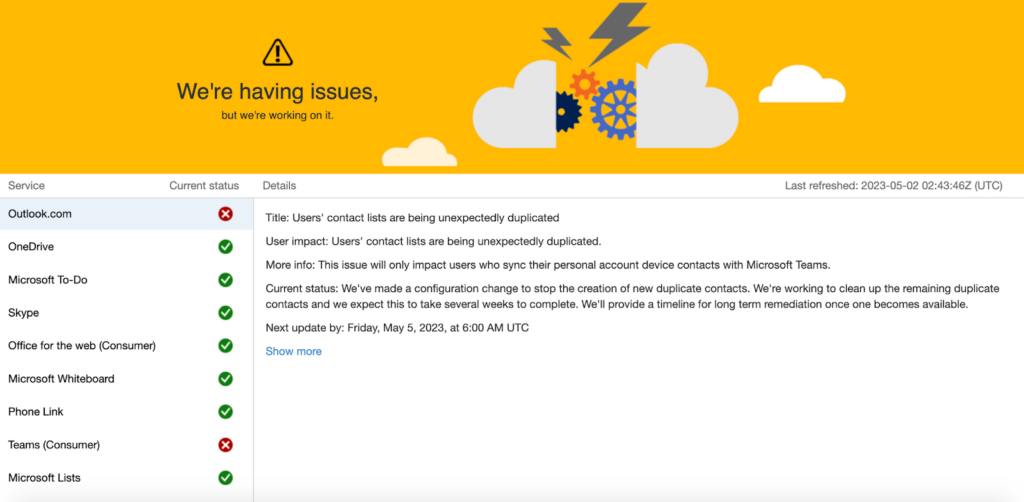 Poorly configured Outlook account
Your Outlook account requires lots of information for everything to work correctly. This includes server names, account names, passwords, ports, and other configurations.
Connectivity issues
Sometimes the problem is with your connectivity, and you might have obstructed internet access. On the other hand, the sender might also be having these kinds of issues.
Your emails are ending up in the spam folder
Email services sometimes flag specific addresses and domains as malicious or spammy, and the messages end up in your spam folder.
Storage issues
If you don't have enough storage available, you won't be able to receive any new messages. Check if you have enough storage available.
Six fixes you should try out
Here are some of the top fixes you should try.
Troubleshoot your internet connection 

Poor internet connection is the primary issue you should check. Check if your router is receiving the internet signal. Do an online speed test to see the current performance and restart the router if necessary. 



Double-check your email address 

Refresh your web browser to check for new emails. If this doesn't help, try accessing your email account with another web browser. It's generally a good idea to clean up cookies and cache in your browser. 

Reset server settings 

Check all of your POP and IMAP mail server settings. Ask your provider to give you the required information and re-enter the information. Set up and turn on active sync settings to synchronize all emails, tasks, contacts, and calendars. 

Set up your DNS 

Go to Email & Office Dashboard and click the Manage option next to your account under users. Click Recheck DNS under Setup. If the issue persists, update your MX records. 

Restart your computer 

GoDaddy recommends restarting the device you're using to access your email. There's a known bug when all new emails simply stop being visible, but a quick restart usually fixes the problem. 

Unblock domains or senders 

Sometimes your emails might be sent to the junk or spam folder. Sign in to Web Outlook using your Microsoft 365 password and email. Go to Settings > View all Outlook settings and click on Mail. Go to Junk mail and if you find your emails there, go to Blocked Senders and Domains and delete the addresses you don't want to block. 
Conclusion
We hope these easy fixes will solve your problem, but If none of them work, we suggest contacting GoDaddy customer support and consulting with them about your issues.