Good Blog vs. Bad Blog: What Are the Main Differences?
FirstSiteGuide is supported by our readers. When you purchase via links on our site we may earn a commission.
Read More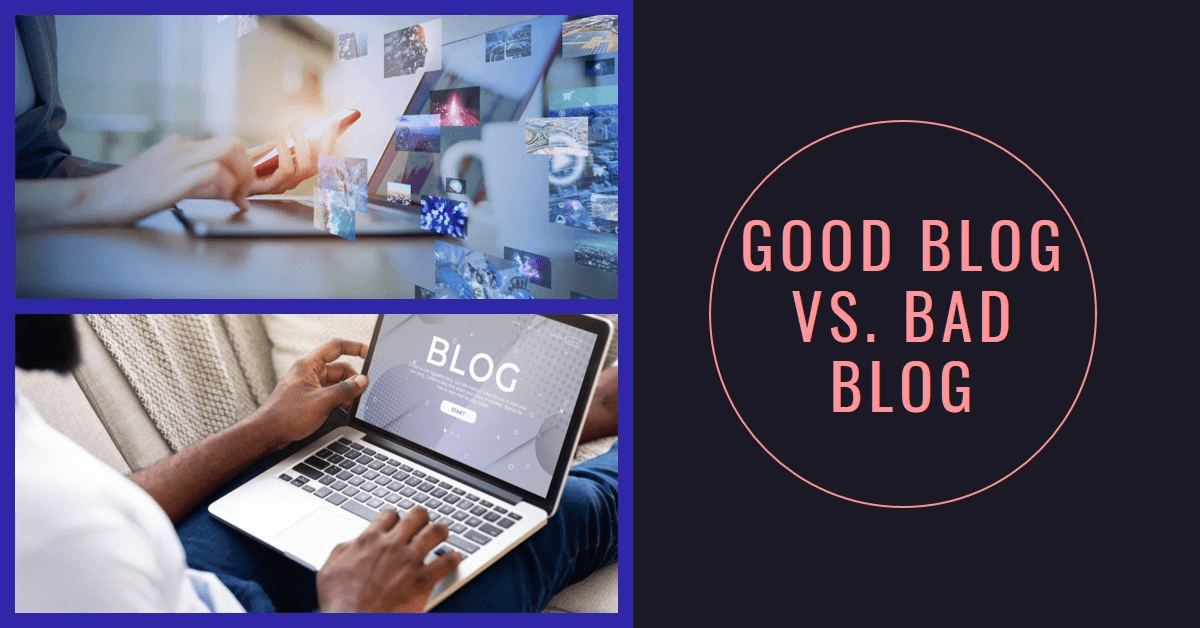 Everyone knows what a blog is.
But when defining what makes it good vs. bad, only some are experts. Nevertheless, understanding the difference between what works and what doesn't is crucial in this highly competitive field.
Lucky for you, we have the answer.
Good blog vs. bad blog differences
In short, the main differences between a good blog and a bad blog include logical blog post structure, catchy headlines, quality content, a solid SEO strategy, frequent posting, knowing your target audience, enjoyable blog design, and compelling CTAs.
Here's a brief overview of the main differences:
| | | |
| --- | --- | --- |
| | Good blog | Bad blog |
| Blog post structure | Content is presented in a logical and engaging way. | Thoughts are loosely connected without a clear purpose. |
| Headlines | A good headline is revealing and intriguing at the same time. | If you want to lose clicks, make your headlines short and vague. |
| Content quality | Quality content provides value to the readers. | Bad content is a waste of time, but not in a funny way. |
| SEO strategy | Keywords, meta-text, and quality links boost visibility. | Google doesn't like blogs that are difficult to read. |
| Blogging frequency | Good bloggers keep up a consistent posting schedule. | Publishing once in a while shows a lack of commitment. |
| Audience targeting | A blog is only as good as its audience-targeting strategy. | Bad blogs don't think about or know their readers. |
| Blog design | Good design is readable, eye-catching, and interactive. | Poor blog design feels sloppy, messy, and confusing. |
| CTAs | An effective CTA must tell the reader what to do next. | Missing or complicated CTAs are common on bad blogs. |
Feel free to take a closer look at how these elements compare to each other:
Blog post structure
Good blogs have well-structured posts. The perfect blog post structure uses different elements to convey a message. These elements must ensure that your content is crystal clear, easily scannable, visually rich, and – engaging.
A blog post is not a stream of consciousness or a collection of random thoughts without any logical structure. If the order is all wrong and the ideas are messy, your blog post structure is terrible.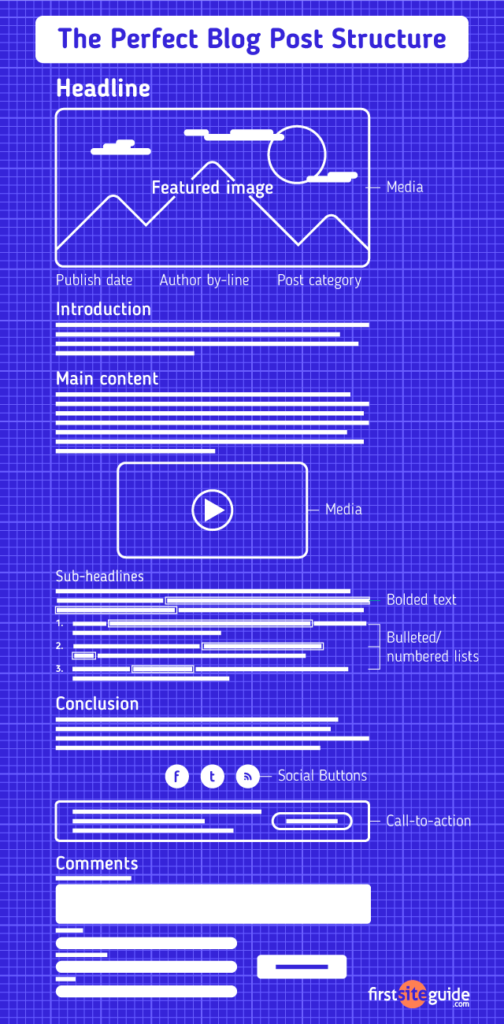 Headlines
A good headline doesn't have to ask for clicks. Instead, it grabs attention by using words that resonate with the readers. It's concise but information-rich, relatable but intriguing.
If you want a blog without readers, use harsh language for your headlines. Make them short and basic without even hinting at what the post is about.
Here is the cheat sheet you can use that will help you to come up with headline ideas.
Content quality
Compelling, engaging, coherent, relevant, up-to-date, evergreen, helpful, reliable, data-rich, well-researched, and quotable – blog content must be all these things.
In other words, content is the soul of every blog. Because of that, uncreative, uninformed, and overly promotional content that doesn't have any purpose is an instant blog killer.
SEO strategy
Did you know you need to structure your blog posts for SEO, too? Good blogs have a focus keyword, meta-text, quality links, and images in addition to the head, body, and tail.
If nobody can see your blog on Google, your SEO strategy is not working. Maybe you're ranking for the wrong keywords, or Google doesn't think you're relevant and user-friendly enough.
Blogging frequency
Successful bloggers post new content two to four times per week. This frequency may vary, but what's important is that you honor the schedule and respect your readers' time.
In reverse, publishing a new post every two months tells two things about you as a blogger: 1. You are not very passionate about it, and 2. You don't care if your content is outdated and irrelevant.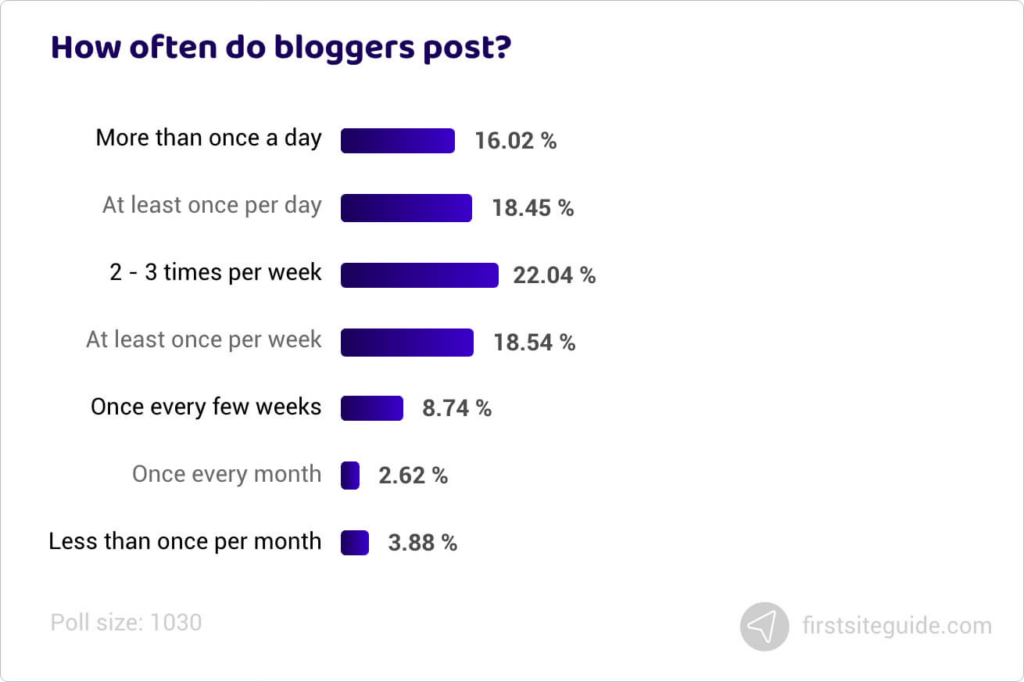 Audience targeting
Targeting the right audience means finding a subset of people responding to your opinions, ideas, and products. That requires thorough and continuous research, but you can't have a good blog without it.
Believe it or not, you can be a great blogger with a mediocre blog. Doing everything right makes no sense if you're doing it for the wrong audience. Know your readers inside and out.
Blog design
Good blog design puts content front and center, making it easy to read and navigate. With on-brand graphics and media, the visual appearance must be enjoyable and professional-looking.
But blog design isn't only about aesthetics. Poor design is a significant turn-off because it feels sloppy. Messy navigation is confusing and leads to nothing other than a high bounce rate.
CTAs
A potential buyer has read your post. Now what? If you don't tell your new readers what you want from them with a clever CTA (call-to-action), you probably won't see them again.
Examples could be sharing your post on social media, commenting, or subscribing to your blog.
"Click here for more," "Let's stay in touch," "Subscribe now," "Tweet this" – an effective CTA must be clear with its intention, straight-to-the-point, and easy to act on.
Here's an example of a CTA that we use in our popular How to Start a Blog guide. We offer to download an eBook to anyone who subscribes:

Conclusion
The rumor is 80% of blogs will fail by the end of 2023.
Do you want to know why? It's because most bloggers don't know what constitutes a good blog. If you want to start a blog that your audience will love, take some time to study the craft.