Google Maps Widget PRO review – the fastest maps for WordPress
Google Maps is a web mapping service known to practically anyone who owns a desktop computer, a laptop or a mobile device. Whether you only want to admire how our tiny planet looks from above, or you actually want to find a place of interest, you can do that with a help of Google Maps application. The technology started its life back in 2004 when Lars and Jens Eilstrup Rasmussen wrote a C++ program which was promptly acquired by, you guessed – Google.
After the acquisition, Google Maps started growing rapidly. In the last 12 years, the technology has become something we can't live without. Today, Google Maps allow you to view satellite imagery from all around the world. Street maps with 360° panoramic view enable you to take virtual walks in the places you have never visited, and real-time traffic conditions can help you plan your trip on the spot. You can also measure the distance between places on the map, plan routes by car, bicycle, public transportation and by foot. Amazing, isn't it? Did you know that you can even travel back in time with Google Maps?
Display your location with the fastest Google Maps plugin for #WordPress.
Click to tweet
Google Maps and websites
When it comes to websites, Google Maps allowed anyone to easily show their home or business address. Before that, people had to write down their addresses or create custom images to show their location on the website. Now, all you have to do is copy and paste the code from Google Maps and your address will be displayed. But if you're using WordPress as a CMS of choice, things get much easier and much more interesting.
Google Maps Widget PRO Ulimited
Among all the different plugins you can install, there are extensions dedicated to Google Maps. And among those, Google Maps Widget PRO is the plugin you should choose.
First of all, the plugin exists for over four years, and it has gained trust by more than 100,000 users who are currently using it. That number speaks for itself, don't you think? The interesting part is that the basic version comes as a free plugin which can be downloaded and set up within minutes from WordPress plugin repository. If you ask us, regular updates are crucial. At the moment we were writing this, GMW was updated four days ago, and that's a big plus. Also, you might be interested in the fact that the plugin has a great rating of 4.8 stars and that there are almost 300 people who thought it was worth 5/5 stars.
Here's what one of the users recently said about the plugin:
"I just wanted a simple, easy to use, good looking map to tell our customers where our office is situated. And this is it! I am very pleased!

I have set it up as a little widget-map in the sidebar and on click it opens in a bigger pop-up. From there you can choose to open it in a new full window. Perfect. Just as I would like it to work. Fast and easy and stable so far.

I use free version and got it up and running in no time (well, after some time setting up the Google API-key. It was not hard, but you need to be clear-headed and follow the steps, this plugin gives you guidance on how to do it (in the FAQ). You can´t blame the plugin for Google making it a little tricky.)

I am pleased with the style options in the free version. Nothing extra fancy, but good basic design."
This free version allows you to create and customize the map, edit your locations, change pin colors and much more. While this will be more than enough for many of you who only want to show a fast-loading map on your site, the PRO version gives you so much more.
It's the fastest map plugin you can find
Before we get to all the features you will get if you go for Google Maps Widget PRO version, we would like to emphasize how fast this plugin really is. While other extensions dedicated to showing Google Maps will instantly load the interactive map, GMW will handle thing a bit different. Instead, Google Maps Widget will render a thumbnail of your custom map and allow your visitors to open an interactive map on click.
That simply change makes the map load instantly! Instead of loading more than 1MB of information from the interactive map, the thumbnail will take only several kilobytes which impatient users will love. While other plugins will take more than 70 server requests to load your map, GMW's thumbnail map will take only one request since that's just another image on your site! Sounds great, doesn't it?

Now that you know how this plugin works, it's time to show you the PRO version. Besides everything you get in the free one, Google Maps Widget PRO version gives you more than 50 extra features. Those include extra map modes, skins, unlimited map pins… just check out this features list.
Features:
Fully responsive
Compatible with all plugins & themes
Unlimited pins per map (with custom info windows / bubbles)
Unlimited maps per page
More than 15 map skins
Over 20 lightbox skins
1500+ custom map pins
Custom map language
4 map modes (directions, view, street & streetview)
Advanced cache & the fastest loading maps
Fullscreen lightbox mode
Full shortcode support & extra hidden sidebar for easier shortcode handling
Clone widget feature
Export & import tools for easier site migrations
Google Analytics integration – track how many visitors open maps
Premium USA based email support
Regular updates & new features
If you have business spread over several locations, GMW PRO will let you show all of them at once. Simply choose the multiple pins option, write the addresses, customize the pins and save your changes.
Create a map: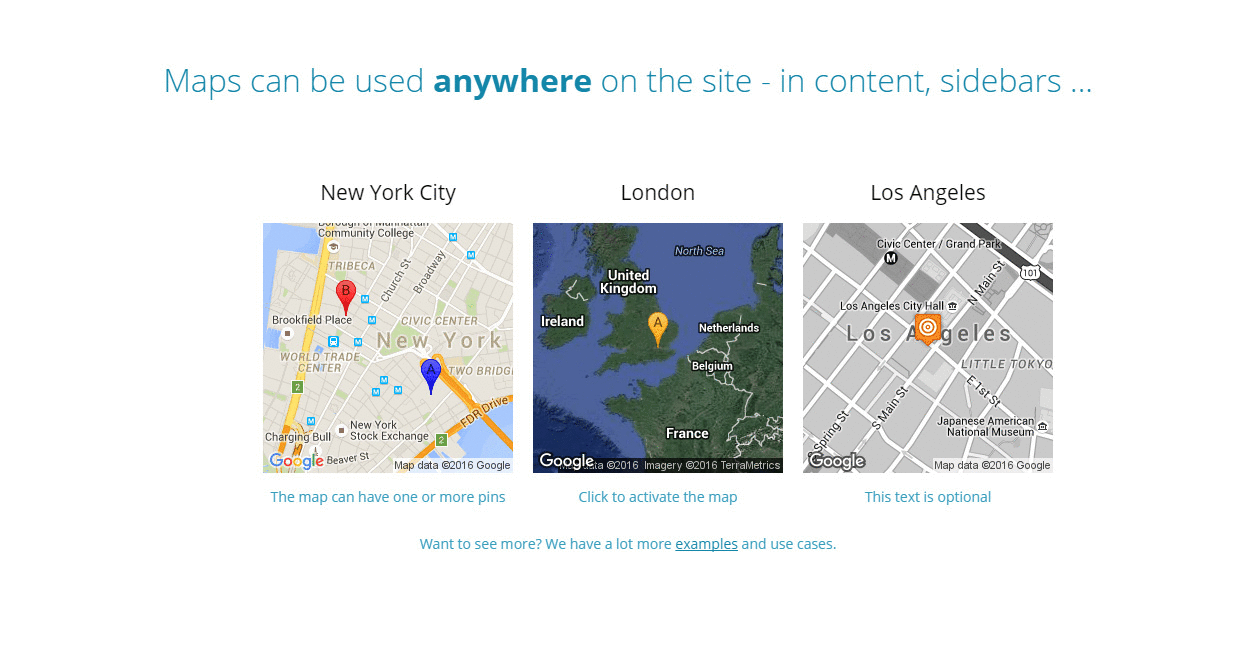 Creating your first map is really easy. It doesn't matter if you have chosen to use the free version or you will enjoy the benefits of the extra feature from the PRO version, first steps are completely the same:
Download and install the plugin
Navigate to Settings -> Google Maps Widget
Go to Appearance -> Widgets
Drag GMW on the sidebar/footer
If you are using a PRO version, you will the option of adding a hidden widget which is designed for testing and preparing your map. Since there are tons of options to choose from, you will probably take your time when customizing the map to make it as best possible.
Write the address
Choose map mode, skin, customize the pin…
Save changes
Although there are eight steps in this process, you can already see that creating the first map will take only a few minutes of your time. But if you're detail-oriented, and you have to match every color on the map to colors on your website, you will probably want to spend a little bit more time playing with all the features.
In the end, there's really no reason not try the plugin. The free version can help you create your first map. If you see that you need some of the extra PRO features, don't worry! The developer gives you a chance to try the Google Maps Plugin PRO for seven days before you decide to buy it.
The other great thing about the PRO version is that the plugin is yours forever! If you decide to buy the unlimited version, $39 dollars buys you the plugin without any extra charges. There are no license renewals or worrying about the expiration dates.