How to Find and Validate Your Niche As a Blogger
FirstSiteGuide is supported by our readers. When you purchase via links on our site we may earn a commission.
Read More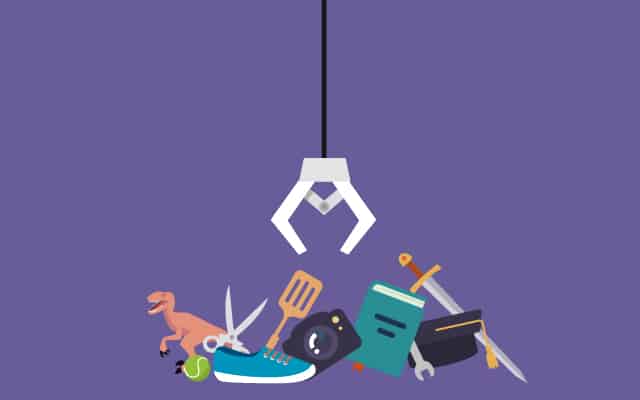 This article is a part of our in-depth guide on How to Start a Blog.
Before you start a blog and find your way to blogging stardom, consider the following nugget of ancient Greek wisdom:
"The meaning of life is in attaining the highest form of knowledge."
Incidentally, this is also all you need to know about niche blogging. When you become an expert in your field and have reached peak understanding in your topic of choice, your niche should automatically open up to you. It is that one thing that you want to excel at – and be known for it.
Once you've found a niche that fascinates you, use it to find the success and recognition you deserve as a blogger. This is your opportunity to have your views and opinions be the differentiators you need to stand out from the competition.
There are different ways to determine what niche is right for you. In this guide, I'll show you the exact steps you can take to choose a profitable niche for your new blog.
Brainstorm your topic ideas
Begin by first making a list of all the topics that excite you and make you want to talk about them. There are no restrictions – you can include any personal or professional interests to the list.
Think of things you enjoy doing in your spare time; for example, do you love to cook, are you an amateur photographer, or are you an avid programmer? A niche blog in any of these fields would be great as you could share your expertise and knowledge with your audiences.
Now, consider all the things you would like to learn. For example, do you aspire to take cooking classes? Even if you don't have the time and resources to enroll in classes, make your blog a repository of your recipes and adventures as a budding chef.
Lastly, contemplate all your plans and projects that are currently underway. For example, do you plan to go back to college to complete your education? There is no doubt that there'll be a lot of research and decision-making involved in the process as you explore online vs. on-campus programs, various degrees, and more.
This simple exercise will help you get a feel for a niche that you feel passionate about – and one that your audiences will respond to the most. Once you have a list of possible niche ideas, use the following 3-step formula to narrow down one with the most profit potential.
The 3-step niche validation process
Whether you want to start a blog in the hopes of making some money, meet like-minded people, or gain prestige for your expertise, it is essential to ensure that the niche topic you choose is viable.
The following 'niche success validation' exercise will help you decide if your blog has actual potential.
Step #1: Check niche size
Step #2: Explore competitors
Step #3: Analyze monetization potential
Step #1: Check niche size
Even if you have a brilliant niche idea, there is no guarantee that it'll be able to attract readers and help you build a massive (and profitable) audience.
Take, for example, the market for 'amateur photography' blogs – thousands of people are associated with it, and it can be hard for a new blogger to stand out. So, narrow down your niche to children's photography or nature photography, or you could go even smaller, for example, 'baby photography tips for beginners'.
How to investigate the size of a niche
For starters, find and review the most popular keywords people search for when exploring your niche. It might be a good idea to look at 10,000 monthly searches in tandem with the top keywords.
Here's how you can find these keywords and check their search volumes:
To find popular keywords people search for, simply open Google.com, and type the main search word that is the most relevant to the niche you picked. In our example, we will type "golf tips" and hit search.
If you scroll down at the bottom of the page, you will see the "Searches related to golf tips" section with different keywords suggestions. You can choose keywords that best fit your niche and should get a better idea of what people search for.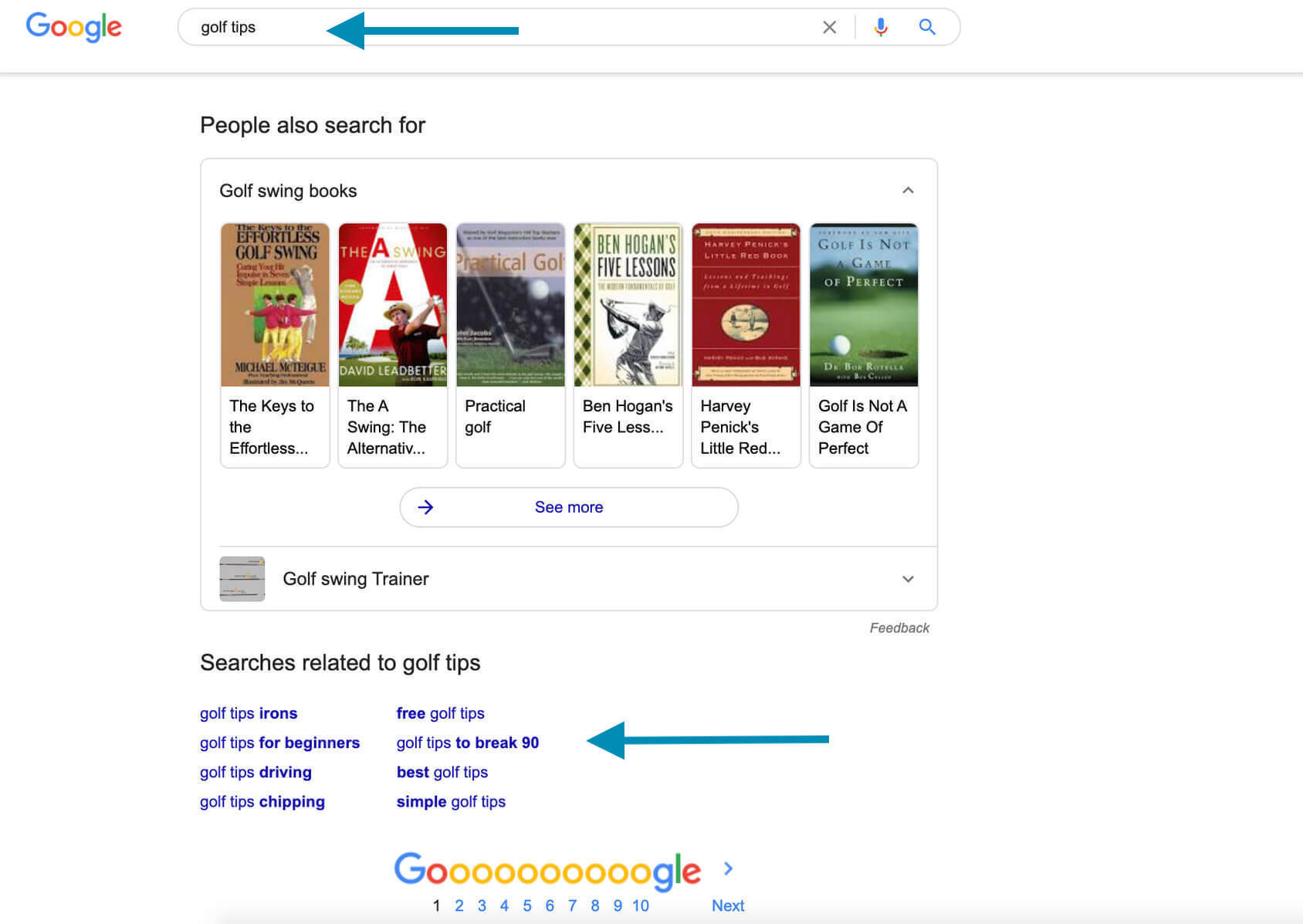 Repeat that process with any keywords you find to put a better list together. You can also use the keyword tool such as Semrush to make the keyword search process more manageable.
Collect all the keywords you like into the list. Up to 20 keywords should be enough.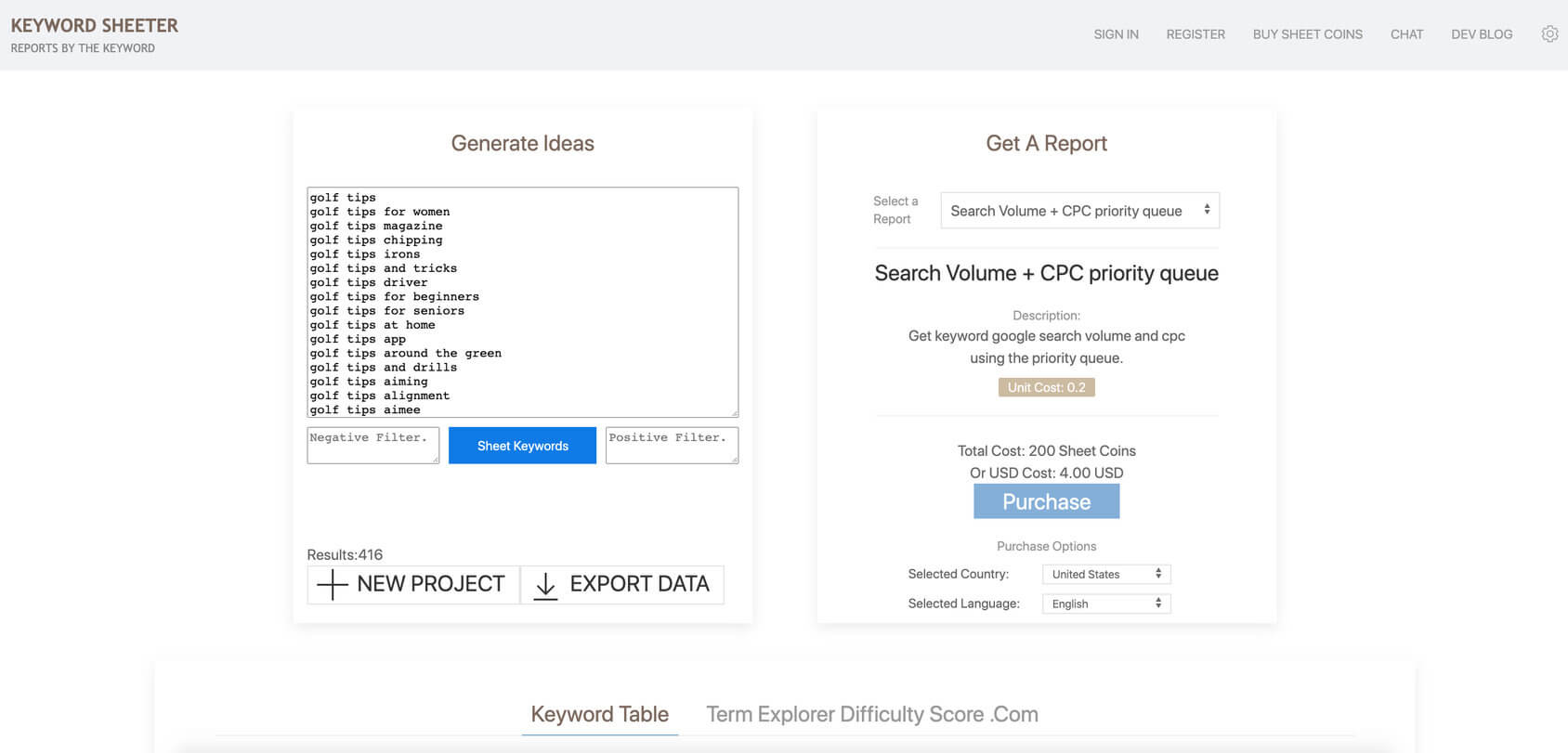 Now, you can use the free keyword search volume checker tools such as WordTracker or SearchVolume.io to check for the volume of searches. This should help you ascertain if you can find a large audience for the kind of things you like blogging about.
For our example, we checked volumes related to "golf tips" keywords with the following search results for the United States only:
"golf tips" – 2,300
"golf swing tips" – 3,200
"golf tips for beginners" – 700
"golf putting tips" – 300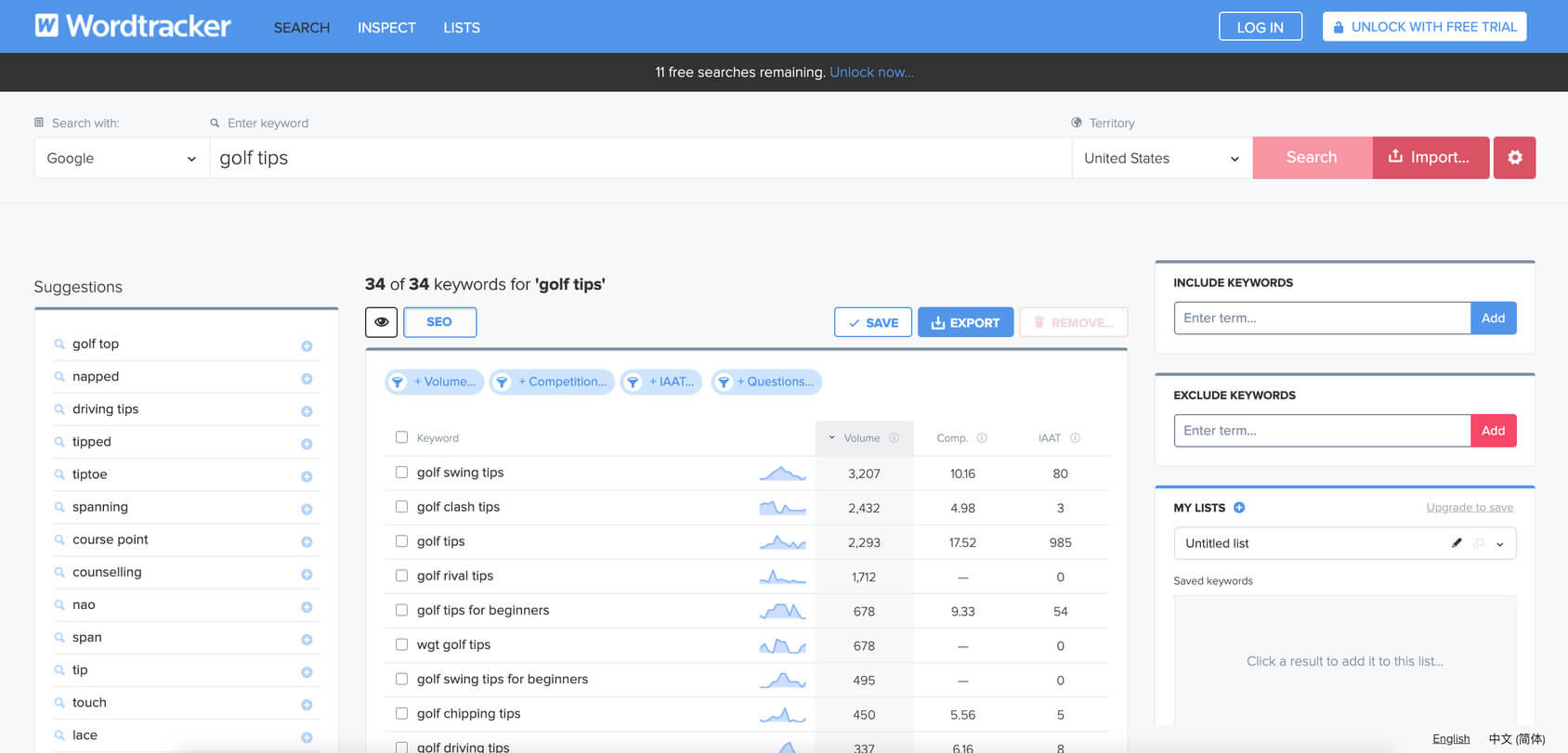 This niche seems to have adequate search volume and would be the right choice for blog topics.
Step #2: Explore the competition
Don't be discouraged if you find that your chosen niche has fierce competition – it merely means that many others are also interested in it, and you can turn them into your fans and followers with the right content.
Also, understand that other bloggers in your niche aren't necessarily your competition, you'll often get to collaborate and may even get to know them personally during your blogging adventures – so remain respectful from the very start.
Competition review process
Here is a tried-and-tested method to learn more about the competition:
Start with a Google search for '(your niche) blogs' and another one for 'best (your niche) blogs'. Don't be afraid if you see hundreds of blogs in your niche, instead let that motivate you – if they can do it, so can you!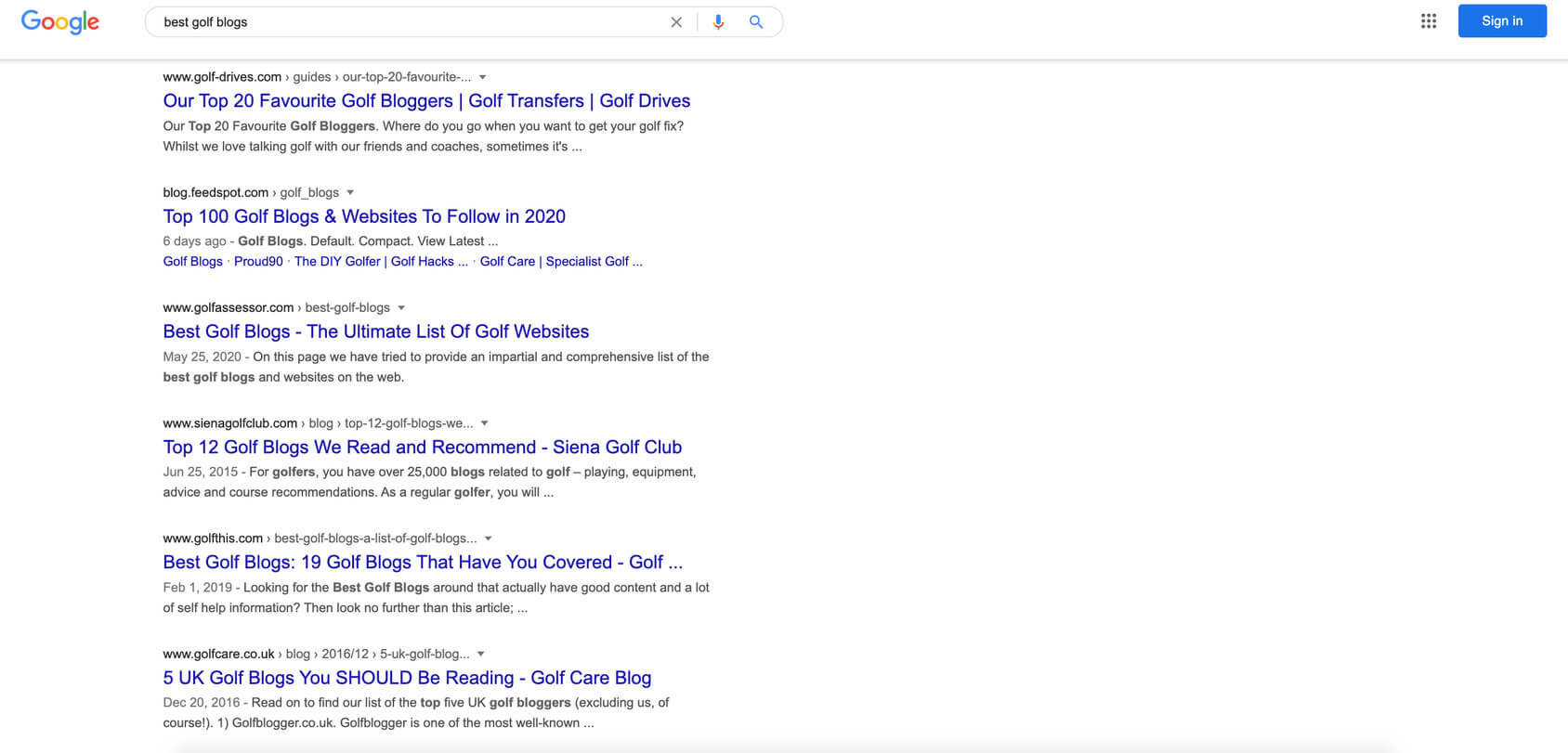 Next, head over to Facebook and search for your niche there. The chances are that you'll find at least a few pages on the topic. The best ones will have 1000 fans or more.
Now head on over to Twitter and do a quick search there. Did you find any active accounts or at least a few hundred references or tweets about your calling on Twitter? Check the influencers, i.e., people with the most tweets and followers.
Does your niche have any offline magazine that's revered in the industry? Find out by searching for '(your niche) journal or magazine' on Google.
If you find a good following for your chosen niche via any of these methods, then you've chosen well.
Step #3: Analyze monetization potential
Who doesn't want to make money with their blog!
While many bloggers only began blogging as a means to explore their talents and hobbies, they soon realized that it's also possible to drive profit from their endeavors. Some make no more than kitchen money while others are making a legit living with their blog. We recently did a survey with more than 1000 bloggers and 59.81% of bloggers admitted making money through blogging.
The chances are that you might also be intrigued about the monetization potential of your niche. But you might already know the answer – if you found active blogs and social media pages or magazines on your niche in the last section, it means that your chosen niche is, in fact, very alive and profitable.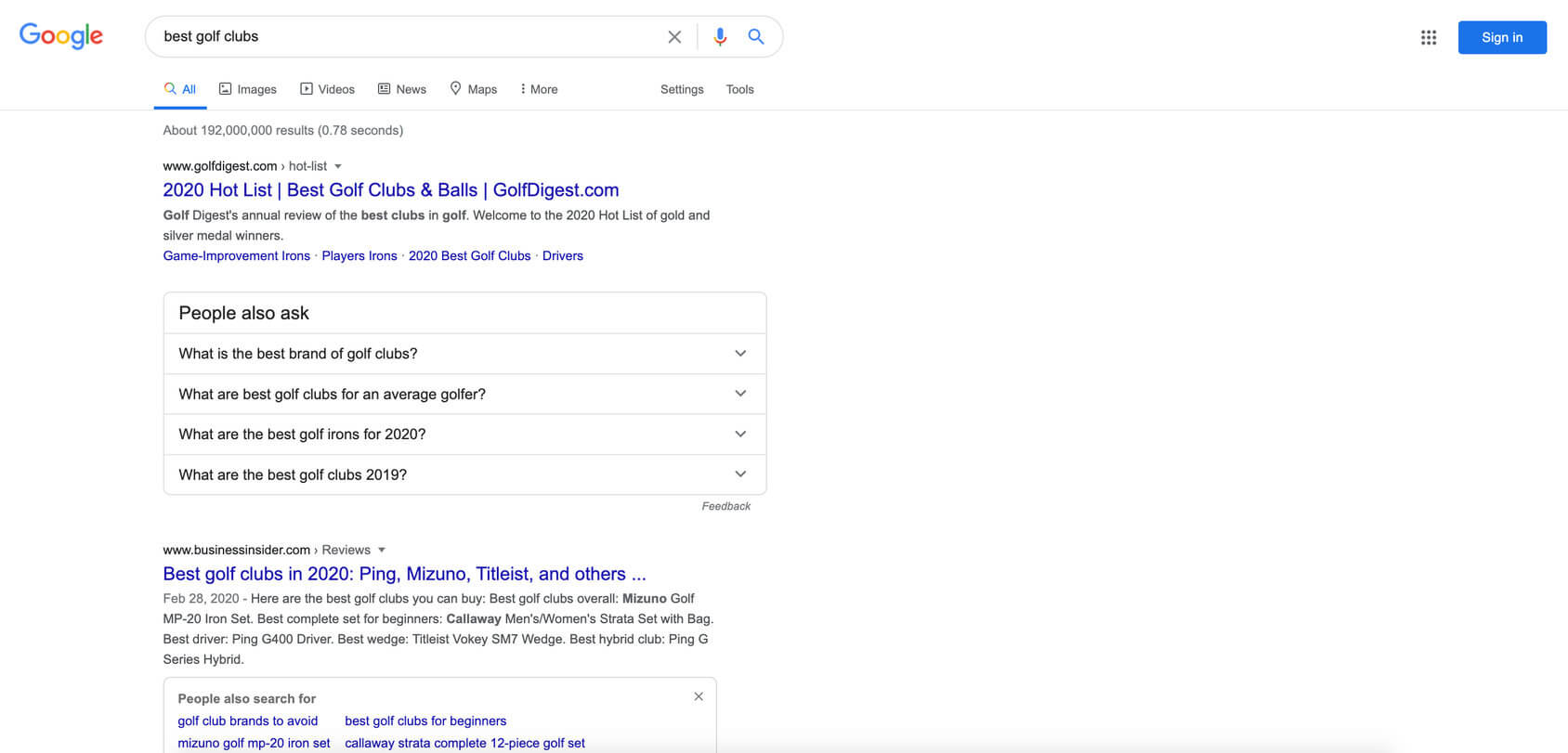 Making sure your niche is monetizable
Here's a quick guide to ensuring that you can make good money by blogging in your chosen niche:
Have you seen other bloggers in your niche selling info or products related to the industry? If yes, then there is money to be made.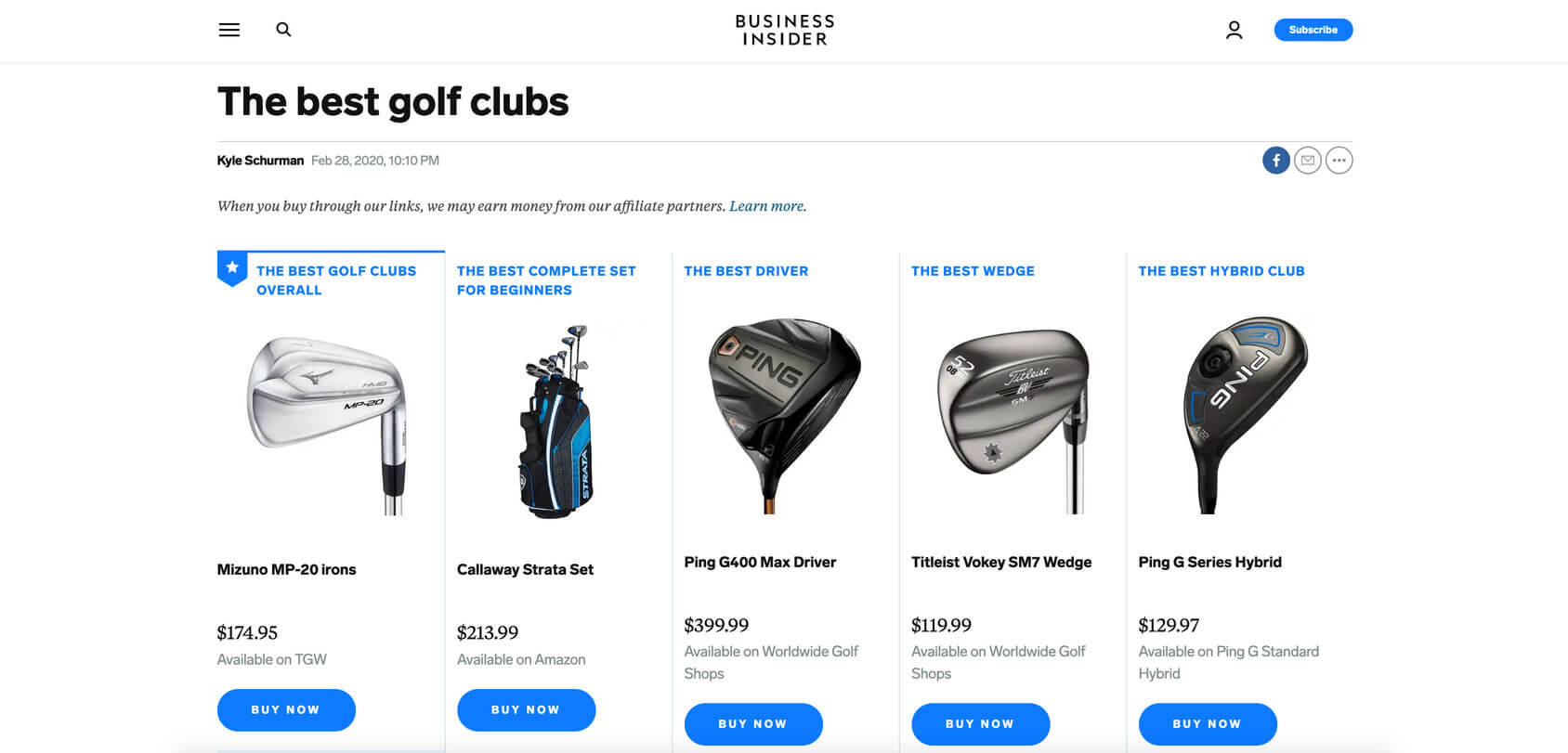 Do businesses often advertise with bloggers in your niche? If they are big brands or eCommerce stores, you might be in luck.
Do you see affiliate offers on other blogs in your niche? Check out affiliate networks like Clickbank.com and Amazon Affiliate to see if your blog can qualify as well.
These pointers can help you figure out if you'll be able to generate an income with your blog niche.
Making the final decision
Remember that list of niche ideas we made at the very start?
Put all those ideas through this 3-step process for validation. By the end of this exercise, you should have a clear indication of the scope, competition, and monetization potential for each item on your list.
There will be a clear winner, and you'll have your niche by the time you are done.
Now you are ready to start your new blog.
If you are still unclear and can't seem to decide between several niches, resist the urge to start a blog about each at the same time. I'd still recommend sticking to one at a time so you could focus properly.
Create a solid blog strategy, explore new directions, and bring in audiences who can support your passion for a particular niche.
Conclusion
Make sure you have a well-thought-out plan before you start blogging in your niche – and select a topic that you'll want to stick with for the foreseeable future.
With personal interest, attention from others, and the ability to create extra income, your niche blog can be a successful venture!