Imperva (Incapsula) Review
Company Overview, Pricing, and Features
FirstSiteGuide is supported by our readers. When you purchase via links on our site we may earn a commission.
Read More
Imperva (Incapsula) Review
Intro
Founded in the U.S. in 2009, Incapsula is a cloud-based application delivery platform that uses CDN. Originally, it was operated under Imperva, a U.S. data security company that owned 85 percent of Incapsula. Although still under the Imperva umbrella, Incapsula was spun out as a separate company the same year it was founded. It covers big names like eHarmony, Siemens, Newsweek and Wix. Does the separation from Imperva indicate outstanding performance or fewer capabilities?
Starting up
When signing in, you'll have to provide your full name, company name, website, email address and password. After that, you are free to start your trial. There are several packages and each has their own trial period—there is also a Free plan. Switching between them is easy and you'll get tips on how to do this.
The dashboard is divided into several parts: Sites, Account, Support, and Documentation, all of which are self-explanatory. Each tab has a few more subsections, but they're quite straightforward. We really like the statistics section because it's full of different colorful charts. Even if you don't fully understand their meanings, you'll enjoy reviewing them. Providing your payment information isn't necessary during the trial, but after it ends, you'll have to provide your credit card numbers.
Setting up
To use Incapsula, it will help if you know some of the basics of CDN and hosting. There's no clearly outlined content management system (CMS) support, although you can find help for some CMSs, such as WordPress and Joomla. As a result, you'll have to manage your setup through your host, which can be a little tricky if you never bothered to learn how to use all the gadgets. However, it's relatively easy and you can always ask for help. All you have to do is change A record for your naked/bare domain, add another one and change CNAME. After that, you'll click on the button to indicate that you completed your DNS change. Once they kick in, you'll be ready to go. If you're a total beginner with no prior knowledge, you'll get the hang of it, but prepare to read through their setup manual, contact the support or learn your way around their demo site.
Features
Incapsula has 30 POPs scattered all over the world. The company also has a big focus on security, so you'll have a PCI DSS compliant Web Application Firewall, DDoS Protection, bot filtering, anti-spam solutions, load balancing, real-time traffic monitoring and two-factor authentication. We really liked the small detail in a dashboard that separated real visits from bot visits to our website, but we frown upon the missing Push zones. Of course, the more you pay, the more you get and to be honest, we didn't see much of an advantage in the Free plan or even significant acceleration of our website with it. We wholeheartedly recommend the lowest paid plan.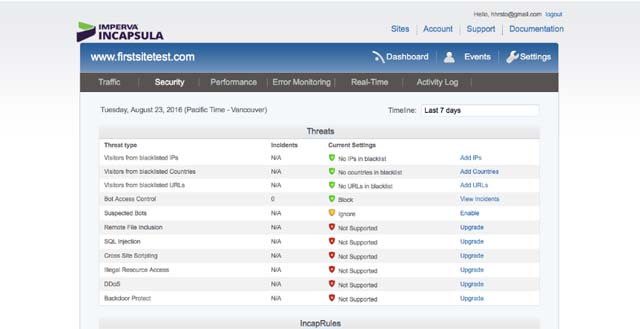 Testing it out
As we mentioned before, the Free plan did not accelerate our website at all, in fact, it sometimes even slowed it down, which should not happen with a CDN. Yikes! However, while testing their lowest paid plan, Pro plan, things got better.
Without the Incapsula support and flushed browser cache, the longest it took for the browser to load all content and files from our 5.53KB data website was 8.87 seconds, which is pretty long time. It took 813ms to establish a connection to the web server and 0.57 seconds to download all the data.
The best time with Incapsula was 2.9 seconds to load all content and files; it took 35ms to establish a connection to the server and 0.45 seconds to download all the data.
Without Incapsula, the first byte and loading times were relatively consistent, but there were some problems with Southeast Asia. On average, without Incapsula it took about 0.66 seconds for the first byte. The average load time was 6.71 seconds. The worst load time was from Shanghai, China, which, at one point took 51 seconds.
With Incapsula, on average it took 0.26 seconds for the first-byte response, although the Southeast Asia request constantly doubled that time, with the longest request from Bangalore, India when it took 1.31 seconds. The average loading time was 0.57 seconds. The worst loading time with the Free Incapsula plan was from Mumbai, India when it took 29.80 seconds. In our opinion, this is unacceptable. Granted, it's almost half of the worst response without Incapsula, but would you wait half a minute for a website to open? We don't think so. We ran our tests with approximately 60 simultaneous requests.
Help and support
While setting up your page relies mostly on your knowledge of CDN, in general, you're not entirely abandoned to your own devices. However, total beginners will spend more than their fair share of time when they first use Incapsula. The Free plan only includes the knowledge base and FAQs. Upgrading to Pro and Business plans will give you email support 24/5. Only custom Enterprise plans provide 24/7 email and phone support. Chat is available, but only for sales, so you won't be able to get support, just make product inquiries.
Pricing
Incapsula has three plans with transparent pricing. They have same pricing globally and there's no mention of a cap on bandwidth, just different security features.
Free$0
Pro$59/mo (14-day free trial)
Business$299/mo (7-day free trial)
For larger customers, there is the Enterprise plan, which has all the security features. But its pricing and the length of the free trial period are only available if you contact them.
Pros
great statistics and data retention
excellent security features
easy implementation
Cons
issues with Southeast Asia performance
100-percent-uptime guarantee only in the most expensive (custom) plan
no live chat support
Conclusion
Incapsula left us slightly puzzled. As a CDN, it might be a smidge under-performing in terms of speed, but as a security service, it's pretty amazing. It's also cloud-based, which is a practice still open for debate. But so far, there are no bad reviews or incidents.
While we initially tested the Free plan, we don't recommend it because it tended to slow down our website. This was not an issue with the paid plans. Incapsula is an effective web security provider, but we're still not sold on the missing Push zones versus cloud computing in terms of delivery. It had some issues with Southeast Asian locations, but the rest of the world was on par with competitors. So, if you mainly want a security upgrade, Incapsula could be a decent choice for you. But if you want to speed things up, there are faster solutions.