A Toast to the Good Life Blog by Jennifer Whaley Hillier
Jennifer Whaley Hillier is a Chicago-based, self-taught home chef, who loves experimenting and developing recipes, hosting fabulous soirees with friends and family, and just spending time enjoying a delicious meal (of course all the while with a glass of wine in hand). Her love and appreciation for food and the time spent creating a delicious meal came from her mother's passion and knowledge. Jenn spends most of her time in the kitchen, planning and plotting out her upcoming meals and gatherings. While her blog is still new (only 2 years in the making), Jenn has been recognized by The Chew for her festive DIY décor, and featured on social media through promotion of fellow chefs and food lovers. Over the years, Jenn's focus on food has turned much more health conscious; of course, over-indulging from time to time, but focusing mainly on the natural flavors of food, enhanced with fresh herbs and healthy ingredients. Jenn believes that even the most boring dish can be elevated with some lemon zest, a drizzle of amazing olive oil, and a sprinkling of fresh thyme and rosemary.
Beyond the recipes and ingredients, Jenn turns to the kitchen as her moment of therapy; time to herself where she can unwind, relax, be creative, and be herself. She believes that cooking and having friends and family over for dinner is all about coming together, creating memories, lasting moments and sharing the best of ourselves with others.
Please tell us something about yourself. Is food blogging your profession or just a hobby?
A Toast to the Good Life started as a complete hobby. I have always loved to have friends over for dinner, they started to ask for recipes or help with menu planning, which is how A Toast to the Good Life came to be. I looked at it as my online recipe book – filled with successes, failures, flops, saves, kitchen tips, entertaining highlights, and silly stories that I couldn't help but share. Basically, it was a journal of me finding my way through the kitchen right after I moved out on my own, half way across the country from New Jersey to Chicago.
Did you have someone help you make the website or did you do it by yourself?
One of my girlfriends, AJC, (I always refer to people on my blog by their initials…) came over one evening, we had a few (albeit hefty) glasses of wine, and she encouraged me to put the pen to paper and just start writing. Now, It is a little terrifying to look back at those first posts and the photos…
The right domain name is important. How long did it take you to come up with the domain name for your blog?
I'd say, a good couple months. When I toyed with the idea of creating a blog, I wanted to name it something fun – not too cheesy. I wanted it to be a play on words/phrase that people could remember and use. 'A Toast to the Good Life' I thought was festive, positive and people could get into. "Yes, let's toast to the good life." I purchased the domain then and there.
What kind of Theme do you use on your blog and what are the "must have" plugins for a blog?
WordPress self hosted with Shay Bocks Foodie Genesis Theme. Confession: figuring out widgets and plugins was certainly a large learning curve for me. At times, I still get a little stuck with how to modify pieces of my blog. Certainly a learning experience!
How much time do you spend blogging?
Hm… I think if I counted the hours, I'd be shocked… I am always on the computer when I'm home. I work a full-time job outside of the blog, but my evening hours and weekend hours are spent on my blog or in the kitchen cooking and photographing for my blog. (Oh yes, and at the gym so I can afford to eat the food I cook and the wine I love.)
How do you promote your blog? Do you use social media channels to attract more visitors to your blog?
I am a lover of social media. Instagram is my new favorite where people can showcase clear, clean, captivating photos. I use Instagram for my own inspiration with the chefs I follow. Pinterest is also a huge help with promoting my blog. Remember, choose your pictures wisely, as what you 'pin', can make a huge difference in driving traffic to your blog.
Is there a way to monetize (make money) through a blog?
Mainly through advertising. I'm still new to the blogging world and experiment with different advertising hosts to figure out what works best for me. As time continues and my blog grows, I hope to monetizing through other channels – such as brand work. I believe a blog is a great place to showcase your work, in hopes that it will lead to other opportunities.
Would you encourage other people to make their own blogs?
Absolutely, even if you do it for yourself and your family! I live half way across the country from my family, and find my blog is a great way to let them know I am alive and having fun here in Chicago. It gives them more of a glimpse into my life and what I'm doing here, and it doesn't make the distance seem so far.
Please give us some advice for new bloggers and for people who are still not sure should they make a blog of their own?
Be patient. Sometimes when I sit down to write, I struggle to find a starting point. Just start to get your thoughts out on paper and it will eventually come. Write about what you love and what you are passionate about. Know that it takes time and energy to continue to have a blog, but as you grow, so will your blog, and so will your skills.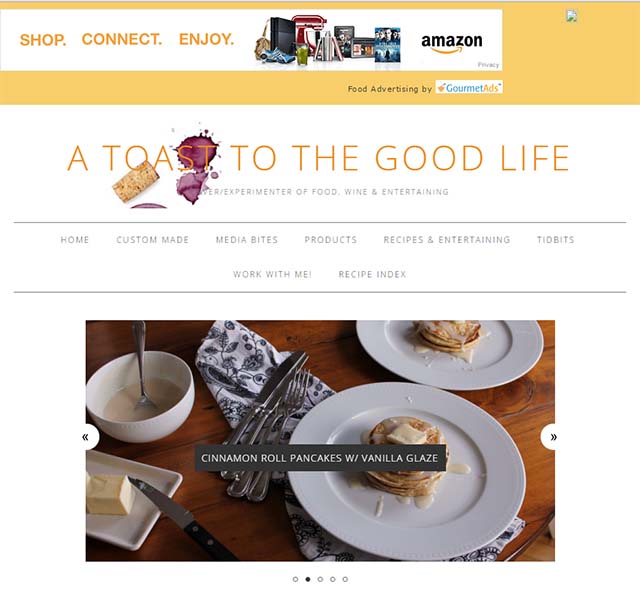 Photos ©: A Toast to the Good Life