Brummet's Conscious Blog by Lillian and Dave Brummet
Award-winning authors of 6 books, Lillian Brummet and her husband Dave also manage the Brummet's Conscious Blog through their business, Brummet Media Group. Dave and Lillian have been recognized as Community Heroes (LiveSmart BC), presented with an award for "outstanding use of various media in ongoing outreach work to reduce waste in our environment" (Recycling Council of British Columbia), and both Brighter Planet and Green Providers Directory organizations have also recognized their work. Lillian joins us today to share some experiences and advice she's learned in more than a decade of managing businesses, marketing and blogging.
Please tell us something about yourself?
I would describe myself as driven, honest, organized, tenacious, and environmentally active. My passions involve writing, leaving a positive legacy, gardening and camping. On stolen moments for myself, I can be found reading, doing puzzles and blissfully playing and crawling on the floor with our fur-kids (2 dogs and 1 cat).
Is blogging your profession or just a hobby?
It is a bit of both, really. I started blogging to help promote our business, but soon became passionate about the act of sharing information and reaching hundreds of people every single day, with a very good chance of influencing positive change in the world. That is an incredible feeling! When I see the stats showing me people around the world are finding the blog and read the comments (both public blog post comments and those sent to me privately), it really feeds my soul – it is like a jolt of coffee for me. I get all jazzed up and inspired and want to do more, and more and more. lol
When did you get an idea to launch your own blog?
I've studied marketing for some time both in business management classes, forums and communication boards or groups, online radio shows, blogs and every book I could get my hands on from 1994-2012. There are a lot of techniques and tools to use, including blogging, but the thing to remember here is that every tool is not right for every individual. It takes time to sift through thousands of opportunities to find what suits you personally and what is the most effective for your business needs. Blogging is one of those for me. While I'd been aware of blogging for some time I didn't start one until 2004, using –get this – the blog option on MySpace. lol Yeah that does seem like the dark ages now. I tried a few other platforms, but today I'm over at blogspot, where I've been for about 8 years. I like the tools there and I'm very comfortable with it.
How important is it for you be online?
Very. When I first started as a writer back in 1999 doing some freelance work in the beginning, I had no name… I was a nobody. As such it was really difficult to get people to take a chance on me, even with the best of query letters etc. When we decided to combine the services under one umbrella business name, we had a lot to market. The first thing marketing classes will teach you is how important it is to find a niche that you stand out in and become an expert – once you are recognized as an expert people will come to you. Much like this interview opportunity came to me, rather than having to do any "leg work". I became known internationally as an expert in a few years by developing strong networking connections, media coverage and appearing often online.
Did you have someone help you make the website or did you do it by yourself?
At first I just used the templates offered through the blogging sites I was using at the time, but now-a-days you can alter the images and the design, making your blog more unique. The interesting thing with this is that once you have decided the theme of your business and what you want to be known as, you can pick the colors, graphics, text etc. that will reflect that image. I learned in marketing classes that you want to be instantly recognizable, so choosing something that "works" well with your other online sites is important. Meaning: my LinkedIn, FaceBook, Twitter, Blog and Website all have similar nature imagery, use a lot of earth colors (blue, green, brown) and have similar themed information. At the same time it is important to keep each site slightly different so that you are targeting that particular audience directly. It is an interesting challenge for sure. Luckily I have my graphic and web savvy husband to create just the right look for us. We've definitely experimented over the years but have finally found what we were looking for.
The right domain name is important. How long did it take you to come up with the domain name for your blog?
Actually this is one thing we never did do – create a special URL for the blog. Instead we simply used what the blog platform offered us. The right title for the blog was the real challenge. We wanted something that would tie in with other services we offered, was recognizably us, and encompassed the theme of our business as well.
What kind of theme do you use on your blog?
Brummet's Conscious Blog's "theme" is: live a more conscious, green, proactive and positive lifestyle. The goal, however, is to inspire hope in everyday individuals, helping them realize the value of their efforts to make the world a better place and to encourage our readers to be more positive and proactive in life. We offer networking opportunities in the form of publishing submitted articles, poems, announcements and resources. We have special posts under headings like "World of Writing" (Q&A interviews), "Product Reviews", "Brummet's In the Media", "Recommended Resources" and "Poetry".
What CMS (Content Management System) do you use on your blog?
Other than what the blog platform offers, I don't use a special content management system.
How much time do you spend blogging?
Good question… probably too much. (she laughs) These days I spend a lot less time blogging than I ever have – by choice. I decided to take our daily blog – with new posts every day – down to every 2 or 3 days. The reason why I did this was because I've just released a new book (Rhythm & Rhyme, 2014) and have another book manuscript that is pressing my schedule to the limit. A huge amount of time goes into promoting a new book and trying to balance that with everything else was proving to be an exhausting habit. It is not easy for me to step down or slow down or let something slide, but I've learned that in business we can't always do everything all the time. We have to make choices. So yes, in the beginning I was probably doing about 10 hours a week working on the behind the scenes activities from dealing with queries to writing, scheduling and uploading daily posts – often working 6 weeks a head of time. For the last 2 months, however, I put in only about 5 hours a week, and work only a week a head of time.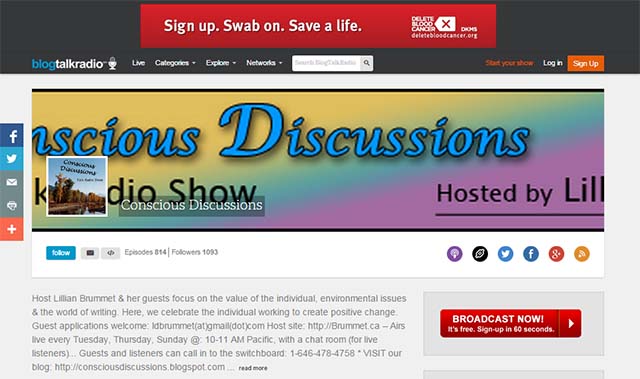 How do you promote your blog? Do you use social media channels to attract more visitors to your blog?
Everything we do is promoted every time we appear online or in print media or on radio. When marketing was at its peak, I was appearing in the media 8-12 times per week. Right now that has slowed down greatly just simply because I don't have the time, but I intend to get back at the heavy weight lifting of marketing when the schedule allows. You see, what I meant by that first statement there was that everything we do cross references to everything else. The blog has links to our social media outlets and to our website, it also has special pages offering links to recent media appearances and product reviews, and it has a special "about us" page. Similarly the main website and our social media also connects people in our networks with our other work. Every blog post has little social networking "share" buttons, so I always utilize those as well. And I use social media to invite submissions, highlight special appearances, or to create awareness about a contest, etc.
Is there a way to monetize (make money) through a blog?
There are many ways to monetize a blog from blog-site generated advertising or by doing the work personally (or hiring someone) to get sponsors and advertisers. Another option is to charge a nominal fee for publishing other people's work. Alternatively, get a "donation" button and ask people to support you that way, especially those that are getting coverage on your blog. There are subscription-based blogs too. Whatever you do, you'll really need to understand the value of your blog, the stats and what they mean to an advertiser, price tables that make it easy for the potential advertiser to use, and more. Check out our advertising page on our site to see what I mean. When posting the #'s be sure to take an average count over a time period such as a week or 6 months. Those stats and numbers will change virtually every single day so having an average will help with that. Be honest. At our peak we were getting 18,000 people a month, but we have also had months where we only saw about 200 visits a day. #'s are affected by numerous factors including what you've done to promote, the kinds of posts available, support and comments you receive, and what is going on (i.e. xmas) to distract your readers from your blog. For several years in a row we had regular advertisements on our blog, but I've also taken a hiatus from that temporarily – again, due to my current schedule constraints. It is of course something I intend to pursue later on. I mention this only to underline the importance of being patient with yourself and the process – you can't be everything to everyone all the time, and it requires making choices.
Would you encourage other people to make their own blogs?
Having a blog is like having another product in that this new endeavor will take time to set up, manage and promote enough to attract a constant influx of loyal readers. This means there is a lot of marketing involved, a lot of networking to be done, posts to write, comments to manage and so on. So blogging is not right for everyone. However blogging can be very flexible, individualized – you can blog once a day or once a month. Whatever you do, be consistent because readers will rely on new content and if they visit your site expecting new content that isn't there, they likely won't be back. That means your hard work in marketing yourself to them attracting them to your blog was lost. At the same time you need to provide a reason for people to come back, to comment or communicate, to share the URL with their friends and on social media.
Please give us some advice for new bloggers and for people who are still not sure should they make a blog of their own?
Before rushing out to start up a blog, take a few days to become familiar with the blog platform, templates and tools available. Create a small by-line to go with every post, this will explain who you are and has the link to your main site, some blogs refer to this as your post signature and once created it will automatically be added to the bottom of every post. Decide what the theme is, what kind of content you will offer, how frequently you intend to post, who your ideal reader would be, and understand what you hope to get out of the blog. This will help you decide on the color, imagery, text, links and marketing options. Once you start blogging, be sure to encourage people to utilize the social network buttons, sharing your posts with their friends and contacts. Networking with other bloggers will help drive traffic to your new blog as well. Get connected with blog groups, forums, networks, article distribution sites, writer networks, product review services, and carnival outlets.
Try some of these:
Fiverr.com
SelfGrowth.com
ExpertClick.com
ArticleDashboard.com
4Sponsor.com
BloggerLinkUp.com
EzineArticles.com
HelpAReporter.com
PitchRate.com
Pollen-8.com
ReporterConnection.com
SourceBottle.com
Photos ©: Brummet's Conscious Blog