Purple Car Blog by Christine Cavalier
I'm Christine, a writer in the Philadelphia, PA area. I've been online for more than 25 years (yes I started young!) and I have a strong online presence as a blogger about the Psychology of Technology – I share knowledge about how humans interact with technology and how technology affects our lives.
Please tell us something about yourself. Is blogging your profession or just a hobby?
Just a hobby, but it helps to have a blog as a writer/journalist.
When did you get an idea to launch your own blog/website and how important is it for you be online?
I've been online with my own accounts since 1988. We had a computer with modem access to the Internet starting in 1979 when I was a child, so I grew up knowing the potential of online communication. I had my first site in the early 90s and started my blog in 2004. But I've had countless ID's on varying platforms like IRC in 1989 and most recently Reddit – although I'm quite the late-adopter there! I wouldn't say it is "important" for me to be online. It is my life. That holds more worth than the word "important" can imply.
Did you have someone help making the website or did you do it by yourself?
Myself. WordPress is easy. I will say that in 2007/2008 my designer friend Rick Wolff boosted my design. Rick did all the branding and coloring. I would've never in a million years thought of orange as a partner to purple, but it works. My Twitter background is AWESOME and all him. I'm not that cool on my own.
The right domain name is important. How long did it take you to come up with the domain name for your blog?
"purplecar" was an anonymous username I had for a while, so I just looked for that.
What kind of Theme do you use on your blog and what are the "must have" plugins you would recommend?
Hrm. This is a tough one. I don't have any "must have" plugins, after blogging for more than 11 years. The only thing I can say is have as few plugins as possible, keep them updated, and delete all the unused plugins. This helps with load times and security.
What CMS (Content Management System) do you use on your blog/website? How hard is it to navigate within your CMS (making a new post, inserting images, moderating comments, etc.)?
WordPress. I haven't met anyone who uses WordPress that goes to another platform.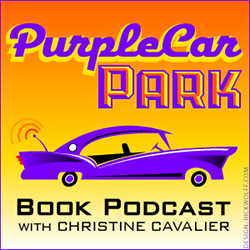 How much time do you spend blogging?
Very little. I'm trying to do more but I've been doing it for a long while and I'm at a low-production stage right now.
How do you promote your blog? Do you use social media channels to attract more visitors to your blog?
I have a pretty strong social media platform, so I use Twitter, FB and G+ for promo.
Is there a way to monetize (make money) through a blog?
I put Google Adsense up and it's ok. I'd earn more if I blogged more.
Would you encourage other people to make their own blogs?
It's definitely something to try, but don't go into it thinking it will be a forever thing. Do it for a few years, try it out, see where it goes. It's better than putting all your time and energy into a platform like Facebook or Twitter, when you ultimately don't own your work. No entity can take PurpleCar.net's writing from me or use it without consequences. If you're a writer or producer of any sort, it is vital to own your own space.
Please give us some advice for new bloggers and for people who are still not sure should they make a blog of their own?
If you are posting long scribes on Twitter, writing flash fiction, filling up Instagram, then yes, you should definitely own a space. Any time spent producing creative stuff online should be for you, not for the benefit of Facebook or any other free site.
Photos ©: Purple Car