Daniel Rowles from Target Internet shares his online experiences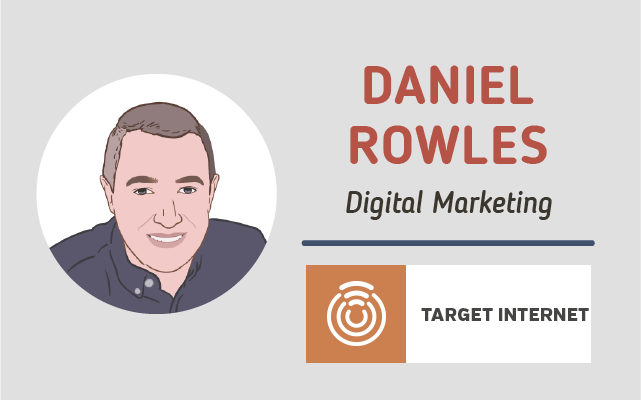 You've successfully established yourself an expert in your niche. What drew you into this area of knowledge? Was it all part of a plan, or did you find yourself swept up in the current?
It started with a plan and then the current took hold. Eventually I became a strong enough swimmer to control the direction!
I actually studied Computer Engineering at university, and after spectacularly failing to get onto any of the graduate schemes I applied for, and knowing absolutely nothing about business, I decided to start my own website company! This was back just before the dot com boom, so building static 'brochure' websites was the latest thing (so much so you really had to work hard to persuade people that they needed a website!). I built a good little company and eventually even took on a salesperson to work with me while I built sites. You can probably see where this is going……
All was going well, and we had two particular clients that grew and grew. Eventually, 95% or our work was going from these two businesses and although it's ridiculously obvious now, this was a fatal mistake. Very early into the new 21st century, both of the companies went bust at the same time after over investing in dot coms, and I was left being owed a lot of money. Having bills and debts to pay, it was time to get a proper job, and I went into a B2B as the 'online marketing manager', basically meaning I built the websites. A little while into this job and the 'offline marketing manager' left, so I was left producing a print catalogue, doing radio and print ads and managing a big PR budget. Knowing almost zero about marketing I decided I better learn pretty quickly and went off and did a postgraduate diploma in marketing. I suddenly found myself with strong technical and marketing skills just as digital marketing was beginning. This is when I started to forge my career properly.
I later moved roles to join a digital agency, that including me, had three staff. Within a few years, we were 40 people and I was managing director. Being in a small agency environment was a steep and exciting learning curve, and I think one of the best ways to really get some hands-on skills. Everyone needs to do a bit of everything in a growing agency, and you can't hide behind your job title, so it's a fantastic, if not somewhat intense way of learning.
After a number of years and more Managing Director roles, I realised that I really didn't like being an MD. It basically involved lots of finance and HR meeting and I wanted to get back to 'doing'. That's when I decided to go it alone.
Did you make a clean break from a traditional career, or did you transition over time, creating your internet presence on the side?
I always knew that eventually I'd want to return to running my own business, rather than running somebody elses, and I was obsessed with the idea of building scalable businesses. Having run agencies for a long time, I was keen to avoid the "more clients, more staff, more clients, more staff" cash-flow headache. I built into any new roles I took, that I must have 4 days a month to do my own projects, and I gradually built a training client base that I knew I could at least live on once I went out alone. This made the transition much easier.
Did you build your site yourself or have you reach out to a designer?
I build the original site on WordPress and did all the design myself by buying a Powerpoint template and chopping it up. It was pretty hideous, and thankfully we have professionals to do this work now, but it got us started and we grew incredibly well even with my dubious design work!
The right domain name is important. How long did it take you to come up with the domain name for your site?
I'd been registering domains over the years and I'd been using www.targetinternet.com for some time for various projects and as a place for some of my content to live. This paid dividends from an SEO point of view as it meant we had a reasonably trusted domain from the outset.
How much time do you spend blogging?
I am normally speaking at events or running training courses 5 days a week so time is at a premium. Our approach is to block create content. We'll record 6 episodes of our podcast back to back and release them gradually, and we do the same with videos. I normally do one blog post a week and it's an evenings work. I spend at least 3/4 nights a week in hotel so this works well.
How do you promote Target Internet? Do you use social media channels to attract more visitors to your blog?
We have an active Facebook page, Twitter, Instagram, LinkedIn Group, Podcast and a YouTube Channel. We do paid search and paid social, but not or our content, just for our commercial offering of online digital marketing training.
What do you think the most important part of building your brand was, in retrospect?
Consitancy. The bits that have been most successful we have just done steadily and built them over time. I also think that it's so much more important to focus on quality and originality than it is on volume. One great blog a month is better than 10 poor quality blog posts.
We don't expect you to spill any trade secrets (unless you want to, then by all means …), but what's the next big thing for you?
We're in scaling-up mode. We're focussing on sales of our digital marketing elearning (a business to business product) and implementing a range of automation tools. I also want to focus more on long from content and keep the focus quality. I've also got my normal public speaking schedule (normally 5 days a week across multiple countries), my third book to write, a second edition of my Mobile Marketing book to finish, and most importantly a beautiful wife and 2 amazing kids to spend lots of time with! So I'll also need to keep a strong focus on energy and efficiency!
Any final words of advice?
It's a lot easier in my experience to get a business to pay you £500 a month that it is to get an individual to pay you £50 a month. There are huge opportunities in the business to business market and is often overlooked.
Also don't give up too quickly and make sure you have enough breathing space to really test something. We recently launched a subscription product and nothing happened – it took 6 months to start getting traction and now it's a really steady growth business.
Build from cashflow whenever you can and make sure you have multiple income streams to de-risk everything.
Recruiting will be the most important decision you ever make, even if it's just working with freelancers. Find T shared staff (people that have deep expertise but can solve any problem) and only employ people that blow your way, don't settle.
Photos ©: www.firstsiteguide.com