Target Internet Blog by Daniel Rowles
I work with lots of global brands, like Sony and Tesco, helping them plan and implement their digital marketing. I've been lucky enough the travel the world with my work and do something I love doing. My whole business has been grown from a small WordPress blog (with LOTS of hard work and relationship building).
Please tell us something about yourself and your company?
I'm the CEO of TargetInternet.com and we are a digital marketing training and elearning business that works with global brands like Sony, Tesco, Ferrero, UBS, the Chartered Institute of Marketing and many others. I'm the host of the Digital Marketing Podcast, a top ten iTunes business podcast and a trainer for the Chartered Institute of Marketing and Google Squared Online. I lecture at Imperial College London and Cranfield Business school and I've written two best selling books, Mobile Marketing and Digital Branding.
When did you get an idea to launch your own business website and how important is it for you be online?
I started the blog many years before I ever thought it would evolve into a business. It started off as a place to test things and so I coudl learn how to install WordPress. It then developed into the home for the Digital Marketing Podcast and eventually became an Elearing and Training business. By starting the blog early on we developed great SEo gradually and this has lead to great ranking that bring us lots of new leads and business.
Did you have someone help you make the website or did you do it by yourself?
I built and designed it all myself originally and we have been through a number of iterations. I used to be a developer so can do basic PHP/HTML, so had enough knowledge to get us started. The current iteration uses a modified theme from Themeforest.net. The new design that is about to launch is a custom built template and we have full time developers now building custom plugins and additional functionality into WordPress. I couldn't have got started without teaching myself PHP/HTML and basic graphics editing – it meant we could try things out at no cost.
The right domain name is important. How long did it take you to come up with the domain name for your website?
We were lucky enough the register the domain over ten years ago and its worked fine for us (targetinternet.com) – we should probably be called target digital now, but we stick with what we have!
What CMS (Content Management System) do you use on your site?
WordPress with LOTS of plugin and some custom built ones. A lot of our functionality is just for our clients and their landing pages.
How important is your blog section and how much time do you spend blogging?
Essential – our blogs and reports (just extended blogs) drive our SEo rankings that drive a lot of our leads.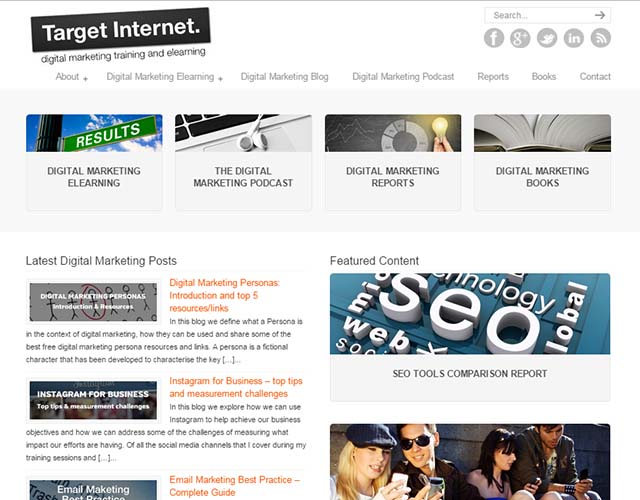 How do you promote your website? Do you use social media channels to attract more clients?
We use Facebook, Twitter, Google+ and LinkedIn.
Would you encourage other people to make websites for their own businesses?
We live in an amazing time where it is easy to start your own business. Start small, build slowly, test and learn. You can do all of the without leaving your job and then build once you work out you have the right idea. My greatest tip would be to make sure you have some technical skills to get you going. I learnt on WebMonkey.com many years ago. Self employment is incredible once you get it working.
Photos ©: Target Internet