The Work at Home Woman Blog by Holly Reisem Hanna
Holly Reisem Hanna is a publisher, social media correspondent, and work at home mom. Her award-winning website, The Work at Home Woman, advocates telecommuting and home-based businesses that empower women to balance life on their own terms. She's been quoted in big name publications like CNN, Forbes, Huffington Post, and Woman's Day magazine.
Please tell us something about yourself. Is blogging your profession or just a hobby?
It's funny, I remember the first blog I read back in 2004. It was a celebrity gossip blog and I was fascinated at how this individual was able to make a living from his blog. But not only that … he interviewed celebrities, reviewed fabulous products, and attended glamourous events, it seemed like a dream gig! Fast forward 5 years to my own home-based career search and the blogging idea popped back into my head. If he could do it, why not me? This is where my monetized blogging journey began.
When did you get an idea to launch your own blog and how important is it for you to be online?
Since my daughter was born, I've been a stay at home mom. But after 9 months of play-dates, mommy and me classes, and a dwindling bank account, I felt the urge to make some money and exercise my brain. I looked online for different work at home jobs, but the majority of my time was spent weeding through scams.
I've always enjoyed writing and often dreamt about writing novel; however I never considered blogging as a career option. As I continued my search for a home-based job, it occurred to me, I should create the online resource I had been looking for.
To fund my blogging endeavor, I started working part-time from home as a social media manager. During this time I researched and created content for my blog and hired a graphic designer to help with the tech and design side of things. In March of 2009, I officially launched my blog, The Work at Home Woman.
Being present online has been integral to my success. It's allowed me to make connections, market my blog, as well keep up with trends and learn new skills.
Did you have someone help you make the blog or did you do it by yourself?
I had design ideas in my head for how I wanted it to look, but I left the design and tech part up to my web programmer. Since I was working part time I had funds to do this. And it took her a lot less time than it would have taken me to learn and execute on my own.
The right domain name is important. How long did it take you to come up with the domain name for your blog?
I can't remember exactly how long it took me, but probably around 3 – 4 weeks. At the time I knew a little bit about SEO, so I knew how important it was to choose a good domain name. For weeks I brainstormed ideas, researched keywords, and checked to see what was already out there. I eventually settled upon, The Work at Home Woman.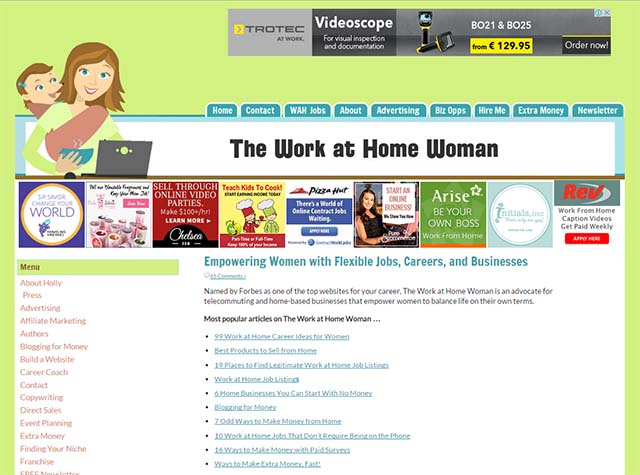 What kind of Theme do you use on your blog and what are the "must have" plugins for a blog?
I had a graphic designer create a custom theme for me. Unfortunately, she took my money and left me with an incomplete and non-functioning site. I had never worked with a designer before and didn't know that you shouldn't pay 100% of the project fee upfront. Lesson learned. Soon after that I found a wonderful web programmer who made things right and I still work with her today.
A couple of my must have plugins are Wordfence and Updraft Plus. Wordfence keeps your site safe from hackers and Updraft Plus makes backups of all your files — not at all glamourous, but essential.
What CMS (Content Management System) do you use on your blog? How hard is it to navigate within your CMS (making a new post, inserting images, moderating comments, etc.)?
I use the self-hosted version of WordPress. It's super easy to use and has a ton of functionality. If you can navigate a Word Document, you'll be able to navigate WordPress just fine.
How much time do you spend blogging?
It varies from day-to-day, but somewhere around 30 – 40 hours a week. Honestly, I enjoy what I do so much that it never feels like work. However, it does take a lot of time to write, edit, promote, answer emails, create images, complete administrative tasks, and network … I think any blogger will tell you … your to-do list is never done. There is always something more that you can be doing, that's why it is so important to be organized and prioritize your tasks.
How do you promote your blog? Do you use social media channels to attract more visitors to your blog?
I promote my blog using social media and email marketing. I also use SEO techniques, I submit guest blog posts, as well as seek out PR opportunities. I really nurture my Facebook and Pinterest accounts. I've created a solid strategy for each platform and invest my time into running and managing these channels, which has really paid off.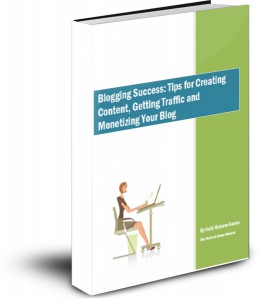 Is there a way to monetize (make money) through a blog?
There are lots of ways to make money with your blog. But … you have to focus on creating STELLAR content that YOUR AUDIENCE wants. If you have lousy content or if you're targeting the wrong audience — you'll never see the type of growth that you need to seriously monetize.
If you're willing to work hard, write amazing content, figure out your target audience, market your butt off, and never give up — you can do it. As for the how, there are lots of ways from affiliate marketing and direct ad sales, to working with ad networks and brands. I actually have a free e-book on how to monetize your blog — it has a ton of different options and how to get started.
Would you encourage other people to make their own blogs?
It depends. You need to have a passion for not only writing, but marketing, and being online. You also need to find a topic that geeks you out, that you can write about over and over again without getting bored. If you think you meet all of this criteria, then I say go for it.
For me blogging has given me freedom, flexibility, and financial stability. It has introduced me to opportunities and people that I would have never met else wise … it's a career that I'm truly passionate about!
Please give us some advice for new bloggers and for people who are still not sure if they need a blog of their own?
Again you need to have a passion for it. Blogging is great on its own or as a way to market your freelance business, but you have to invest the time and effort. If you can't make the time commitment, it's best not to waste your time getting started.
Photos ©: The Work at Home Woman